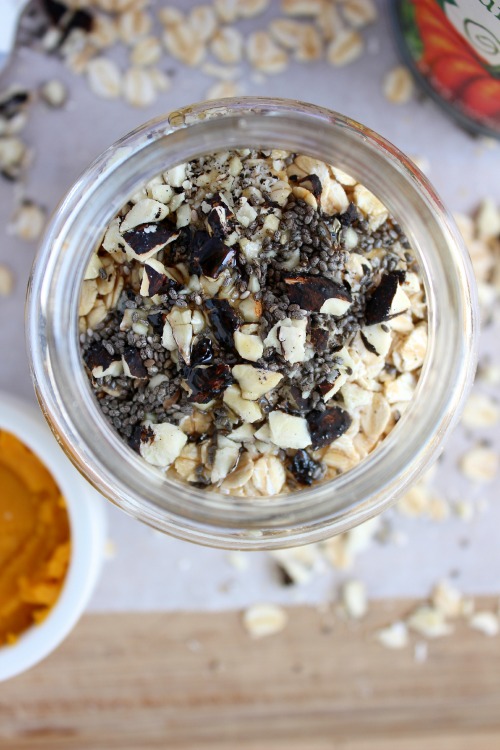 OK so part of me feels like I should apologise for sharing another breakfast type recipe with you but well, I don't really want to for the following reasons –
1 – This recipe is all kinds of healthy and seriously , I mean seriously delicious.
2 – We all know that breakfast is the most important meal of the day.
Even if you're not  breakfast eater you know it's the most important meal of the day right? You know it, I know it even if we don't do it we alllll know it right?! 😉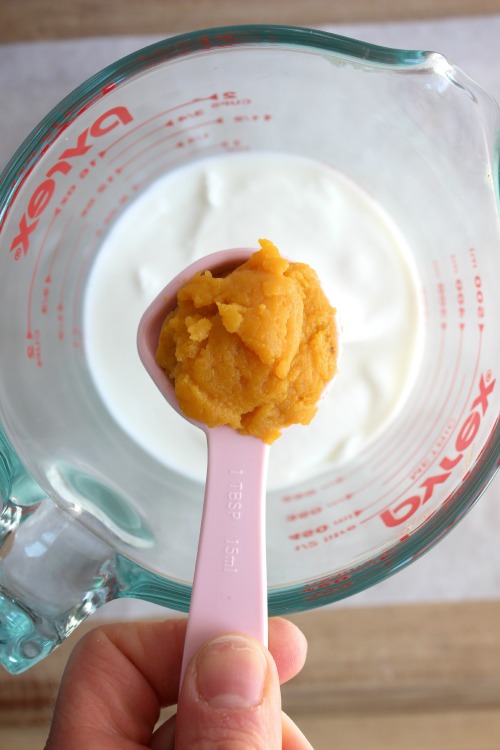 I know I have told you before how I used to be a non breakfast eater but now, I dream about breakfast. Like sometimes I go to bed early just so breakfast time can hurry up and get here already!
This breakfast recipe is no exception. As soon as I saw the original recipe that Katie had shared over at Dashing Dish I could not stop thinking about it. Although I gotta be honest, I was a little hesitant to test it out because we all know I have issues with oatmeal.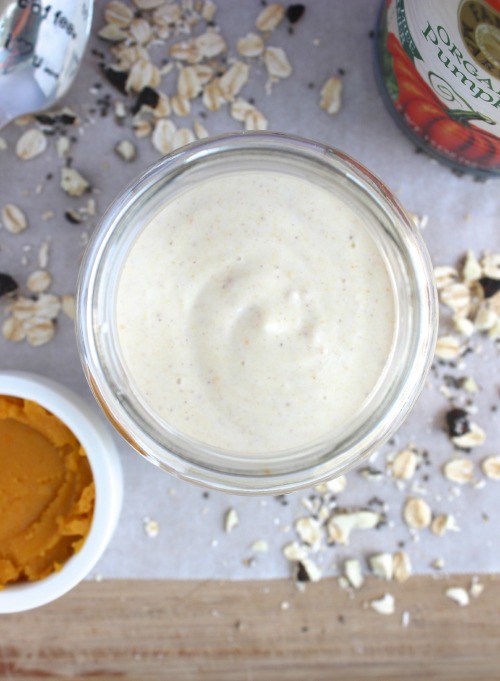 But this . . . this tastes like a dream. You simply layer up a few simple ingredients into a jar, (or cup or bowl) keep it in the fridge over night and in the morning, grab, stir and devour.
If you are an oatmeal lover you can stir it all up the night before, this will give the oats a good 12 or so hours to soak up the liquid in the Greek yoghurt and the maple syrup allowing them to soften and become more of a traditional oatmeal type of texture.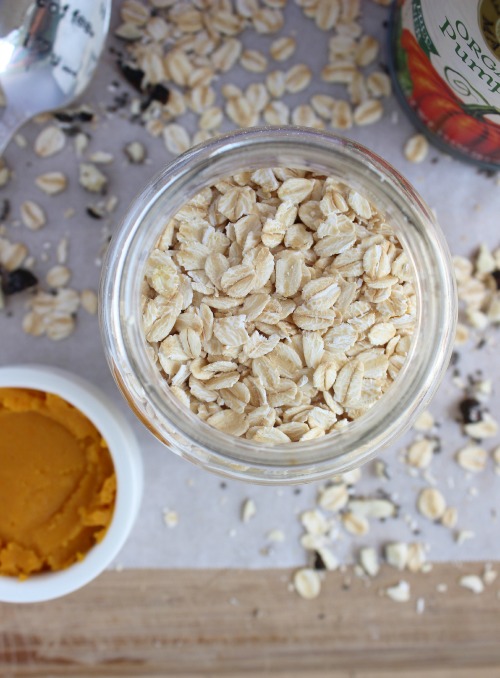 Me, I like my oats to have some bite left in them so I just layer it all up and give it a stir just before im ready to inhale eat that way it still has some good contrasting texture to it, bite from the oats and some crunch from the chia seeds and nuts.
Oh also, I use my all time fave cocoa roasted almonds but if you don't happen to have any on hand we can no longer be friends,(← kidding . . . kinda ;)) you can simply swap in your  fave nuts, think almonds, walnuts, pecans, hazelnuts – YUM!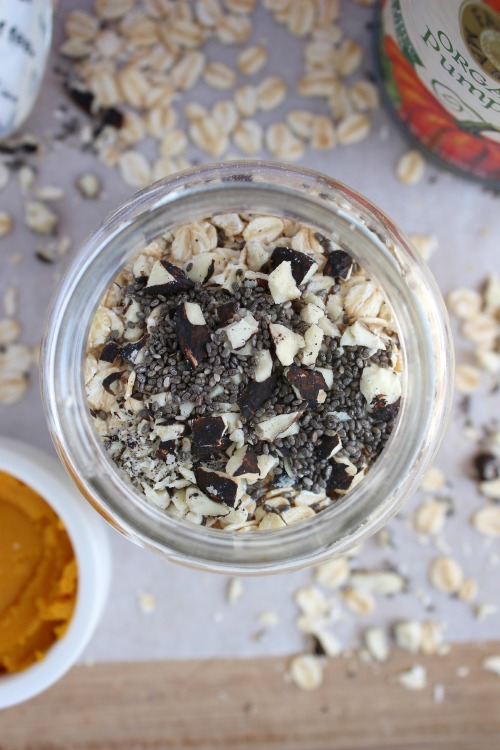 And please don't let the fact that this recipe has pumpkin in it put you off, it definitely doesn't taste pumpkiny at all. Not even a teeny tiny little bit. It really just gives your yoghurt a super cool slightly orange colouring and gives a sneaky nutritional boost which I discovered thanks to the super cool super sisters. Here's a little of what I learned –
Did you know that pumpkin is very high in potassium it contains about 33% more than a medium banana. Studies have shown that people with increased dietary potassium intake have lower blood pressure  and a decreased risk of stroke.
Pumpkin is high in beta-carotene which has been known to help reduce the risk of lung & colon cancer and has also been shown to reduce the risk for rheumatoid arthritis
Pumpkin is also high in lutein and zeaxanthin, which help to promote eye health.
Pumpkin is also rich in vitamin A, calcium, iron, magnesium, phosphorus, and is super low in calories and high in fibre.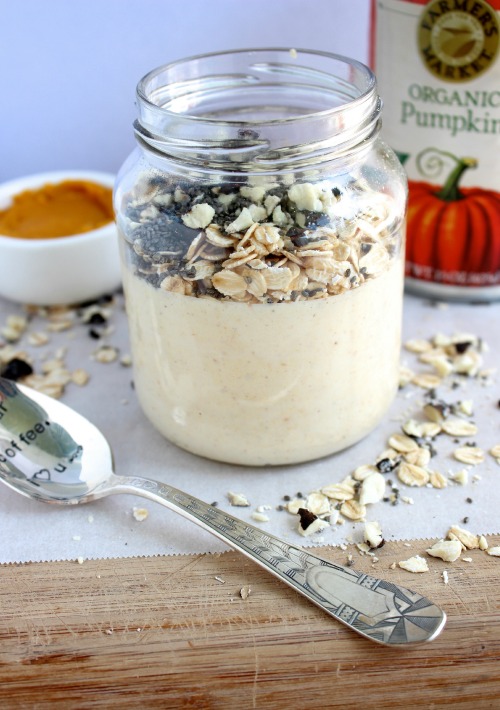 Sorry, information overload.
The thing that really takes this recipe over the top is the spice mix. Oh how I love cinnamon! Now Katie's recipes calls for pumpkin pie spice which is not something we have here in Australia so I made my own using this recipe from the wonderful Joy the Baker but, if you're not feeling up to that just sub for good old ground cinnamon and call it a day but make sure you add the maple syrup.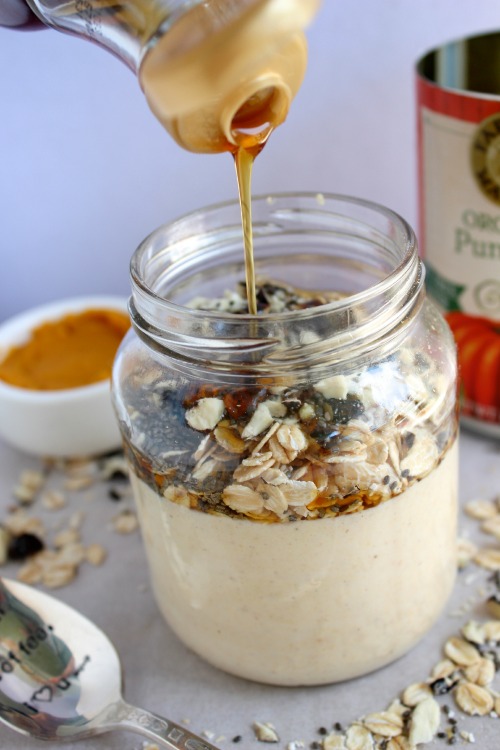 The glorious golden amber liquid brings this entire delicious dish together. It mellows out the hum of the spices and makes it just subtly but perfectly sweet.
This is like the perfect breakfast!
Not even kidding!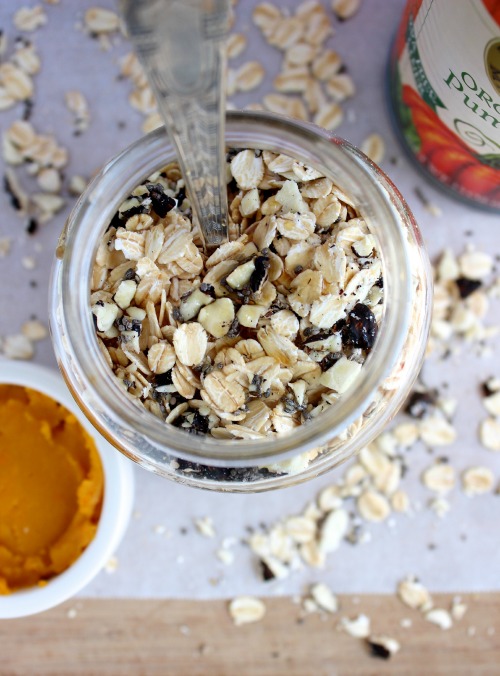 It's the perfect mix of protein, carbs, fibre and healthy fats its also low GI and keeps you full for hours! And it could not be easier to make.
You can layer up a weeks worth and keep them in the fridge for those of you non breakfast eaters who simply skip out on this "most important meal of the day" because we simply don't have time in the mornings. Just layer it all up the night before, grab your jar on the way out the door and eat in your car, on the train or when you get to the office. You could even pack it up and send it with your kids to eat on the way to, or when they get to school.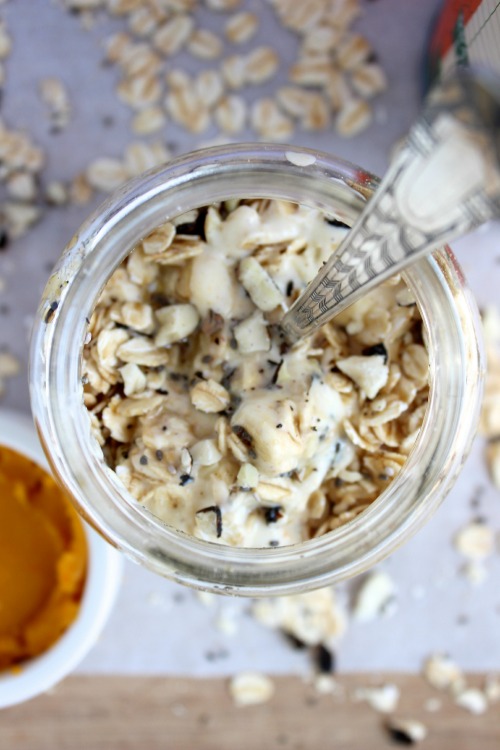 This little protein packed jar of oats would also be perfect for your post workout refuel and you could totally add a scoop of protein powder post workout if your into that kind of thing. Although this recipe is already packed with protein, a whopping 27 grams of protein per serve just as it is!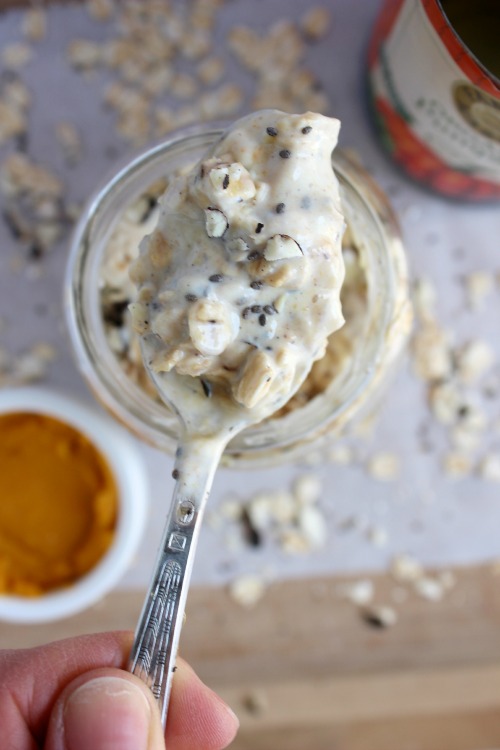 Packed with protein, subtly sweet, loaded with essential vitamins and minerals and ready to grab and go, breakfast winning!
I see many a variation of this recipe in our futures just so you know . . . consider yourself warned!
Protein Packed Pumpkin Spiced Oats in a Jar


Adapted from

this recipe

by the incredible

Katie

over at

Dashing Dish


Makes 1 Protein packed, sweetly spiced jar full of deliciousness . . . but can be easily multiplied

Ingredients –

1 cup of Greek yoghurt (I use Chobani ♥)

1-2 sachets of stevia (can sub for a teaspoon of regular sugar or maple syrup or honey although I haven't tested these)

1/4 cup rolled oats

1-2 Tbsp pumpkin puree

1 Tbsp nuts (I used my fave home made cocoa roasted almonds but regular almonds, or walnuts, or pecans would work too)

1 teaspoon of chia seeds (optional)

1 Tbsp maple syrup

1/8 tsp pumpkin pie spice (I made my own using this recipe, could sub for ground cinnamon)

Method –

1 – Place your Greek yoghurt into a small jar, bowl or jug.

2 – Add stevia (or sweetener of choice), pumpkin and spice and stir to combine.

3 – Next add the oats to your yoghurt/pumpkin mix, followed by nuts and chia seeds

4 – Pour on your maple syrup, give it a little stir and dive on in.

* Note, the longer you let it set the more the creamier the mixture gets as the oats absorb the liquid from the yoghurt. You can add a splash of milk to thin it out if you feel the need.
Enjoy xoxo
_____________________________________________________________________
Question of the day –
What's your fave grab and go breakfast?