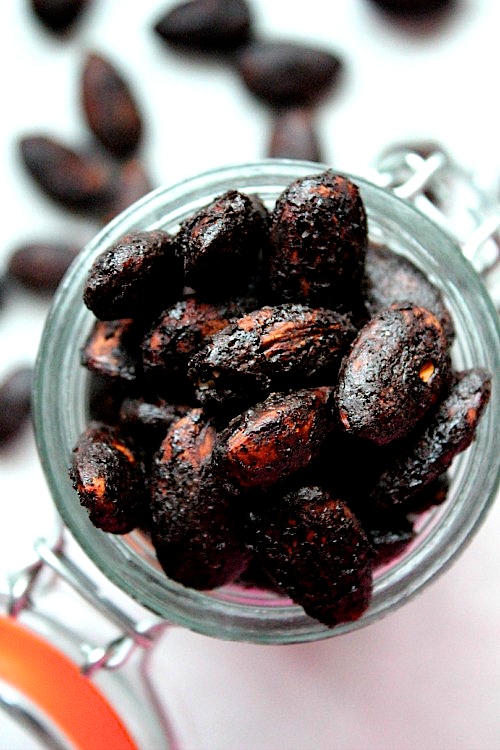 I am exhausted!
Like really, really, exhausted.
Someone come scrape me off the floor and carry me to my bed exhausted because I ain't movin'
Unless you take these almonds away from me and then I will hunt you down, because you guys . . . they are so ah-mazingly and dangerously addictive.
One taste and you will totally understand.
These cocoa roasted almonds have totally saved my life. Packing up a house is hungry work. Add to it a shift working husband and a very energetic 3 year old . . . ummm yes I need some suped up snacking power.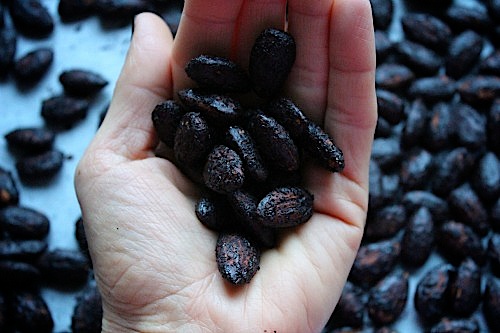 Get. In. My. Belly ↑ (and please ignore my creepy, dry, old lady looking hand . . . awkward)
Lucky for you (and me) these babies are seriously easy to whip up if only there were so easy to stop eating . . . But it's all good, we use all natural cacao powder so that means rich in antioxidants which is totally a dietary requirement and when your doing the heavy lifting required when packing up and moving house you totally need to up your protein and healthy fat intake right? Hence the almonds.
Seriously, these crunchy little, chocolate coated, cinnamon spiced morsels of deliciousness are totally life saving.
Pre workout, post workout, 330itis, after dinner snack attack,midnight, mid move munchfest, you name it these almonds will cure it.
They are the bomb.
Oh and they go really well in some greek yoghurt, simply by the bucketful handful anyway you can imagine. You can not go wrong.
Crunchy, chocolatey, protein packed bites of antioxidant coated goodness.
Cant talk . . . eating. . .
Cocoa Roasted Almonds




Makes 3 cups

Ingredients –

3 cups almonds

2 Tbsp cocao

1 Tbsp maple syrup (the real stuff please) or honey

1 teaspoon of vanilla (or 4-6 drops of vanilla cream stevia – I like to use Sweet Leaf Stevia )

1/2 tsp ground cinnamon

1/4 teaspoon salt flakes

Method –

1 – Preheat oven to 150'C (300'F)

2 – Line a baking sheet with baking/parchment paper and set aside.

3 – In a medium size bowl combine all ingredients and stir until well combined (all almonds have a generous, glorious, deeeeelicious chocolatey coating)

4 – Spread almonds evenly over baking sheet and bake for 15-20 mins stirring occasionally.

5 – Remove the almonds from the oven and allow to cool completely on the baking sheet.

6 – Store in an airtight container (or just a ziplock bag)

7 – Eat by the handful, add to your fave granola, muesli, yogurt, baked goods . . . anything and everything . . . I think you get the point.
_____________________________________________________________________________________________
Seriously addictive . . . or is it addicting? However you say it . . . you will not be able to stop. You have been warned!
How will you eat yours?