Holy flavour bomb in a bowl batman!
You guys I am so ridiculously excited about this spice mix I can not even tell you!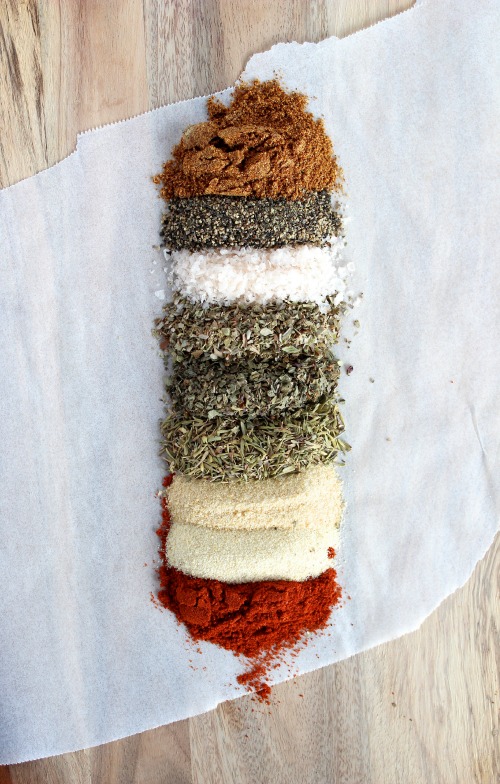 Those of you who follow along with my insta-life  may recall me sharing some ah-mazing dinners I had while we were away on vacation recently that included a killer blackened seasoning. One with some seriously succulent, spiced up chicken and the other was a smoking hot steak! Both were to-die-for!
Since I got home it has been my mission to re-create as many of these incredible meals as possible and so far I totally nailed it even if I do say so myself!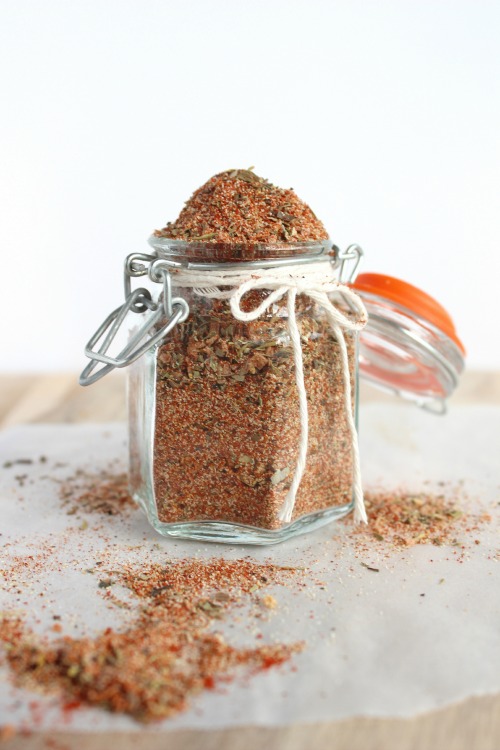 This blackened seasoning has a similar flavour base to the jerk seasoning we made a few months ago but kicked up a notch. It's kinda like our beloved jerk seasoning on crack!
The smokiness of the paprika combined with the heat from the chilli and your basic trusty ol' savoury spices, (salt, pepper, garlic, onion, thyme, basil and oregano) make for one killer combination.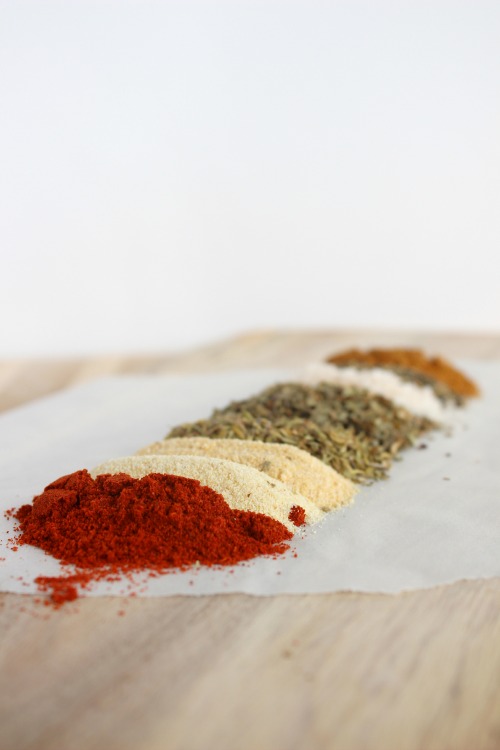 This spicy blackened seasoning is all natural made with no refined flours or sugars added. It's simple, healthy, homemade deliciousness nothing more nothing less. Feel free to dial up the spice meter (aka the chilli) as much as you like.
Simply rub your smoky, spicy, blackened seasoning all over your protein of choice (chicken, fish, steak or tofu) and then go ahead and cook as you would, business as usual. I highly recommend you add a squeeze of fresh lime juice just before serving, no really, do it = ah-maze-zing!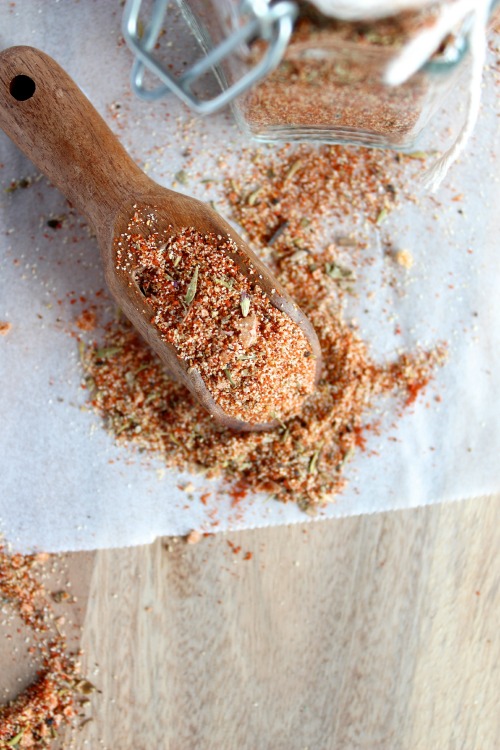 The smoked paprika combined with the heat from the chilli and the hit of  fresh, zesty lime juice . . . hello serious flavour bomb!
And just incase you were wondering why they call it blackened seasoning,  know I was especially when it really looks more red than anything?!  Well, apparently, it's because of the black-brown color of the crust that forms when the spices char slightly while cooking. Look at that, you learn something new every day. You're welcome

Who knew  you could get so much flavour from just a handful of ingredients that, if you're anything like me, you probably have sitting around gathering dust in your spice cabinet?!
All you have to do is dig them out and throw them in a bowl, or jar, or even just s ziplock bag and you are good to go.
Seriously simple, all natural smokin' hot blackened seasoning.
Welcome to flavour town my friend, population you!
and me

It's a good place to be, get comfy, pull up a chair . . .
Make it, Eat it, Love it
Spicy {Homemade} Blackened Seasoning




Makes approx 1/3 cup of insanely simple, healthy, homemade, slightly smoky blackened seasoning with a nice little kick.

Ingredients -

1 Tablespoon of Smoked Paprika

2 teaspoons of garlic powder

2 teaspoons of onion powder

1 teaspoons of dried thyme

1 teaspoon of dried basil

1 teaspoon dried oregano

1 teaspoon of salt flakes

1 teaspoon of black pepper

1/2-1 teaspoon of ground chilli (depending on how spicy you like things)

Method -

1 – In a small bowl or glass jar (or even just a zip lock bag would work) combine all ingredients and stir (or shake) to combine.

2 – Store in an air tight container (or ziplock bag).

3 – To use – Simply sprinkle/rub a little seasoning over chicken, fish or steak and cook as per usual. I highly recommend you squeeze your protein of choice with a little fresh lime juice before serving, it's kind of amazing #justsayin