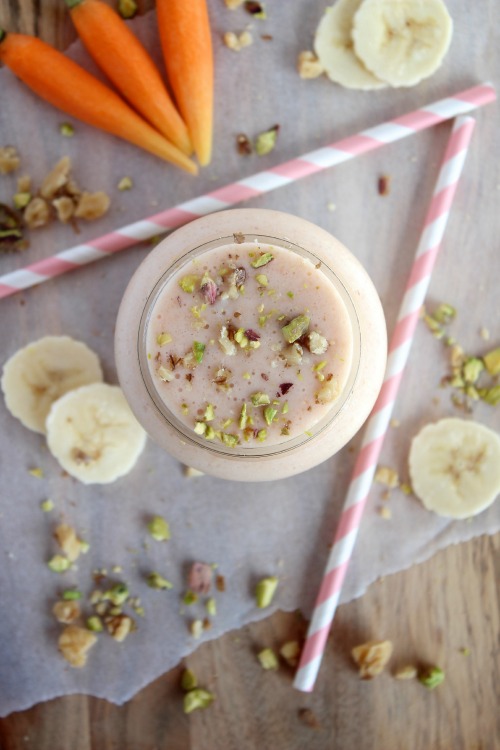 So I decided I would skip out on sharing a new workout with you this week and give you guys a bonus recipe instead. Lucky ducks

If you are wanting to work up a good sweat and have yourself a killer workout I suggest you do this , followed by this and then finish with this and then come back and join us for some cake!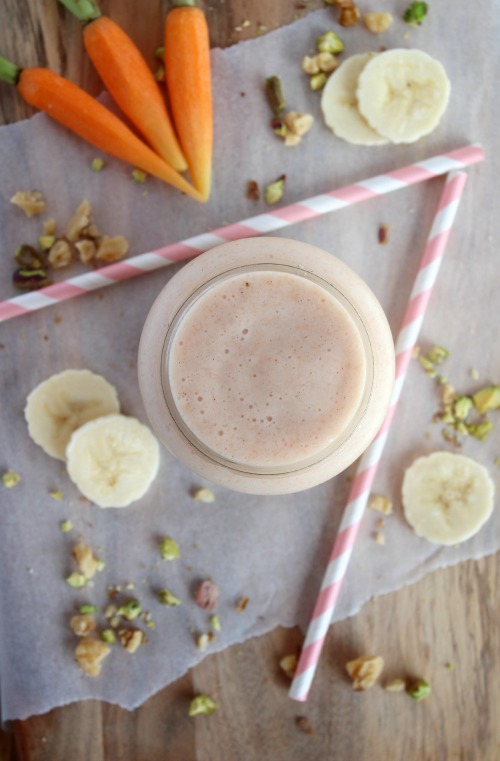 You guys I'm feeling pretty genius right now, see I made us a seriously healthy, insanely delicious, protein packed smoothie that tastes like cake!
Yes really!
It may not be the prettiest shake in the bunch but looks aren't the be all and end all right?
One sip and you'll see.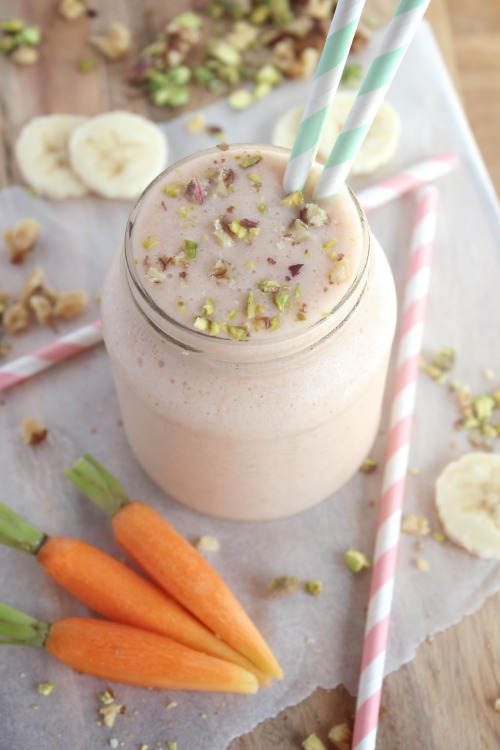 This Carrot Cake Protein Shake holds all those incredible, traditional carrot cake flavours we all know and love minus the post cake food coma/sugar crash or guilt.
And no, it doesn't taste "carroty"!
It tastes exactly like carrot cake.
Subtly sweet, perfectly spiced and just all kinds of delicious! I think the slight tartness of the Greek yoghurt helps to tie in the much loved element of the cream cheese frosting too! ♥♥♥
This Carrot cake protein shake is all natural and packed with a whopping 11g of protein!
This bad boy is sweetened naturally with our trusty old, pre-frozen, over-ripe banana, a splash of vanilla, a drizzle of maple syrup and a pinch of cinnamon.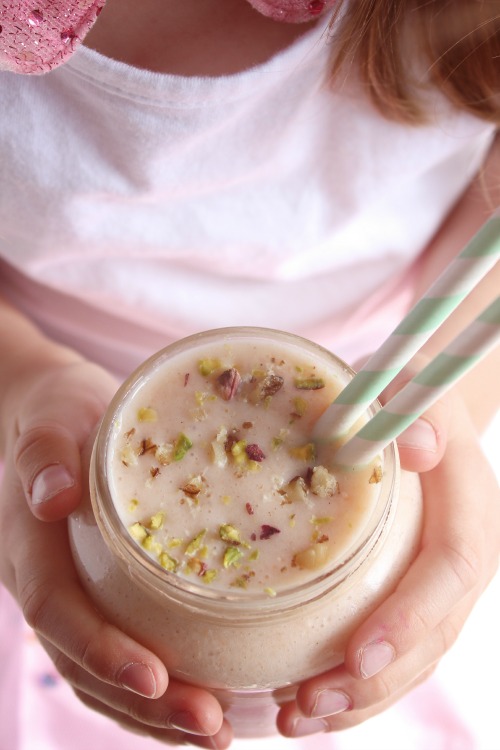 This Carrot Cake Protein Shake is perfect for anytime of day!
Breakfast on the go? = Carrot Cake Protein Shake! (Um hello guilt free cake for breakfast = winning!)
Mid morning pick me up?  Carrot Cake Protein Shake!
Pre/post workout power up/refuel? Carrot Cake Protein Shake!
Mid afternoon treat? Carrot Cake Protein Shake!
Late night indulgence? Carrot Cake Protein Shake!
The perfect way to keep you energised and ready to get your easter bunny on this long weekend!
It's also family friendly and little lady approved . . .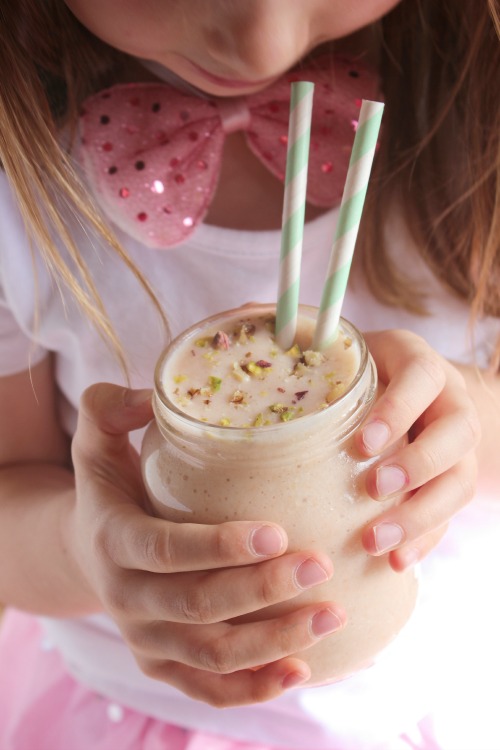 bunny bow ties optional

Yes, yes just yes!
Make it, drink it, love it
Carrot Cake Protein Shake
Makes 1 very large or 2 small all natural, creamy, dreamy, protein packed, cinnamon spiced carrot cake protein shakes 

Ingredients -

1/3 cup Greek yoghurt

1 cup milk of choice (I used unsweetened almond milk)

1/2 cup frozen baby carrots

1/2 an overripe banana (preferably pre-frozen)

1/8 teaspoon of ground cinnamon

1 teaspoon of vanilla extract

1 Tablespoon of maple syrup

1/2-1 cup of ice depending on how icy you like your smoothies

Optional -

Pistachios/walnuts to crumble over the top

Method -

1 – Place all ingredients into a blender and process until smooth and creamy.

2 – Taste and adjust to taste, adding a little more maple syrup, vanilla or cinnamon if you like things on the sweeter side.

3 – To serve, pour into a chilled glass or mason jar and sprinkle with your chopped nuts if using.
Enjoy xoxo
______________________________________________________________________________
Question of the day -
What do you have planned this Easter long weekend?