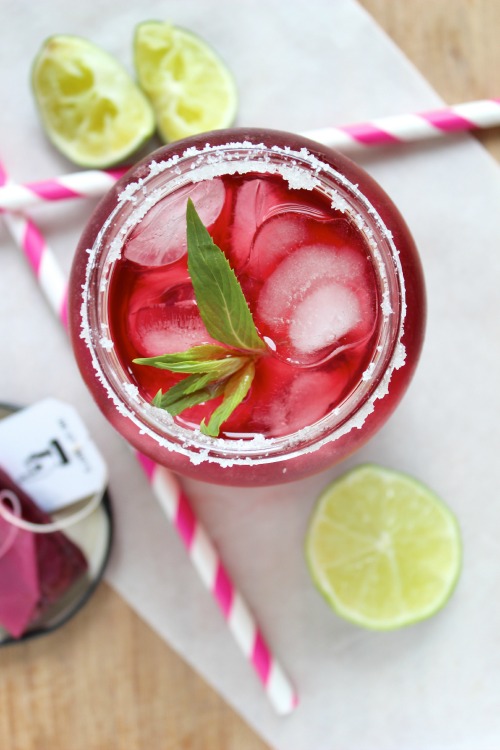 So we're back safe and sound in Sydney town.
Yay for a safe return but boo that our incredible vacation is officially over.
Waahhhh
Please excuse me while I take a moment to sit in the middle of my living room to throw a massive 2 year old style tantrum because I just don't want to accept the fact that my vacation is officially over to quietly and calmly reflect on, appreciate and take in the wonderful, much needed and longed for vacation we just were blessed enough to enjoy.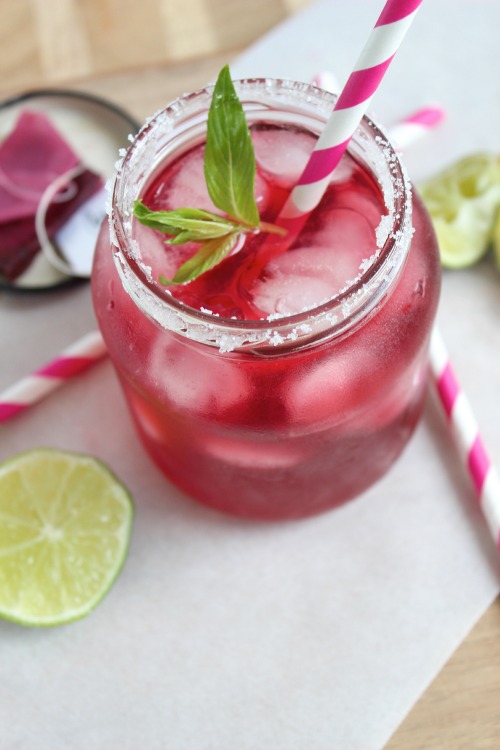 Ok I think I'm good . . . moving on.
So we're back . . . and it's hot . . . and Christmas is just a few short weeks away!
Holla!!! So very excited about that! Like I mentioned last week Thanksgiving/Christmas is  hands down my all time favourite holiday!
I tend to get a leetle cray cray and want to do/make/eat/buy all of the holiday things!
At the moment I am having a little trouble getting my head together with everything I want to do/see/make/buy/eat this Christmas and I'm blaming the jet lag.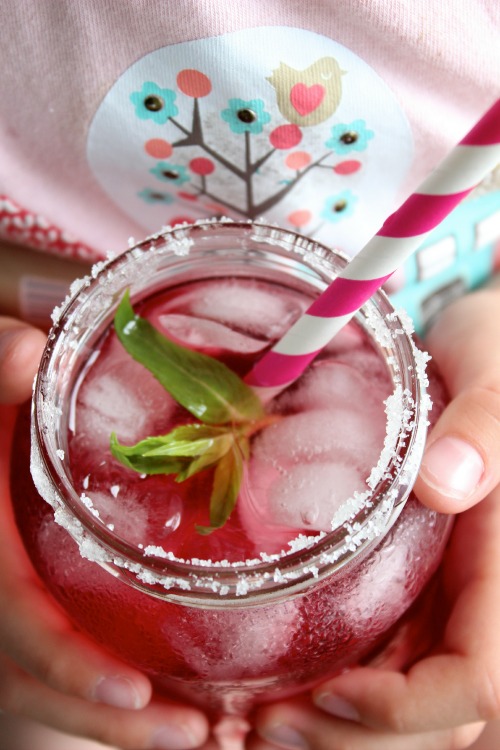 Over 24 hours of travelling will do that to a girl right?!
Right!
So I'm giving myself the rest of the week off because well, 2 weeks vacation is never enough. I mean come on, we all know you need a vacation to recover from your vacation right?!
Right!
Plus it's crazy hot here! Especially compared to the cool, crisp, snowy mountain air we were just enjoying.
Crazy hot + jet lag = best feeling in the world! ← Said no one ever!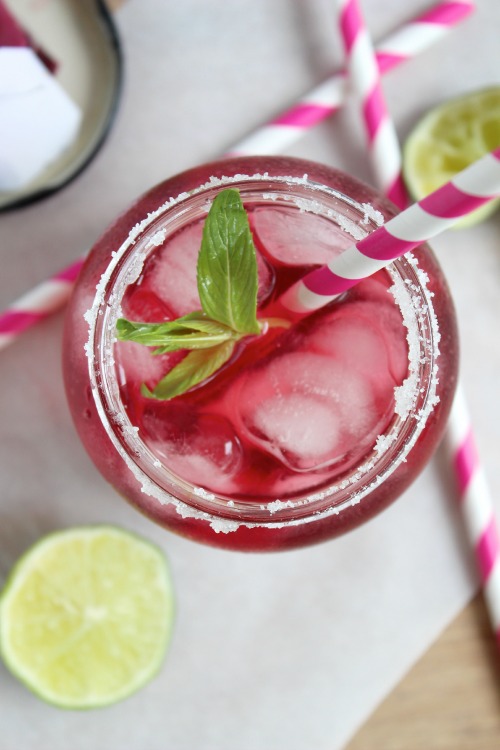 So in my attempt to get my Christmas holiday groove on and to deal with some of this crazy hot, humid weather we are having I made us a cool, refreshing, slightly sweet and incredibly festive looking cup of iced tea.
Plus I am also trying to cut back on my soda intake. Not that I drink excessive amounts of it but well . . . I have a little lady who wants to share in anything and everything and I kinda prefer she didn't drink soda. Plus she has sooooo much energy I hate to think how I would keep up with her after a sip or 2 of sugar laden soda! She hasn't had any yet but as she gets older, and more interested and I kinda feel like, if I don't want her to have it then maybe I should be the good example and not have it either. sigh.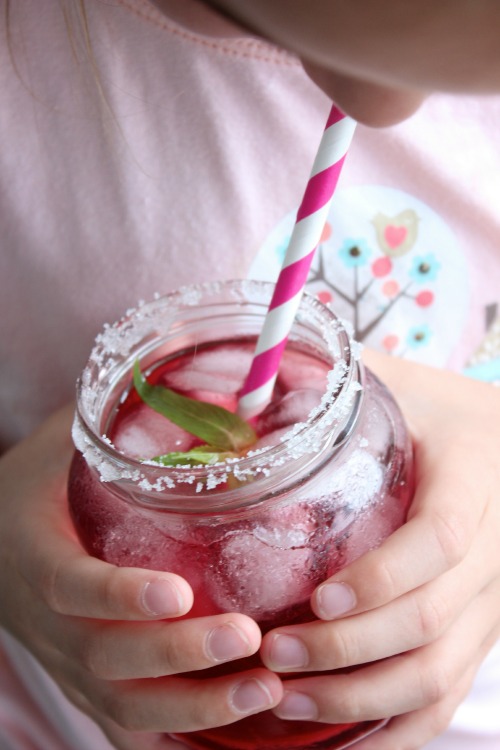 So in an attempt to cool off and deal with this suffocating heat, satisfy that sweet tooth in a healthier way, that I would be happy to share with my little lady I give you this perfectly sweet, all natural, pretty in pink cranberry, raspberry and lime iced tea.
This iced tea is subtly sweet, cool and all kinds of refreshing. I love the slight zip and zing that the little squeeze of lime adds to it. It cuts through the subtle natural sweetness of the tea just perfectly. I added a sachet (about a teaspoon) of stevia just to sweeten things up a little, taste your tea before adding the sweetener and adjust to suit your personal taste. Totally adaptable. Make it your own people.
I can totally see a big ol' pitcher of this on my Christmas table don't you think?
PS – I'm thinking ill add a splash of sparkling mineral water next time to satisfy that whole bubbly/carbonated side of the soda situation.
Love it!
Cranberry Raspberry Lime Iced Tea




Makes 1 large or 2 small cool, and refreshingly sweet cups of iced tea

Ingredients -

1 Cranberry and Raspberry tea bag (I use Dr Stuarts but you could sub for your fave herbal tea)

1-2 cups of boiling water

1/4 of a lime

1 cup of ice

1 sachet of stevia (or sweetener of choice) – optional

Mint for garnish – optional

Method -

1 – Fill and boil your kettle

2 – Place tea bag in a large mug or heat proof jug.

3 – Pour in as much boiling water as your little heart desires

4 – Add stevia (or sugar) is using, stir then set aside and allow to cool.

5 – Once your tea has cooled give it a little stir then grab a nice little glass and fill it with ice

6 – Pour your cooled tea into your ice filled glass, squeeze in a little fresh lime juice and if you have one on hand and are feeling a little fancy throw in a fresh mint leaf.
Enjoy xoxo
_________________________________________________________________________________
Question of the day -
What are you eating/drinking/making/doing to get into the holiday spirit? Share your links, recipes, tips, ideas, traditions in the comments below