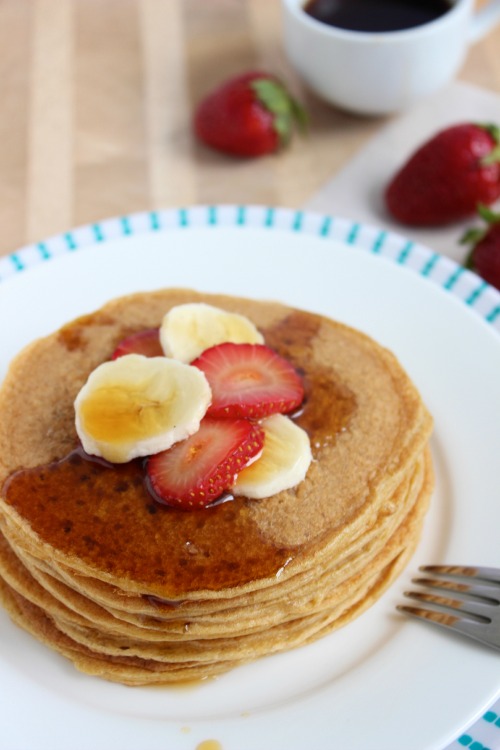 Sometimes a girl just need pancakes.
Today is one of those days.
Pancakes must be had!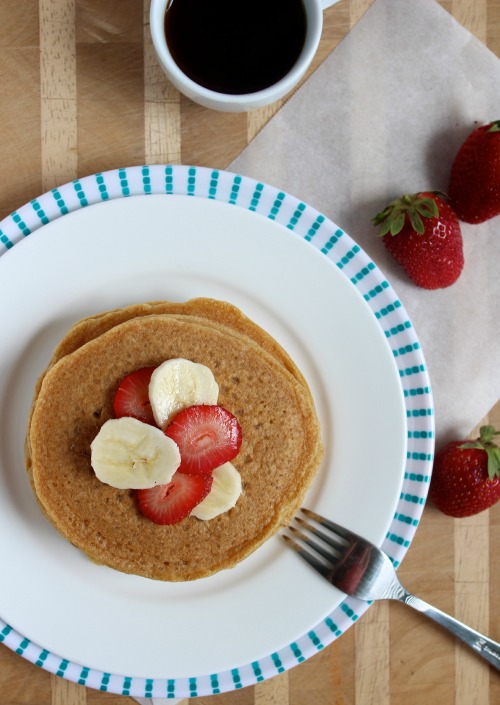 I know we have talked before about how we all know that breakfast is the most important meal of the day and well I think it's pretty clear how much I just love it. Sometimes I go to bed early just so breakfast (and coffee time) can hurry up and get here.
Now I don't know if its because I am feeling better and have kicked my weights and intensity up in my resistance training but I am soooo hungry.
All. Of. The time!
Like wake me up at 4am starving!
So when I woke up at 4am starving, still thinking about making these delicious little protein packed vanilla spiked pancakes I knew that pancakes must be had.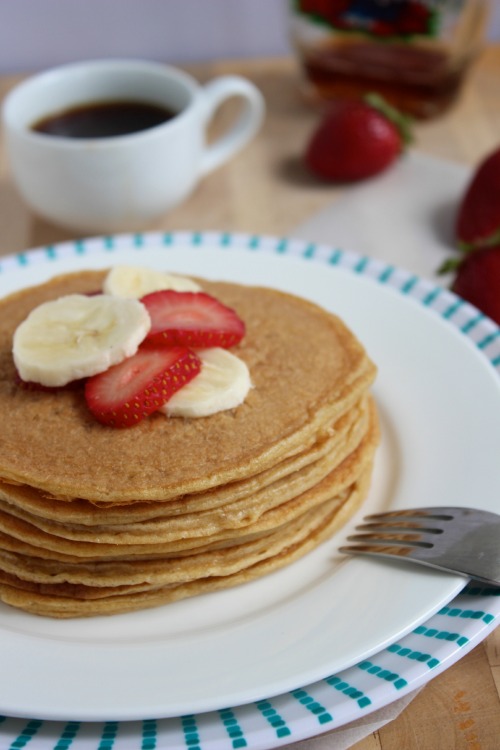 A big ol' stack of light and fluffy, protein packed, vanilla spiked pancakes that are whipped into a delicious frenzy right there in your blender or food processor. No whisking, stirring, sifting required – LOVE!
These pancakes were so delicious the entire family loved them. Like could not get enough loved them. Next time I will make a double batch and keep them in the freezer so I can just pop them in the toaster and serve for future pancake craving emergencies.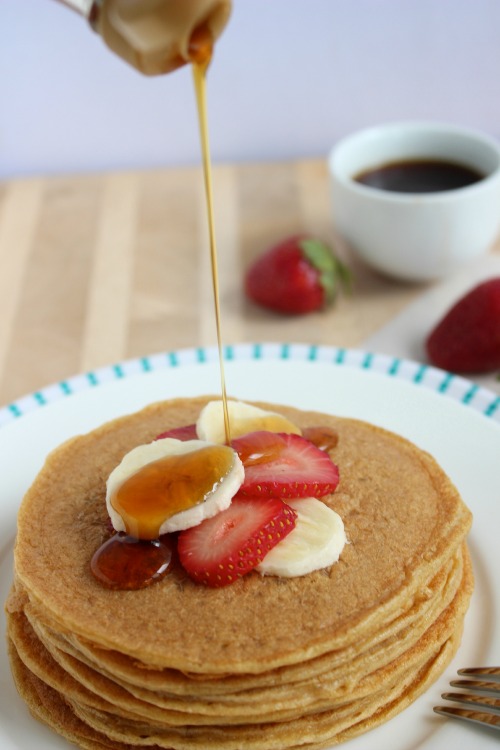 They do cook up a little thinner than I usually like my pancakes but that is long forgotten once you take the first bite.
These pancakes are so light and fluffy its really incredible. I served mine simply with some freshly sliced strawberries and bananas and a good drizzle of maple syrup (the real stuff please) and you know what, they were everything I had hoped they would be and more.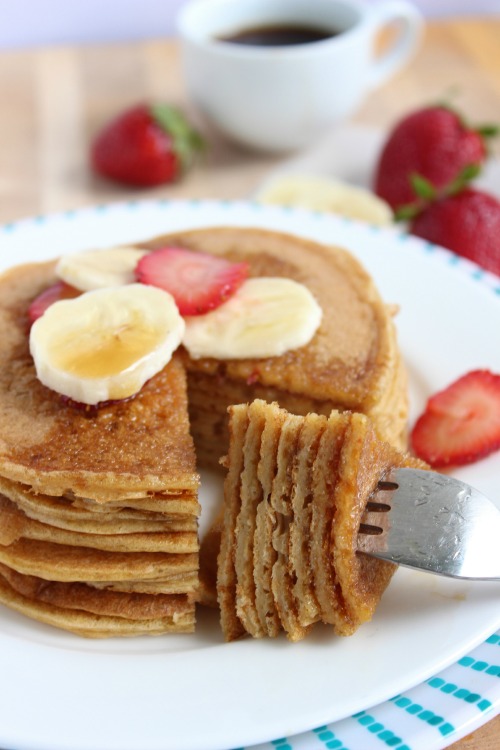 I have to thank Rachel for sharing such an incredibly, healthy, delicious yet simple recipe. It is only of many I have bookmarked from the Ultimate Bundle I was telling you about yesterday. Girlfriend also has included one basic muffin recipe with over 20 variations! I guess I can now cross these pancakes off my list – oh how I love to cross things off my list. Sometimes I will add things to my list that I have already done just so I can cross it off again (←yes really)
These vanilla spiked protein pancakes are the perfect early morning treat. Your family will love you, parties will be thrown in your honour for serving pancakes for breakfast just because well . . . you wanted pancakes but they don't need to know that. They just need to know that you made them, served them, shared them and that they are all kinds of delicious.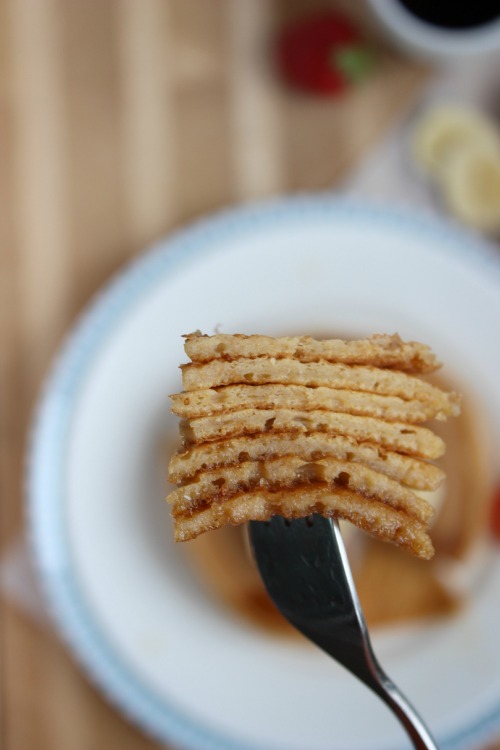 Those little pancakes just soak up that syrup like a dream.
Packed with protein so they double as an incredible pre-post workout snack.
Perfect for lunch box treats.
Perfect for a little late afternoon or after dinner indulgence.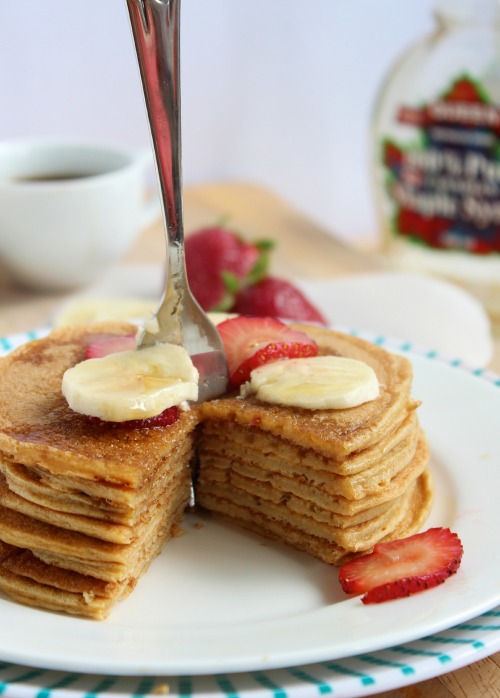 Ah that's what I love about breakfast foods, you can really eat them any time of the day. So no matter what time of day it is, special occasion or not you totally need these pancakes.
Simple, satisfying healthy and delicious. What more could you want?
PS – If you want to grab yourself a copy of Rachel's book or get in on this incredible bundle you can click here , remember this offer is only valid until November 9th, time's ticking
Vanilla Spiked Protein Pancakes


Very slightly modified and rewritten in my own words from the Whole Breakfasts and Breads Cookbooks
by Rachel who blogs at Titus 2 homemaker
Makes 12 vanilla spiked, light and fluffy, protein packed 4 inch pancakes

Ingredients –

3 eggs

1/2 cup cottage cheese

2 Tablespoons of milk

1 teaspoon of coconut oil, melted and cooled

1 teaspoon of vanilla extract

1/4 cup wholewheat pastry flour (regular plain or oat flour will also work)

1 teaspoon of baking powder

1/2 teaspoon of baking soda

a pinch of salt

Optional but recommended for serving –

Strawberries, bananas and maple syrup or toppings of choice.

Peanut butter (or any nut butter really), 100% fruit strawberry jam, Greek yoghurt, honey any and all of these would be ah-mazing on these pancakes.

Method –

1 – Place all ingredients in a blender/food processor and blend/process until smooth and well combined. It will appear pretty runny but thats how it should be, go with it – delicious things be happening.

2 – Heat a medium size frypan over medium heat, add a little coconut or olive oil and swirl around the pan to ensure a even coating.

3 – Spoon a small amount of your batter into your heated fry pan and cook until bubbles form on the top and edges appear slightly dry. Carefully flip and cook for a minute longer. Transfer to a plate or wire rack to cool of not inhaling consuming right away. Repeat until all batter has been used. FYI – I got 12 delicious little 4 inch pancakes.

4 – To serve, top with fresh strawberries and bananas and a generous drizzle of maple syrup. Or whatever toppings your currently into.
Enjoy xoxo
_____________________________________________________________________
Question of the day –
What is your fave thing to have on your pancakes?