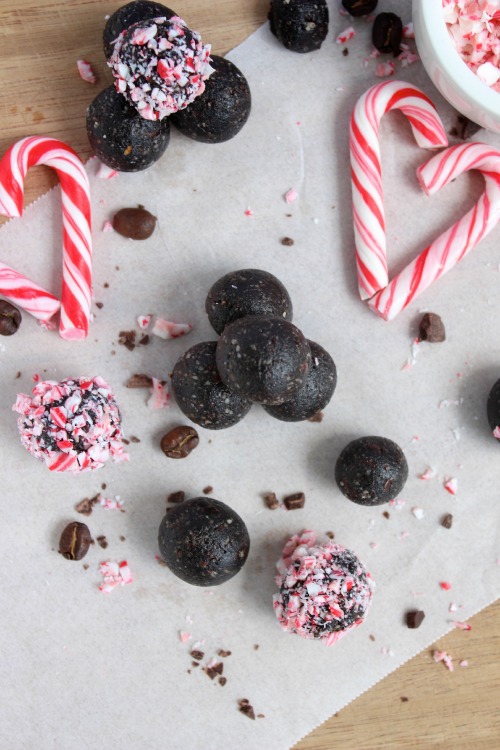 So I'm pretty sure by now we all know I am sorta, kinda, just a teeny, tiny leetle bit obsessed with no-bake energy bites.
Evidence → here, → here, → here, → here, → here, → here and → here.
Ok so maybe it's more than a little.
But only just slightly.
I think my obsession with these healthier, no-bake treats its matched only by my love for coffee and well of course chocolate but that goes without saying, right?!
Oh and then there is my obvious obsession with peanut butter but come on, let's face facts, who doesn't love a big ol' spoonful of peanut butter?! Unless of course you are unfortunate enough to be allergic. In that case you need a big hug and a few more of these healthy, no-bake treats in your life.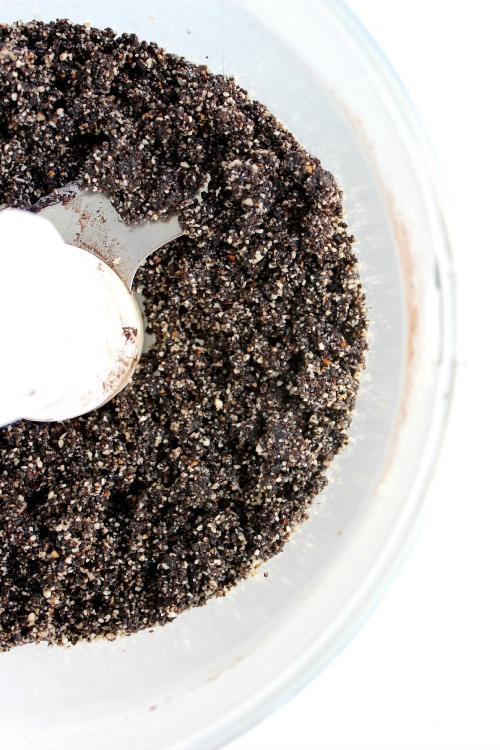 Don't worry I got you covered!
If you follow along on Instagram you will know that on our recent little family vacation I had all my dreams come true in on of those infamous Starbucks red cups.
Two of my great loves combined in none other than the and only skinny peppermint mocha. I mean coffee and chocolate all served up in one smooth and creamy pretty little (or not so little) festive looking cup with a hint of minty freshness. I can't even, I just love it!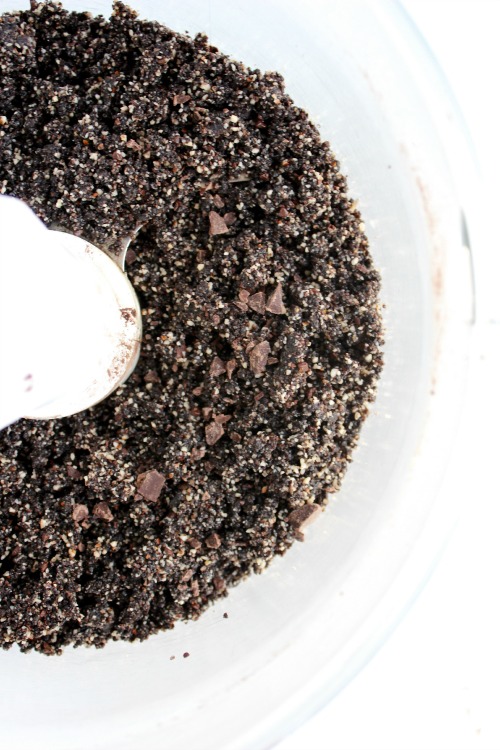 Let me introduce you to my current fave  way to recreate this dreamy, classic, holiday flavour combination here at home.
Healthy No-Bake Peppermint Mocha Energy Bites.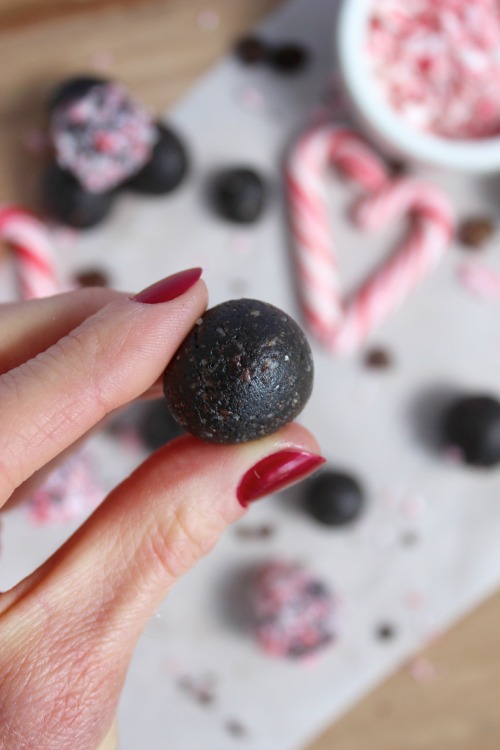 Healthy and delicious little bites of chocolatey goodness with a hit of espresso and a touch of minty freshness.
They come together in a matter of minutes and are are to. die. for. (←even if I do say so myself)
The perfect way to fuel your early morning workouts.
The perfect way to get you through your late afternoon haze
The perfect after dinner treat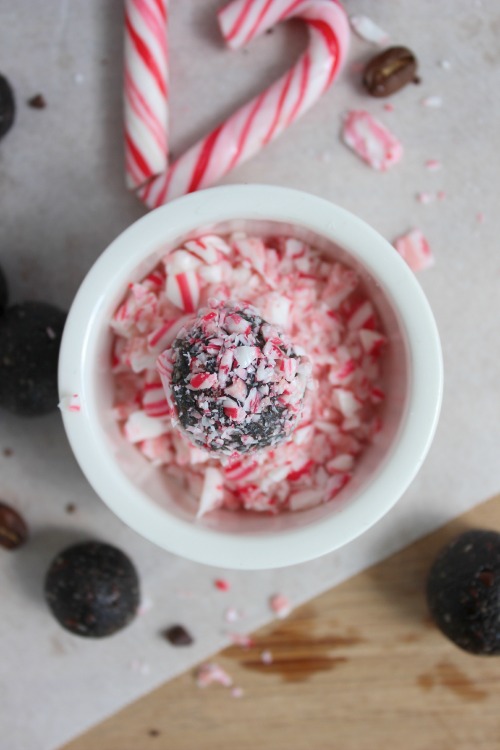 Or if you like me still have a bunch of shopping to do . . .
The perfect way to fuel your last minute frantic, Christmas shopping frenzy.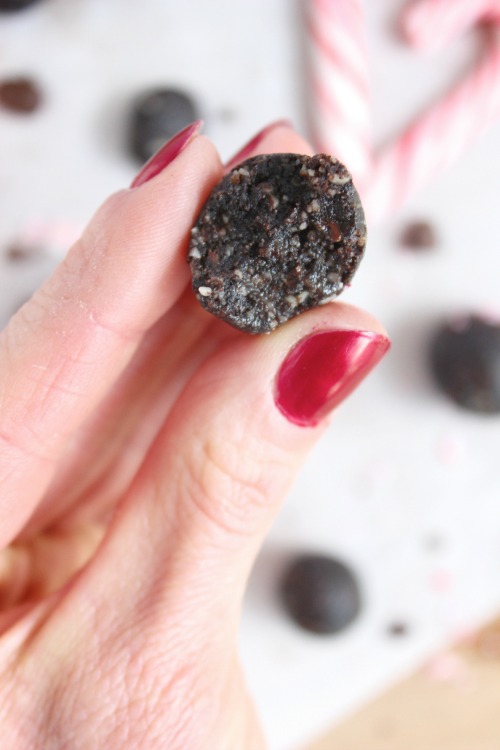 They are super fudgey, insanely delicious and seriously addictive – or is it addicting?! I still have no idea which it is?! either way, you have been warned.
Simple, healthy, no-bake peppermint mocha energy bites made with just a handful of all natural ingredients and ready in minutes. A perfect, quick and easy homemade gift for someone you love or your sweet self.
Make them, eat them, love them – you know you wanna
Healthy No-Bake Peppermint Mocha Energy Bites


Makes approx 50 minty fresh, mochalicious energy bites

Ingredients –

1 cup raw almonds

3/4 cup pitted dates, about 6 – I used medjool

2 Tablespoons of cocoa powder – I use Hershey's Special Dark

1 teaspoon of instant espresso granules

1 teaspoon of vanilla extract

1/8 teaspoon of peppermint extract

1-2 Tablespoons of dark chocolate chips, roughly chopped

Optional extra –

1 candy cane – finely crushed to roll those delicious fudgey little mocha bites in for a bit of festive flare and to make them all pretty like

Method –

1 – Place almonds in your food processor/blender and process until nice and fine, but not turned to dust. You want there to still be a few bigger chunks to give the bites some nice texture.

2 – Add dates and process until the mixture starts to come together to form a nice sticky "dough".

3 – Add cocoa powder, espresso, vanilla and peppermint extract then process again until well combined.

4 – Lastly throw in your chocolate chips and process until just combined.

5 – Using your hands, roll approx 1 heaping teaspoon of mixture into delicious bite size little pieces.

6 – If you want to roll in crushed candy cane simply place your crushed candy cane into a small bowl then press your pre-rolled bite turning so it's evenly covered then transfer directly to your mouth to an airtight container (or even just a ziplock bag) and store in the fridge until you're ready for an extra special little pick me up.
Enjoy xoxo
___________________________________________________________________________
Question of the day –
What is your fave seasonal flavour combination?