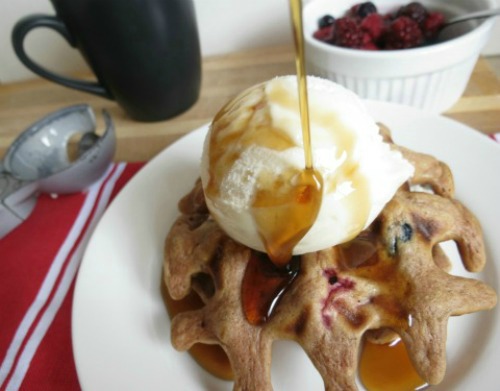 Hi, I'm Emma and I'm a waffleholic!
Regular waffles, chocolate waffles, pumpkin and ginger waffles, Healthy High protein waffles, banana bread waffles, chocolate waffles again  . . . I can NEVER get enough.
Never!
The bonus to waffles – dessert type food that is acceptable for breakfast consumption . . . ah yes please!
Dessert for breakfast, I can't think of a better way to start the day can you?
I didn't think so 😉
So, these Berry Cobbler Waffles . . . what can I say . . .they are heaven on a plate! Jessica has done is again.
This girl is culinary genius I tell you.
For reals!
I came across this recipe on one of my regualr visits to How Sweet Eats. As soon as I saw these waffles I knew this recipe was something I would totally be into and they did not disappoint. Although me being well . . . me I couldn't leave well enough alone so I did make a few small changes to her original recipe. Make sure you stop by her website and check it out.
Ok back to the newest waffles obsession.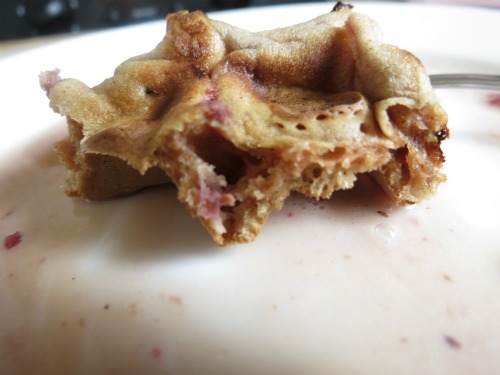 Crispy on the outside but fluffy in the middle . . .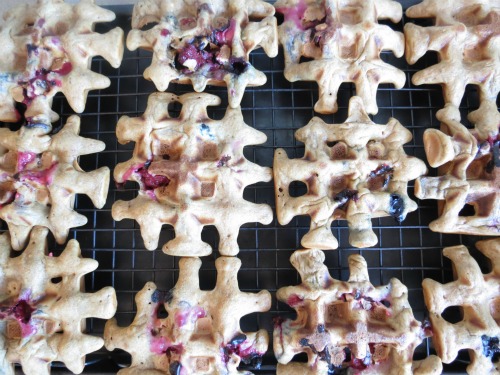 Deliciously ugly with perfect pink and purple bursts of berrylicious flavour . . .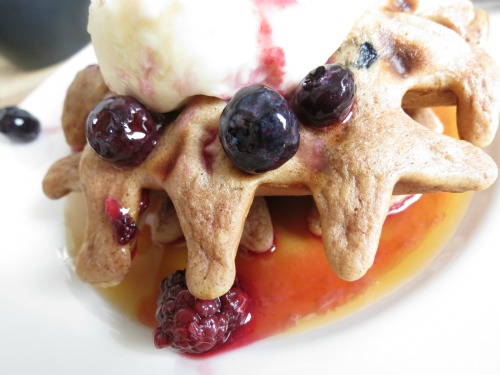 Topped with a generous scoop of your favourite ice cream and maple syrup  . . .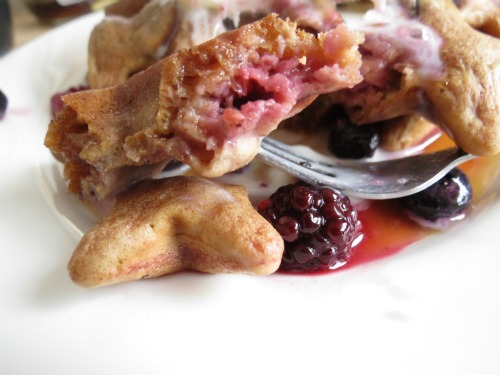 I love how they kind of drink up the melting ice cream and maple syrup!
Heaven on a plate!
Double bonus . . . they have oats in them . . . oats are low GI right? To help keep you fuller for longer . . . 🙂
So this is a healthy dessert type of breakfast food you can feel good about eating, and feeding to your family.
As its mothers day this sunday I think you should make these for your mama . . . I am sure she will share them with you – everybody wins 🙂
PS – If you don't have a waffle maker you could totally make them pancake style . . . or buy your dear Mama a waffle iron for mothers day . . . just a thought 😉
Berry Cobbler Waffles


Very slightly adapted from this recipe from How Sweet Eats


Makes approx 20 waffles

Ingredients –

1 1/2 cups plain flour
1/3 cup rolled oats
1 teaspoon baking powder
1/2 teaspoon baking soda
1/4 cup brown sugar
1/4 teaspoon salt
1 teaspoon cinnamon
2 eggs
2 teaspoon vanilla extract
1 1/2 cups milk (I use skim)
1 cup mixed berries (I used frozen but I'm sure fresh would work no problem)

Method –

Turn on your waffle iron so it has plenty of time to get nice and hot.

In a medium size bowl sift flour, sugar, baking soda, baking powder, cinnamon and salt.

Add rolled oats,

then by eggs,

then vanilla

and milk. Stir to combine.

Throw in your berries

very gently mix until just combined.

Pour batter into your waffle iron (I use about 1/4 cup per waffle)

Cook in your waffle iron according to manufacturers instructions.

To serve . . .

Add a big ol' scoop of ice cream ,

pour over some maple syrup

and top with some extra berries.

Enjoy them served to you on a big wooden tray . . . in your super comfy bed . . . with a giant cup of the worlds best coffee and a trashy magazine . . . just because its mothers day and you can 🙂
____________________________________________________________________________________________
Printable Version –
Berry Cobbler Waffles


Very slightly adapted from this recipe from How Sweet Eats


Makes approx 20 waffles

Ingredients –

1 1/2 cups plain flour
1/3 cup rolled oats
1 teaspoon baking powder
1/2 teaspoon baking soda
1/4 cup brown sugar
1/4 teaspoon salt
1 teaspoon cinnamon
2 eggs
2 teaspoon vanilla extract
1 1/2 cups milk (I use skim)
1 cup mixed berries (I used frozen but I'm sure fresh would work no problem)

Method –

Turn on your waffle iron so it has plenty of time to get nice and hot.

In a medium size bowl sift flour, sugar, baking soda, baking powder, cinnamon and salt.

Add rolled oats followed by eggs, then vanilla and milk. Stir to combine.

Throw in your berries and very gently mix until just combined.

Cook in your waffle iron according to manufacturers instructions.

Add a big ol' scoop of ice cream , pour over some maple syrup and top with some extra berries.

Serve in bed with a giant cup of coffee and a trashy magazine . . . just because its mothers day and you can 🙂
___________________________________________________________________________________________
Nutritional Info (approx per waffle) obtained using fatsecret.com –
Cal – 65
Fat – 0.7
Carbs –12g
Protein – 2.4g
Fiber –  0.8