You guys . . . I have your new years day breakfast sorted!
It's not secret how obsessed I am with waffles. Evidence shown here, here and here (pardon the old and somewhat embarrassing photography). Then there was the discovery of super simple, yet seriously to die for overnight waffles that may or may not have tipped my obsession over the edge! In the best possible way of course.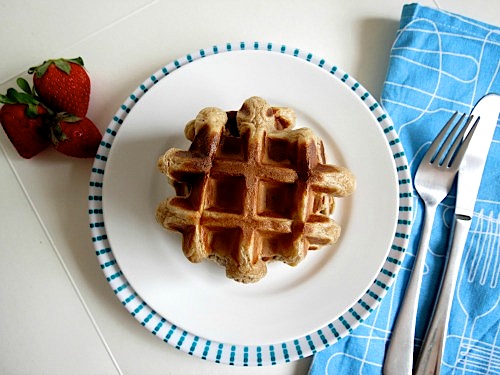 So, these waffles – Before you head out for your new years eve celebrations all you have to do is a quick stirring of just a handful of ingredients that you probably have at your finger tips. Then cover and refrigerate over night, the waffle batter not yourself . . . that would just be weird!
In the morning you will be rewarded for all your *cough* hard work with the most delicious (not to mention effortless) breakfast in. the. world.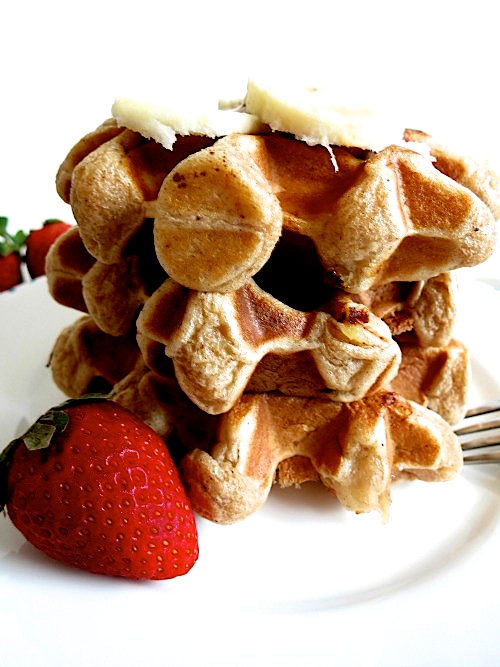 Crispy, crunchy yet light and fluffy cinnamon spiced, slightly sweet and packed with protein waffles . . . what more could you want?
Not only are these waffles out of this world delicious, they will also support your new years resolution to eat healthier . . . you know if your into that sort of thing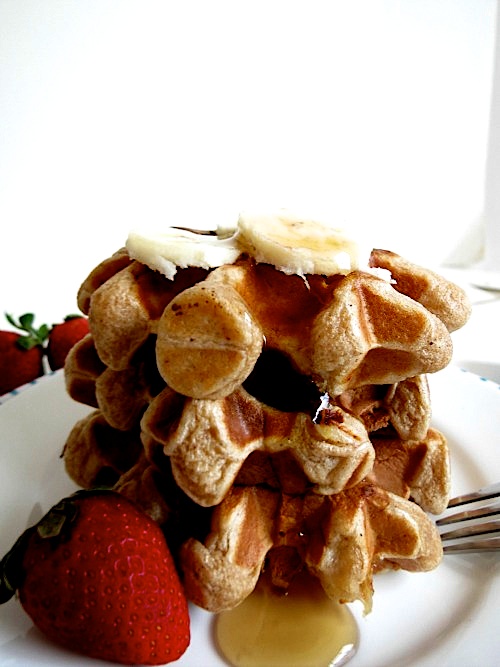 Serve with some extra slices of banana, add a fresh strawberry you know for antioxidants and all that good stuff oh and please don't forget to drown them drizzle on some maple syrup (the real stuff people because your totally worth it!) and you, my friend will kick off 2013 with a seriously delicious bang.
Overnight Brown Sugar, Banana Yoghurt Waffles




Makes about 20 cute lil waffles

Ingredients -

2 1/4 cups plain flour

2 tablespoons brown sugar

1 package active dry yeast

1/2 teaspoon salt flakes

2 teaspoons ground cinnamon (more or less to taste, I love me some cinnamon)

2 eggs

1 large manky over ripe banana, mashed

1 1/4 cups milk (I use skim)

1/2 cup plain greek yoghurt (I use and adore Chobani 0%)

2 teaspoons vanilla

Method -

Place all ingredients except the banana in a large bowl and whisk until combined.

Cover and refrigerate overnight (up to 24 hours).

Preheat waffle iron and add your mashed banana stirring to combine then cook  in your waffle iron according to manufacturers instructions. I like to use a 1/4 cup of batter per waffle. This makes them on the smaller side and slightly rustic looking with lots of crunchy edges which I love. MmmmMM crispy delicious edges dripping with maple syrup – yum!!!
PS – friends and family who find themselves fortunate enough to share in this incredible breakfast with be seriously impressed. Songs of praise and showering of gifts will be sure to follow, you have been warned

What's your plan for NYE?
_______________________________________________________________________________________________________
Nutritional Info (approx per waffle) obtained using myfitnesspal.com -
Cal – 77
Fat – 0.6g
Carbs – 12.5g
Protein – 3.3g
Fiber –  0.6g
Related posts: