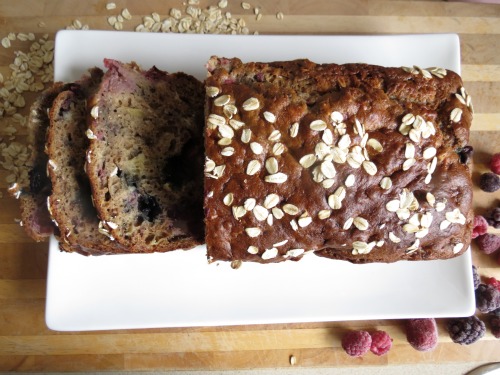 Let me introduce you to a slightly heartier version of your trusty old banana bread.
It's one of the few ways I can consume the goodness that is oats . . . the only other way is in these waffles or the chocolatey goodness that is this granola.
I have issues I know.
Sometimes there is nothing more to say . . .
Deliciously moorish, sweet and comforting . What more could you want?
It's perfect for this cooler weather we are having.
Grab a cup of hot coffee, a trashy magazine, put on your ugg boots and enjoy 🙂
I came across the original recipe shared by the beautiful Adrianna over at A Cozy Kitchen. Make sure you head over and check out the original recipe along with some all of the other  tasty treats Adrianna has created. You won't be sorry 🙂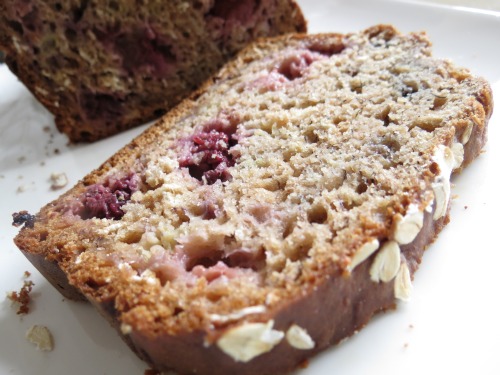 Banana Berry Oat Bread


Slightly adapted from this recipe from A Cozy Kitchen
Serves 12

Ingredients –

1 1/2 plain flour
1/4 cup rolled oats, plus extra for sprinkling ontop
1/2 tsp cinnamon
2 teaspoons baking powder
1/2 teaspoon baking soda
1/2 teaspoon salt
1/3 cup milk (I use skim)
1 tablespoon vanilla extract
2 eggs
1/4 cup brown sugar
1/4 cup white sugar
2 seriously ripe bananas
1 1/2 cup frozen berries

Method –

Pre-heat oven to 175˚c (350'F). Line a  9×5-inch loaf pan with baking/parchment paper.

In a medium bowl, sift together  flour, baking powder, baking soda and salt.

Add rolled oats and set aside.

In a large bowl, place eggs,

brown sugar,

white sugar and using an electric mixer beat until well combined.

Add banana and whisk until well combined.

Add milk and vanilla (nether of which you can really see in this photo :/) and whisk until just combined.

Add flour/oat mix and cinnamon (because you may or may not have forgotten to add it when you sifted the flour mix initially . . .) and mix until just combined.

Add the frozen berries,

carefully fold in berries until just combined.

pour into your prepared loaf pan. Sprinkle rolled oats over the top and bake for 40-60 mins (until a toothpick comes out virtually clean when inserted into the centre)

Allow to cool in the loaf pan for 10 mins then slice

ummm yes please . . .

and enjoy 🙂
____________________________________________________________________________________________
Printable Version –
Banana Berry Oat Bread


Slightly adapted from this recipe from A Cozy Kitchen
Serves 121 1/2 plain flour

Ingredients –

1/4 cup rolled oats, plus extra for sprinkling ontop
2 teaspoons baking powder
1/2 teaspoon baking soda
1/2 tsp cinnamon
1/2 teaspoon salt
1/3 cup milk (I use skim)
1 tablespoon vanilla extract
2 eggs
1/4 cup brown sugar
1/4 cup white sugar
2 seriously ripe bananas
1 1/2 cup frozen berries

Method –

Pre-heat oven to 175˚c (350'F). Line a  9×5-inch loaf pan with baking/parchment paper.

In a medium bowl, sift together  flour, baking powder, baking soda and salt.

Add rolled oats and set aside.

In a large bowl, using an electric mixer, beat eggs, sugars until well combined. Add banana and whisk until well combined.

Add milk, then vanilla and whisk until just combined.

Add flour and oat mix along with cinnamon and stir until just combined.

Fold in berries and pour into your prepared loaf pan. Sprinkle rolled oats over the top and bake for 40-60 mins (until a toothpick comes out virtually clean when inserted into the centre) Allow to cool in the loaf pan for 10 mins then slice and enjoy 🙂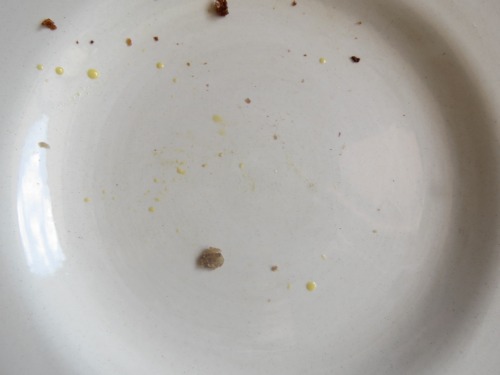 ____________________________________________________________________________________________
Nutritional Info (approx per slice) obtained using fatsecret.com –
Cal – 121
Fat – 0.7
Protein – 3.3
Carbs – 25.4
Fiber – 1.6