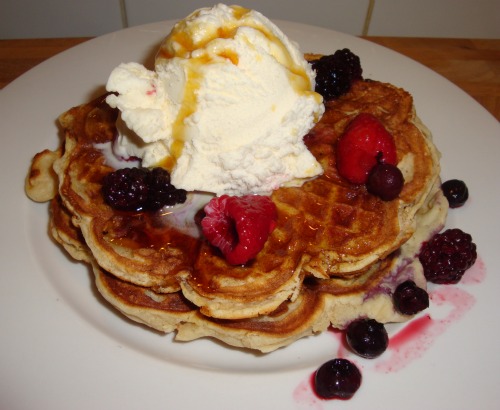 About a year ago we started a little family tradition, waffles for our sunday morning breakfast. I can not believe I had never had waffles until last year! They are so good, especially the left over ones you reheat in the toaster so they have a little crunch to them. Oh, so good!
They are pretty easy too. As long as you have a waffle iron you too can make some killer waffles. This recipe is so versatile, you can add just about anything you like to it. Some of our favourite are adding some crushed walnuts or some kind of berries…..blueberries are our favourite.
The trick to getting great waffles is to whisk your egg whites until stiff peaks form and then gently fold them into the rest of the mixture. Now when I first read this I must admit I thought, "great, this is going to take forever, there is no way this is going to be ready for breakfast…waffles for lunch anyone??". I was pleasantly surprised, it didn't take as long as I was expecting. Love that! They were definitely worth the effort.
You don't have to have them for breakfast though, you could also serve them as dessert. Whatever the time of day, doesn't matter really as long as you get to eat them at some stage. Sooner rather than later though, ok 🙂
Oh and they are great for the little ones too, our little lady loves them. When we sit down to eat our sunday breakfast and she sees her waffle, there is no way she can contain her joy. She will usually break into the biggest (and most adorable) grin accompanied by a squeal of delight. Then, after every bite she will say "yummy waffle" , like I said… totally worth the effort 🙂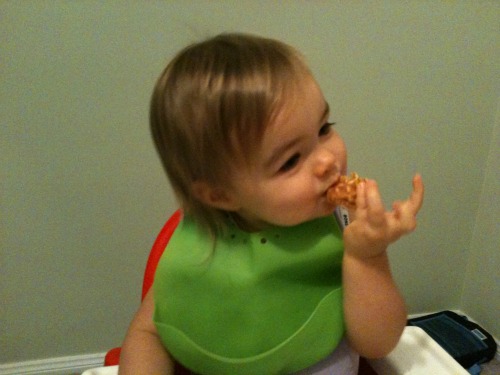 Ingredients –
1 3/4 cup flour
1 Tablespoon baking powder
1/2 teaspoon salt
2 eggs, separated
1/4 cup sugar
1/2 cup apple sauce
1 3/4 cup milk (I use skim)
To serve –
Berries
Maple syrup
Ice cream
Method

–

Stir dry ingredients together.

Separate the eggs.

Add the yolks to the dry ingredients and stir until well combined.

Add the apple sauce and milk and mix well.

Beat the egg whites until stiff peaks form.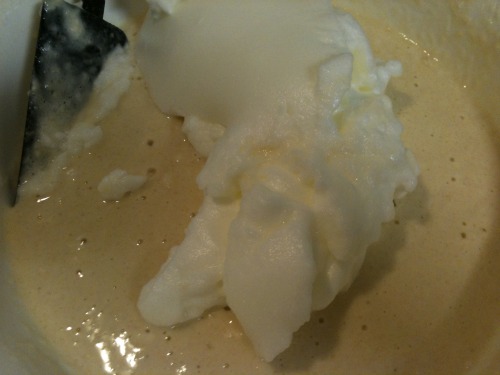 Use a rubber spatula to fold the egg whites into the batter (remember this is the secret to getting yummy waffles).
Spray the the hot waffle iron with olive oil (or you can use butter, whichever you prefer) and you are good to go.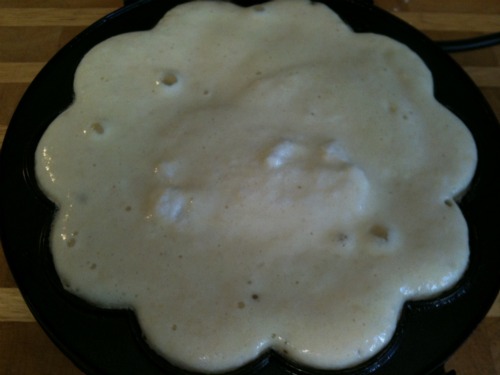 Spoon the batter onto the waffle iron, I have found it best to leave it a minute before closing the lid. Not sure why really it just seems to workout better for me. You may need to play around with temperature you set your machine to and also the timing a little to get it just to your liking.
Sometimes I have trouble with the waffles sticking but I find that if I get a butter knife I can usually pry the top of the waffle away from the iron, VERY carefully.
To serve – scatter berries and drizzle with maple syrup, then if your feeling like going all out add a scoop of ice cream. If your wanting to be a little less indulgent they are also great with jam (which is how our little lady likes hers), or just on their own (but better with coffee ;)).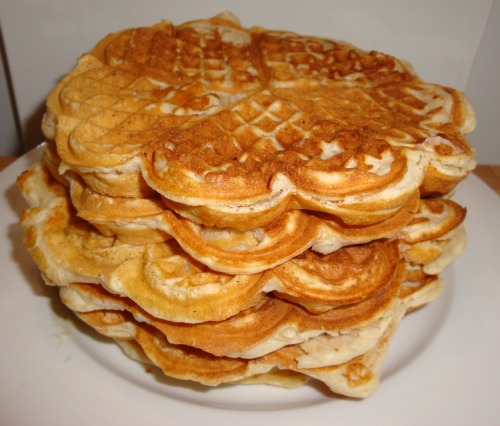 Nutritional Info (approx) obtained using fatsecret.com –
Cals – 165
Fat -1.4g
Carbs – 31g
Protein – 6.3