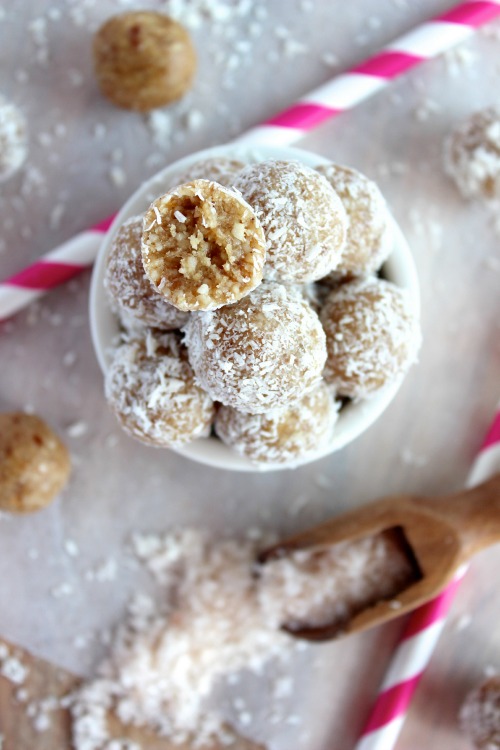 Oh you guys I am so sorry for skipping out on you last week but it totally was not my fault!
I had major, and I mean M-A-J-O-R technical difficulties!
As in, all of a sudden my computer decided to tell me it was all kinds of full and had no room for anything . . . and it took me 3 days to get it in a state where I could simply turn it on and check emails again . . . let alone upload and edit photos or work on any of my assessments!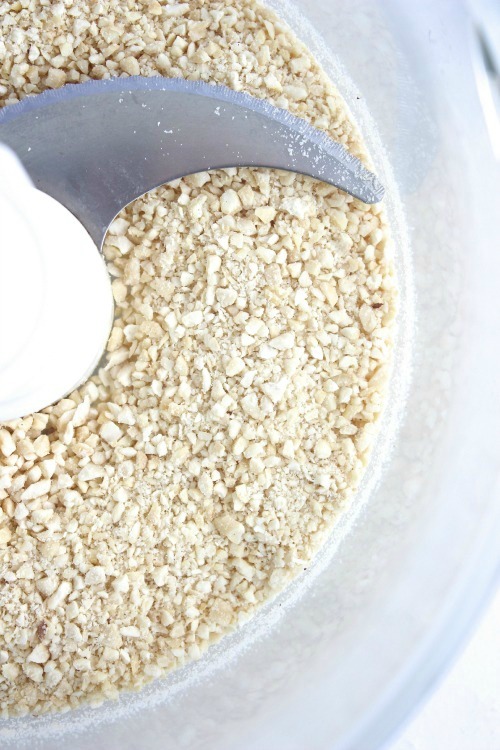 Dude, so not cool!
Anyways enough with my excuses . . .
I can totally make it up to you with today's tasty little treat.
Say hello to my salted caramel coconut bliss bites.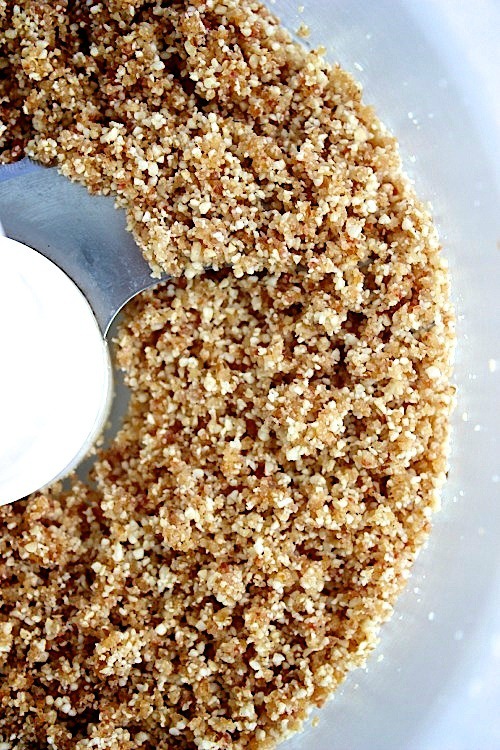 It's no secret how much I am totally addicted to my no bake, energy bites ( evidence → here,→ here,→ here,→ here and → most popularly, → here ) and you guys these salted caramel coconut bliss bites are my new fave. I know I say that each and every time I share my latest version but you guys, these babies are tha bomb!
As always they are all natural and made with just a handful of ingredients and they come together in less than 10 mins start to finish which of course I love, love, love but you guys . . .
One bite of these babies and the world as you know it will be changed forever!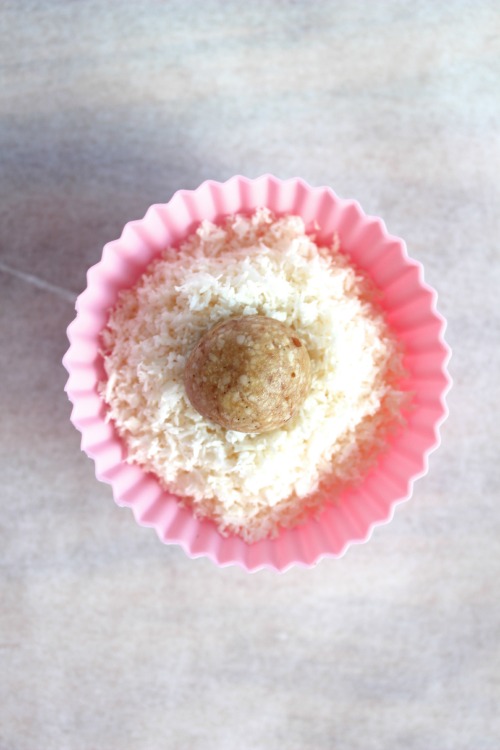 Plump and juicy caramel infused medjool dates are combined with buttery  cashews to make our delicious little base. Next we add in a splash of vanilla and a good pinch of salt. Now don't freak out they don't taste salty at all, the salt just helps to balance out the natural sweetness or our caramel base.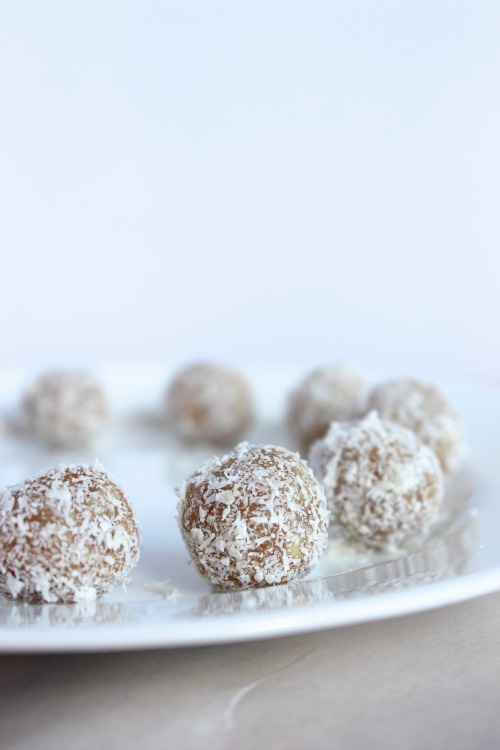 And then comes the coconut . . .  I decided not to add coconut to the bliss bite base because I wanted to have some contrast in flavour. This way you get not only a contrast in texture with the coconut flakes adding a nice little crunch on the outside but, you also get a contrast in flavours when you bite on in.
Crispy crunchy subtly sweet, slightly nutty coconut flakes on the outside, blissfully soft, chewy, deliciously sweet, caramel on the inside!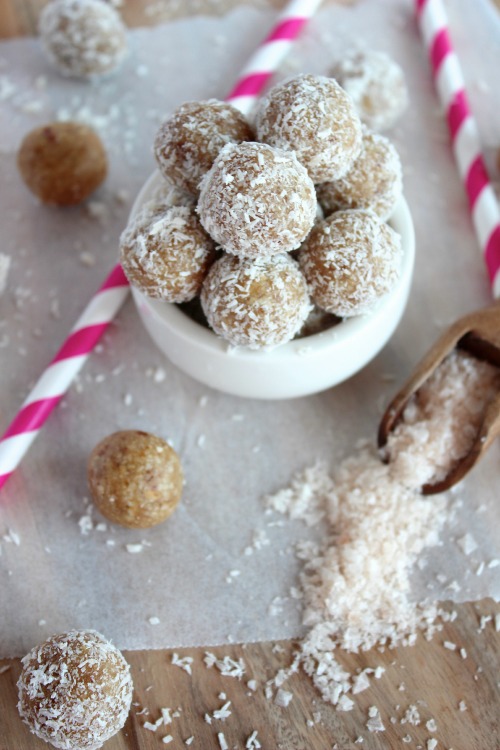 The coconut flakes do have an element of sweetness to them, but they also have this amazing, subtle hint of nuttiness that just goes so perfectly with the sweet, blissful caramel base.
You guys, I can't even tell you, these salted caramel coconut bliss bites will blow your pretty little mind!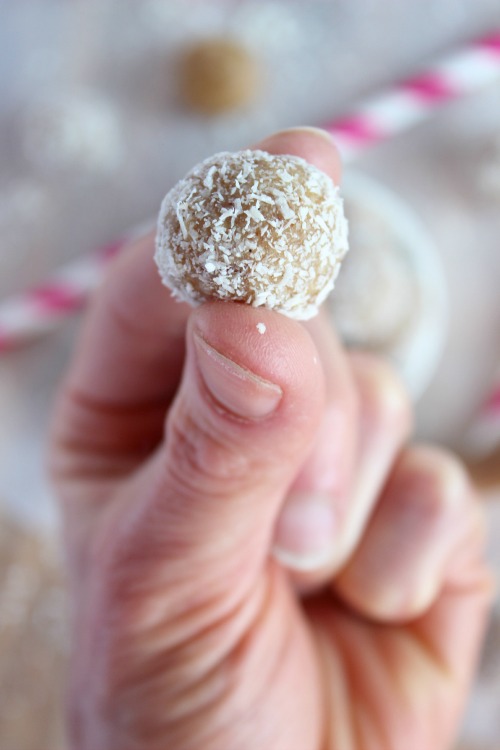 They are all natural, insanely delicious as well as super quick and easy to prepare. They also happen to be secretly healthy, made with just a handful of real food ingredients that I bet you have on hand already oh, and they also happen to be dairy free, vegan and paleo friendly! Everybody wins!!!
I should warn you though as quick and easy as they are to prepare, they are just as easy to inhale enjoy and magically seem to disappear in the blink of an eye.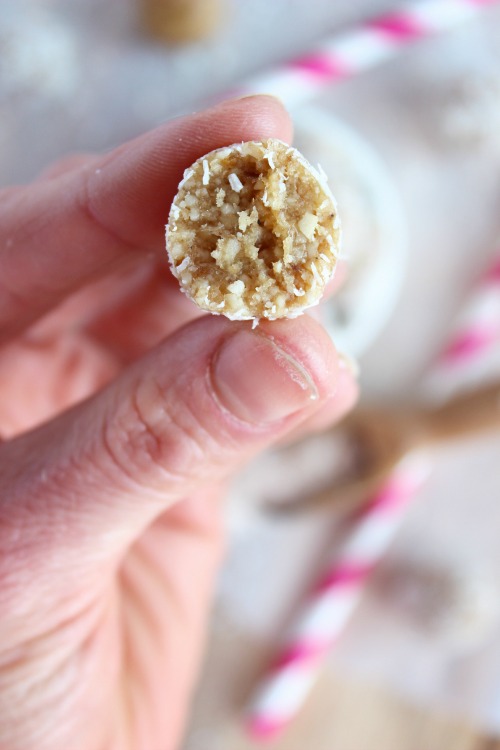 They are just so delicious!
They also happen to be perfect for anytime of day.
Perfect for with a cup of green tea of coffee for your mid morning treat.
The perfect pre/post workout power up
The perfect way to get through that late afternoon, post lunch, pre dinner 330its without the pesky, post sugar come down.
Or the perfect way to end your day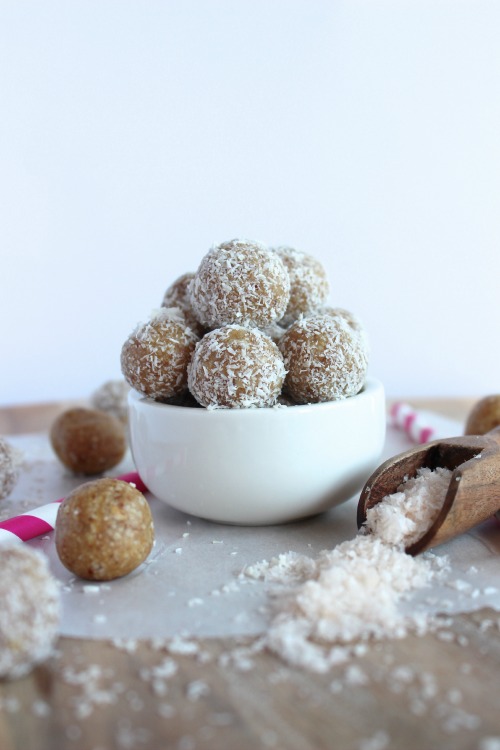 FYI – they also happen to be the perfect fuel to get you through those annoying little reformatting issues . . . not even kidding these babies totally saved my sanity this past week. Not. Even. Kidding!
Quick and easy, all natural, salted caramel coconut bliss bites that are not only all kinds of delicious and totally healthy and made with just a handful of ingredients but, they also happen to be dairy free, vegan and paleo friendly!
Ok I better go and get working on those assessments . . . but you . . .
What are you waiting for?!
Go bust out your food processor or blender and;
Make them, eat them, love, love, love them!
Salted Caramel Coconut Bliss Bites
Makes approx 30 all natural, secretly healthy, buttery, sweet, coconut cocoated bites of caramelicious deliciousness

Ingredients –

1 cup cashews (I used raw, unsalted)

6 medjool dates, pits removed

1 teaspoon of vanilla extract

a generous pinch of salt flakes

1/4 cup of finely shredded coconut for coating.

Method –

1 – Place cashews in your food processor/blender and pulse until crumbly, you want there to still be a few bigger chunks to give the bites some nice texture.

2 – Add dates and pules until the mixture starts to come together into a sticky, loose "dough".

3 – Add vanilla extract and salt flakes and pulse again until combined.

4 – Using your hands, roll approx 1 heaping teaspoon of dough into little bite size balls then set aside

5 – Place your coconut into a small bowl (or even just a zip lock bag) then gently roll your bliss bites in the coconut gently but firmly pressing to make sure to coconut sticks to your bite.

6 – Once your bites have a delicious little coconut coating, transfer directly to your mouth an airtight container (or even just a ziplock bag) and store in the fridge
Enjoy xo
____________________________________________________________________________
Question of the day –
What's your favourite quick and easy snack? Homemade, store bought it's all good?!