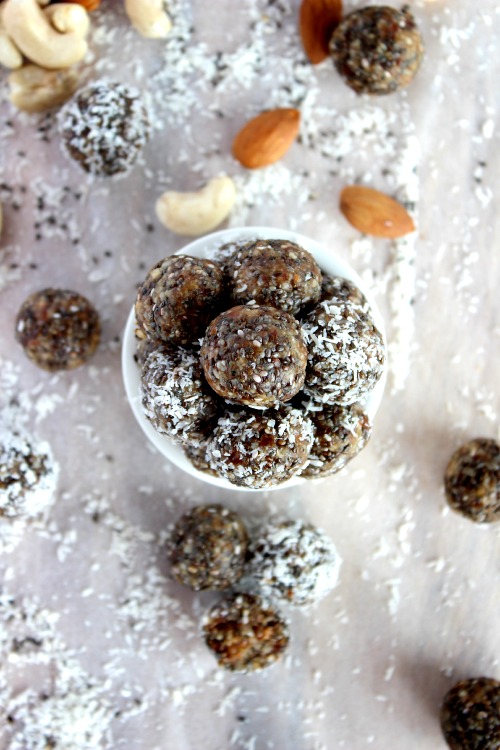 Oh hey there sweet invisible internet friend of mine, what's going on?
Me?
Oh you know, not much, same old, same old.
I kinda feel like I owe you an apology . . . it's been way to long since I shared a new energy bite recipe with you.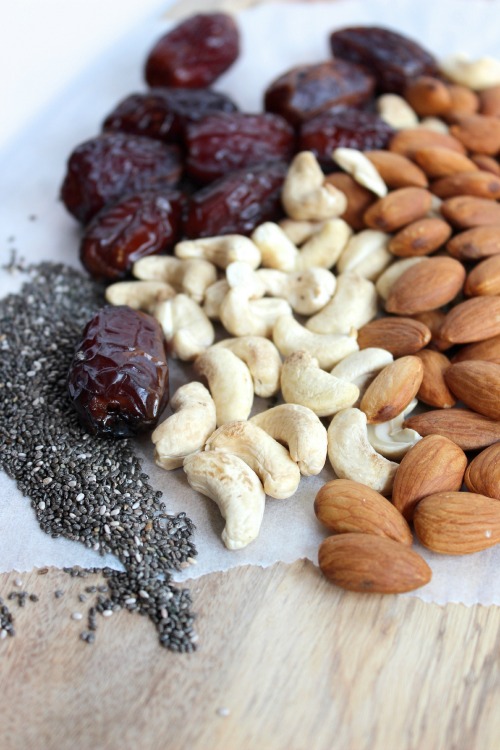 It's not that I haven't been eating them, believe me I have, I just haven't been sharing . . .
Food hoarder say whhhaaattttat?!
This recipe totally makes up for it though, promise.
Today, for our test it out tuesday recipe, we are making ourselves some deliciously dreamy, seriously healthy, Date, Chia and Coconut Energy Bites.
This recipe is one I have adapted from my new fave cookbook, Pete Evans – Healthy Every Day. You guys, have you got your copy yet? You need to get it asap! It is seriously ah-mazing!!!!! So many beautiful, simple, healthy, delicious looking recipes I'm having a hard time getting my head around where to even start.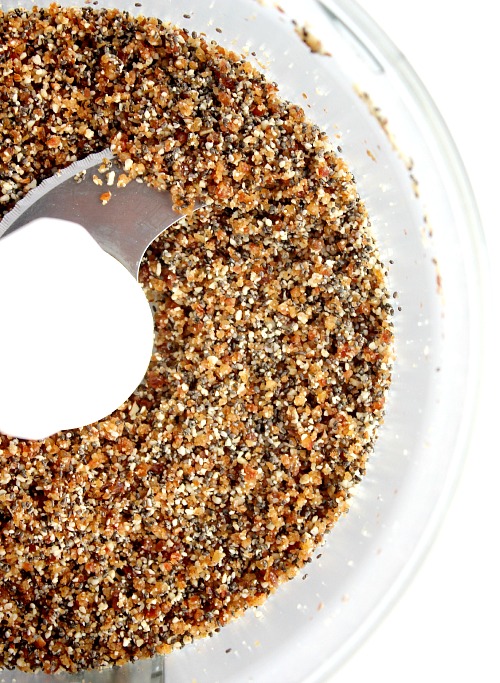 I figured these Date, Chia and Coconut Energy Bites would be the perfect place.
They are quick and easy to prepare, only calling for a handful of ingredients that you probably have on hand already. Winning!!!!  Plus they will be the perfect fuel for my cooking frenzy.
Once I can get myself to focus on making a list of what I want to make when . . . maybe I should just start at page 1 and work my way through? Well wouldn't that just be all kinds of logical . . . yeah, so not going to happen. Oh me!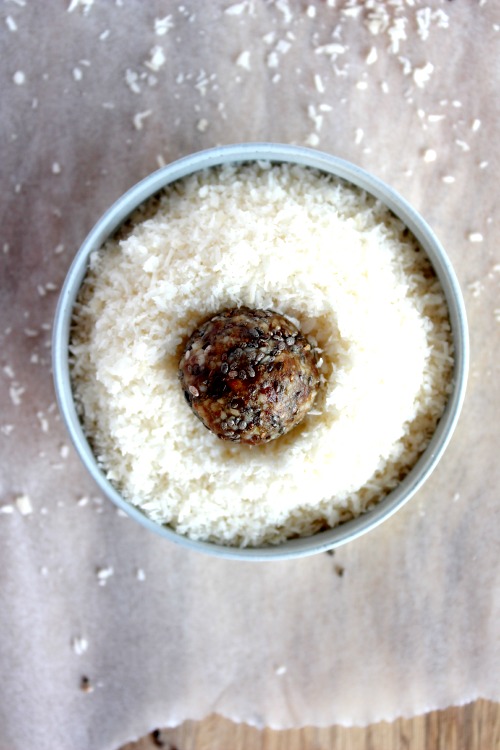 Anyways, I can tell you what is going to happen once you have made these delicious little Date, Chia and Coconut Energy Bites. You will fall head over heels in love with me them that's what.

You guys, these bites are insanely delicious!
They are light, sweet and have this incredible, subtle nuttiness that balances out the sweetness perfectly. They are so good I can't even tell you.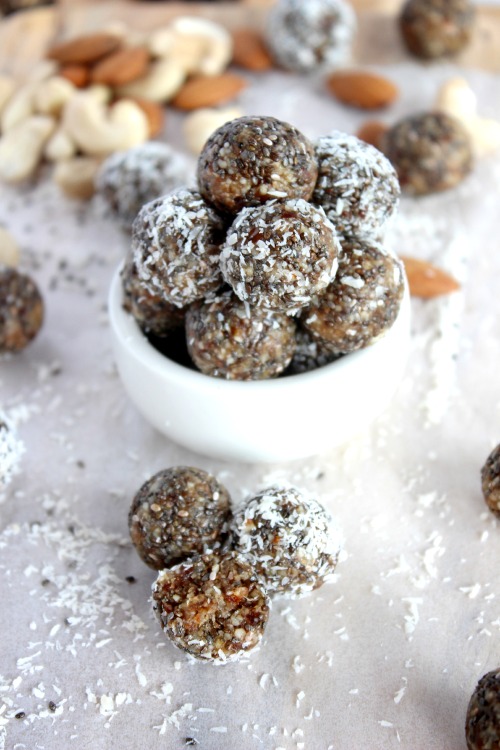 These Date Chia and Coconut Energy Bites pack a serious flavour punch, are super soft in texture yet they have this awesome little crunch thanks to those cheeky little chia seeds. Total texture lovers dream. And I can not, will not, stop eating them.
What can I say, it was love at first bite.
These Date, Chia and Coconut Energy Bites are not only insanely delicious and totally healthy they are also all natural, with no refined flours or sugars added. They also happen to be vegan and paleo friendly, perfect for inhaling eating anytime of day.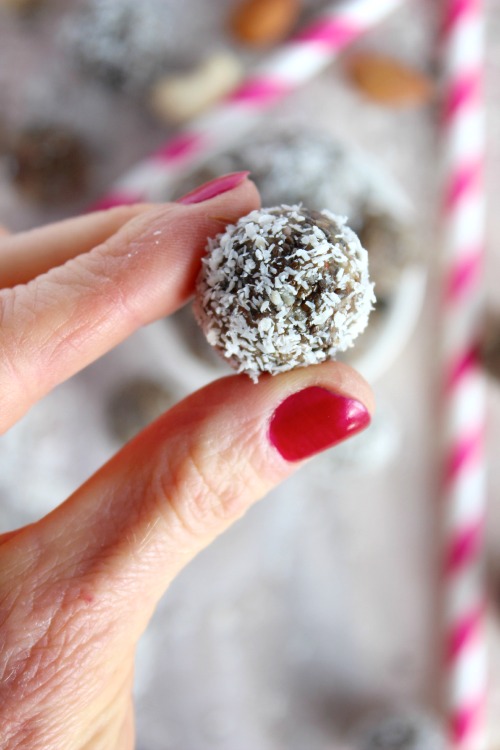 Perfect with a cup of green tea for your mid morning snack
Perfect as part of your pre/post workout treat
Perfect for getting you through that pesky ol' 3:30 slump
Or the perfect, guilt free way to finish your day.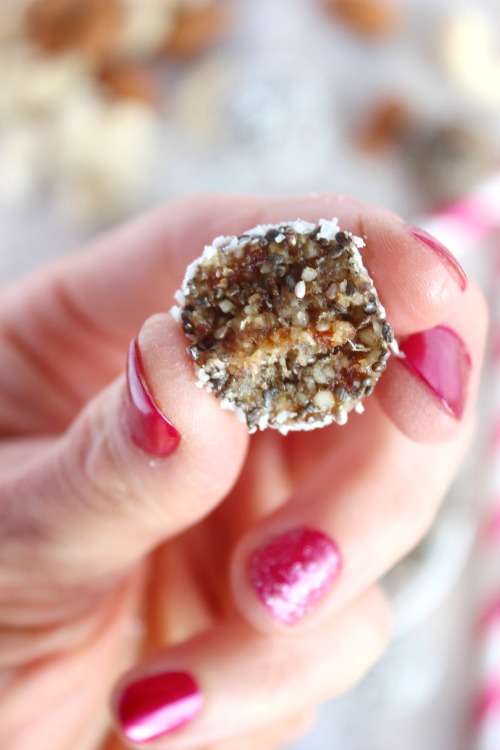 Whenever you choose to make and eat these delicious little Date, Chia and Coconut Energy Bites you will love! These babies are dangerously addictive! Or is it addicting? Whatever it is I know once you have made them you won't be able to stop eating them. Lucky they also happen to be all kinds of healthy! I mean they have chia seeds in them so that makes them a superfood right? 😉
Yep, you're welcome
Make them, eat them, love them
Date, Chia and Coconut Energy Bites


Adapted from Pete Evans – Healthy Every Day


Makes approx 40 delicious little date lovin', coconut coated, chi-chi-chialicious bites of all natural energy

Ingredients –

12 pitted,  medjool dates (approx 3/4 cup)

1/3 cup of raw cashews

1/3 cup of Raw Almonds

4 Tablespoons of Chia Seeds

3 Tablespoons of shredded coconut

1/2 teaspoon of vanilla extract

1/8 teaspoon of ground cinnamon

Method –

1 – Place almonds and cashews into your food processor/blender and process until they are ground into a fine flour. Don't turn them to dust though we still have some more processing to do and we want our energy bites to have a little texture to them.

2 – Add dates, vanilla and cinnamon and process until well combined.

3 – Add chia seeds along with 2 Tablespoons of your shredded coconut and process until combined. If you find your "dough" is a little dry add a splash of water and process again.

4 – Use your hands to roll your delicious "dough" into bites size balls and set aside FYI –  I use approx 1 heaping teaspoon per bite.

5 – Place your remanning Tablespoon of shredded coconut into a small bowl and gently roll some of your delicious little bites to coat. I chose to coat half of my bites in coconut and left the other half plain if you want to coat all of your bites simply use more shredded coconut.

6. Store in the fridge in an airtight container for up to 2 weeks (yeah as if they will last that long)
Enjoy xoxo
________________________________________________________________________
Question of the day –
What's you're current go-to/fave cookbook?