It's no secret how much I love, love, love me some healthy no bake energy bites.
I just can not get enough.
They are just so delicious
and handy
and easy to make
and eat
and did I mention they're delicious?
Well just incase you missed it, they are. Seriously delicious!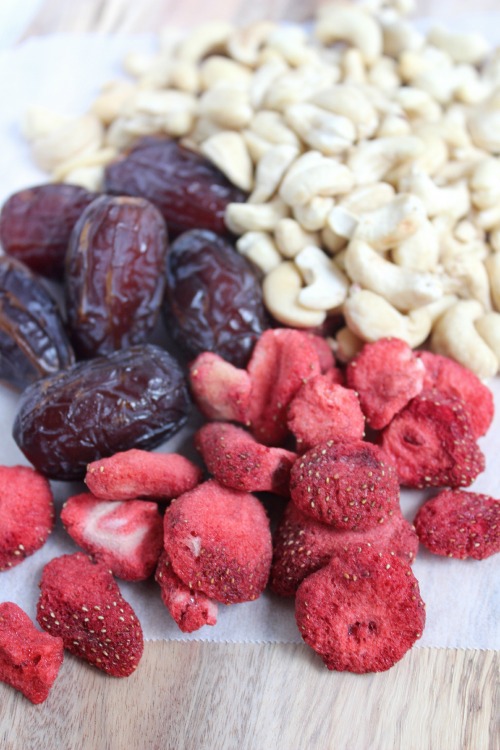 Todays recipe is a good one people – just 5 ingredients, 5 minutes in your food processor or blender and 5 mins until they all somehow, magically disappear (into your belly 😉 )
Today sweet invisible internet friend of mine, we are making ourselves some healthy, no-bake Strawberry and Cream Cashew Cookie Bites.
I mean strawberries and cream, come on? Such a classic flavour combination. I have been racking my brain for months now, trying to figure out how to get the perfect, strawberries and cream energy bite recipes to share with you, but I just couldn't seem to nail it.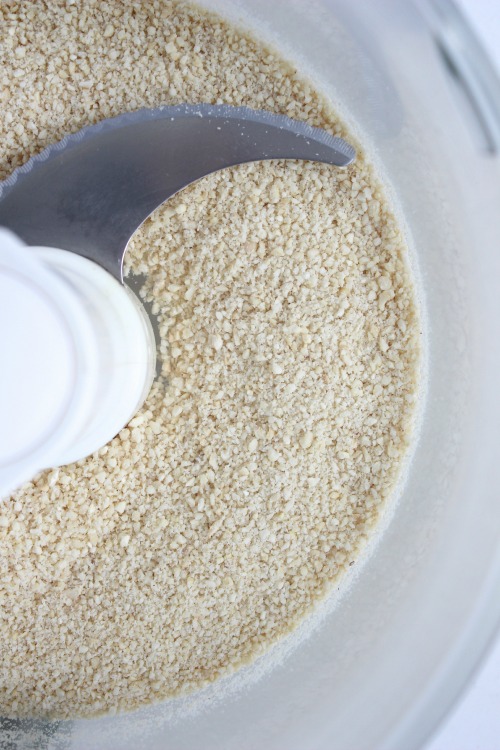 Enter Natalie, gorgeous, sweet, wonderful Natalie who blogs over at Perry's Plate. A few months ago she shared this recipe for her Homemade Strawberry Cream "Larabars" and there it was . . . the answer I had been looking for – Freeze dried strawberries!
The heavens opened, the angels sang, ladies and gentleman we have ourselves a winner!
Happy dancing and virtual high 5's all round with an extra special fist bump for my girl Natalie!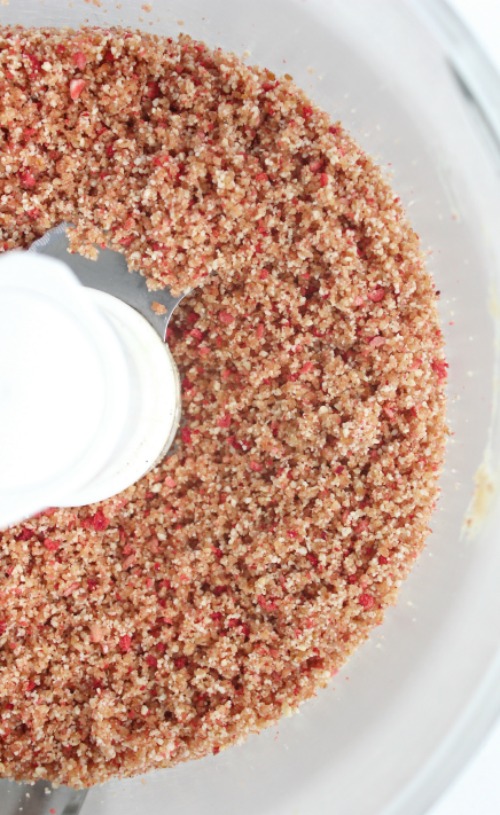 Buttery cashews are combined with sweet, chewy dates, a splash of vanilla and some freeze dried strawberries to give you these healthy, no-bake, light, sweet, deliciously buttery, creamy strawberry cashew cookie bites.
I love the way the freeze dried strawberries give them a pretty pink glow   (← I'm such a girl) and they also give these bites a nice little crunch. A texture lovers dream.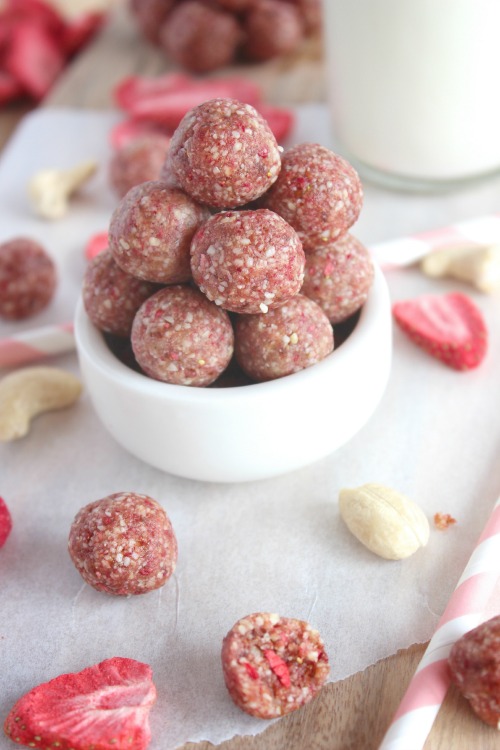 As always our no-bake energy bites are all natural, with no refined flours or sugars added. Sweetened naturally with dates, a splash of vanilla and those crispy, crunchy freeze dried strawberries, nothing more nothing less. These strawberry and cream cashew cookie bites doesn't actually have any cream in them either, that dreamy, creamy flavour you get is thanks to our buttery cashews ♥♥♥
I always have some of these babies stashed away in the fridge in case of emergency, you know, for those times when you stand there, staring into the fridge, not really hungry just bored/lost/procrastinating and you can't seem to decide what, if anything, you want to eat? So you just grab a handful and stuff them into you're pretty little face while no one is watching one of these sweet, pretty in pink bites and all is right in the world again. 
These Strawberry and Cream Cashew Cookie Bites are the prefect little treat for anytime of day.
Perfect with a cup of tea or coffee as your mid morning snack
Perfect as part of your pre/post workout fuel
Perfect for getting you through that pesky ol' late afternoon 3:30 slump
Or the perfect, guilt free way to finish your day.
Subtly sweet, strawberry infused, creamy, dreamy, cashew cookie bites that also happen to be totally healthy, all natural and pretty in pink.
What are you waiting for? Time to get your cookie on
Make them, eat them, love them
Strawberry and Cream Cashew Cookie Bites


Inspired by this recipe shared by Natalie over at Perry's Plate
Makes approx 40 healthy, creamy, dreamy, pretty in pink, energy packed bites of deliciousness

Ingredients –

1 cup raw cashews

6 medjool dates, pits removed

1/2 cup freeze dried strawberries

1 teaspoon of vanilla extract

a pinch of salt flakes

Method –

1 – Place cashews in your food processor/blender and pulse until crumbly, you want there to still be a few bigger chunks to give the bites some nice texture.

2 – Add dates and pules until the mixture starts to come together to form a sticky "dough".

3 – Add vanilla extract and salt flakes and pulse again to combined.

4 – Lastly add your freeze dried strawberries and pulse until just combined.

5 – Using your hands, roll approx 1 heaping teaspoon of dough into little bite size balls then transfer to an airtight container (or even just a ziplock bag) and store in the fridge until you are ready to devour indulge.

Enjoy xo
____________________________________________________________________________
Question of the day –
What is the one, classic flavour combination you just can't say no to?