Allow me to introduce you to my latest obsession . . .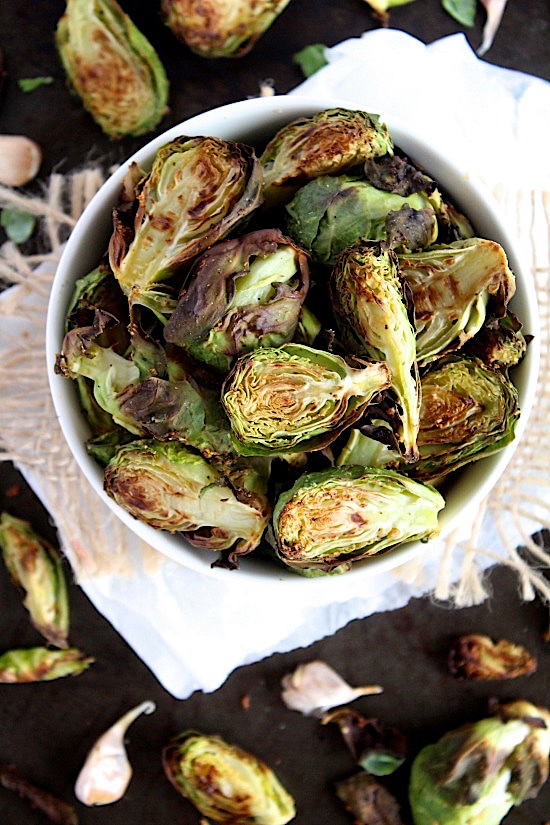 Deliciously simple, crisp and crunchy garlic roasted brussels sprouts!!!!!!!!!
You guys . . .
These brussels . . .
Firstly, how cute are they?!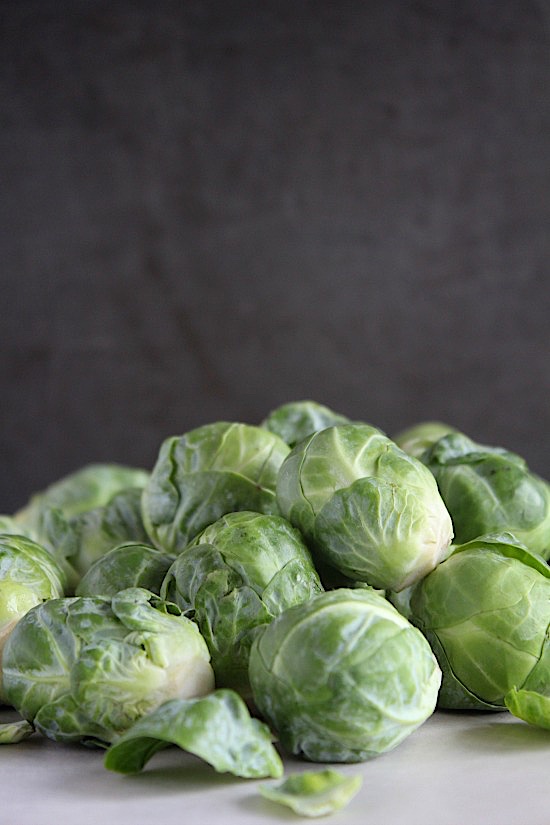 Teeny tiny little baby cabbages 😍😍😍
Secondly, how delicious are they?!
Answer = outrageously!
Crisp and crunchy, salty, sweet, perfectly tender, garlic infused bites of awesomeness ❤️❤️❤️
Seriously!
Can. Not. Stop!
And to think that for the longest time, I'm talking until very recently, I thought I didn't like them!
Poor little brussels sprouts all neglected and cast aside!
Not anymore!!!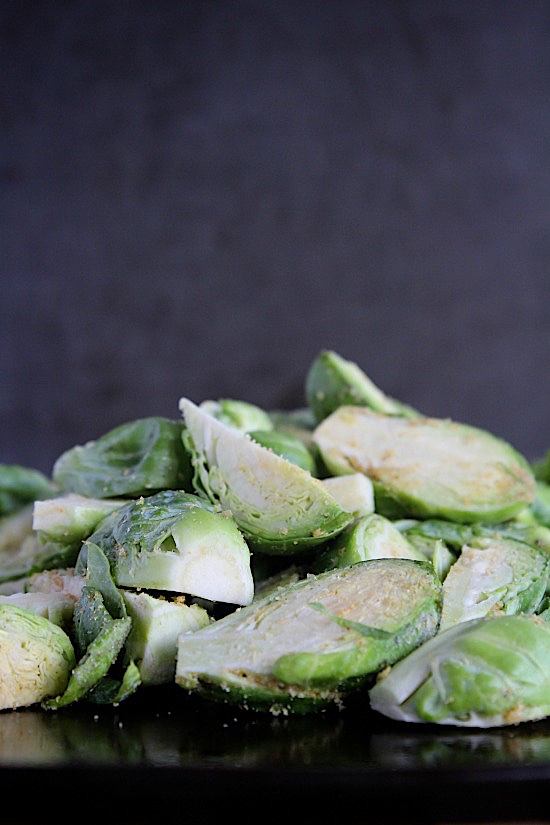 I think it has something to do with the fact that growing up I only ever saw them served as soggy, tasteless, squishy, stinky balls of mush.
Yeah, not the most appetizing of side dishes, sorry Dad . . .
But these . . .
Deliciously simple, perfectly seasoned, crisp and crunchy oven roasted brussels sprouts are an absolute game changer!
Honestly.
If you think you don't like brussels sprouts then please, please, please try them this way, at least once.
Go on . . . I double dare you . . . 😘😘😘
I bet you change your mind.
I know I sure did.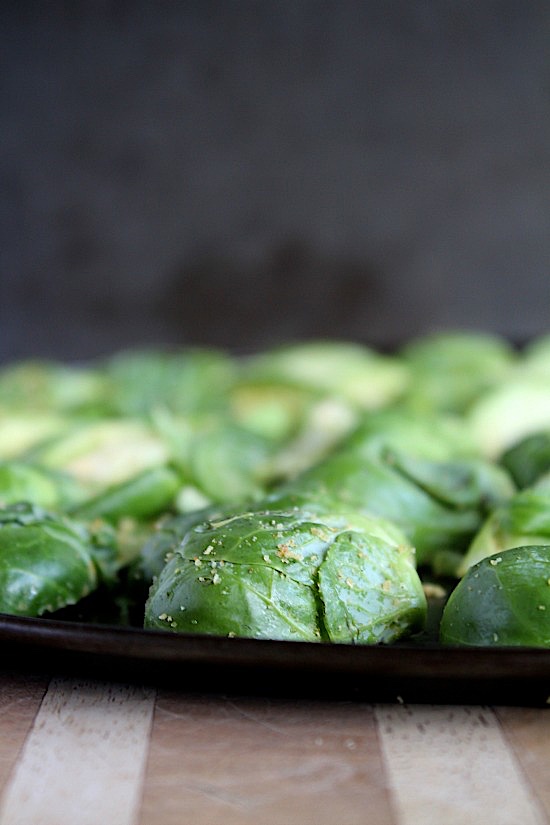 These babies have simply been sliced in half, tossed in a little coconut oil then seasoned with a generous pinch of salt, some freshly ground black pepper and a heavy handed sprinkling of garlic powder then roasted until deliciously crispy, lightly golden, perfectly caramelized and slightly charred  😋💛👌🏻
The trick to get them super crispy is to make sure you roast them cut side down!
I know, I know it seems annoying at the time because it take a few minutes of concentration to strategically place them all cut side down rather than good ol' dump and roast method but you guys, believe me, it's 100% worth the effort. Promise!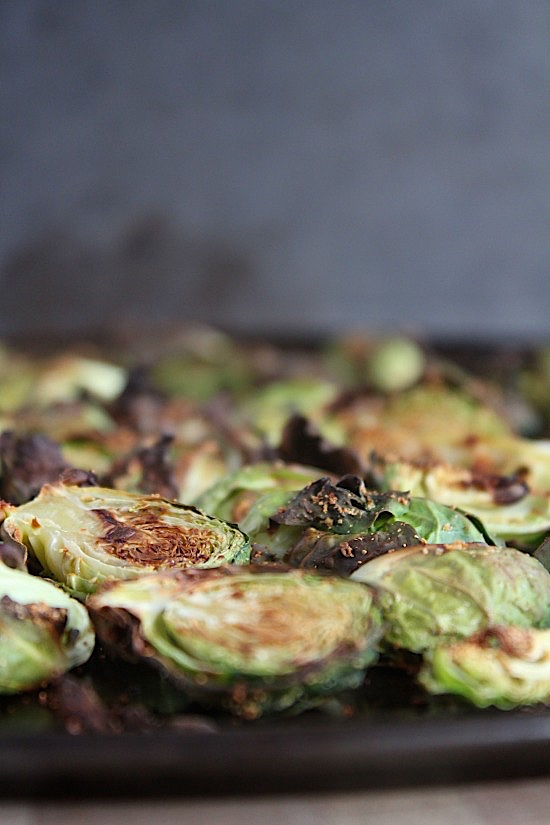 Then, we roast those babies for 15ish minutes, flip them over/shake the tray and roast them for 10 minutes more!
Boomshakalocka, done!
Oh and FYI –  if you happen to have any larger sprouts on hand then I suggest you cut them into quarters, and really maximize the crunch factor!
Ridiculously simple, yes but you guys . . . they really are absolutely incredible!
One taste and life as you know it will be changed forever!
I mean would you just look at that crisp and crunchy, gloriously golden, deliciously caramelized goodness?!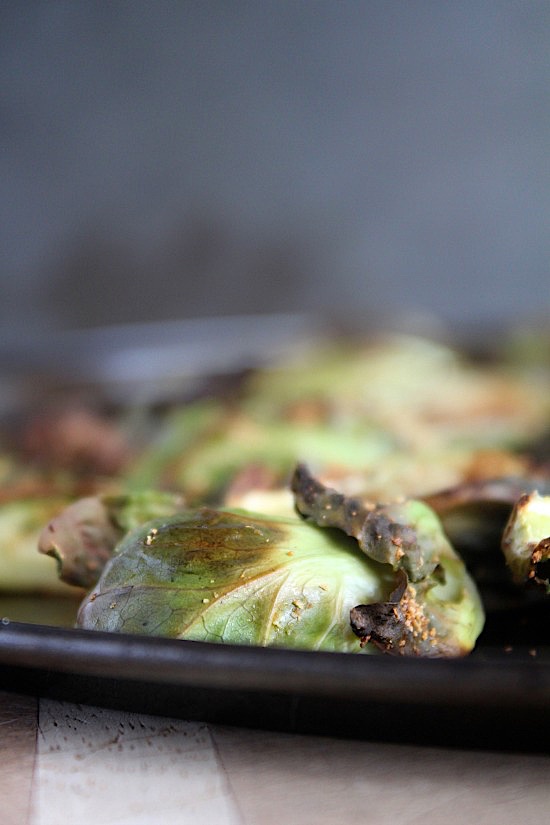 Isn't it just prettiest, crispiest, crunchiest little skirt you ever did see 🍃😍💚
And those slightly gnarly, extra crispy, charred/burnt looking ones . . . those are the best!!!!!!!
Seriously so good!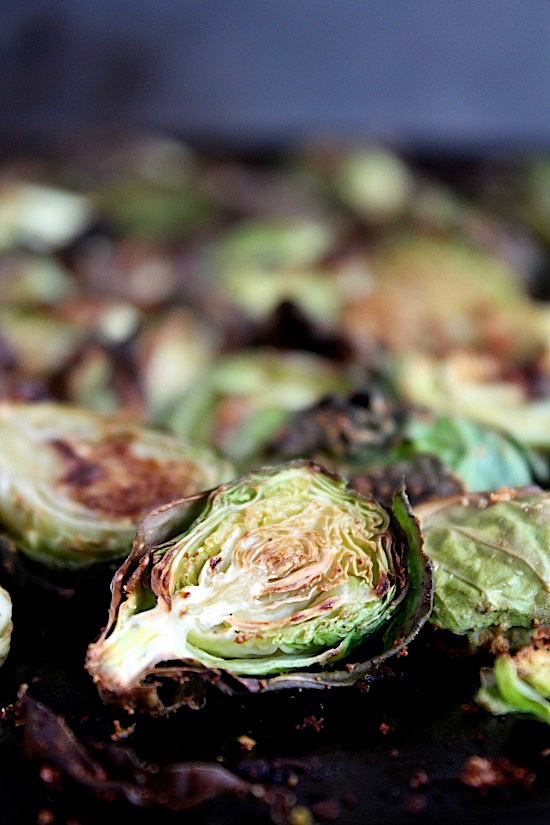 Throw them into your favorite salad or serve them alongside your protein of choice (they go very nicely with this garlic and rosemary chicken, this healthy, homemade teriyaki salmon, this ginger and jalapeno pulled pork or this pan seared steak) to take your lunch or dinner to a whole new level.
But, I'm also thinking we should have ourselves a killer breakfast by serving them with a stack of our quick and easy carrot and zucchini fritters with a side of crispy bacon (because, bacon ❤️❤️❤️ ) and OOoooOOOOO we should definitely serve them with our sesame crusted, smoky sweet potato burgers + some perfectly roasted baby taters for a seriously epic, meat-free Monday feast . . . and if you wanted to go ahead and put an egg on it I wouldn't be mad about it.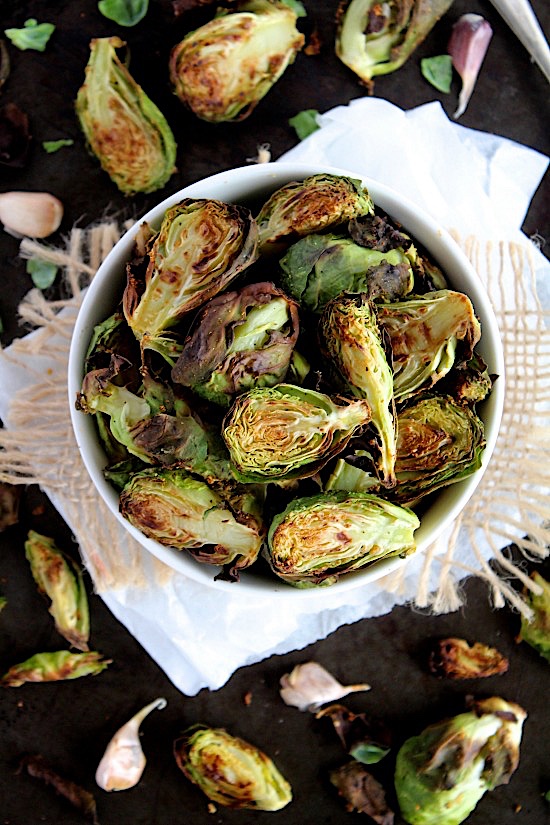 In all honestly though, I could take down an entire tray of these crisp and crunchy, garlic roasted baby brussels, in one sitting, all on my own and be one very happy lady!
I may or may not have done it on more than once occasion . . . 😋😋😋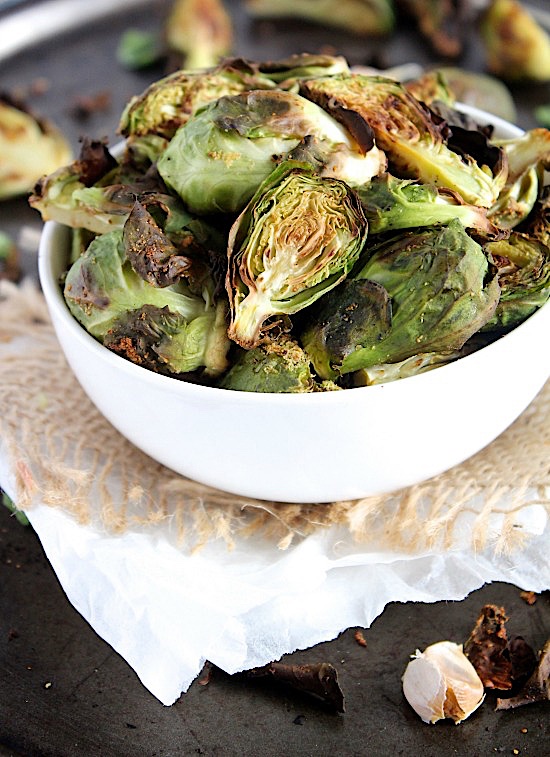 Deliciously simple, gloriously golden, crisp and crunchy garlic roasted brussels sprouts . . .
Make them. Eat them. Love, love, love them.
Deliciously Simple, Garlic Roasted Brussels Sprouts

Makes 2 cups of perfectly seasoned, garlic infused, delicious crispy, oven roasted brussels sprouts.

Ingredients –

2 cups of Brussels sprouts, stems removed and cut in half (or quarters if on the larger side)

1 teaspoon of garlic powder

1 teaspoon of coconut oil (or cooking fat of choice)

A generous pinch of salt and pepper

Method –

1 – Preheat oven to 175'C (350'F) and line (or lightly grease) a large baking sheet, set aside.

2 – Place your beautiful brussels into a bowl, drizzle with coconut oil, sprinkle over your seasoning and toss to coat.

3 – Place your seasoned sprouts onto your prepared baking sheet, cut side down and roast for 20-30 minutes, turning/tossing once or twice during cook time.

4 – Serve with an extra pinch of salt and pepper and eat them with alllll of the things!
Enjoy xo
_________________________________________
Question of the day –
Are you a fellow roasted veg lover?! Whats you're favorite way to prepare them? And of course how do you like to eat yours?! Tell me . . . details please
Feel free to share recipes, or links to your fave recipes in the comments below or on the Facebook page and please for the love of all that is good in this world when you do make your garlic roasted Brussels sprouts (or any of the recipes you find on this blog of mine) go ahead and snap a pic and share it either on the Facebook page, or tag me on twitter or Instagram. Sharing is caring remember.
Do it, do it You know you want to 🙂
__________________________________________