I have been sitting here all day long, well maybe not all day long but for hours and hhhooouuurrrsssss trying to think of some funny story to tell you . . . Honestly I have.
We it feels like it's been that long . . . racking my brain I tell you and you know what . . . I got nothin'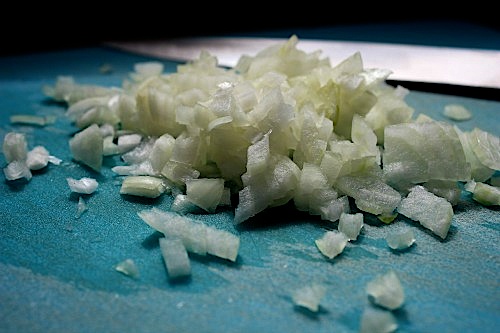 To be honest, my brain is fried. Like really, really f-r-i-e-d.
Sweet darling daughter of mine is currently, firmly and persistently in the stage of "but why?"
It doesn't matter how many times you answer the rapid fire questioning or how much information you give . . . the " . . . but why" always wins.
Ugh wear. me. out!
Seriously, I can't think straight.
It may also have something to do with the fact that my head is spinning from all the happy dancing I have been doing about the success of our 42 days to fit book launch.
But really . . . the ". . . but why mama's" have numbed my senses.
Big time.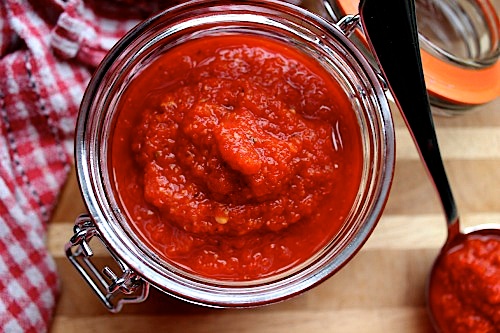 So with that in mind I beg you not to ask me why you should make this unbelievable Chargrilled Red Pepper and Tomato Sauce. Please . . . pretty please with a cherry on top, and a pile of whipped cream sprinkled with shavings of the finest chocolate available to all man kind and finished with a rainbow of sprinkles – do not ask me why.
It's rich, tangy, slightly smoky and ridiculously moorish. It goes with just about anything. Not to mention you made it yourself so it doesn't have any weird ingredients of crazy preservatives in it either ♥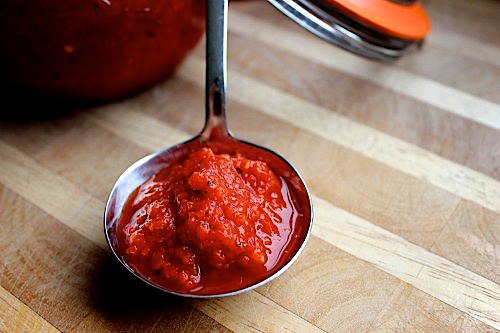 Use it as pizza sauce, pasta sauce, spoon it over your eggs, use it as a dip, on nachos . . .  mmmMMMMMMmmm  the ways you can devour enjoy it are limited only by your imagination my pretties.
So let your mind run free and go make this sauce already.
And when I say make there really is no work involved . . . just opening a few jars, tossing a few delicious ingredients into a blender or food processor and your "work" is done.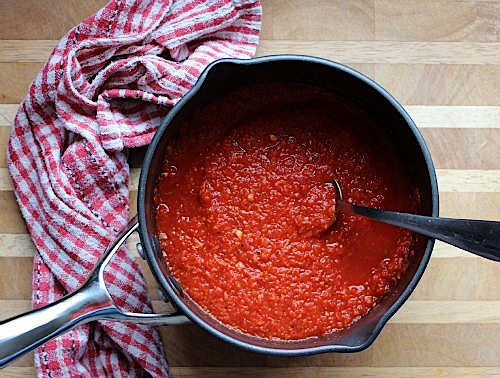 Simply heat and serve.
Of course you did so much "work", slaving away to prepare this incredible, home made, natural, preservative free sauce for your loved ones so it's only fitting the people you serve it to will be literally jumping over themselves to clean up for you after such an incredible meal . . . I mean it's the polite thing to do

So yes, get to "work" and go make this ah-mazing sauce already . . . ah. ah. ah not "but why's" . . .
because I said so, thats why
. . . and I say so because I love you so very much. You deserve to have this sauce in your life . . . like today
Chargrilled Red Pepper and Tomato Sauce




Makes approx 4 cups

Ingredients -

3 whole chargrilled red peppers/capsicum (I used these ah-mazing jarred peppers from Always Fresh but you could always make your own)

1 x 400g can of diced tomatows

1 clove of garlic

1 small onion, chopped

1/2 teaspoon of dried basil

1/2 teaspoon of dried oregano

a pinch of red pepper flakes

salt and pepper to taste

Method -

1 – Place all ingredients into a blender or food processor.

2 – Blend/process for roughly 2 mins, until you reach your desired consistancy. I like it to be relatively smooth but still a little chunky . . . not to be confusing at all.

3 – Transfer to an air tight container and store in the fridge until ready to use. FYI – you can freeze for up to 3 months!

Enjoy
_______________________________________________________________________________________________________
How do you unwind after a loooonnnngggg day?
Related posts: