Ok this weeks "Test it out Tuesday" is a total self indulgence.
I'm in a funk. Not a super cool kind of funk either. A miserable funk that I can. not. shake.
My skin is a nightmare, I need a new wardrobe (or a total makeover) and I'm seriously home sick.
I hate it.
I feel totally miserable and out of control.
So what do I do . . . I head to the kitchen and have myself a pizza making party
I mean who wouldn't?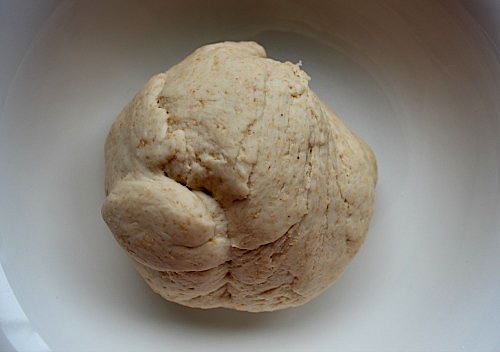 and you know what . . .  I found myself a new fave pizza dough (Thanks Deb)
I used 1/2 whole wheat pastry flour and half regular plain flour and oh my word. Seriously . . . incredible.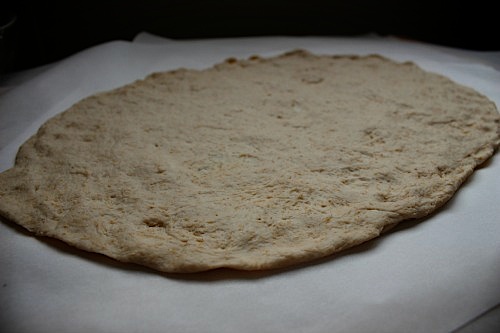 Now, I like my pizza dough stretched out pretty thin, crispy but still kinda fluffy you know? I like it to be sturdy enough to support a good amount of pizza sauce  without going soggy and also a generous mountain serving of toppings without getting lost beneath all that cheese covered goodness . . .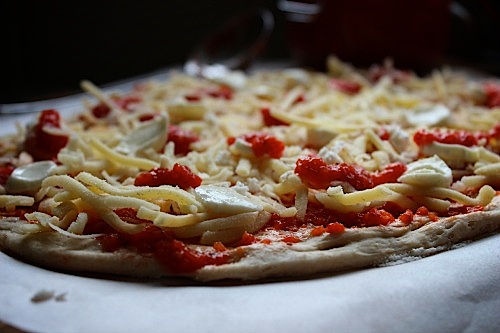 and everybody knows the true test of a pizza store, (or in this case a new pizza dough recipe) is good old margarita, am I right?
Of course I am.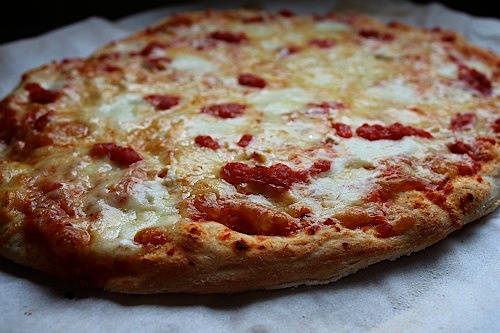 and you guys . . . this pizza dough totally holds it's own.
Its light yet sturdy, crispy and fluffy and totally gave me a little of my groove back.
The whole wheat pastry flour adds a wonderful texture and substance (not to mention flavour) and means its totally healthy so you can have an extra slice, totally guilt free.
You my friend are so very welcome!
So, this weeks "Test it out Tuesday recipe" brings front and centre another of Deb's ah-mazing recipe from The Smitten Kitchen Cookbook. It's super simple to make with ingredients you probably have on hand.
So go get your groove on and go make this pizza already
Healthy, Whole Wheat Pizza Dough


aka Deb's Leisurely  Pizza Dough


This recipe slightly adapted as appears in The Smitten Kitchen Cookbook re-written in my own words
Makes 2 x 10inch (ish) pizzas




Ingredients -

1/2 cup warm water

1/4 plus 1/8 tsp of active dry yeast

1 1/2 cup plain flour (I use 3/4 cup plain & 3/4 cup whole wheat pastry flour)

1 tsp salt flakes

Toppings I used -

Tomato pizza sauce

Cheese ( I used a sprinkling of Coon light and tasty, Lemnos reduced fat feta and La Casa Del Formaggio bambini bocconcini)

Method -

1 – Pour warm water into a bowl and sprinkle over the yeast, allow to sit for 5 mins.

2 – Add flour and salt then stir until it forms into a shaggy mess.

3 – knead (with with the dough hook of your stand mixer, or by hand) for 5 mins until it comes together in a beautiful glossy, elastic dough.

4 – Coat the inside of a medium size bowl with a little olive oil, place the dough in the bowl then cover and refrigerate for 8 hours or overnight.

5 – Allow the dough to come to room temperature in a warm spot of your kitchen counter and finish doubling in size.

6 – Once the dough has finished doubling, roll it out to desired thickness, top with your favourite toppings and bake in a preheated oven at its highest setting for 7 – 10 mins.

What's your all time fave pizza topping?
Related posts: