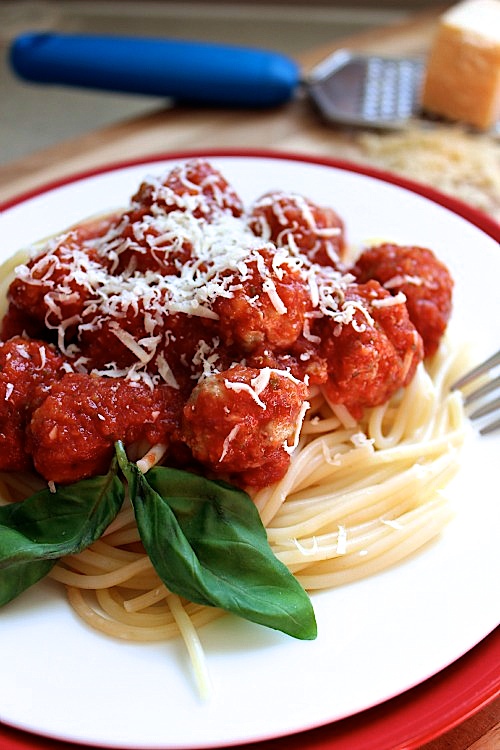 So it's February already . . . I'm not really sure how that happened but clearly it has so here we are . . . February . . .
February means Valentines day . . .
This year for some reason when I hear people talk about Valentines day I think Italian food.
Why Italian food, I have no idea. Especially when we go out for a special date night dinner it is usually to our fave Malaysian Restaurant.
Actually, I think the Italian inspiration may have something to do with the fact that sweet darling daughter of mine is currently obsessed with a certain Disney storybook collection featuring the one and only Lady and the Tramp.  After reading this story for the tenth hundredth millionth time, spaghetti and meatballs simply had to be made. It's the poky little puppy all over again. Except this time its spaghetti and meatballs instead of strawberry shortcake.
Although now that I'm thinking about it . . . I need want must have strawberry shortcake . . .
I know what your thinking, spaghetti and meatballs is not a very romantic meal . . . it can be messy and theres the garlic factor not to mention the fact that now that I've said it like a hundred times, the word meatball is really not a very romantic sounding now is it? Sorry about that but you have to trust me here.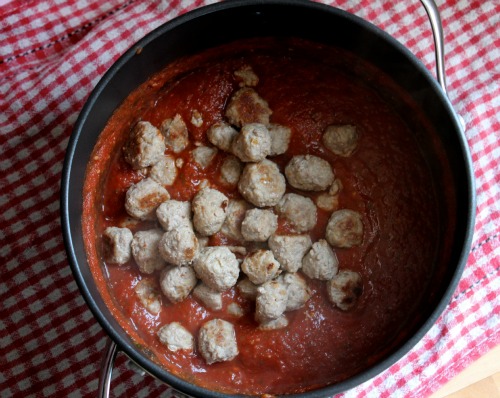 These mini meatballs are like no other meatball I have ever tasted. I can't really describe it, I think it has something to do with addition of a little lemon zest, cinnamon and nutmeg. It's got that whole salty sweet combination going on. I would never think to add these things to a meatball but what can I tell you . . . Jamie Oliver is genius and I just love him  . . . so lemon zest, cinnamon and nutmeg it is.
They are so light in both flavour and texture, perfect for a romantic valentines dinner. Oh and if you have any leftover they make a killer meatball slider . . . just so you know.
Oh and the sauce . . . it's so simple, just tomatoes, basil, garlic and a little chilli all those classic Italian flavours simmered down into one incredible tasting sauce.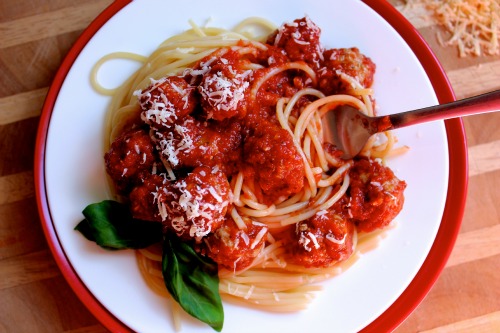 I know what your thinking . . . "garlic on a romantic dinner date, not cool Em, not cool at all" to you my friend I say 2 things -
1 – If your both eating it, it doesn't count
2 – Super fudgey, Dark chocolate Peppermint Mocha Brownie bites . . . recipe coming thursday morning . . . I promise and you're welcome

So this weeks Test it out Tuesday comes from non other than the one and only, genius that is Jamie Oliver, get your Lady and the Tramp on and make some of Jamie's incredible Ragu' of Tiny Meatballs to share with your honey this valentines day.
Ingredients -

For the Meatballs -

450g minced meat (I used extra lean pork mince)

A pinch of red pepper flakes

1/8th teaspoon of ground cinnamon

1/8th teaspoon of ground nutmed

3 garlic cloves, crushed

1 egg

1 Tablespoon of freshly grated parmesan cheese

zest of one lemon

salt and pepper to taste

For the Tomato Sauce -

2 garlic cloves

1/4 cup fresh basil

a pinch of red pepper flakes

1 x 400g can diced tomatoes

1 x 400g tomato passata (pureed tomatoes)

1/8th cup of red wine vinegar

salt and pepper to taste.

To serve -

400g Pasta (your choice, spaghetti, penne . . . whatves)

Fresh basil and parmesan cheese totally optional but highly reccomended.

Method -

1 – Place all ingredients for the tomato sauce in a blender or food processor and process until desired consistency.

2 – Pour sauce into a large saucepan and simmer over low-medium heat for 15-30 mins.

3 – While your sauce is simmering away, In a large bowl place all ingredients for the meatballs and use a fork (or your hands) stir (or squish) until mixture is well combined.

4 – Using your hands roll the meatballs to roughly marble size. Jamie suggests rinsing your hands off under running water occasionally through the rolling process as this helps to shape the meatballs a little better.

5 – Place your meatballs in a medium/largeish frypan and cook over medium heat until they have a good amount of colour on them.

6 – Add your meatballs to the tomato sauce and allow to simmer for another 10-15 mins to finish cooking.

7 – Cook pasta according to your package instructions then drain and serve with a heaping scoop of the Ragu' (meatballs and sauce) and finish with a couple of fresh basil leaves and a generous shaving of fresh parmesan.
MMmmMMMMm who will get the final meatball?????
____________________________________________________________________________________________________
What is your idea of a super dreamy, romantic dinner date?
Related posts: