You guys . . . I love Jamie Oliver. Like big, big love!
I know, I know I have told you this a million times before and I don't mean to go on about it but . . . well, I mean it.
Really.
I think you get the point . . .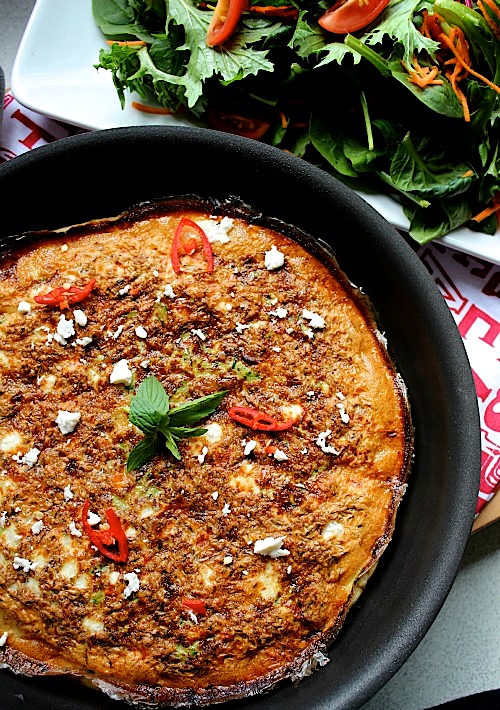 So, this weeks test it out tuesday recipe is from the man himself.
I'm going to keep it short and sweet this week you guys because I'm running around like a crazy lady, trying to do a million things at once. Yes I know "how is this different to any other week" I hear you asking, and you're right but . . . well this week its worse than usual because we are moving (yes again!) and I have yet to finish packing . . . Did I mention the move begins tomorrow . . . early . . . yep . . . Hence the short and sweet . . .
Sorry, sometimes I forget to breathe when I type talk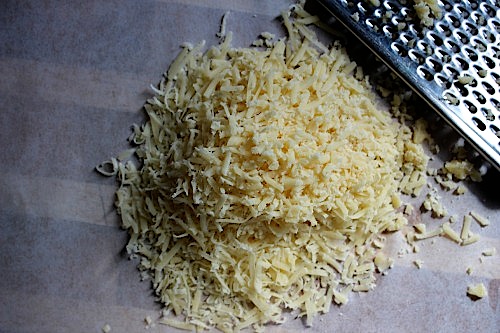 Right, where was  I . . . Fritatta . . . from Jamie's ah-mazing 15 minute meals cookbook. Fast, fresh and healthy meals the for the whole family, in minutes. It was just what I needed this week, something quick, healthy and satisfying and well, this recipe just ticks all the boxes.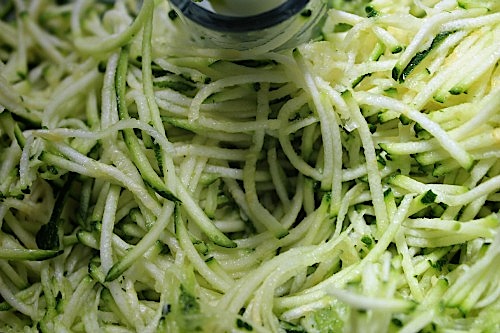 Grate, stir, bake and eat.
Voila', dinner is served.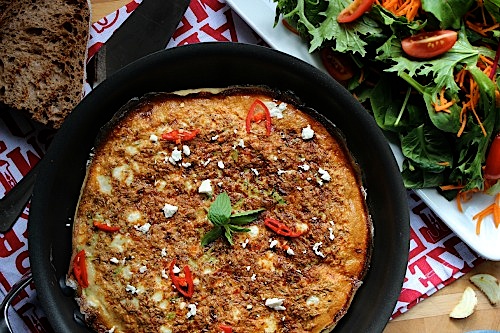 This frittata is light, and cheesy with the most incredible fragrant combination of herbs with the addition of a few mint leaves and some thyme. Seriously, Jamie = Genius!
Bonus points for this frittata making killer leftovers for midnight packing snack breakfast or lunch, add some avocado on toast . . . highly, highly recommend this ah-mazing wholemeal sourdough from Sonoma Bakery. Can. Not. Get. Enough!
Ok, I gotta go . . . Make it, eat it, love it!
Jamie's Spring Frittata


Very slightly adapted and re-written in my own words from Jamie's 15 Minute Meals
Serves 4-8

Ingredients –

2 medium zucchini

A few fresh mint leaves (optional)

8 large eggs

1/8 teaspoon of cayenne pepper

4 sprigs of fresh thyme (or 2 teaspoons of dried)

2 Tablespoons of freshly grated parmesan cheese

1 red chilli, finely sliced

20 grams of feta cheese

salt and pepper to taste

Method –

1 – Grate the zucchini and place in a medium size bowl, add the mint leaves (if using) then season with salt and pepper and toss to combine.

2 – Use your hands to squeeze out the excess liquid from the zucchini mix then place in a medium size fry pan over medium heat.

3 – Sauté the zucchini with half of the sliced chilli for a few mins stirring often.

4 – In a separate bowl whisk together eggs, cayenne pepper, thyme and the parmesan cheese.

5 – Pour egg mix into the fry pan over the cooking zucchini and stir for a minute then remove from the heat.

6 – Sprinkle over the feta cheese and place under the grill/broiler for a few mins until fluffy, golden brown and cooked through (approx 5 mins)

7 – Once your frittata is cooked through, remove from under the grill/broiler and sprinkle with remaining feta and chilli.

8 – Serve with a big ol' salad and some toasted, garlic rubbed wholemeal sourdough.
Ah-mazing!!!!
________________________________________________________________________________________________
What is your go to quick and easy dinner?