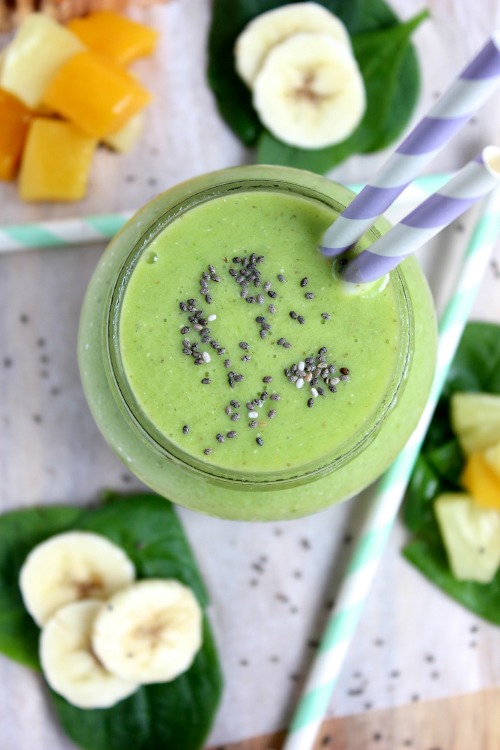 I can't even believe we are still sick!
Seriously somebody kill save me!
I have no idea what the deal is, it's like we have a day or so relief then wham – the mutant/hybrid, cold/flu is back bigger and better than ever. It almost feels like it needs to take a day or 2 off to regroup and regain it's strength.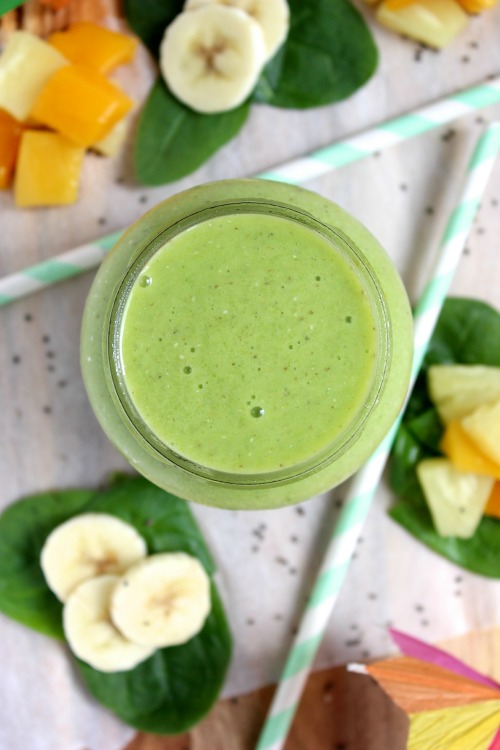 And now on top of everything else we now have an ear infection on our hands.
*Hmph* No fair!
So . . . Ima keep this post super short but all kinds of sweet for you today.
This week for our test it out Tuesday recipe today we are busting out the big guns, it's smoothie time up in here!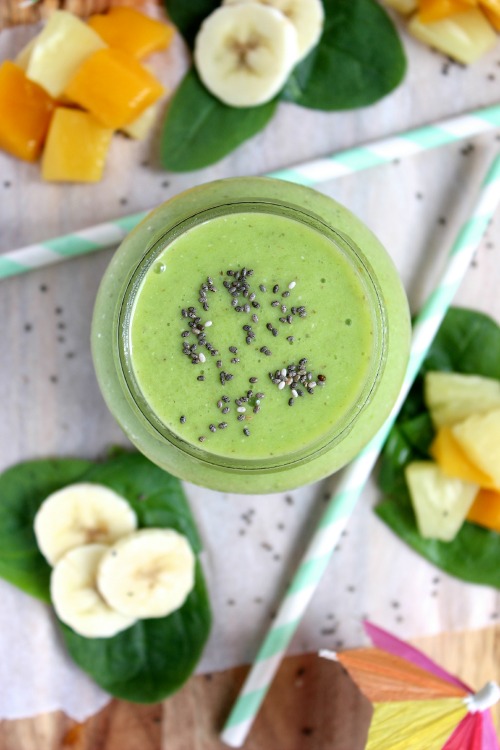 If you've been following along for a while now you will know that when we get sick we get our smoothie on (evidence → here, → here, → here and → here). I mean come on now, when you're exhausted, congested and just feeling blah who want's to bother with that pesky business of chewing? Ain't nobody got time for that!
Today I have an extra special, tropical inspired green smoothie for you. Oh my word, you guys . . . this smoothie is insane!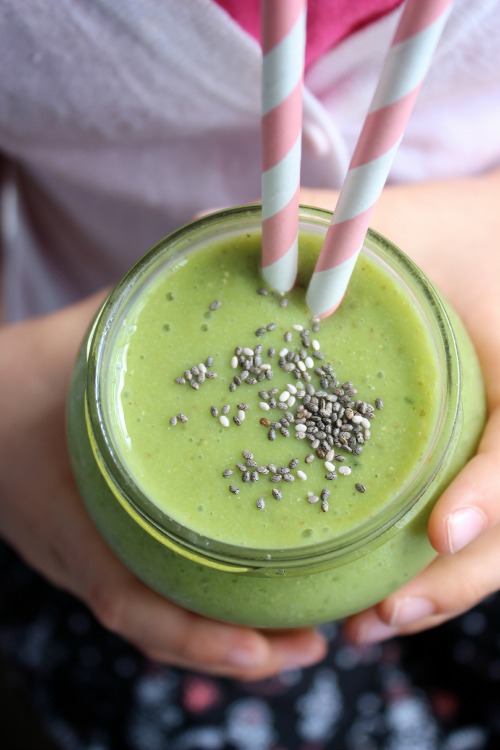 Full of vitamins and minerals from all those delicious tropical fruits and spinach leaves with an extra boost of  omega 3's thanks to the teeny tiny superfood that is those dark and slightly sinister looking ch-ch-ch-chia seeds.
This smoothie does not taste "green" at all. It just tastes like a ice cold, super thick, perfectly sweet, creamy, dreamy, deliciously decadent, all natural, totally healthy tropical indulgence.
Its also totally kid friendly. My poor sick little lady has given it her seal of approval thats for sure. I have a thieving little green smoothie monster on my hands!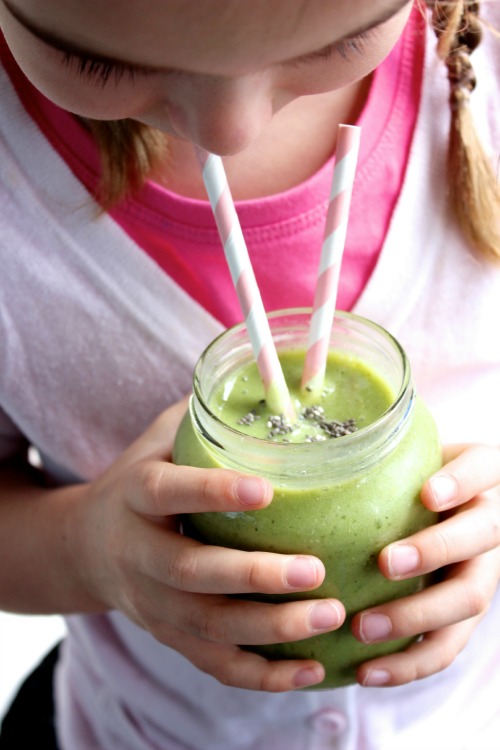 I have to give a huge shout out to the incredibly talented and simply stunning Averie who blogs over at Averie Cooks for sharing the original version of this recipe. Me being me had to tweak it a little because well . . . I just can't seem to leave well enough alone. Once you have your smoothies in hand make sure you head on over to Averie's blog and check out some off the other incredible treats she has to offer. Girlfriend has some serious skills #justsayin
This smoothie is perfect for breakfast on the go
Perfect for a mid morning or late afternoon pick me up
Perfect for your pre/post workout energy boost
and it sure is the perfect way to sneak some extra vitamins, minerals and omega 3, superfood goodness into you (or your poor husbands or little ones) when you just can't be bothered or don't have the strength to chew.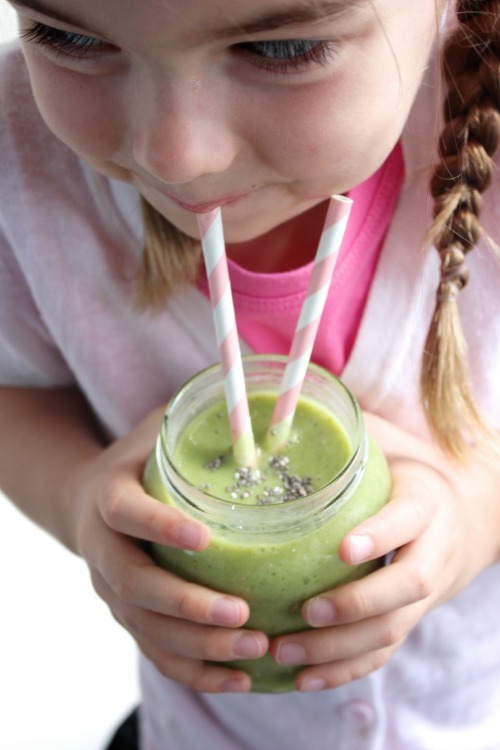 This smoothie is pretty much sunshine and happiness all served up in one delicious little cup.
Make it, drink it, embrace the tropical green monster, you know you wanna.
Tropical Green Super Smoothie


Slightly adapted from this recipe shared by the ah-mazing Averie of Averie Cooks
Makes 1 large or 2 small, creamy, dreamy healthy tropical super smoothies

Ingredients –

1/3 cup Greek yoghurt

1/2 cup frozen mango pieces

1/2 cup of frozen peaches

1/4 cup of frozen pineapple pieces

1/2 an overripe banana (preferably pre-frozen)

2 cups baby spinach

1/4 cup apple juice

1 Tablespoon of Chia Seeds (optional)

1/2-1 cup water (or milk of choice) more or less depending on how thick you like your smoothies

1/2 cup of ice (optional – I didn't add any ice, it was ice cold and thick and creamy enough just using the frozen fruit. If you use fresh fruit I suggest you add the ice. I would anyway but thats just me. Do what you feel :))

Method –

1 – Place all ingredients into a blender and process until smooth and creamy. Taste and adjust sweetness if necessary, maybe add a dash of vanilla, stevia or even maple syrup or honey if you feel like you need a little added sweetness but for me and my little green smoothie monster it was perfect straight up as it is.

2 – To serve, pour into a chilled glass or mason jar, sprinkle over a few extra ch-ch-ch-chia seeds and chug, chug, chug.
Enjoy xoxo
______________________________________________________________________________
Question of the day –
Are you a green smoothie drinker? If so, what's your fave flavour combination? Feel free to share recipes and links in the comments below, I seriously love hearing from you guys so don't me shy now – k?!