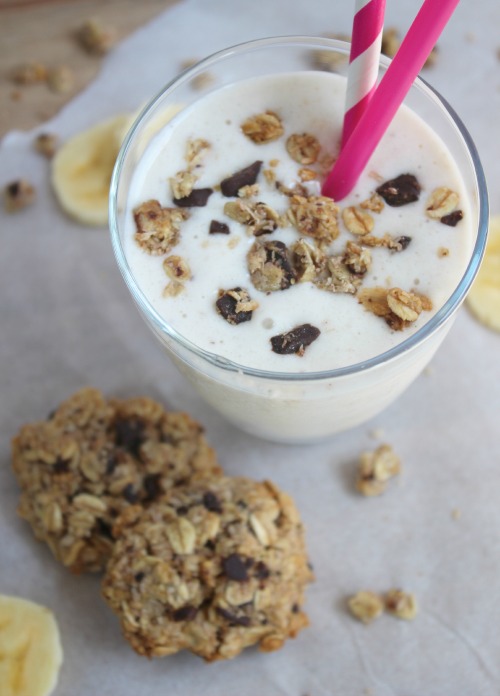 Ok so remember those incredible coconut choc chip oat cookies we made on tuesday?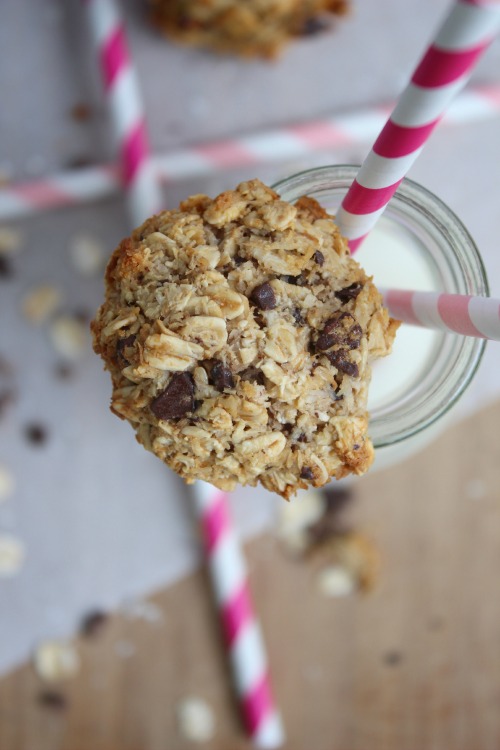 Yep those ones . . .
I can not get enough, I actually dreamt about them last night!
This morning I woke up craving them like a mad woman.
Like a pregnant lady craves pickles and peanut butter!
Calm yourselves, no I'm not pregnant although I am also currently obsessed with peanut butter, but who isn't right?!
MMmmMM peanut butter!
Wait distracted, sorry. Where was I . . . right the cookies!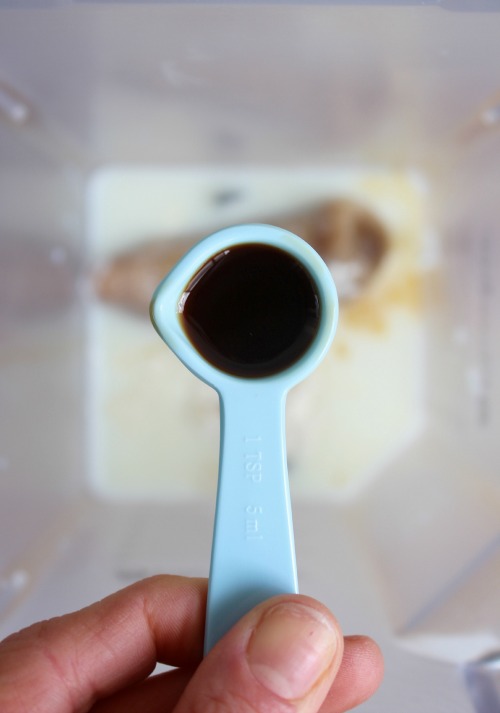 I woke craving them big time, so I knew what had to be done. I had to find a way to have them for breakfast.
Now I say find a way because well I totally could have just inhaled 3 or 4 of them with my big ol' cup of coffee no problem but . . .  then I would have to have a long, drawn out conversation with my 4 year old about why it's ok for mama to have cookies for breakfast when I have told her a hundred thousand many times before that sadly cookies are not an acceptable breakfast food.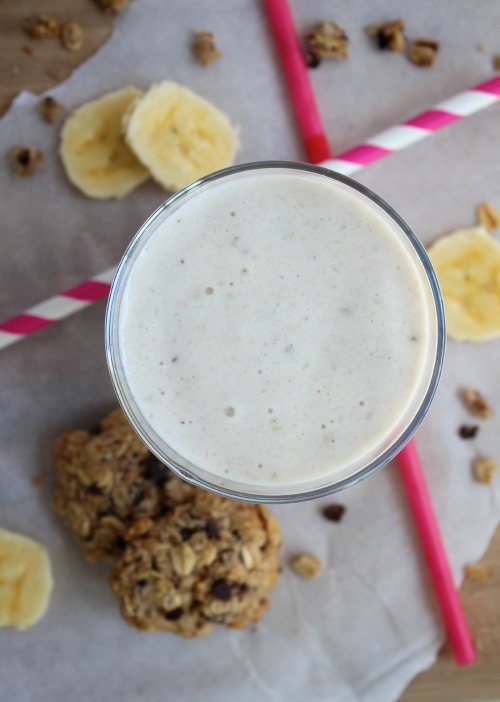 So, I threw a couple into my trusty old blender along with some standard go to healthy breakfast smoothie type ingredients you know the usual some good quality Greek yoghurt, frozen banana, milk, vanilla and a big ol' cup of ice and oh my word you guys . . .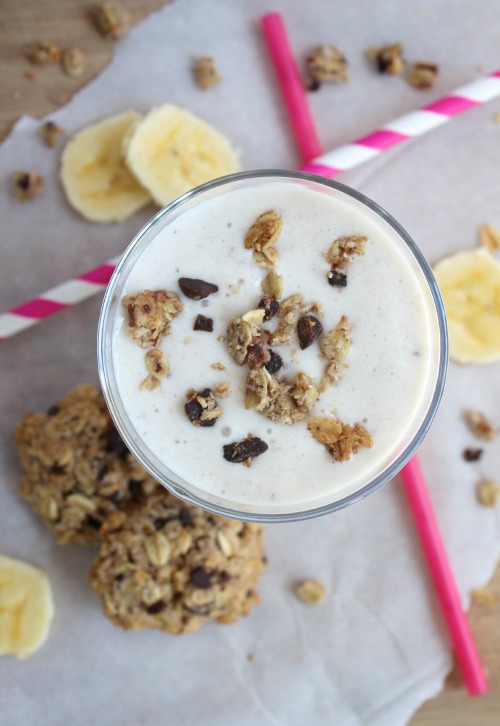 This smoothie was insanely delicious! So much better than I dreamed it would.
It's thick and creamy and just perfectly sweet. The toasted oats from the cookies add the most incredible texture to your smoothie making it extra thick and seriously creamy which, I don't know about you but it's exactly how I like my smoothies.
Sweetened naturally with the frozen banana, a splash of vanilla then you have the coconut and maple syrup we baked into those dreamy cookies.
Oh and you also get a teeny tiny hint of chocolatey goodness thanks to those sneaky, delicious little choc chip morsels that we stuffed into those incredible cookies remember?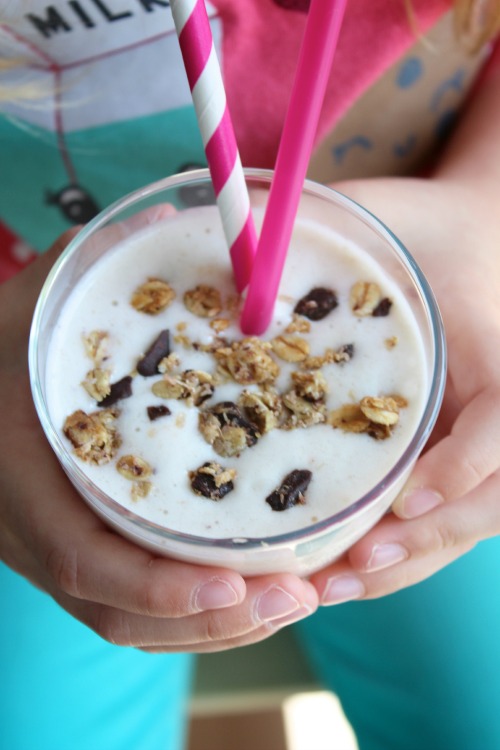 Hearty, healthy and all natural with no added sugar, it's the perfect way to start your day. Not only is it all kinds of delicious but this smoothie is low GI and loaded with vitamins, protein and all that good stuff that is guaranteed to keep you full for hours!
Perfect for busy mornings on the go.
Perfect for lunch when you want something light and refreshing, healthy, satisfying and all kinds of filling without that pesky chewing.
Perfect for you post workout re-fuel or a sweet treat after an intense yoga/stretch session.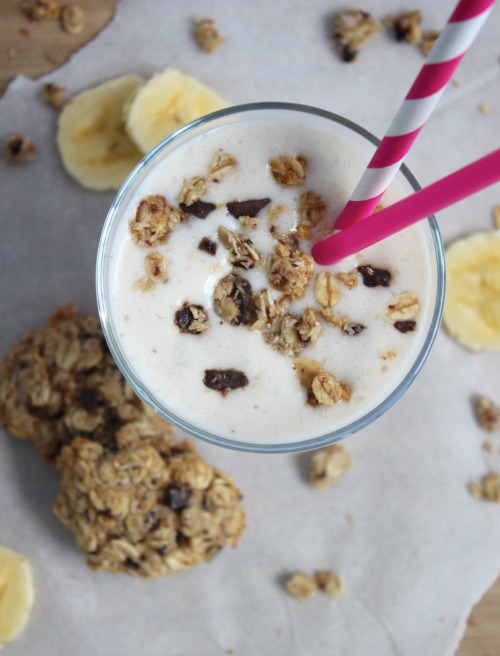 But really you and I both know its just the perfect way to to sneak a cookie for breakfast without having to do any explaining.
Ahhh the joys of being a grown up
Now go get your smoothie on.
Healthy Cookies and Cream Breakfast Smoothie




Makes 1 large or 2 small creamy, dreamy breakfast (or anytime) smoothies

Ingredients –

1/4 cup plain Greek Yoghurt (I always use Chobani 0% ♥)

1/2 cup milk of choice (I use skim)

1/2 a banana (preferably over ripe and pre-frozen)

1/2-1 teaspoon of vanilla extract depending on how sweet/vanillaish you like it

1-2 Coconut Choc chip cookies (or your fave oat style cookie with a choc chip or 2 thrown in for good measure) + extra for crumbling over the top

1 cup ice

Optional – 1/2 teaspoon of xantham gum – (gluten free natural thicken agent that will result in an thicker smoothie)

Method –

Combine all ingredients into a food processor or blender and blend until smooth and creamy.

Enjoy xoxo
_________________________________________________________________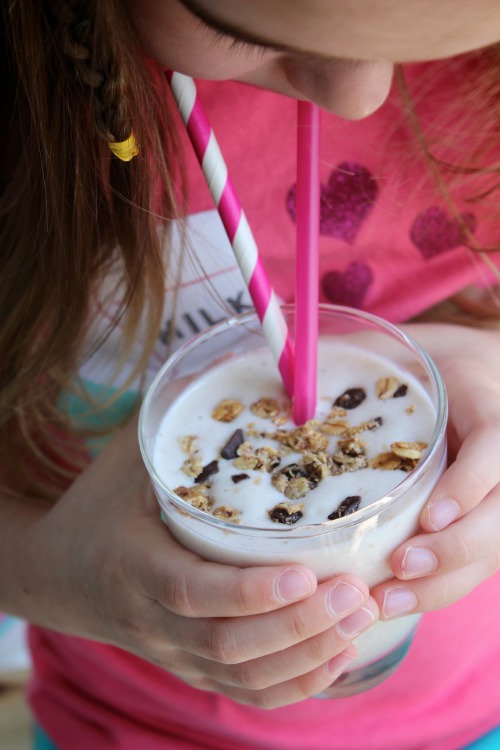 FYI – Little lady has given her seal of approval MMmmMMMM gooood