Ok Im going to keep this short and sweet today people, let you get back to your hot date. As promised, I bring you Super Fudgey Dark Chocolate Peppermint Mocha Brownie Bites.
Holy bite size morsels of insanely decadent, super chocolatey minty fresh delights people.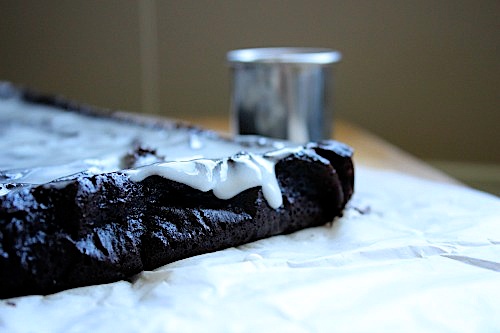 You may or may not remember just before Christmas last year I went on a little family vacation to the good old U-S of A. On said trip I tasted an insane amount of delicious treats . . . my first ever peppermint Mocha from Starbucks becoming an intense obsession being one of them.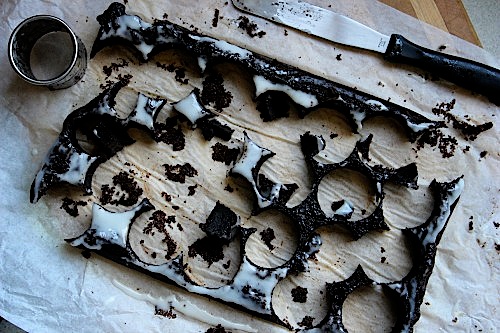 Why it had not occurred to me until now, to get my peppermint mocha fix in the form of a brownie I do not know. I mean really it's a no brainer, brownies and coffee go together like . . . cookies and cream, chocolate and peanut butter, waffles drenched in maple syrup . . . all things that are good in the world.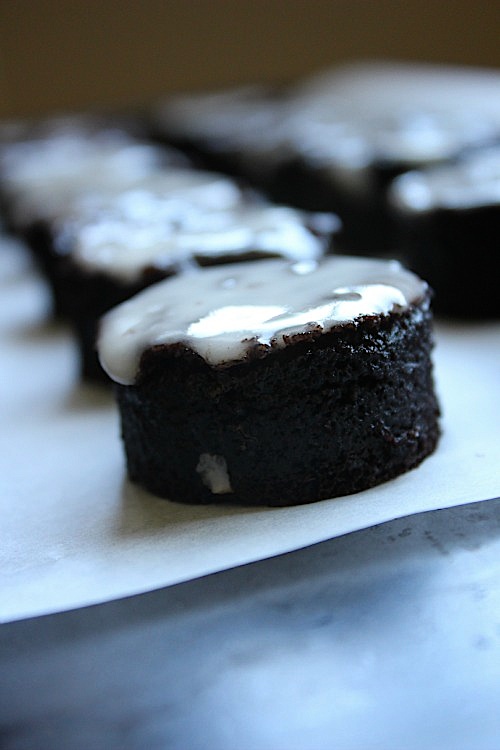 I'm not really sure what else I can tell you about these brownies. The title although somewhat lengthy, totally sums it up  - Super Fudgey Dark Chocolate Peppermint Mocha Brownie Bites.
These brownies really are more fudgey than cakey. They aren't overly sweet but at the same time manage to be incredibly rich, decadent, insanely chocolatey, seriously moist (sorry but there is no other way to describe them) and dangerously addictive. It's lucky they are only teeny tiny. It makes them practically guilt free.
I mean really, do you need any more convincing?
Garlic breath be gone . . .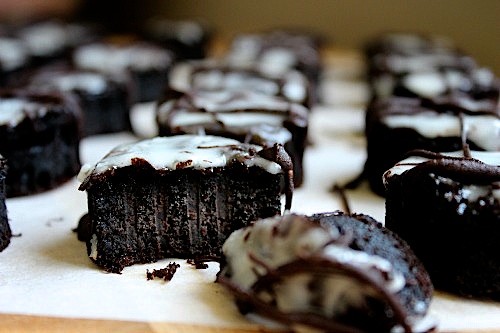 It's the perfect gift for your Valentine. Or the perfect way to steal their heart if you haven't already. Not that you need any help . . . I mean look at you . . . stunning . . . and so intelligent and did I mention funny? You're the total package

Make them today, share them with someone you love.
Super Fudgey Dark Chocolate Peppermint Mocha Brownie Bites


Makes 24 intense and fudgey brownie bites

Ingredients -

2 Tablespoons chocolate (I used Nestle' dark chocolate melts)

1 Tablespoon unsalted butter

1/4 cup  strong coffee, cooled (or 1 tsp instant coffee granules + 1/4 cup boiling water)

1/2 cup brown sugar

1/3 cup plain greek yoghurt (I always use Chobani 0%)

2 eggs

1 tsp vanilla

1/4 cup plain flour

4 Tablespoons cocoa powder (I use Hershey's special Dark)

1/2 tsp salt flakes

1 teaspoon baking powder

1/2 teaspoon baking soda

For the Mint Layer –

1/2 cup powdered sugar

1 teaspoon peppermint extract

1 Tablespoon milk (I use skim)

1 Tablespoon cream cheese

For the Chocolate Topping –

2 Tablespoons Chocolate, melted (I used nestle Dark)

Method -

Preheat oven to 175′C (350′F)

Line a 9 x 13 inch baking tray with baking/parchment paper and set aside.

In a small saucepan over low heat, melt chocolate and butter, stirring frequently.

Once the butter and chocolate are nice and melted, carefully whisk in coffee and set aside to cool slightly.

In a medium size bowl combine sugar, yoghurt, egg and vanilla then stir until combined.

Sift flour, cocoa, baking powder, baking soda and salt and stir until almost combined.

Pour melted chocolate/coffee mixture into flour/yoghurt mix and stir until just combined.

Pour into prepared baking pan and bake for 25-30 mins until almost set and just a few crumbs remain attached when a toothpick is inserted into the centre.

For the mint layer –

In a small bowl or jug combine cream cheese, milk and peppermint extract and stir until smooth.

Sift in powdered sugar and stir until well combined and smooth.

Let the assemble begin -

Once the brownie layer is cooked and removed from the oven, pour over mint later and carefully spread to the edges.

Place in the fridge or freezer for at least 20 mins to set.

Remove from the fridge or freezer and using a small 1 inch round cutter, cut out your brownie bites and set on a baking tray lined with baking/parchment paper then return to the fridge while you melt your chocolate for the final touches.

Melt chocolate by your preferred method, I always do it in a small bowl over a small pot of gently simmering water. Once chocolate is nice and melted drizzle over the brownie bites and devour enjoy share with someone you love.
So . . . what is your all time favourite dessert combination?
______________________________________________________________________________________________
Related posts: