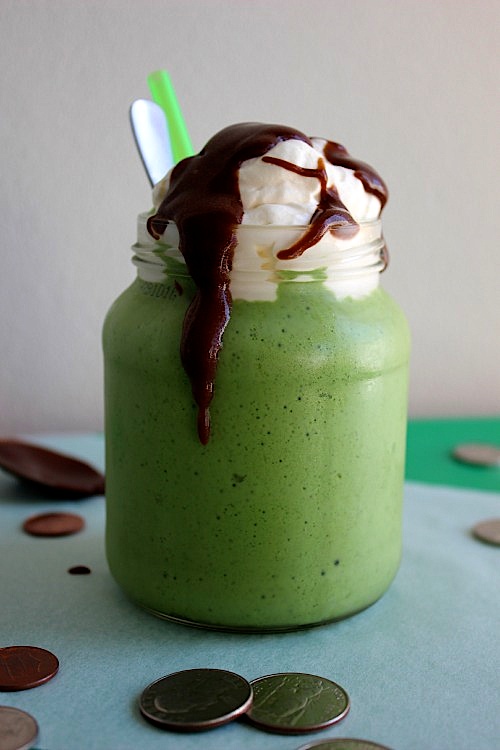 In honor of St Patricks day and my Irish heritage I feel its only fitting I share with  you my Healthy Shamrock Shake!!!!!
Ice cold and seriously thick iced coffee blended with some greek yoghurt, your favourite chocolate topping and a hint of peppermint.
I can not get enough.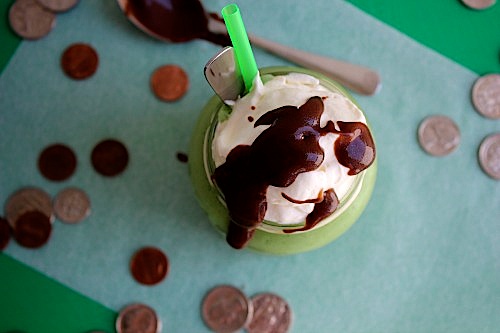 Granted the food colouring, mountain of whipped cream and extra drizzling of chocolate may not fit with the whole healthy shake thing but those are totally optional . . . although to. die. for! I highly recommend them. Even with the elaborate additions its still a million times healthier than that Shamrock Shake McDonalds are offering.
Lets have a little comparative look per serve, just for funzies . . .
One McDonalds Shamrock Shake –
Calories – 420
Fat – 10
Carbs – 72
Protein – 9
Sugar – 62
Dietary Fiber – N/A
My Healthy Shamrock Shake –
Calories – 134
Fat – 0.5
Carbs – 14
Protein – 14
Sugar – 4
Dietary Fiber – 4
Ummm wow . . .
And really, mine couldn't be easier to make. Much easier than getting in your car, driving to your local McDonalds, lining up either at the drive thru or having to find parking then waiting in line . . .  I bet you even have all the ingredients in your fridge and pantry ready to go.
It's lucky it's so healthy because one sip and you will be hooked.
Seriously, seriously hooked!
You have been warned!
If you are looking for a few other St Patricks day recipes to feast on, here's what I plan on devouring enjoying this St Patricks day –
Start the day off right with a healthy shamrock shake and . . .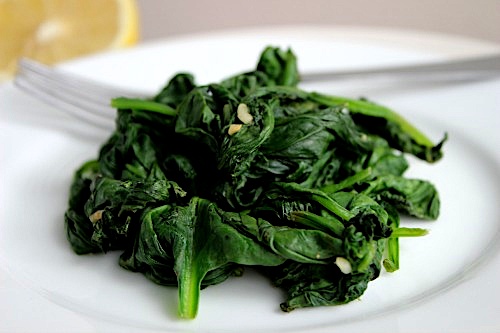 This ah-mazing Panfried Spinach with Garlic and Lemon with a perfectly poached egg
Followed up with this for lunch –
Green Powerhouse Pesto Plate from the stunning Angela at Oh She Glows –
Afternoon tea will be this incredible Avocado and Feta Dip from the gorgeous Maria, Josh and little Caleb at  Two Peas and their Pod –
Dinner will be this incredible Irish Stout Beef Stew From the one and only simply stunning Laurie over at Simply Scratch –
and because you can't have stew without a good bread to soak up all that wonderful sauce Ill need this 100% Whole Grain Brown Soda Bread from the seriously talented Erin @ Texan Erin –
Now dessert . . . I can't decide between –
This divine looking Mint Chocolate Chip Cake from the ever entertaining Kristan at Confessions of a Cookbook Queen
or these adorable little Rainbow Cupcakes for 2 from sweet Caroline at Chocolate and Carrots
or these incredible looking Herb Infused Mint Chocolate Truffles from Stacy aka sweet sister of mine at A Delightful Home
or these seriously addictive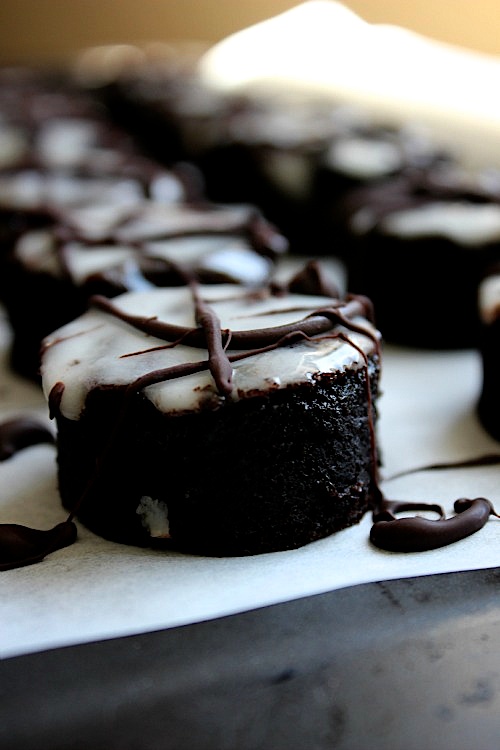 Super Fudgey Peppermint Mocha Brownie Bites from me @ Better with Cake –
Maybe I'll have one of each . . . you know seeings as this divine little shamrock shake is all kinds of healthy . . . it's all about balance baby . . . right? 😉
Healthy Shamrock Shake




Makes 1 large or 2 small leprechaun lovin' shakes




I

ngredients –

1/2 cup Greek yoghurt (My all time fave is Chobani 0%)

1/2 cup milk (I use skim)

1 cup strong brewed coffee, cooled

1/2 teaspoon (1 sachet) of stevia (can substitute with regular sugar)

1/8 teaspoon of pure peppermint extract

2 Tablespoons of your favourite chocolate topping

1/2-1 cup of ice

Optional but recommended –

A few drops of green food colouring (totally optional but also totally fun)

Dream whip/cool whip/whipped cream

Extra chocolate topping/chocolate shavings

Method –

1 – Place all ingredients except for whip and extra chocolate topping into a blender and blend until smooth and creamy.

2 – Pour into a glass (or 2), finish with whipped topping and extra chocolate then grab yourself a spoon/straw and enjoy.
Now, where's that pot o' gold lil leprechaun? Mama wants a new pair of . . . well, everything
____________________________________________________________________________________________
How do you celebrate St Patricks day?
If you have a recipe to share feel free to leave your link in the comments below.