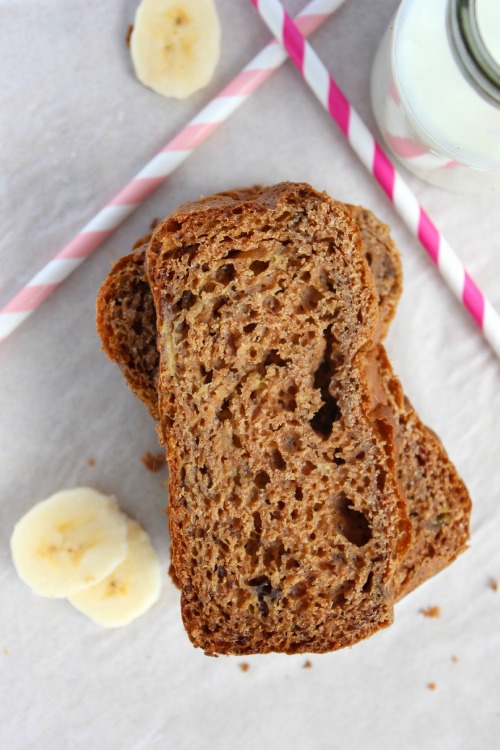 It's not secret that I have an ongoing and long standing battle with manky over ripe bananas evidence →here, →here, →here, →here and →here. PS – try to ignore the old and somewhat embarrassing photos . . .

And I know what you're thinking – "Seriously Em, how many variations of banana bread can there possibly be?" Well . . . a lot. The possibilities are endless my friend. However today I thought I would share with you my simple, classic, healthy, wholewheat banana bread recipe.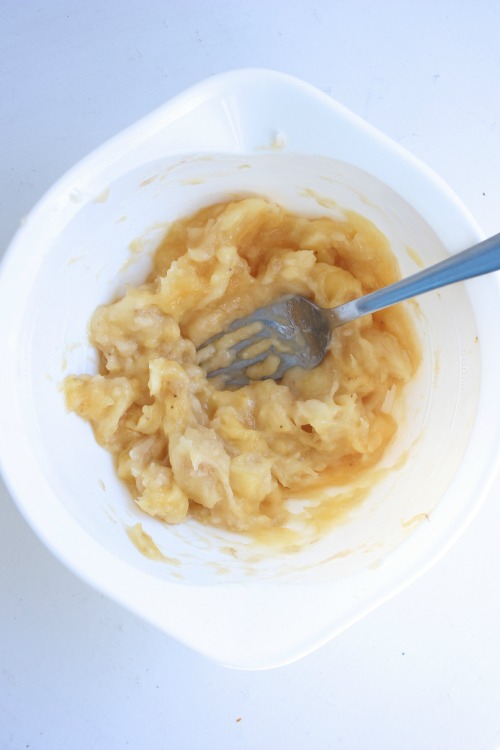 It's like the little black dress of banana bread recipes . . . it will never go out of style.
I have been baking a fresh loaf of this banana bread every week for well over a month now. Every. Single. Week. And I'm not bored of it yet.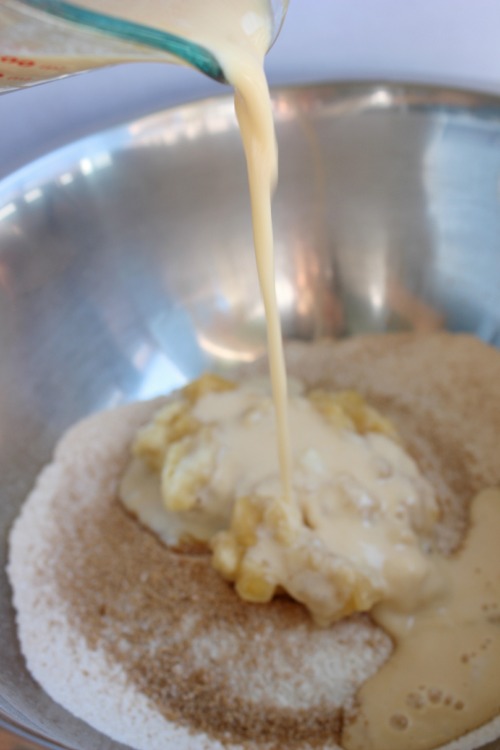 I let the natural sweetness from the bananas shine through for this recipe combined with a hum of ground cinnamon and a good splash of vanilla so it's lower in sugar and also fat come to think of it.
There is a very subtle hint of coconut because I decided to use coconut oil (just one Tablespoon does the trick) and this banana bread has the most incredibly moist (←sorry) and delicate texture which I'm pretty sure comes partly from the combination of coconut oil and wholewheat flour. I just love the way that wholewheat flour gives a slightly heartier crumb you know? plus wholewheat = totally healthy which means you can have an extra slice right?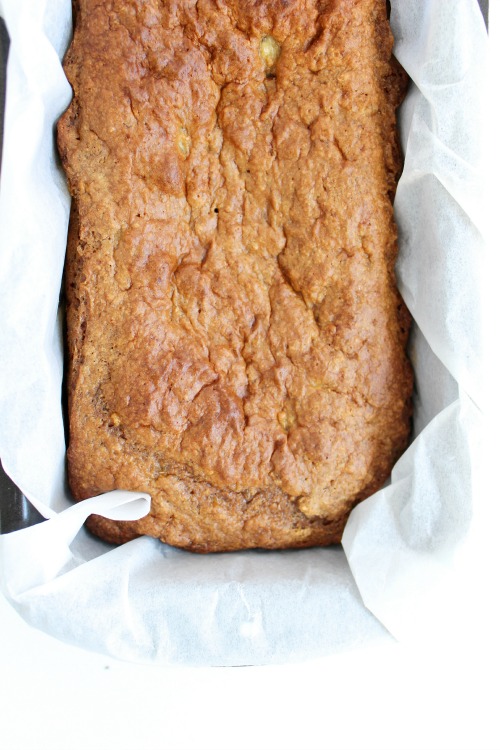 This banana bread is insanely delicious fresh out of the oven but the flavours seem to intensify and get sweeter and even more delicious as the days go on.
I highly reccomend you bake it, slice it, wrap it and store it in the freezer and just get a piece out to thaw 20 mins or so before your ready to devour inhale eat it or pop it in the toaster to re-heat straight from the freezer because if this banana bread is left laying around all accessible with a knife right there on the side of the plate all readily available and what not, it has a tendency to just well . . . disappear!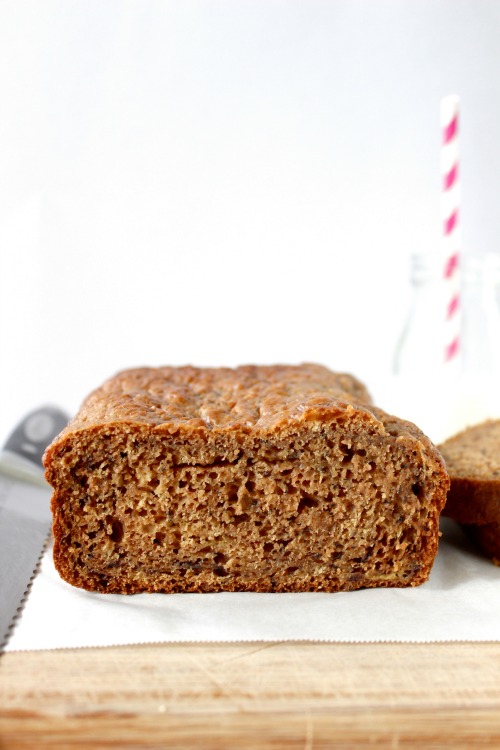 I swear I do not remember eating an entire loaf in 2 days . . . I mean there is no way . . . really?! I guess all of those little slivers add up to a slice loaf  . . . or two . . .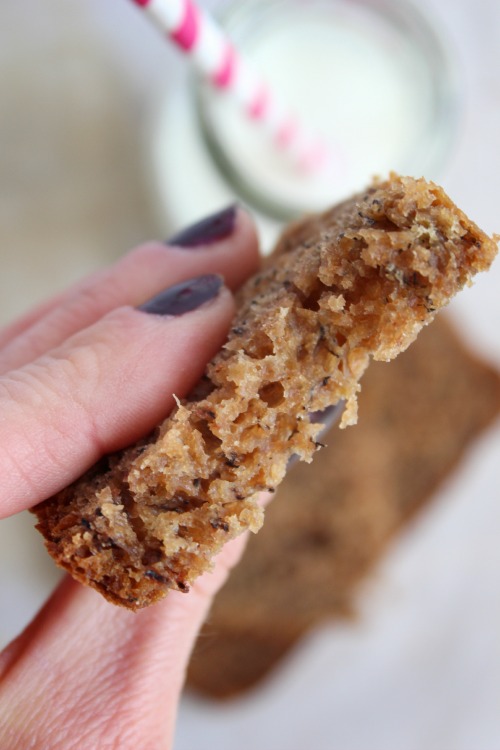 Simple, Classic, Wholewheat banana bread – Make it, eat it, love it . . . store it in the freezer . . .  you have been warned.
Wholewheat Banana Bread




Makes 1 loaf, approx 12-14 slices

Ingredients -

1 egg

1/4 cup plain Greek yoghurt (I always, always use Chobani ♥)

1 teaspoon of vanilla extract

1 Tablespoon of coconut oil

1/4 cup milk (I use skim)

2 medium over ripe bananas, mashed

1/4 cup brown sugar

1 teaspoon of ground cinnamon

1 cup wholewheat pastry flour (or regular plain flour or a combination of the 2)

2 teaspoons of baking powder

1 teaspoon of baking soda

1/4 teaspoon of salt flakes

Method -

1 – Preheat oven to 175′C (350′F)

2 – Line a regular size loaf tin with baking/parchment paper and set aside (or you could go old school and grease and flour the loaf pan, do what you feel)

3 - In a small bowl or jug using a fork whisk together egg, milk, Greek yoghurt, vanilla and coconut oil and set aside.

4 – In a medium/large bowl sift flour, baking powder, baking soda, brown sugar, cinnamon and salt flakes and whisk to combine.

5 – Add mashed banana to the flour/cinnamon mix then pour over egg/milk/yoghurt mix and stir until just combined.

6 – Pour batter into prepared loaf pan and bake for 30-40 mins until deliciously golden and the top springs back when gently pressed. A toothpick should have just a few crumbs attached when inserted into the centre. If the top starts to brown to quickly just over it with foil and carry on baking until cooked through.

7 – Once your banana bread is all delicious and baked (and your house smells like heaven) allow the bread to cool in the pan for 10 mins before transferring to a wire rack to cool completely.

8 – Slice and serve simple as is, or with a little knob of butter and a drizzle of maple syrup just because you can.
Enjoy xoxo
________________________________________________________________________________
Question of the day -
What is your fave way to use you're manky over ripe bananas?
Related posts: