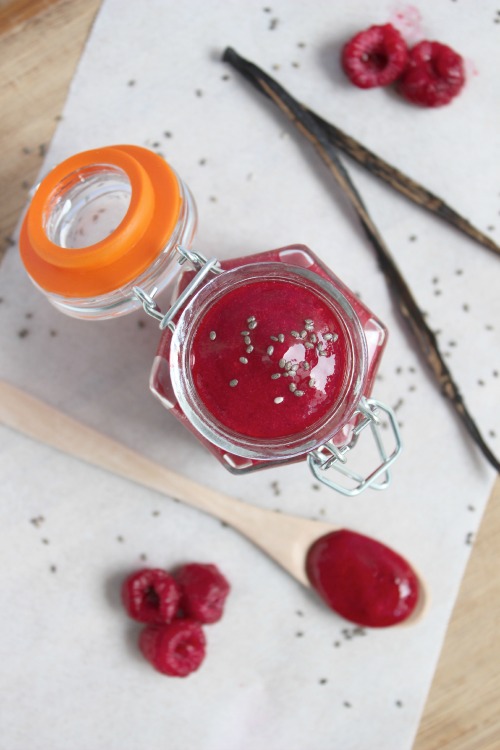 OK so it would seem I have myself a little problem.
I want to make/eat/do all of the Christmas/holiday things but can not for the life of me decide on what/where to start?!
Total first world problem I know.
There are just so many fun, festive, delicious looking things!
Today I decided to share with you a killer quick jam.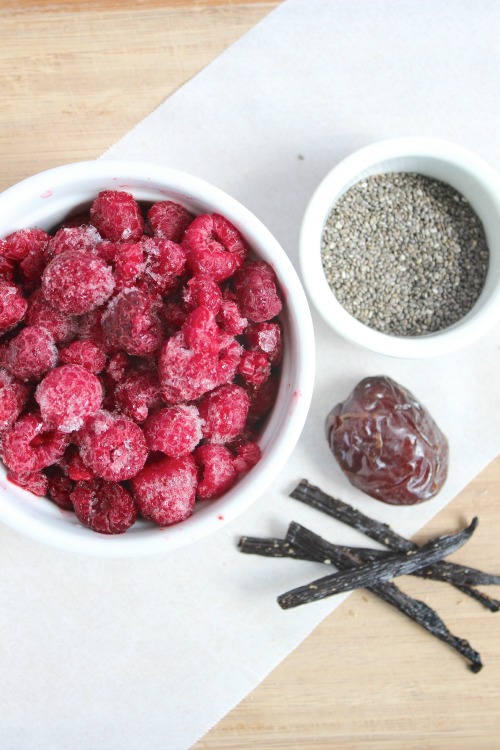 Just a handful of ingredients, all natural (no refined sugars added) and ready in just 5 mins!
Sweetened simply with one delicious little medjool date, a splash of vanilla and that's about it. Of course the berries bring a little sweetness of their own to the table and those wonderful little chia seeds are what thicken up this jam so perfectly. No need to spend hours stirring, simmering and reducing it down just throw in those chia seeds, blend and you are good to go.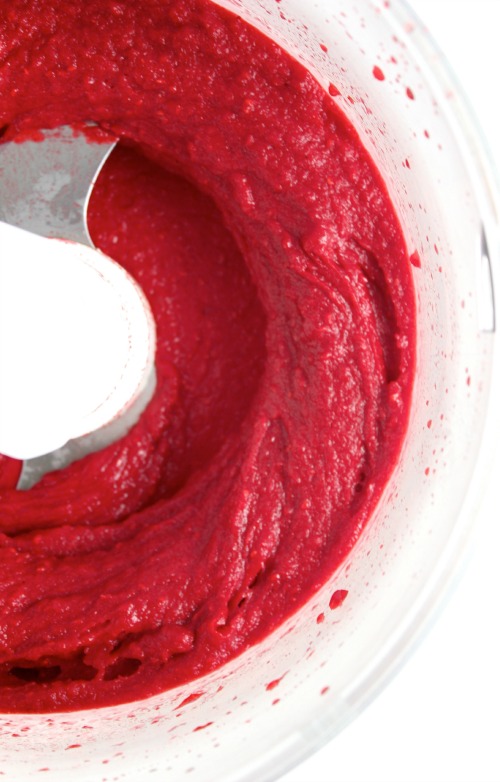 I saw the original recipe for this jam a few weeks ago when the incredible Teresa Cutter shared it on her website and knew it was something I would be adding to my giant, ever growing "must make" christmas list.
Being so hot along with the fact that I'm still struggling a little to get myself back into gear because all I want to do is go back on vacation to my beloved Denver *hmph* after our wonderful family vacation meant that choosing to share this quick, simple, no-bake recipe with your for our test it out tuesday feature this week was well . . . kind of a no brainer.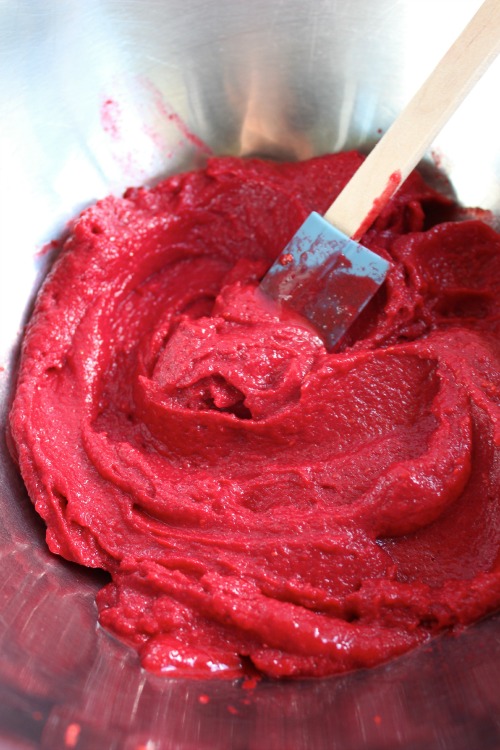 Teresa used a mix of strawberries and raspberries but I decided to just go with raspberries because well . . . it's what I had on hand (lazy girl say whaaaat?!). I also went with frozen berries because again it's what I had on hand. I love me some fresh berries but $7.99 for one tiny little tub of fresh raspberries . . . ain't nobody got time (or monies) for that?!
Delicious, healthy jam that looks all kinds of festive and is ready in 5 mins = totally happening!
All you need to do is to bust out your trusty old food processor/blender and we are half way there!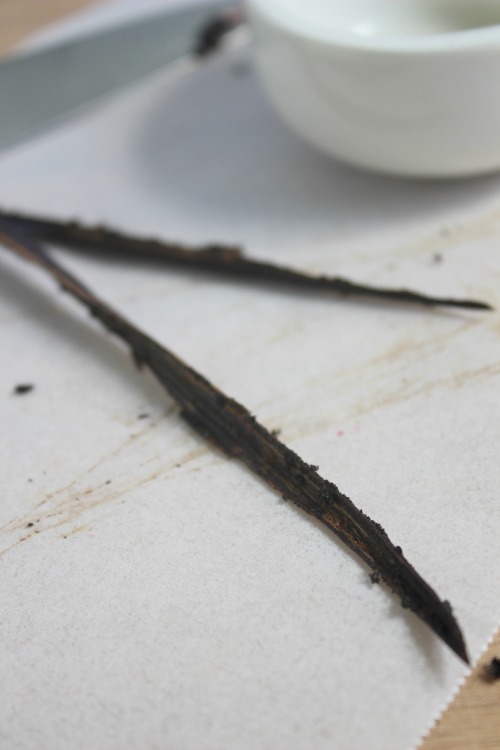 No pesky ovens required, no standing, simmering stirring just you, a handful of ingredients which I bet you have on hand already and your blender/food processor.
If you don't own a food processor or blender you could totally just use a fork and some elbow grease and smash up those berries, vanilla and chia seeds – if you choose to take this method I would skip the date and add a Tablespoon of maple syrup for sweetness instead. I wouldn't want you to miss out now just because you don't have a blender/food processor.
This jam is so quick and easy to make not to mention incredibly versatile. One taste and you will want to eat it by the spoonful which my little lady and I may or may not have done simply sitting on our kitchen floor once the first batch was ready . . . what?! Not irresponsible, totally making christmas memories right there on the floor of my kitchen and you know what, I kinda love it.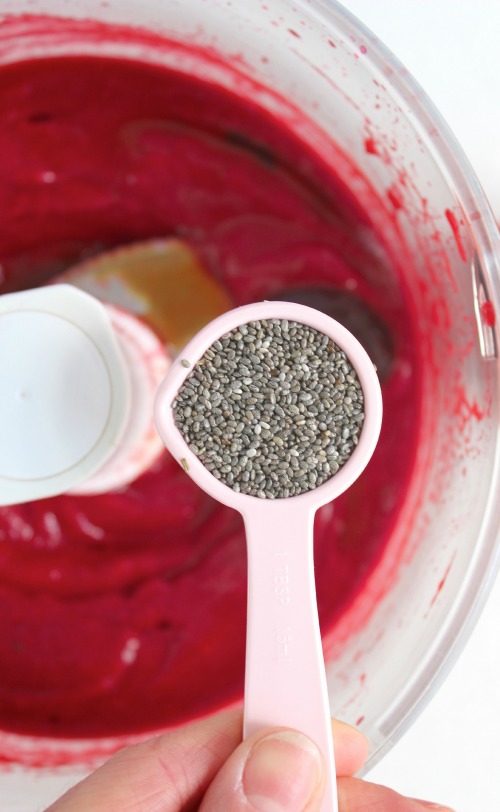 This jam is still slightly tart which is totally how I like it. If you prefer things a little on the sweeter side I suggest you add a little stevia, an extra date or two or even a splash of maple syrup.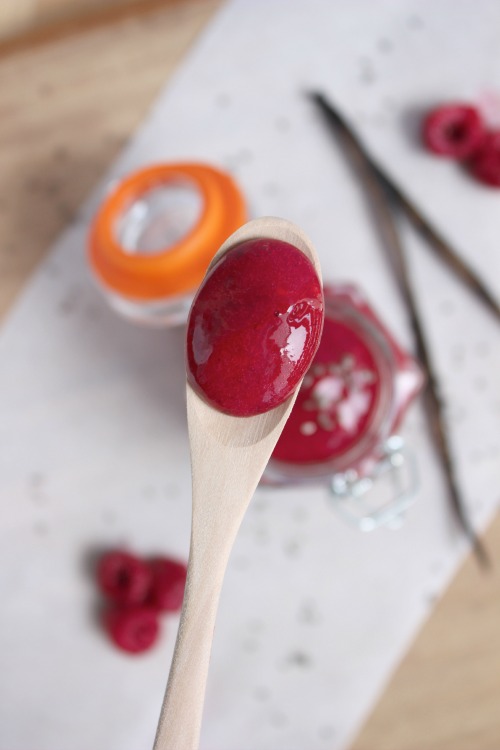 I also decided to make my jam seedless by passing the blended raspberry puree through a fine mesh strainer before adding the date, vanilla and chia seeds because well . . . although I may be lazy, I have issues with crunching down on those random, crunchy seeds whilst devouring my jam by the spoonful. If you don't mind seeds in your jam we can no longer be friends feel free to skip this step. Do what you feel people, make it your own.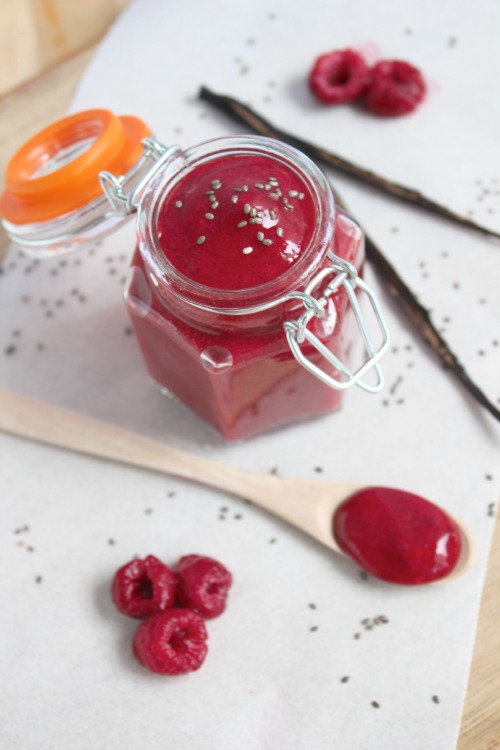 This jam would make a wonderful Christmas gift, I mean who wouldn't love some healthy, homemade festive looking christmas jam?!  I know I would.
I also know this jam is incredible straight up as it is, it's delicious stirred through some of your fave greek yoghurt (no need to fork out the big bucks for those fancy,  often sugar laden fruit on the bottom tubs of yoghurt from the store).
It's also delicious on a slice of freshly baked good quality sourdough, or on your morning waffles or these incredible vanilla spiked protein pancakes, and I can highly recommend having some on a slice of this classic wholewheat banana bread, seriously ah-maze!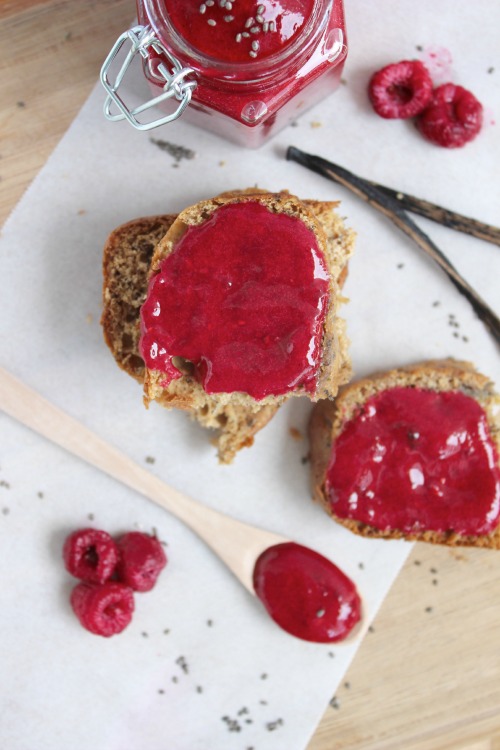 Packed with antioxidants from those delicious raspberries, rich in fibre and omega 3s thanks to those wonderful little chia seeds, all natural and ready in just 5 mins. The only questions left to ask is well . . . what are you waiting for?
Ready?
Good, lets go make us some jam!
Raspberry and Vanilla Chia Jam


Very slightly adapted from this recipe shared by the wonderful Teresa Cutter on her website – The Healthy Chef
Makes approx 2 cups

Ingredients –

1 x 500g box of fresh frozen raspberries (approx 4 cups)

1 teaspoon of vanilla extract

1 vanilla bean, seeds scraped (or an extra tsp of vanilla extract)

1 medjool date, seed removed

1 Tablespoon of Chia seeds

Method –

1 – Place the raspberries into your food processor or blender and process until smooth

2 – If you want a seedless jam transfer your raspberry puree to a fine mesh strainer and push the puree through with the back of a spoon until only the seeds remain. The place the now seedless puree back into your food processor/blender.

3 – Add date, vanilla extract, vanilla seeds (or additional extract) and chia seeds and process again until well combined and smooth.

4 – Transfer to a glass jar, air tight container or simple into a pretty bowl.

5 – Eat it simple by the spoonful, over some of your fave banana bread, simply on toast, pancakes or stir it into your fave Greek yoghurt. Or you could tie a pretty festive ribbon around a pretty little glass jar and give it to someone you love  . . . as long as you know they will share because this Jam . . . ah-maze! #justsayin
Enjoy xoxo
_______________________________________________________________________
Question of the day –
What tasty treats are on your must make this this Christmas?
Feel free to share recipes, links etc in the comments below (because I really need more ideas ;))