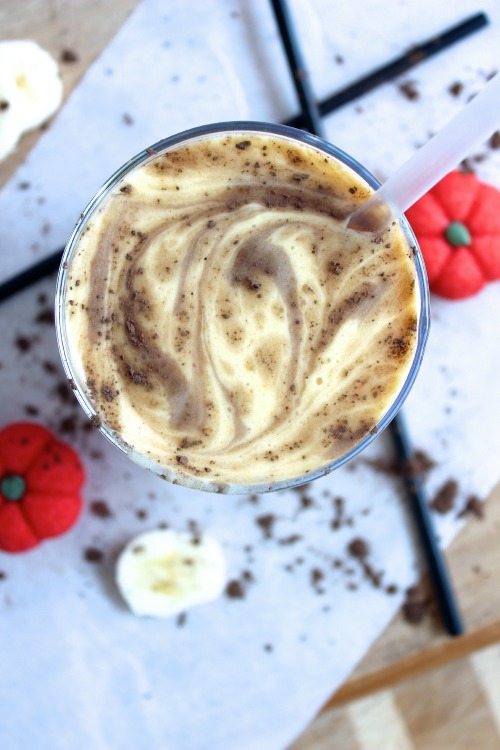 You guys I can't even believe it. We are sick. AGAIN!
I am so cranky I just want to sit down in the middle of the kitchen and dive head first into a giant tub of ice cream. Because let's be honest, nothing soothes an aching head and sore throat like a big ol' bowl of slightly melted ice cream, am I right or am I right?
Ugh I'm totally right . . . someone pass the ice cream . . . and a spoon . . .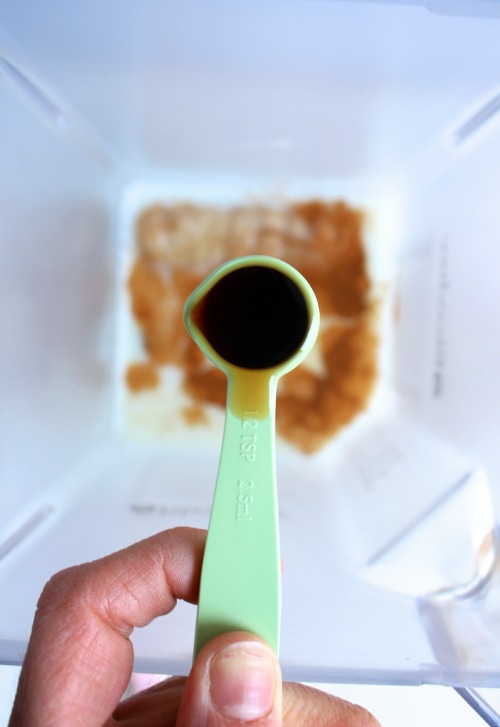 I don't know why I'm surprised that we are sick (again!), spunky husband is officially on holidays this week so we were bound to get sick right? I mean it's always the way. You finally get some down time and boom – hit like a tonne of bricks.
Well here we are down and out. AGAIN!!!!!
So you know what that means . . . smoothies! Lot's and lots of smoothies!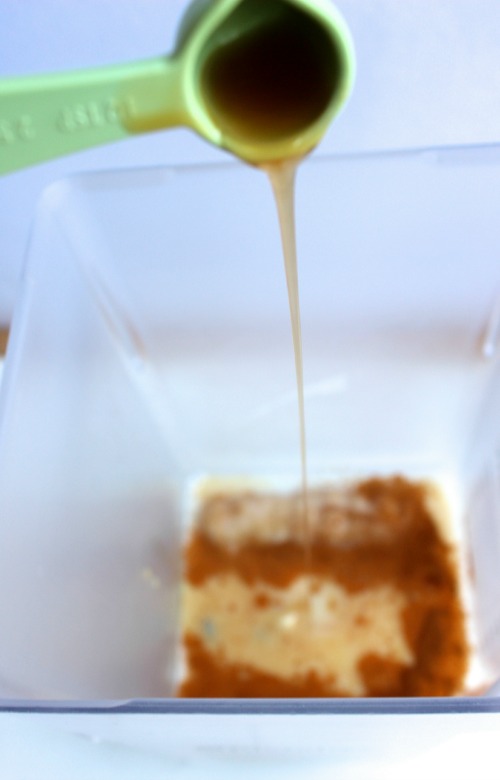 Those manky over ripe bananas I was telling you about last week when we were making that awesome Mango and Passionfruit Banana bread have definitely been put to good use.
You know when your sinuses are all blocked up you can barely eat because you can hardly breathe and when you do try to eat it feels like you just ran a marathon and you can't seem to catch your breath.
Oh yes it's all kinds of fun here in our house at the moment. You wanna come hang out?
I'll make you a smoothie.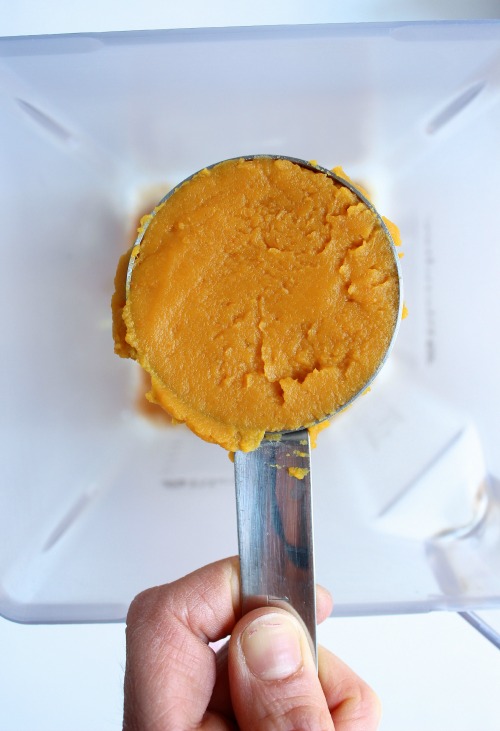 I would offer you ice cream but, well . . . I may or may not have already polished off 3 tubs this week the tub.
When I spotted the original version of this smoothie that Katie had shared over at 24 Carrot Life I thought it would be the perfect substitute for all the ice cream I had been craving to soothe my throbbing, aching head and throat.
And you know what, it totally hit the spot.
Ice cold, super thick, extra creamy and just perfectly sweet.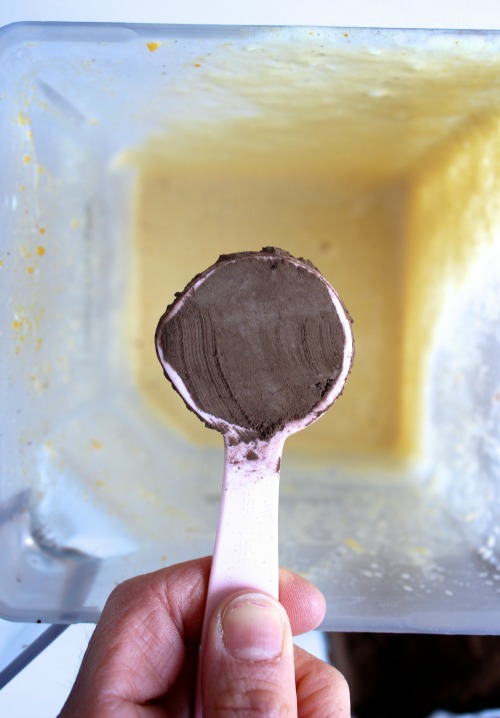 Packed with protein from the milk and Greek yoghurt, rich in Antioxidants from the dark chocolate cocoa powder and it's also loaded with potassium and countless other essential vitamins and minerals thanks to the banana and of course the pumpkin. Since we learnt about the benefits of eating pumpkin a few weeks ago I have been sneaking a little of that golden goodness into anything and everything.
Now this smoothie does not taste at all like pumpkin. My little lady took a big ol' sip and declared "OOoooOO banana and chocolicky, it's yummy. I like it" Virtual high 5 on that one!
The banana combined with a pinch of cinnamon, a splash of vanilla and a drizzle of maple syrup adds the perfect amount of all natural sweetness to this creamy dreamy pumpkin swirled chocolate lovin' super smoothie. It totally satisfies those all consuming cravings I have been having for ice cream.
Not that there is anything wrong with having a big ol' bowl of ice cream every now and again, I actually encourage it but sometimes you need to know when enough is enough. 3 tubs in one week, I'm thinking I've had my fill . . . and yours, and then some. So here is the answer, your healthy , delicious, guilt free alternative.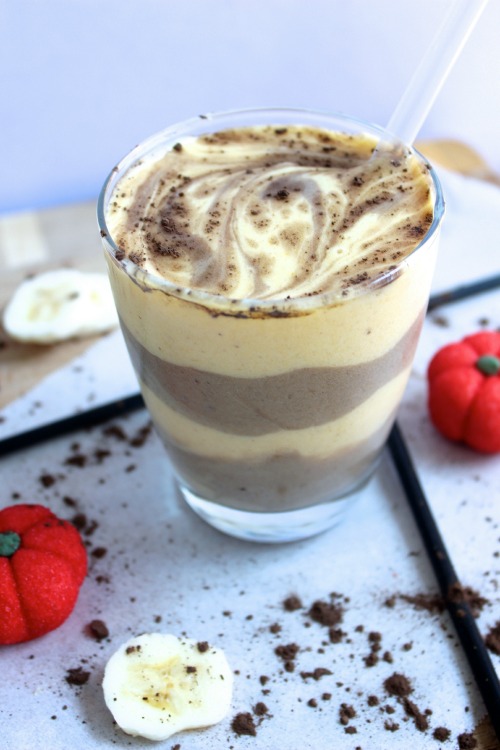 Oh and you don't have to bother separating, layering and swirling it up but I thought it looked fun. Either way it's all kinds of delicious.
Once I'm all recovered and back into training I plan on adding a scoop of protein powder to this super smoothie as part of my post workout refuel.
In the mean time if you're looking for something a little extra special, all natural and totally guilt free make this Chocolate, Banana and Pumpkin Swirl Super Smoothie.
If you happen to have one or 2 of those coconut choc chip oat cookies we made a few weeks ago laying around go ahead and throw em' in for a seriously indulgent, yet all kinds of healthy little treat.
Now, if you'll excuse me I think I'm going to go crawl into a hole and die (because I am not dramatic at all, not even a little ;))
Chocolate, Banana and Pumpkin Swirl Super Smoothie


Adapted from this recipe shared by the creative Katie of 24 Carrot life


Makes 1 large or 2 small smooth and creamy pumpkin spiced chocolate lovin' smoothies




Ingredients –

1/4 cup plain Greek Yoghurt (I always use Chobani 0% ♥)

1/2 cup milk of choice (I use skim)

1/2 a banana (preferably over ripe and pre-frozen)

1/3 cup pumpkin puree

1/2 teaspoon of vanilla extract

1/2 teaspoon of maple syrup (more or less to taste depending you your preferred amount of sweetness)

1/8 teaspoon of ground cinnamon

1 teaspoon of cocoa powder (I use Hershey's special dark) plus a little extra to sprinkle over the top for serving.

1 cup ice

Optional – 1/2 teaspoon of xantham gum – (gluten free natural thicken agent that will result in an thicker smoothie)

Method –

1 – Combine all ingredients except for cocoa powder into a your blender and blend until smooth and creamy.

2 – Pour 1/2 of the smoothie mix into glass or jug and add the cocoa powder, blend again until cocoa powder is mixed through. Taste and adjust sweeteners (a little more vanilla, maple syrup or even a little stevia) to achieve your preferred level of sweetness.

3 – Pour into a glass alternating between plain pumpkin smoothie and chocolate pumpkin smoothie mix to create your chocolate pumpkin layered smoothie, sprinkle with a little extra cocoa powder, swirl with the straw (or a spoon) and serve.

Enjoy xoxo
_________________________________________________________________
Question of the day –
Do you have a favourite "unhealthy" recipe you've put a healthier spin on? Feel free to share in the comments below 🙂