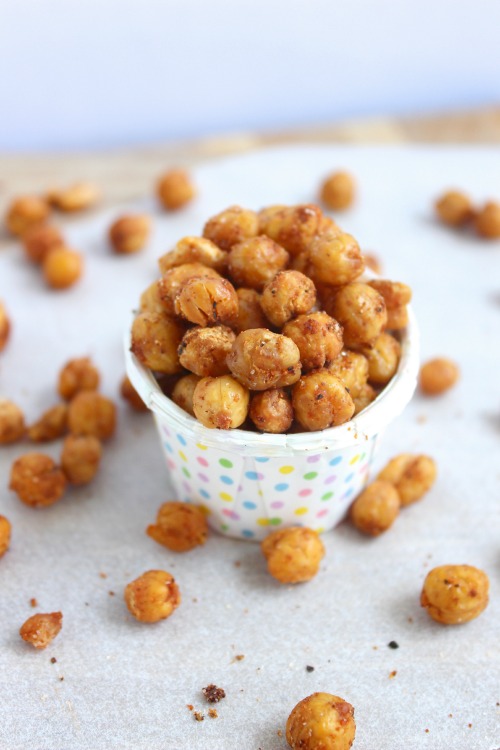 Can you believe Christmas is over already?!
Sad.
I always get so sad once Christmas day finally comes to an end.
I just love it so much and I hate that it goes by so fast!
All those hours, weeks, months planning and preparing and growing excitement then it feels like you blink and its over with.
Waah!
So how was your Christmas?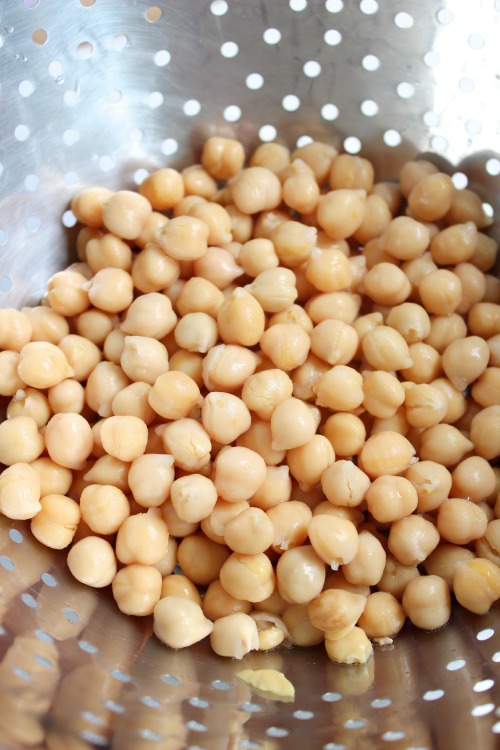 We had such a wonderful day. Just spending time with family, eating, hanging out, opening super awesome presents and relaxing. Well relaxing as much as you can with an over excited 4 year old (who has so much energy on any given day that she puts the energiser bunny to shame) bouncing around here there and  e-v-e-r-y-w-h-e-r-e!
Now that the festivities are done and dusted on to New Years Eve celebrations right?!
So what are you planning?
Staying in? Going out?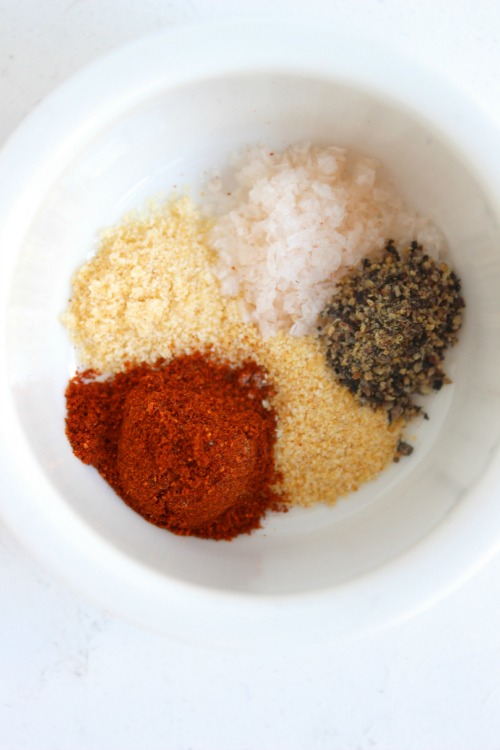 Me? I'm a total homebody. I will be snuggled up on the couch in my jimmy jams, with some yummy snacks and cheesy TV doing my best to stay awake to watch the midnight fire works which I am fortunate enough to be able to see off in the distance right from luxury of my very own (crowd free) balcony.
Going out or staying in I have your snack sorted. I mean after all a girls gotta eat right?!
Today's test it out Tuesday recipe is one from none other than the seriously talented (both in the kitchen and behind the camera) and ever entertaining Jessica from How sweet it is. Crispy crunchy, smoky, salty, savoury spiced, oven roasted chickpeas is where it's at!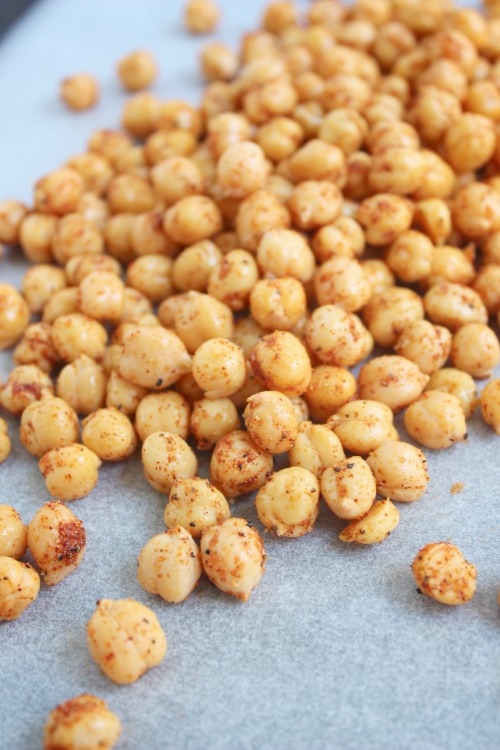 Crispy and crunchy on the outside while still having a slight buttery centre.
These oven roasted chickpeas are encrusted with an incredible combination of salty, savoury, smoky deliciousness. We simply toss our chickpeas in a little coconut oil (or you could use olive oil) and sprinkling over a little salt, pepper and smoked paprika along with a little onion and garlic powder. Now I went a light on the onion and garlic powder feel free to kick things up to suit your tastes.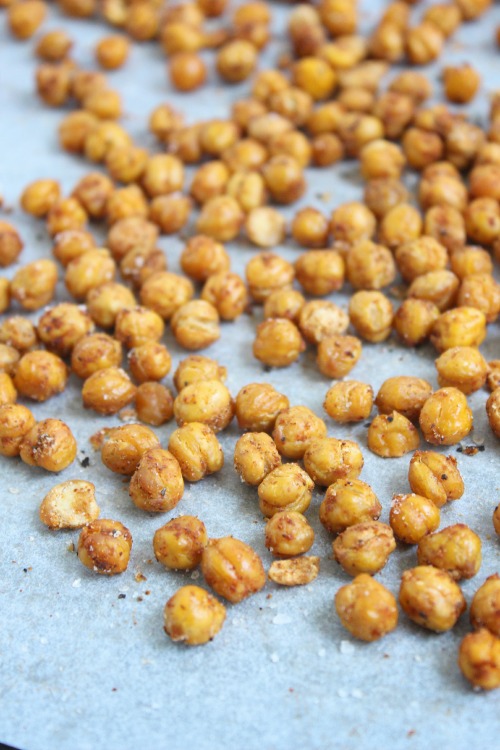 These oven roasted chickpeas are the perfect snack for you to munch on whether your getting ready to head out on the town, snuggle up on the couch or sharing with friends and family while your waiting to ring in (or is it bring in?!) the new year.
Simple to make, ready in under 20 mins and even easier to eat.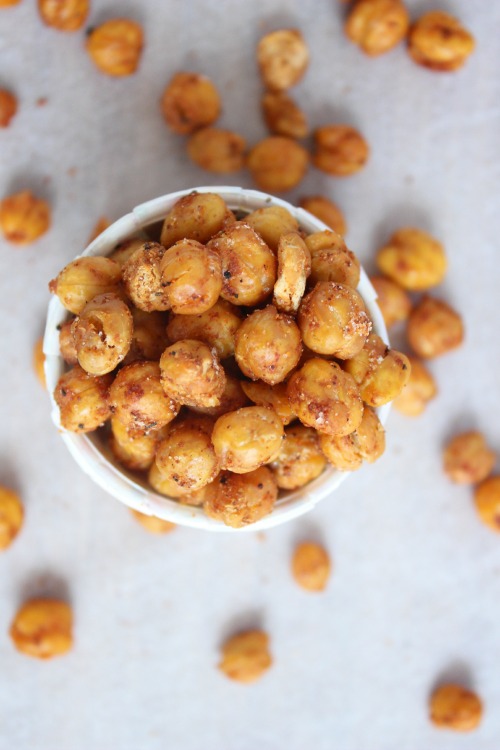 These oven roasted chickpeas are made with just a handful of ingredients I am sure you have stashed away in your pantry but they make a pretty impressive little snack.
Eat them just as they are by the handful, throw them into your salad or if your heading over to celebrate with friends and family this NYE why not pop some in a pretty little jar and take them as a gift for your host. As long as you know they'll share.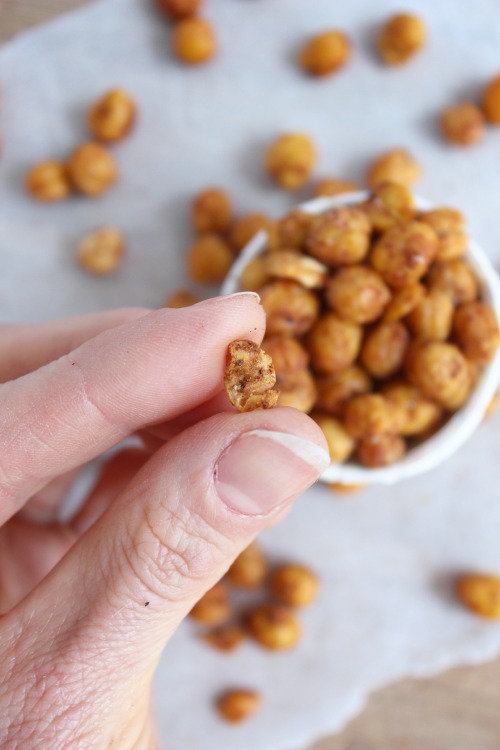 PS – Those extra crispy little broken pieces are my fave! I call dibbs on those. I mean look at that little bite of crispy crunchy goodness, covered with that incredible savoury seasoning. Just look at all that flavour ♥
Crispy, crunchy, salty, savoury, smoky deliciousness that is simple to make, ready in under 20 mins and totally healthy. What better way to kick off 2014?!
Oven Roasted Chickpeas


Very slightly adapted from this recipe shared by Jessica at How Sweet it is
Makes approx 1 cup of crispy, crunchy, sensational savoury  snackity snackin' oven roasted chickpeas

Ingredients –

1 can of chickpeas, drained and rinsed with those manky outer skins removed

1/2 teaspoon of coconut oil, melted and cooled

1/8 teaspoon of onion powder

1/8 teaspoon of garlic powder

1/4 teaspoon of smoked paprika

1/4 teaspoon of salt flakes

1/4 teaspoon of freshly ground black pepper

Method –

1 – Preheat your oven to 175″C (350″F)

2 – Line a rimmed baking sheet with baking/parchment paper and set aside.

3 – Once you have drained, rinsed and de-skinned your chickpeas – yes removing those manky little outer skins is slightly tedious and you will curse me while your doing it but trust me, totally worth it! Place them onto a sheet of paper town just to remove any residual moisture to make sure they are nice and dry.

4 – Place your rinsed, dried and peeled chickpeas into a small bowl then drizzle over your coconut oil and toss to coat.

5 – Sprinkle over salt, pepper, smoked paprika, onion and garlic powder and toss to combine. Make sure each chickpea has a nice little coating if this killer spice mix.

6 – Pour your seasoned chickpeas onto your prepared baking sheet and place in the oven roasting for approx 15-20 mins shaking the tray or stirring your chickpeas around at about the 7 and 12 min mark.

7 – Once your chickpeas are golden and crispy remove from the oven and allow to cool completely on the baking sheet.

8 – Store in an airtight container (or ziplock bag) or just grab a handful and go to town, or sprinkle over your fave salad do what you feel people as long as your eating these chickpeas you and your belly will be happy 🙂
Enjoy xoxo
_____________________________________________________________________
Question of the day –
Are you making a new years resolution? If yes, care (or dare) to share?