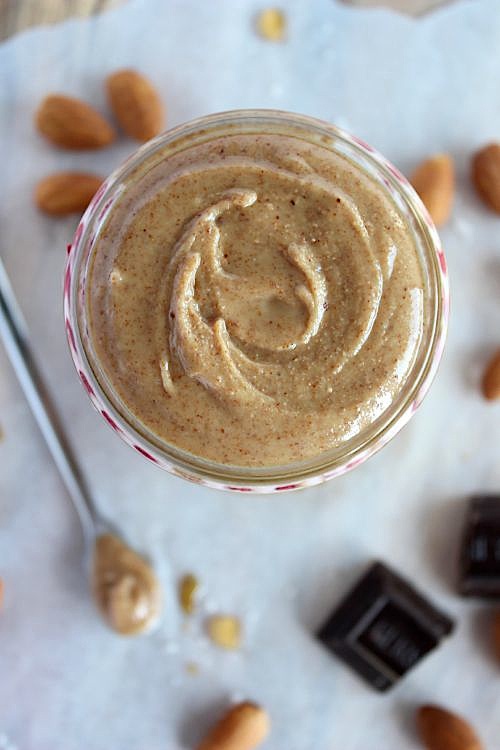 And the nut butter obsession continues . . .
Remember last week I was telling you how all I wanted to do was sit and eat all of the nut butters in all of the land?
Recently someone asked me what my favorite flavor of almond butter was . . .
Tough question . . .
Seriously . . .
For me it's a tie between vanilla and maple . . .
But, it's a tough call!
I mean, how does one make such a decision?!
It's like asking a parent if they have a favorite child!
Ok, well, maybe not exactly like that but . . . pretty close 😉
I guess it really just depends on the day, what mood I'm in and what I have within arms reach available at the time . . . sooooo many variables to take into account, but seriously, it's a tough, tough call!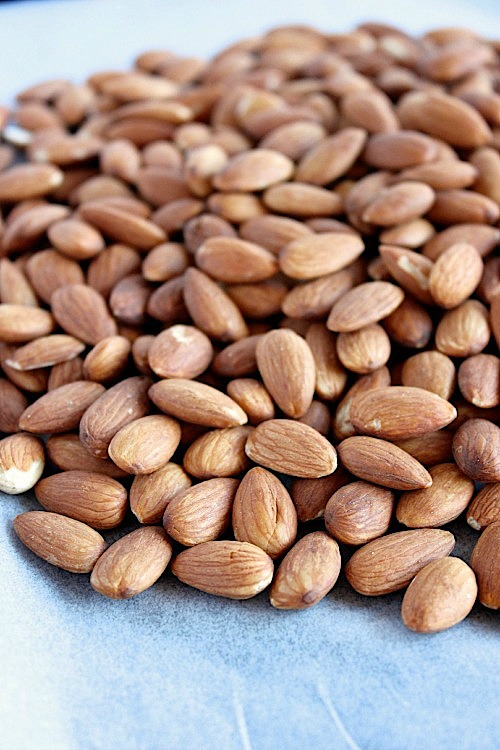 And then I thought, well, why should I have to decide?!
Why not merge my 2 great loves into one big ol' batch of creamy, dreamy deliciousness?!
Genius right?! Why did I not think of this before?
Quick and easy, creamy, dreamy, maple-vanilla almond butter for the win!
And oh my deliciousness, you guys, talk about a winner!
Seriously though, I can't stop, or should I say, won't stop dipping my spoon into that big ol' jar of deliciousness.
And you know what? I'm so not sorry about it.
Not even one little bit!
Do you guys know how good almonds are for you?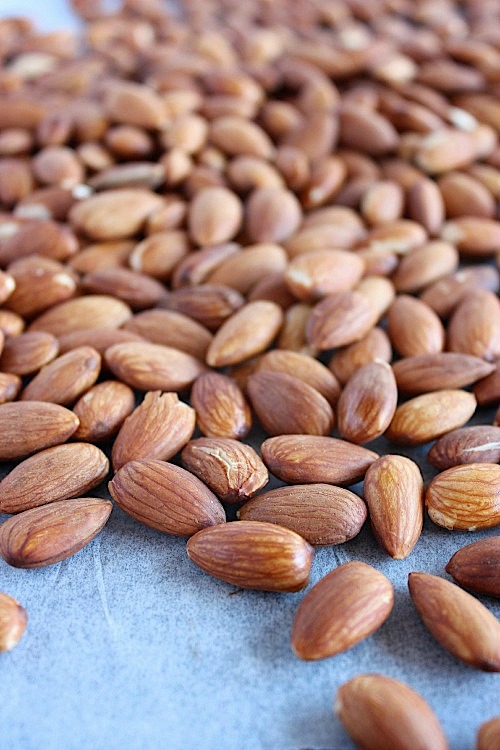 Those golden little gems are packed with nutrients. Not only are they high in protein and heart healthy fats  but they are also rich in magnesium, potassium and vitamin E.
All good things, right?
And because we are leaving the skins on our almonds that delicious little jar of healthy, homemade maple-vanilla almond butter also happens to be high in fiber.
So, not only does this maple-vanilla almond butter taste all kinds of delicious but, it's also got some nutritional benefits to it too.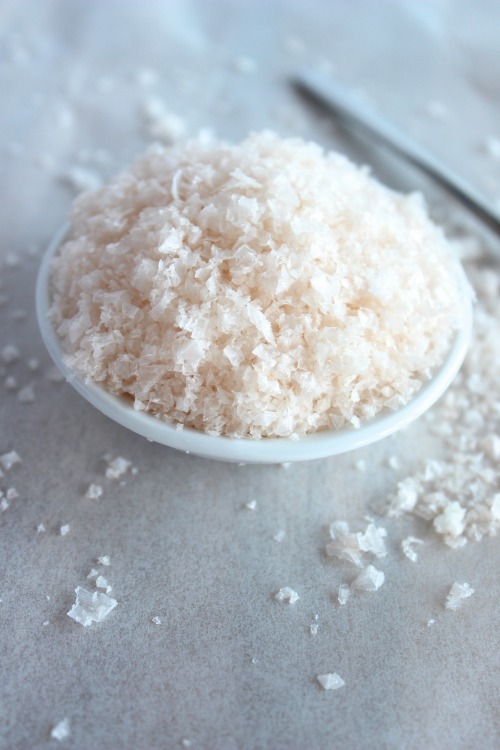 Ahh so much to love ♥♥♥
One taste of this maple-vanilla almond butter and you will be as I love with it as I am.
Just you wait –
Delicious, nutritious almonds are oven roasted and combined with a splash of vanilla and a drizzle of maple syrup then blended into a creamy, dreamy, subtly sweet, velvety smooth oblivion.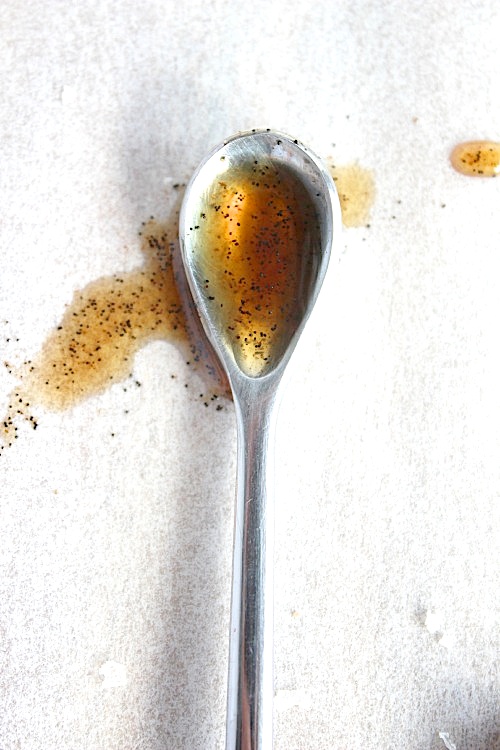 The subtle sweetness of the maple syrup and vanilla combined with those deliciously golden, lightly toasted almonds and that cheeky little pinch of salt is absolute perfection!
It's got that seriously satiating, salty-sweet thang going on and I just know you are going to love, love, love it!
This maple-vanilla almond butter is the stuff dreams are made of! Well my dreams anyway.
Not only is our creamy, dreamy maple-vanilla almond butter insanely, and I mean I-N-S-A-N-E-L-Y, delicious but, it also happens to be all natural made with just 4 ingredients that I bet you have on hand already – Almonds, vanilla, maple syrup and a cheeky little pinch of salt. That's it!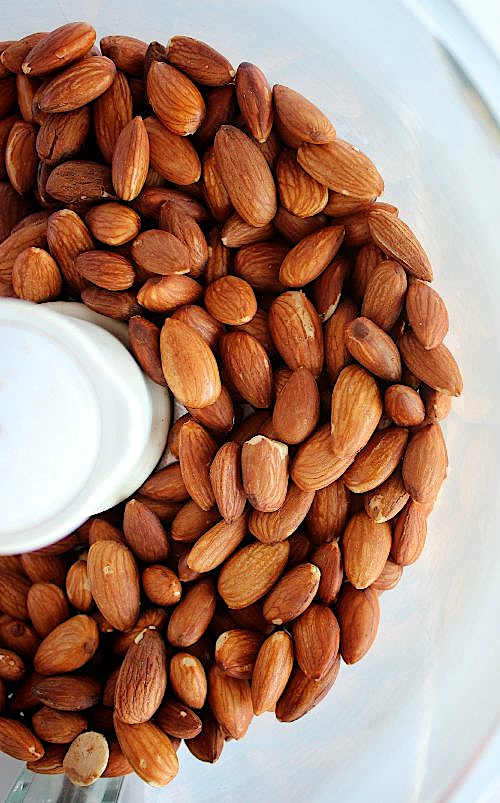 No hidden nasties in this jar of deliciousness, just pure goodness baby.
It also happens to be super quick and easy to prepare coming together in a matter of minutes. I had my nut butter ready to devour in well under 20 mins, and that includes stopping to take progress pics along the way!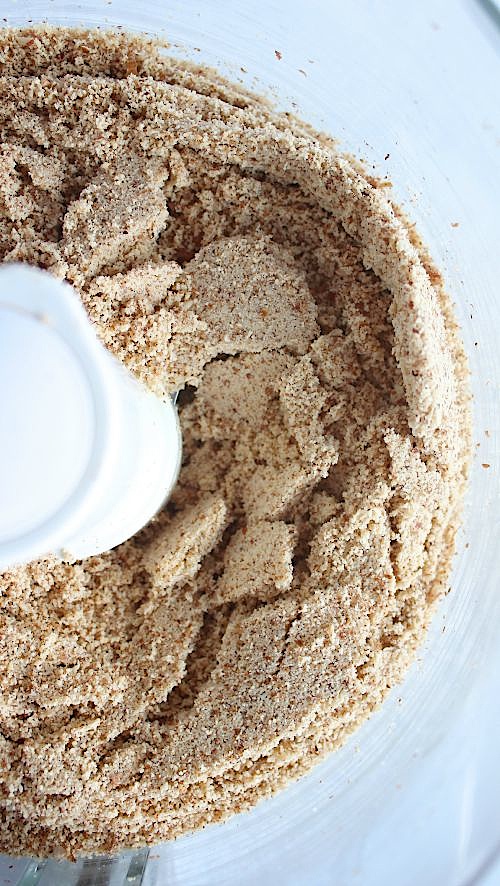 And then there's taste . . . seriously you guys this maple-vanilla almond butter is so ridiculously delicious that I can not even find the words (or take good enough pictures) to do it the justice it deserves.
Seriously life-changing!
It's deliciously creamy and seriously dreamy with a subtly sweet hum of maple-vanilla decadence that is nothing short of divine!
It also happens to be naturally, vegan, dairy free, gluten free, grain free and paleo friendly ♥♥♥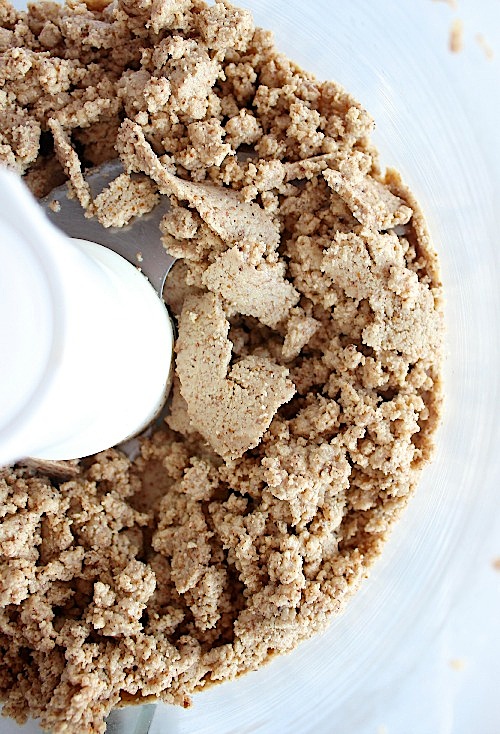 So here's what we're going to do –
Start off by giving our nutrient rich, golden, delicious almonds a quick little roast in the oven – this is totally optional but,  toasting our almonds before we blend helps to give our nut butter an incredibly rich and totally decadent depth of flavor so although I say it's optional, please don't skip this step. Yes it's an extra 5-10 minutes but, trust me – it's absolutely, 100% worth it!
Now, once our almonds are nicely toasted, and your house smells like heaven, all you have to do it toss them into your food processor or blender, add that cheeky pinch of salt and blendy, mcblend – you're pretty much done!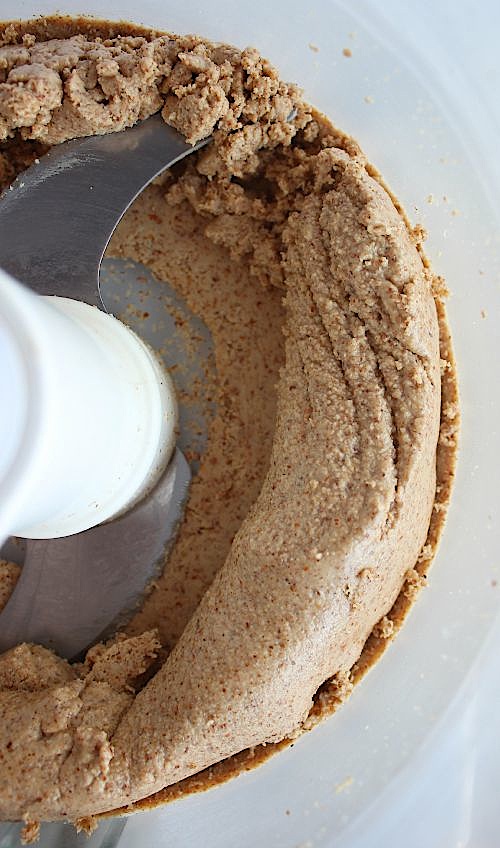 Initially your almonds will get all chunky, then after a minute or two they will break down into a fine looking flour, then the real magic happens, the heat and friction from all that blending will extract the natural oils from our almonds and in mere minutes, you will witness one of the most beautiful transformations of all time as your golden, delicious roasted almonds are whipped into a creamy, dreamy golden, delicious, nutrient rich almond butter right before your pretty little eyes . . .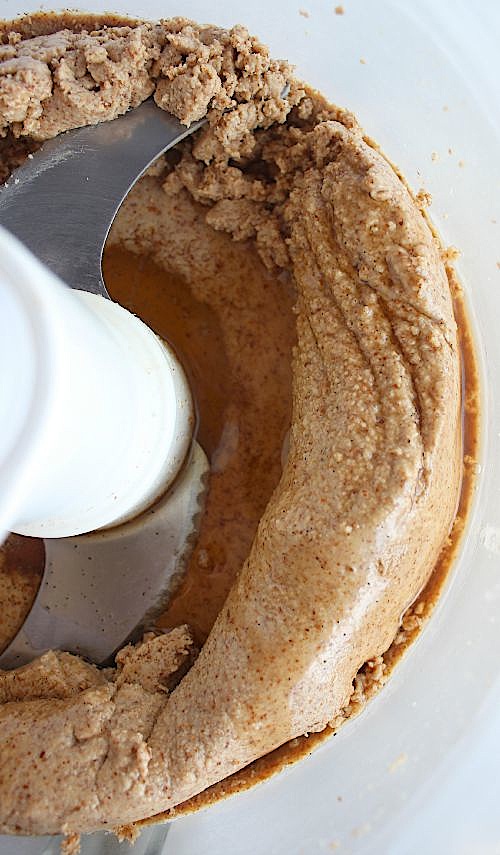 Next up we add in our splash of vanilla and a drizzle of maple syrup, give it one final little whizz-a-roo and boomshaklocka – done!
So easy right?!
You know what else I love about making your own nut butter?!
It's totally customizable.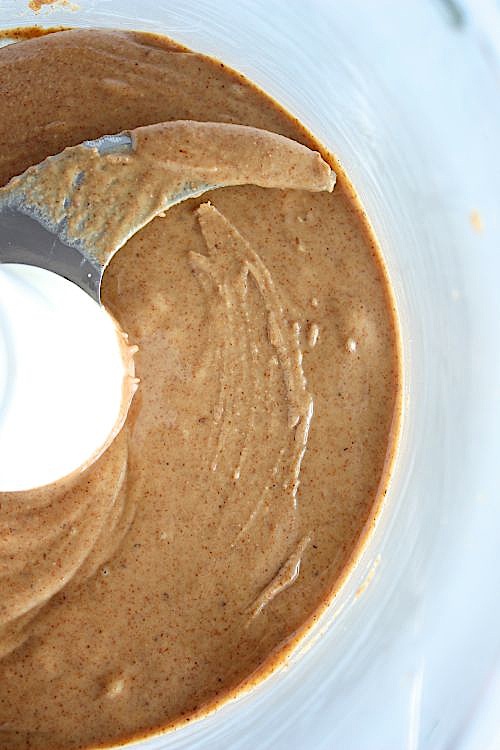 So if you, like me, prefer your nut butter super smooth and extra creamy – just blend for a few extra minutes and you will have yourself some extra creamy, seriously dreamy, velvety smooth almond butter, just the way you like it!
Or, if you prefer to have yourself some extra chunky almond butter, no problem. Simply pulse your almonds for a second or two, then take out a couple of Tablespoons of those extra chunky. crispy, crunchy oven roasted almond pieces and set them aside while you blend, blend, blend the rest of those babies. Then, once you have reached your desired consistency, stir through those chunky monkeys and there you have it! Extra chunky almond butter for the win!
Once your almond butter is ready it will be slightly warm and a little runny from all that blending, you will be tempted to grab a straw and drink up that golden deliciousness, you're only human after all.
Try to refrain from drinking the entire batch in just one sitting because once it cools, the natural oils will start to solidify and your healthy, home-made, personalized almond butter will firm up and set into that thick and creamy, seriously dreamy, stick to the roof of your mouth, consistency that we all know and love.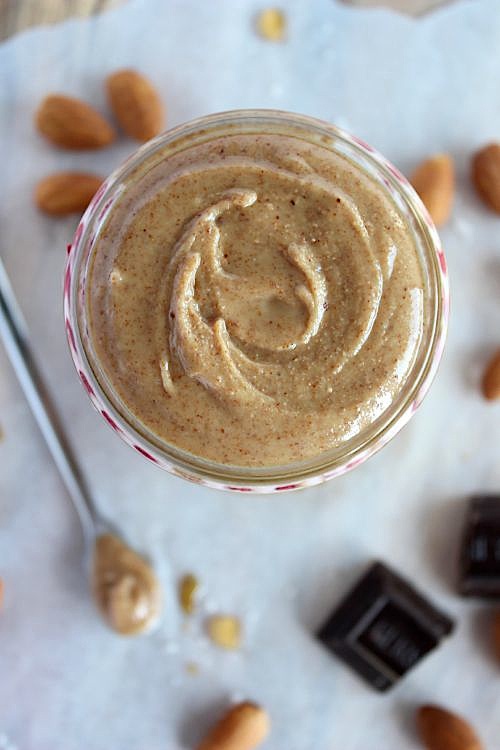 Thick, rich, creamy, dreamy, golden, delicious and simply divine!!
Feel free to go ahead and use it as you would, business as usual – dive head first into the jar and eat your way out . . . or you be a little more refined and get yourself a spoon, do what you feel, no judgement here 😉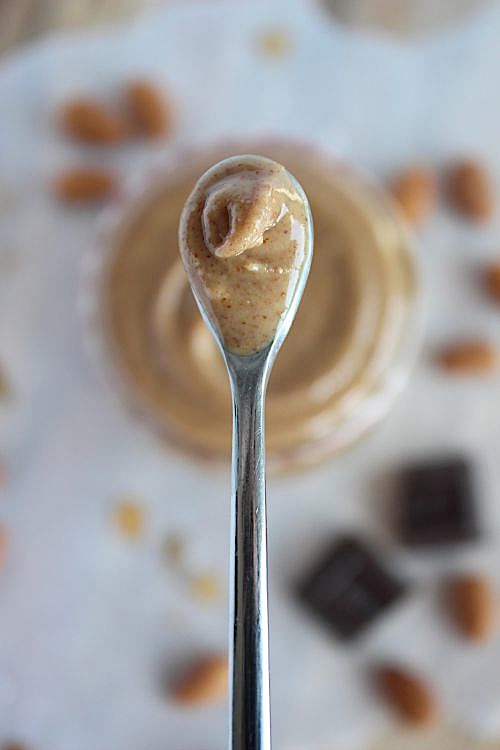 And I'm not saying that you have to but, I strongly suggest that you do . . . grab yourself a big ol' block chunk of your fave dark chocolate, add a generous dollop of your freshly made, creamy, dreamy, golden, delicious, maple-vanilla almond butter . . .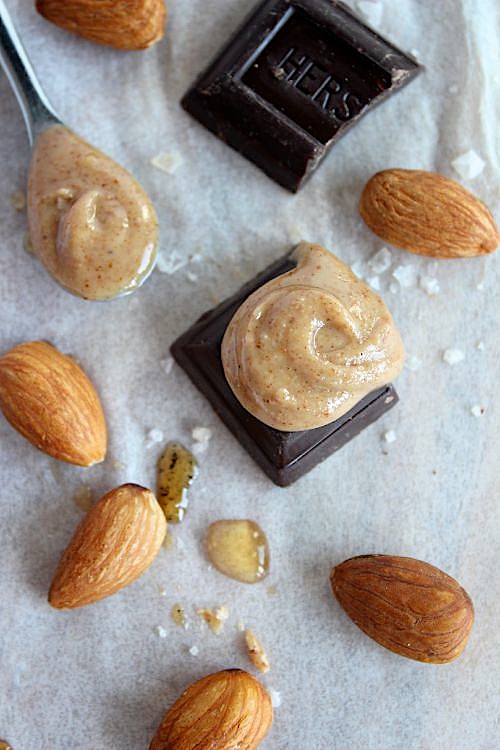 and maybe drizzle over an extra cheeky, teeny, tiny little bit more vanilla and lose yourself in the deliciousness that you just created.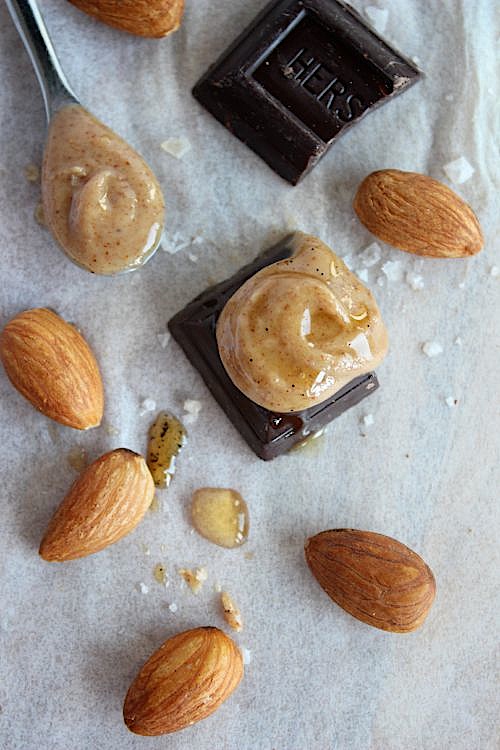 Yep, not sorry, not even a little bit
All natural, quick and easy, creamy, dreamy, golden, delicious healthy, homemade maple-vanilla almond butter . . .
Make it. Eat it. Love, love, love it
Healthy, Homemade Maple-Vanilla Almond Butter {Vegan, Dairy free & Paleo Friendly}


Makes approx 1 1/2 heaping cups of all natural, creamy, dreamy, maple-icious, vanilla infused, healthy homemade almond butter

Ingredients –

2 cups of raw almonds

1 Tablespoon of vanilla bean extract

1 Tablespoon of Maple Syrup

1/2 teaspoon of salt flakes

Method –

1 – Preheat your oven to 175'C (350'F)

2 – Line a large baking sheet with baking/parchment paper (or a non stick silpat mat) and pour your almonds on, making sure they are spread evenly – aka not crowded.

3 – Roast your almonds for 10 mins, until lightly roasted and slightly golden.

4 – Pour your roasted almonds into the bowl of your food processor or blender, add salt and process until smooth and creamy (or your desired consistency). Initially the almonds would grind down into a powder, give it a minute or two and the oils will extract and it will become deliciously, thick, rich and creamy. You may need to stop and scrap down the sides of the bowl occasionally.

5 – Once you have blended to your desired consistency, add your vanilla and maple syrup and process again just to combine.

6 – Taste and adjust seasoning accordingly – add a little extra salt or more vanilla if you feel the need and if you prefer a thinner consistency feel free to add a drizzle of coconut oil to thin it out.

7 – Store in an airtight container in the fridge. It should keep well for up to 2 weeks – if it lasts that long! (← seriously, good luck with that 😉 )
Enjoy xoxo
_________________________________________
Question of the day –
Are you a fellow nut butter addict? What's your fave flavour? Or brand? Or recipe? And your fave way to eat it?! Straight up by the spoonful, with fruit, on toast, on chocolate?! Tell me . . . details please
Feel free to share recipes or leave links to recipes in the comments below and if you make this recipe make sure you snap a pic and share it either on the Facebook page or tag me on Instagram or twitter – sharing is caring people 🙂
_________________________________________