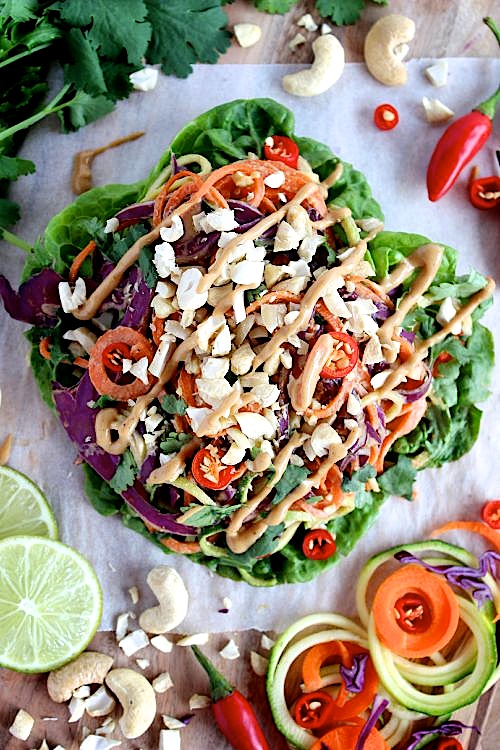 Oh you guys I am soooooo excited to share this recipe with you today!
Although, in the interest of full disclosure, this recipe was created out of pure self indulgence.
You see, lately it seems all I want to do is –
1 – Eat obscene amounts of nut butter. Not one specific type of nut butter either, I'll take whatever I can get my hands on. Good ol' fashioned peanut butter, creamy, dreamy,  almond butter, plain, flavored, store-bought, homemade. You name it, I'll take it, it's all good. And –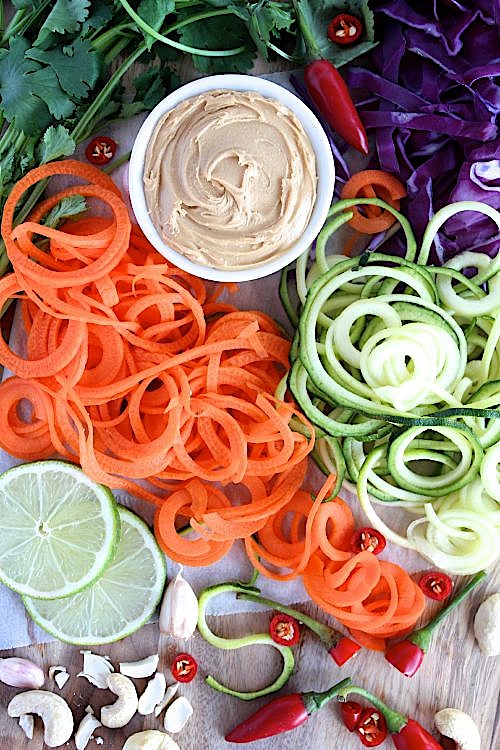 2 – Play with my spiralizer. I can not get enough. It just never gets old.
Ever.
Clearly I am very easily entertained but, talk about making food fun!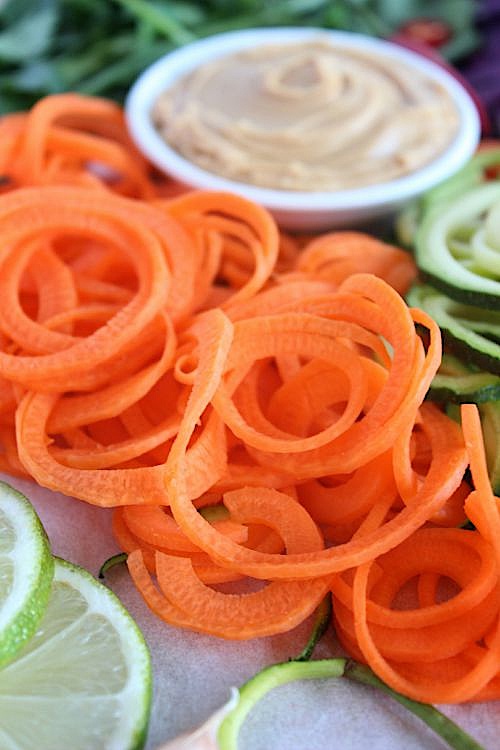 A quick little side note – if you don't have a spiralizer never fear, you can still make these super awesome, crazy cool, insanely delicious veggie wraps. You could simply grate your veggies on a good ol' fashion box grater or, you could use your trusty ol' veggie peeler to create yourself some long and luscious veggie ribbons 😉
Either way you guys are going to want to get in on this!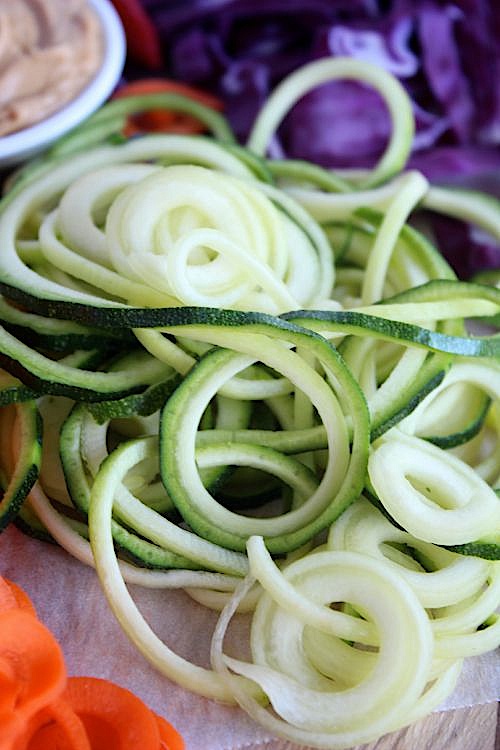 Not only do these lettuce wraps pack a serious flavor punch but, they also happen to be all natural, made with just a handful of real food ingredients that I bet you have on hand already and they come together in a matter of minutes, no cooking required!
They also happen to be naturally dairy free, gluten free, vegan and depending on what kind of nut butter you use they could also be paleo friendly so everybody wins!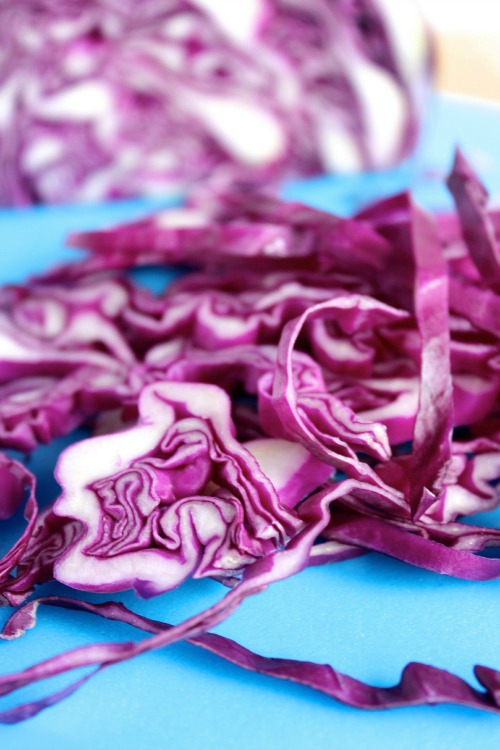 And oh.
My.
deliciousness.
You guys!!!
This spicy peanut dressing is seriously to die for, and it is so simple to make!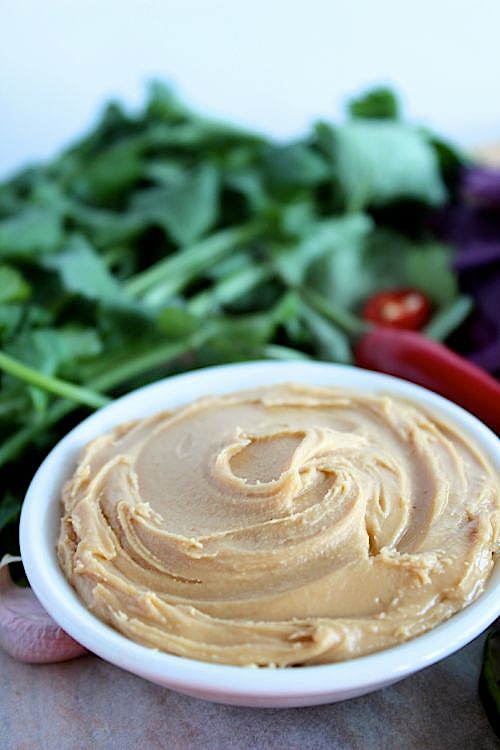 A couple of tablespoons of peanut butter (nut butter of choice) a splash of tamari to bring out those Asian flavors, a drizzle of maple syrup for some subtle sweetness, a clove of garlic because garlic is always a good idea,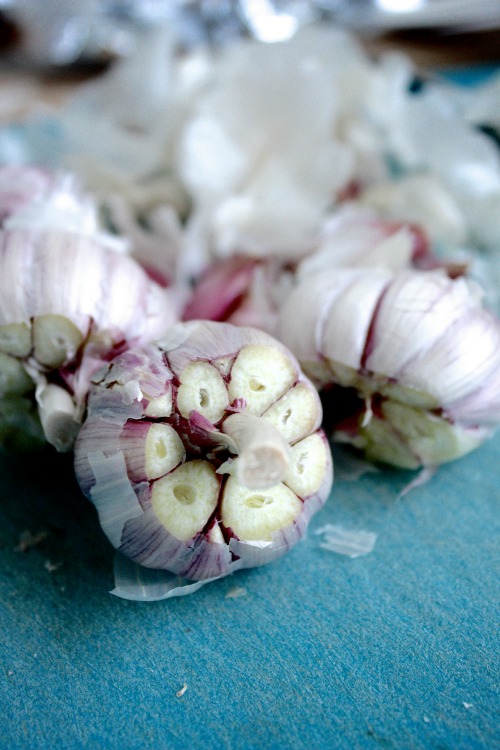 a squeeze of lime for a little zesty freshness then just before serving throw in some red chilli and boomshakalock – done!
Minimum effort with maximum flavor is what I'm all about baby!
And this peanut dressing (or sauce?!) delivers an absolute flavor bomb!
Punchy, Asian inspired, peanut butter flavors with a hint of sweetness and a cheeky kick of heat!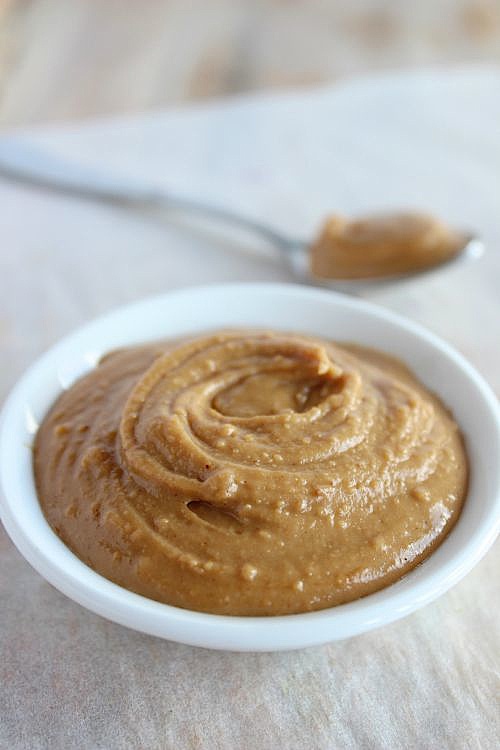 Don't you just wanna dive head first into this little bowl of awesome-sauce and eat your way out?!
As much as you want to try to restrain yourself because trust me, the end result is worth waiting for and you are sooooo close to serving up.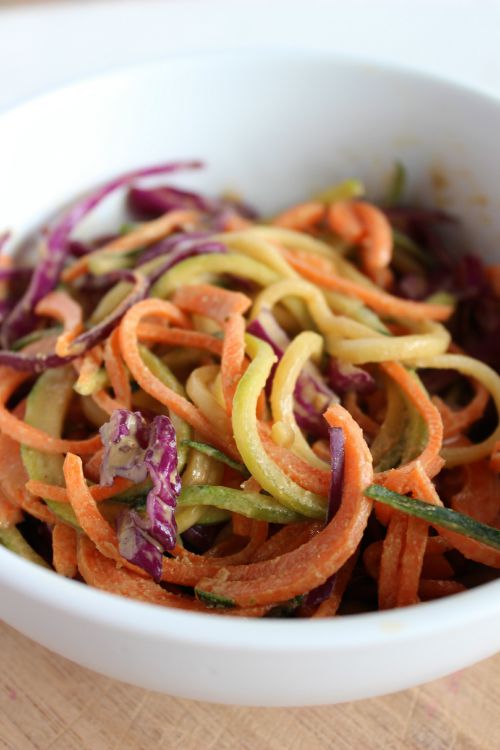 All that's left to do it coat your veggies in that awesome dressing, pile it onto your cool crisp lettuce leaves, sprinkle over some fresh coriander, a little extra chilli if you're feeling feisty, which clearly I am, throw on some buttery cashews for a little extra crunch and you are ready to rock and roll.
And eat of course 😉
You may be wondering – "Em, why bother making this into lettuce wraps?"
And to that I say, good question sweet invisible internet friend of mine. Let me explain . . .
Initially I made this recipe minus the lettuce wraps but, I wasn't entirely happy with it. Something was missing, I felt like it needed a little extra freshness.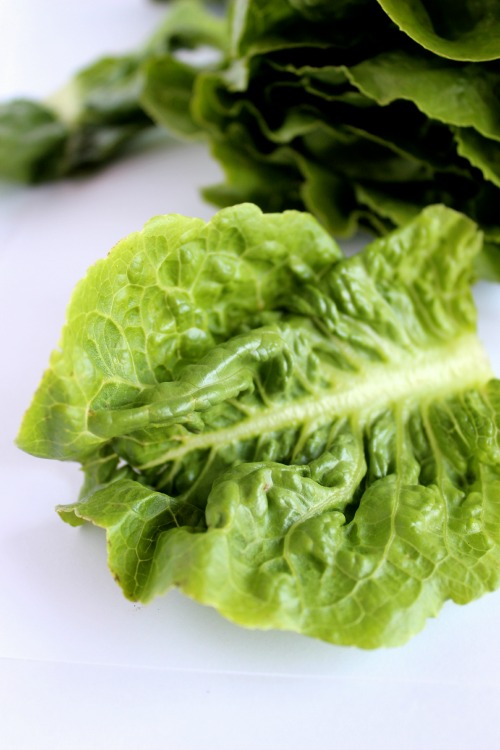 Enter the lettuce leaf.
The cool, crisp, freshness that the lettuce leaves bring to the dish is just so perfect. They really help to balance out the punchy flavors of our incredible dressing as well as being a nice way to cool off following that cheeky kick of heat.
And this way you don't have to bother getting out any extra cutlery, which at the end of the day means less washing up. You're welcome 🙂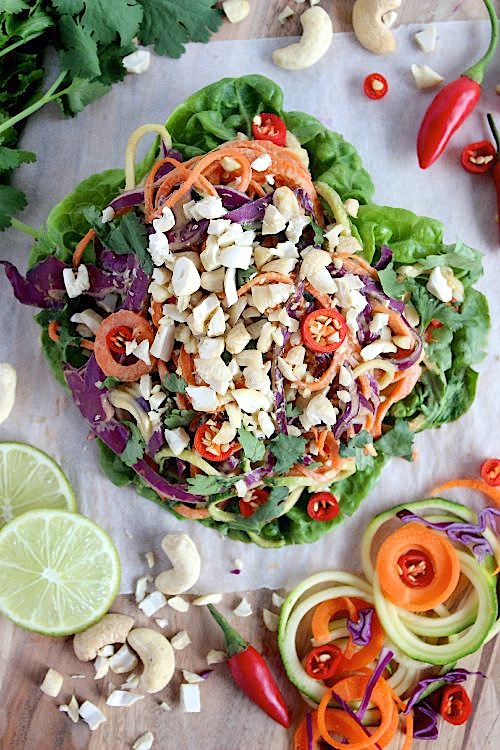 Plus sometimes it's just fun to get in there and get your hands dirty.
Just make sure you save a little of that dressing to drizzle over at the end, not only does it look all kinds of pretty but it's also happens to make it all kinds of delicious.
Trust me. Would I steer you wrong?!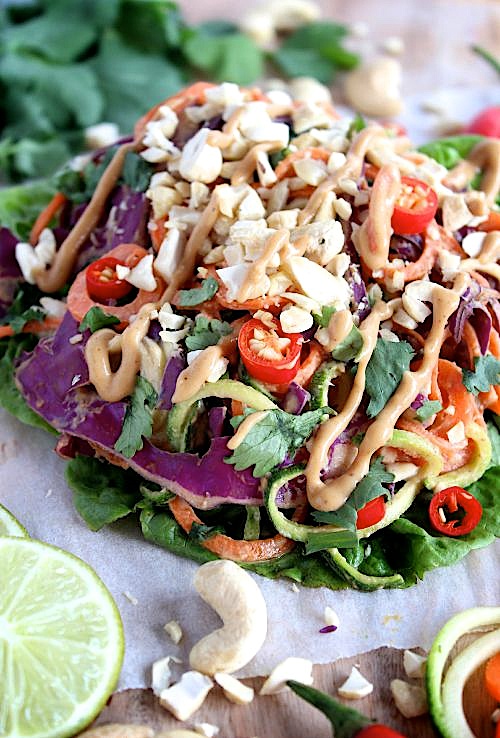 And you know you want in on this ↑
All natural, quick and easy, light, fresh, crisp, crunchy, sweet and  spicy, healthy, homemade nutty, rainbow lettuce wraps
So much deliciousness I can hardly stand it!
Make them. Eat them. Love, love, love them.
Raw Rainbow Spicy Peanut Lettuce Wraps


Makes 1-2 serves of all natural, light, fresh, crispy, crunchy, spicy, sweet, seriously nutty, rainbow lettuce wraps

Ingredients –

For the salad –

1 large zucchini, spiralized – if you don't have a spiralizer you can just use a vegetable peeler to slice/peel your zucchini into ribbons, just make sure you stop once you reach the seeds.

1 large carrot, spiralized – if you don't have a spiralizer you can just use a vegetable peeler to slice/peel your carrot into ribbons.

1/2 cup purple cabbage, finely sliced

1 small red chilli, finely sliced

For the dressing –

2 Tablespoons of Peanut butter (or nut butter of choice)

1 teaspoon of tamari (could sub coconut aminos or soy sauce if you prefer)

1 teaspoon of maple syrup

1 clove of garlic, minced

A squeeze of lime juice (approx 1/2 tsp)

Salt and pepper to taste

For Serving –

2-4 Baby cos or butter lettuce

1 Tablespoon of raw cashews, roughly chopped

1 Tablespoon of coriander, roughly chopped

Extra chilli if you're feeling feisty

Method –

1 – Place your salad ingredients into a large bowl and set aside.

2 – In a small bowl or jug, place dressing ingredients and stir to combine. Taste and adjust seasonings accordingly.

3 – Pour 3/4 of your dressing over your salad mix and stir to combine. The sauce is very thick and I found the best way to ensure every strand of that salad gets coated in that glorious nutty dressing was to get in there and use my hands. Was it messy, yep but sooooo worth it!

4 – To serve, place a heaping spoonful of your salad mix into your prepared lettuce leaves, top with chopped cashews, coriander, extra chilli (if using) and finish with a drizzle of the left over dressing.
Enjoy xo
__________________________________________
Question of the day –
Tell me, are you a fellow nut butter addict lover?!  What's your favorite way to eat it?

Feel free to share recipes, or links to recipes in the comments below or on the Facebook page and please for the love of all that is good in this world when you do make this pudding (or any of the recipes you find on this blog of mine) go ahead and snap a pic and share it either on the Facebook page, or tag me on twitter or Instagram. Sharing is caring remember.
Do it, do it You know you want to 🙂
__________________________________________