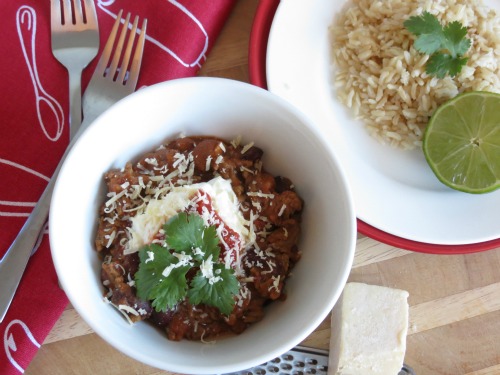 I love to make things from scratch.
Love it!
Like for reals love it!
So why do I never make chilli, burritos, pasta sauce etc from scratch?
Honestly . . . I have no idea.
I love me a good hearty chilli on a cold winters night, and who doesn't love a good burrito for a friday night mexican fiesta?
If you are that person who objects to either of the above scenarios, I don't want to know about it . . . clearly we can't be friends
ok we can . . . I guess 😉
I have to tell you . . . I will NEVER buy another packet "chilli" mix ever again.
EVER!
Sorry old elpaso but your work here is done!
This chilli has some serious, serious kick to it! Which I adore. I mean whats a chilli without some heat right?
It goes perfectly with corn chips, wrapped in a tortilla or served over some steaming brown rice or baked potatoes. Top it with some salsa, a sprinkling of cheese and a dollop of yoghurt and you are good to go.
Chances are you have all the ingredients tucked away in your pantry and you know what that means?
Dinner tonight . . . sorted!
Grab your sombrero, shake your maracas and go get your chilli on!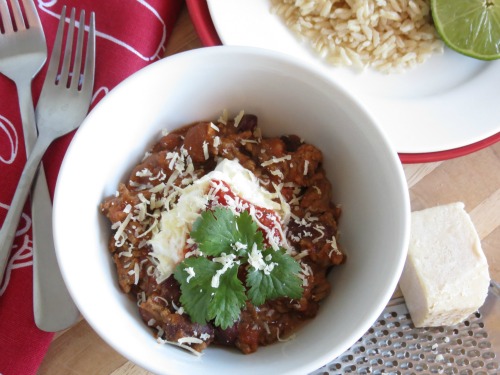 Ingredients –

2 Garlic cloves, chopped
1 tsp ground oregano
1 Tbsp ground cumin
1/4 tsp cayenne pepper (optional)
2 Tbsp chili powder
2 pounds ground beef (I use extra lean heart smart beef mince)
1 x 8 ounce can of tomato sauce (I used diced tin tomato)
1 tsp salt flakes
1/4 cup masa (or cornflour)
1 can pinto beans (optional)
1 can kidney beans (optional)
1 (extra) can diced tomato (optional)
1 jalapeno, seeded and finely diced (optional)

To serve –

Shredded cheese
Chopped onion
Corn chips/Brown Rice/Baked potato/sweet potato
Greek Yoghurt (I use Chobani)

Method –

1 – Begin by measuring the spices, chopped garlic, oregano, cumin, cayenne and chili powder

2 – Place the beef in a large pot and throw in the garlic

3 – cook the beef until brown . . .

4 – Drain off the excess fat

5 – Pour in tomato sauce

6 – Followed by the spices and the salt

7 – Stir together well, cover the pot and let simmer for 1 hour, stirring occasionally. If it becomes dry add 1/2 cup of water at a time as needed.

8 – After an hour, plan the masa (or corn flour) in a small bowl. Add 1/2 cup of water and stir together with a fork.

9 – Dump the masa mix into the chili

10 – Stir together well. Taste, adjust the seasonings, and add more masa/or water to get chili to your preferred consistency. Add beans, jalapeno and extra can of tomato if desired. Simmer for 10 mins.

11 – Serve with shredded cheese, chopped onion and Fritos/corn chips.

Helpful Hint –

To freeze the chili, allow to cool completely then place 1 cup portions in zip lock freezer bags. Flatten the bags for easy storage in the freezer.
Question time – How do you put the food spice fire out? Milk? Water? Soda?
__________________________________________________________________________________________________________
Nutritional Info approx per serve (using recipe adaptions stated above) obtained using fatsecret.com –
Cal – 198
Fat – 5g
Carbs – 14g
Protein – 22g
Fiber – 4.4g