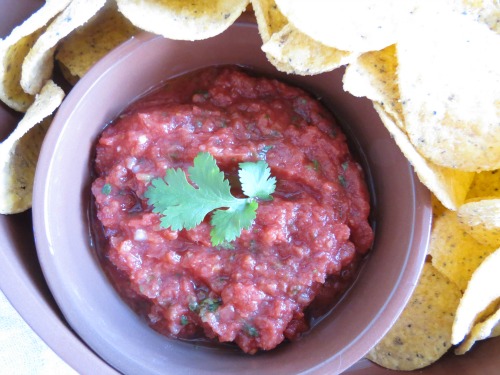 This week's "test it out Tuesday" recipe is another tasty treat from The Pioneer Woman Cooks – Food from my Frontier. Surprise, Surprise I hear you say . . . not 😉 !
I know, I know we have yet to test anything from any other recipe books but I can't seem to tear myself away for this little gem. Not yet anyway. Soon . . . maybe . . . but I doubt it. Truth 🙂
I'm totally going through a mexican phase right now. Seriously . . .  can. not. get. enough!
So to mix things up a little I thought I would try my hand at making my own salsa. Sounds easy enough right?
After my success with making chilli from scratch last week, Im totally up for the challenge. Although, it's not really a challenge when your taking directions from the master AKA Ree "the P-Dub Pioneer woman" !
If you have never made your own salsa before I seriously encourage you to give it a whirl.
I looooovvee me some salsa but this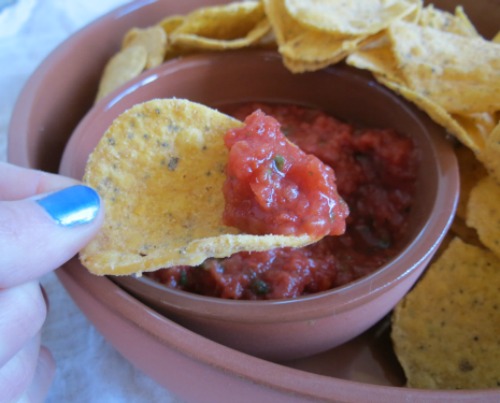 . . . salsa from scratch . . .
OH
MY
WORD!!!!!!
So light, so refreshing and so, so addictive.
It's titled "Restaurant Style Salsa" but I have to tell you, this salsa . . . is way better than any salsa I ever ate at any restaurant!
For reals!
This recipe makes a bucketload so make sure you bump up your stash of corn chips . . . or carrot sticks . . . or clean spoons . . . whatever takes your salsa dipping fancy because once you taste this bad boy you will find it vveeeeeerrrrryyyyy difficult to stop.
No lie!
PS – It totally freezes really well too so you can save some for your next fiesta 🙂
Ingredients –

One 28-ounce can whole tomatoes with juice
Two 10-ounce cans Rotel dices tomatoes and green chilies (I just used regular diced tomatoes and added a Tablespoon of fresh green chilli)
1/4 cup chopped onion (I used red/spanish onion)
1 jalapeno
1 garlic clove, minced
1/4 tsp sugar
1/4 tsp salt
1/4 tsp ground cumin
Juice of half a lime
1/2 cup cilantro/fresh coriander (more to taste)

Method –

1 – Into a food processor or blender add whole tomatoes with their juice . . .

2 – The rotel (or tins of diced tomato and additional chilli)

3 – And the onion.

4 – Quarter the jalapeno lengthwise, then slice it thinly.

5 – Add the jalapeno and garlic to the mic.

6 – Next, add the sugar, salt and cumin . . .

7 – Lime juice . . .

8 – And cilantro/coriander.

9 – Pulse several times until it reaches the consistency you like. Puree' or keep it chunky, the choice is yours!
Serve with chips 🙂
Ree's Variations –
– Serve with Enchiladas, Quesadillas, Breakfast pizza, Tequila and Lime chicken.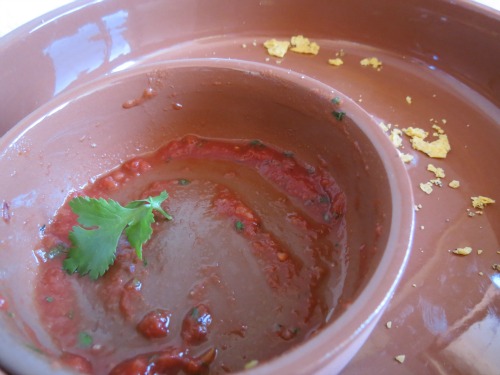 How ever you choose to eat it, I guarentee you it will not last long!
__________________________________________________________________________________________________________
Nutritional Info approx per serve obtained using fatsecret.com –
Cal – 30
Fat – 0g
Carbs – 0.9g
Protein – 0.1g
Fiber – 0.3g