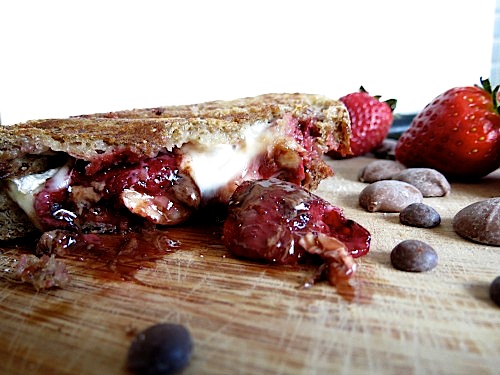 So, last week after spunky husbands birthday celebration, and yes I, I mean we finished his birthday cake within 2 days . . . I hide nothing from you.
Have you made it yet?
If you have you will know how lucky it was to survive 2 days – true story!
Anyways, this weeks "Test it out Tuesday" recipe if from none other than my girl Jessica from How Sweet it is. I knew girlfriend would have the pur-fect way to use up some of the extra fancy cheese I had  after our birthday cheese plate was done.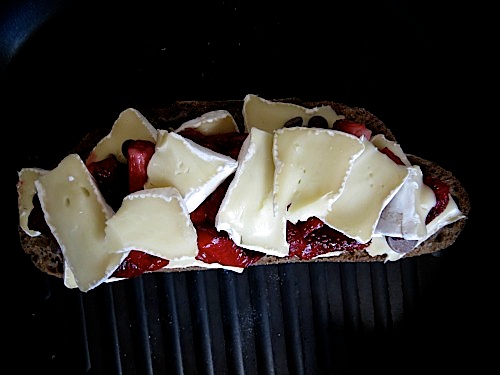 Oh.My.Word this sandwich!
Seriously – is it lunch, dessert? I don't even know!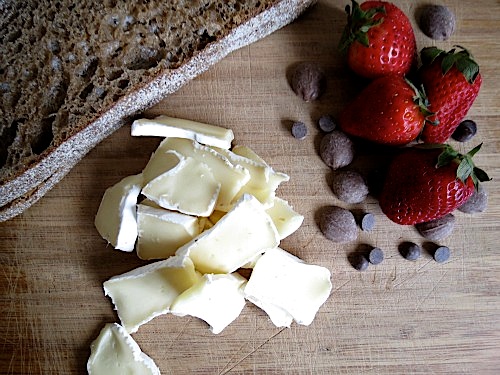 chocolate., cheese and roasted strawberries are ah-mazing at the best of times but all cozied in together between a few slices of crusty wholemeal sourdough bread then squished to a warm toasty ooey gooey oblivion . . . I can't even take it!
Make it
Eat it
Don't burn your mouth on it though . . .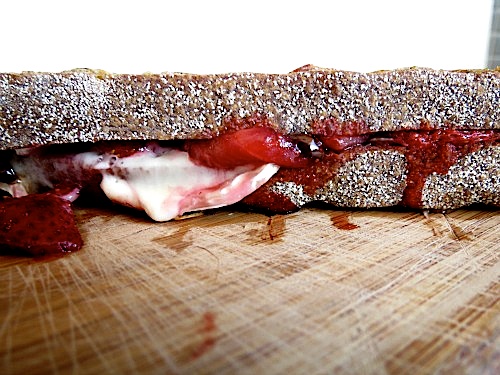 FYI – ooey gooey melted goodness it all kinds of hot.
Go get yourself some fancy cheese and have yourself the most decadent grilled cheese of your life!
(Thanks Jessica – you are the bomb xo)
Roasted Strawberry, Chocolate and Brie Grilled Cheese


This recipe from How Sweet it is
Makes 2 Sandwiches

Ingredients –

6 strawberries, quartered

1/2 teaspoon olive oil

pinch of salt

4 of bread (I used Sonoma Miche/wholemeal Sourdough)

2-3 (about 60g) slices of brie cheese

30g high-quality chocolate (I used dark)

Method –

1 – Preheat oven to 175'C (350'F)

2 – In a small bowl place strawberries and add olive oil and salt, toss to combine.

3 – Line a rimmed baking sheet with parchment/baking paper and add strawberries, roast for approx 20 mins. Until soft and juicy and smelling unbelievable!

4 – On 2 slices of bread layer a few slices of cheese, chocolate and a little pile of roasted strawberries.

5 – Top with remaining cheese and finish with a final slice of bread.

6 – Cook in a fry pan, skillet or panini press (I used my trusty ol' George Foreman) until chocolate and cheese is deeeeeeliciously melted.

7 – Serve immediately – Although I highly recommend  letting it cool for a few minutes at least – hot melty, ooey, gooey chocolatey cheesy strawberries toasted goodness is hot hot hot!

For reals!
Lesson learnt . . . but probably not – like I said, I hide nothing from you.
__________________________________________________________________________________
Nutritional Info (approx per sandwich) obtained using myfitnesspal.com –
Cal – 251
Fat – 8g
Carbs – 30g
Protein – 11g
Fiber –  2g