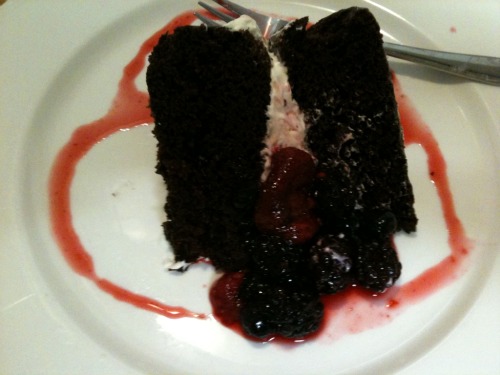 Although it came about somewhat by accident, this cake has fast become my all time favourite!
One romantic day I had planned to make an extra special meal for my wonderful little family. As usual I asked if there were any special requests and the only one was that we have a fresh fruit salad as our dessert.
My initial response was "sure, no problem. Fruit salad it is". Now don't get me wrong I am a huge fan of fruit salad but just for the record I don't consider it to be a dessert (especially not for a special meal, am I right?).
On the morning of our special meal I set about doing some minor "advanced preparations" just to make the final meal assembly that little bit easier. A required component for me with a very active, and inquisitive little lady underfoot.
Mid way through the day I sent spunky husband a text message to just confirm that he still wanted his fresh fruit salad to finish off his special meal and the response I got sent me into a minor panic…"actually, if its not to much trouble, some sort of cake would be good. Surprise me"
Now, when I say minor panic I may be playing it down just a little. There may have been a frenzied call (or three) to my sweet sister for some suggestions. I don't know what it is about the phrase "surprise me" that causes my brain to freeze up and block any possible ideas. Does that happen to anyone else?
After my mini freak out call to my sister (and a few deep breaths into a brown paper bag) I had made my decision, I would make a sort of "mock" black forrest cake by adding a shot of decaf espresso to one of my ol'faithful cake recipes.
I don't have a "go to" recipe for a black forest cake and with the limited resources of my current living situation I just had to make it up as I went along. Coffee is definitely dearly loved (and readily available) in our house, nothing like that smell first thing in the morning….ahhh I can almost smell it now…bliss 🙂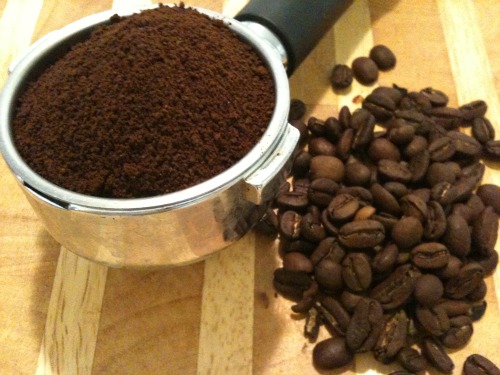 Thankfully, I do have a very versatile "go to" white cake recipe. It's a betty crocker recipe I have been using for years, often adapted to make a cocoa "white" cake for a certain someones birthday. A white cake is called this because it just uses egg whites which I find makes it slightly lighter than whole egg cakes. (Save the yolks though I have a great recipe for making your own custard.)
Now although this cake does have coffee in it you can't taste it (I used decaf so I could eat it in the solitude of my evening knowing it wouldn't keep me up half the night). At least I don't think the taste is overly strong, it's very sublte if you do notice it at all.
The slight bitterness of the coffee just seems to really compliment and balance out the sweetness of the rest of the cake. It's very hard to explain, you will just have to make it for yourself and see what I mean 😉
Ok I think I have talked (and embarrassed myself) long enough, its time for cake –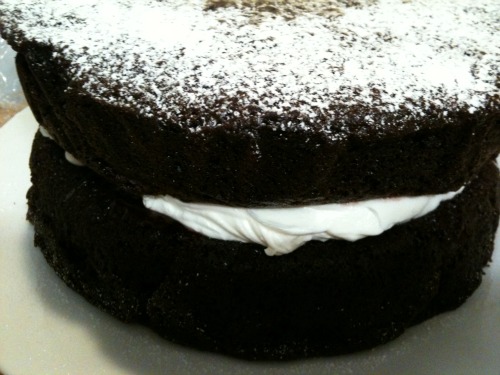 Ingredients

–
(one cake serves 12)
4 egg whites, at room temperature
1/4 cup butter


1 cup of buttermilk (or

sour milk

)
1 shot of espresso, I used decaf (or 1 heaped tsp of instant coffee dissolved in hot water and left to cool)
1 1/2 cup of sugar
1 1/2 cup of plain flour
3/4 cup cocoa
1 1/2 tsp Vanilla
1 tsp baking powder

1 tsp baking soda
To serve –
2 Tbsp Jam
Dream Whip* or cream (for filling)
Macerated berries
Icing sugar (for dusting)
Method

–
Preheat oven to 175'C (350'F)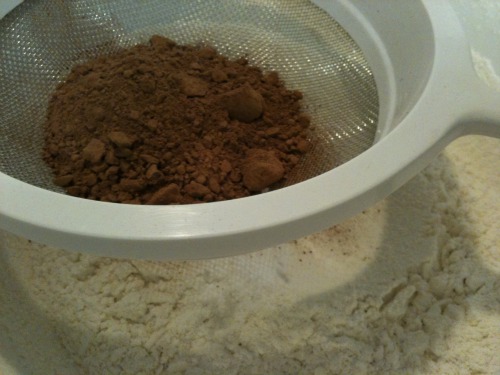 In a medium bowl sift flour, cocoa, baking powder and baking soda. Set aside.
Whisk butter for a few seconds to slightly soften and aerate.
Add vanilla and sugar and whisk until mix resembles wet sand.
Add egg whites one at a time whisking thoroughly after each addition.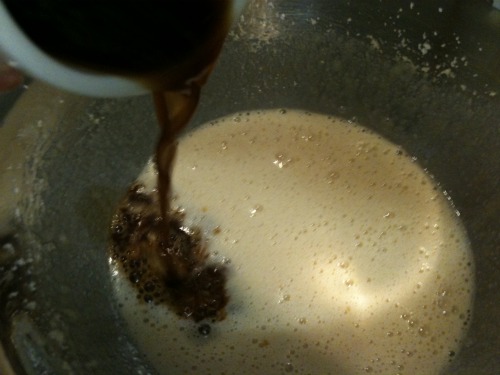 Add coffee and whisk until well combined.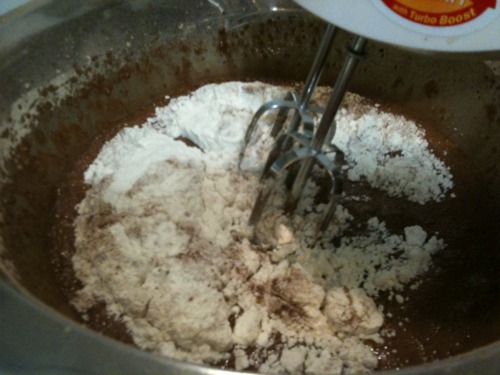 Add 1/3 of the sifted flour mix and whisk (on low so you don't have flour cocoa storm in your kitchen) until well combined.
Add 1/3 of buttermilk (or sour milk) and whisk until well combined.
Repeat the above 2 steps until all flour/cocoa and milk has been used.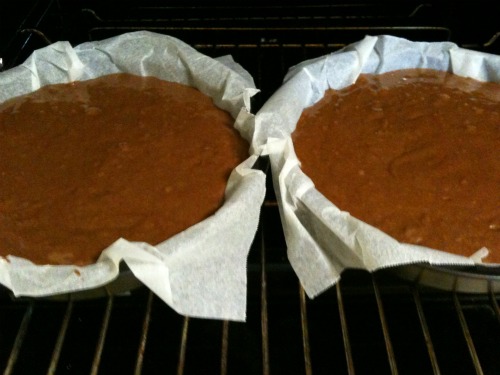 Line 2 round cake pans with baking paper (don't forget to use your trusty pegs) and pour half of the batter into each pan.
Bake for approx 30 mins or until when toothpick is inserted it comes out virtually clean with just a few moist crumbs attached.
Prepare dream whip (according to package instructions) or cream to your liking. Set aside until your cake is completely cooled. Please be patient (as hard as it may be) and wait until your cake has cooled completely (you can put it in the fridge to speed this process up. However, if you try to assemble your cake with its creamy filling before it has completely cooled it will result in a cake landslide. As tasty as this sounds it is not the most desirable outcome, especially if you are making this sweet treat for company. A cake landslide is where your cream filling melts and send the top teir of your cake sliding to its untimely end. Its not pretty, although it may still taste ok, its much better if you can wait a little longer to have the final masterpiece in all its glory 🙂
Now that your cake has cooled (completely) spread one side of each cake with jam, top one half with dream whip/cream then carefully place the other half on top.
Dust with icing sugar and voila', enjoy 🙂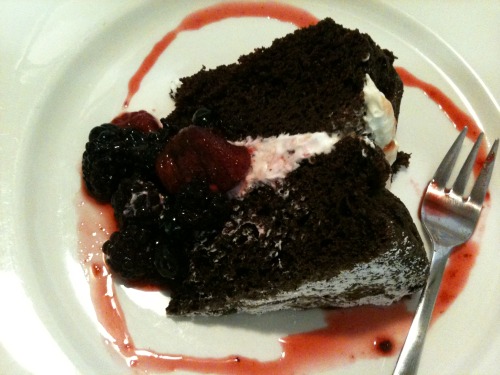 * If any of you are wanting to try my beloved Dream Whip but aren't as fortunate as I am  to have a sweet sister living in the USA to keep you in good supply you can buy it online and have it delivered right to your door. Check out usafoods.com.au , I have always found the shipping and handling fees  to be quite reasonable and they have lots of other tasty treats you might want to try out.
Nutritional Info (approx) obtained using fatsecret.com –
Cal – 200
Fat – 1.1g
Carbs – 45g
Protein – 4.6g