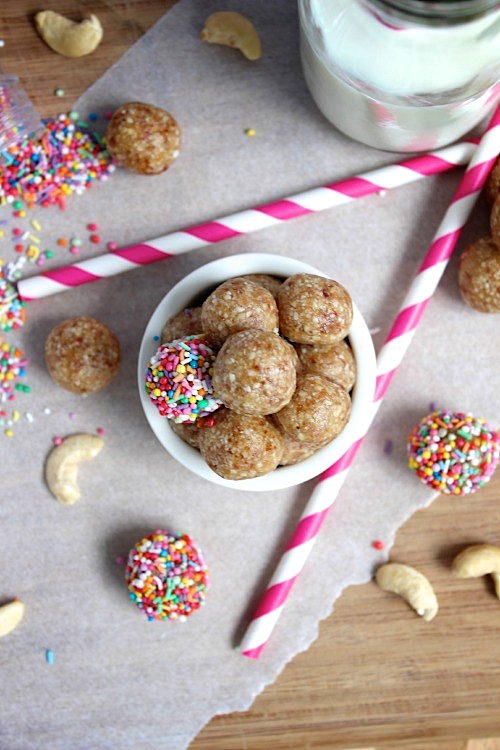 You know how much I love you right?
The fact that you would take time out of your busy day to stop by and see what I'm cooking up, listen to my mindless ramblings, workout with me and look at pictures of my beautiful family.
You guys rock!
So I made you a cookie (or 40).
But not just any ol' cookie, for you I'm brining out the big guns.
These cookies are AH-MAZE!!!!!!
Healthy, all natural "sugar" cookies made with just 3 ingredients and no baking required! Im calling them "sugar" cookies because they taste exactly like sugar cookie dough but really there is no refined sugars added to these bad boys at all.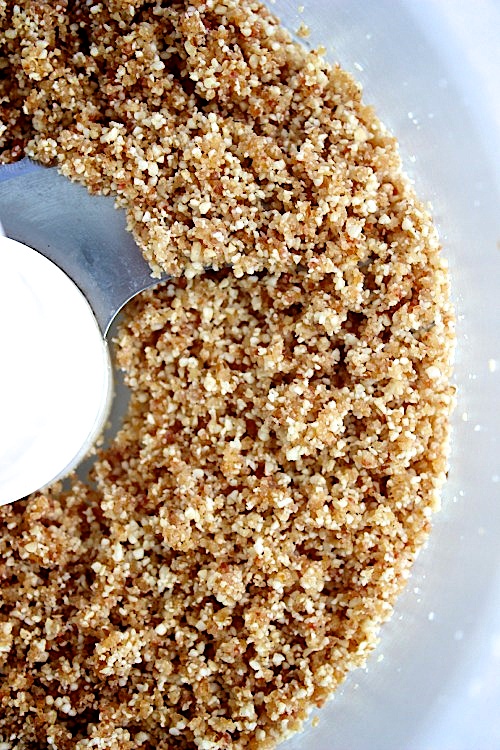 See I told you I loved you didn't I?!
Remember last week when we were stuck in the midst of that nightmare heatwave? The one that had the nerve to impose on and ruin my delightful morning coffee routine? Although I shouldn't complain to much, if you follow along on Instagram you will know that I am still seriously addicted to that smooth and creamy, ice cold, caffeinated goodness that is the Maple Vanilla Latte Smothie AKA – my morning (and afternoon) coffee substitute.
Well in the midst of aforementioned heatwave I got this massive craving for sugar cookies!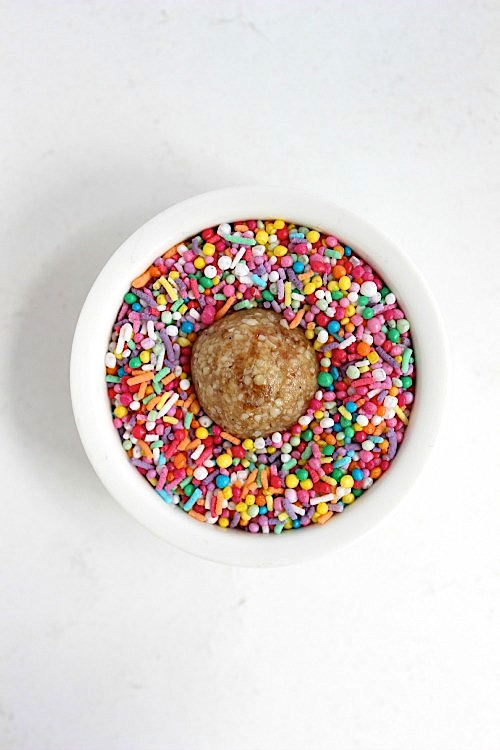 We've all been there right? Cookie cravings are a very real part of everyday life right?!
So whats a girl to do?
No chance I was going to turn on my oven in the nightmare heat that was to make myself a batch of sugar cookies. And there was no way in the world that I was going to venture out into that humid sweatfest to get myself a cookie!
So what did I do? Well I whipped up a batch of insanely delicious, seriously healthy, 3 ingredient, no bake "sugar" cookie energy bites!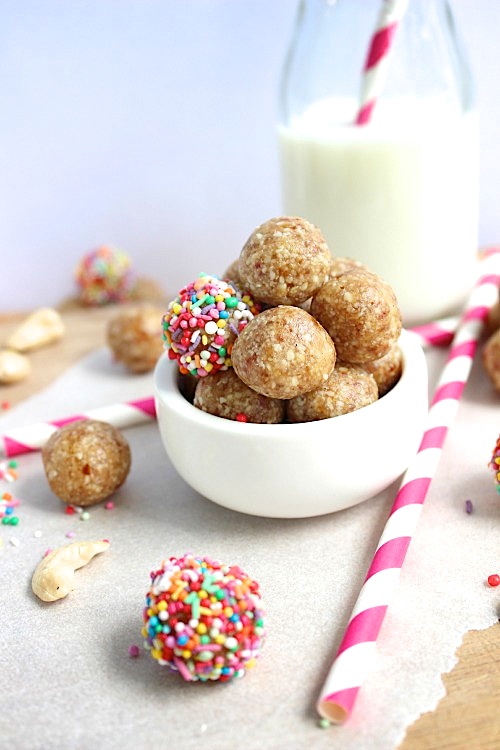 You guys, these energy bites are insane!
The natural butteriness from the cashews combined with the slight caramel sweetness of the dates, throw in a splash of vanilla and a sprinkle of sea salt boomshakalocka, AH-MAZE!
These energy bites taste exactly like sugar cookie dough.
Not. Even. Kidding!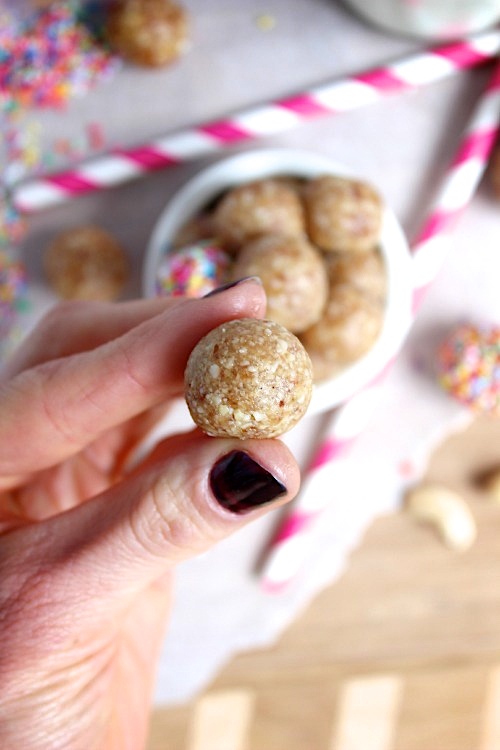 Not only do they taste all kinds of amazing, that are all natural, guilt free and won't leave you with the post sugar cookie crash.
LOVE!
3 ingredients, a minute in the food processor or blender then you are ready to rock and roll your way to blissful bites of deliciousness.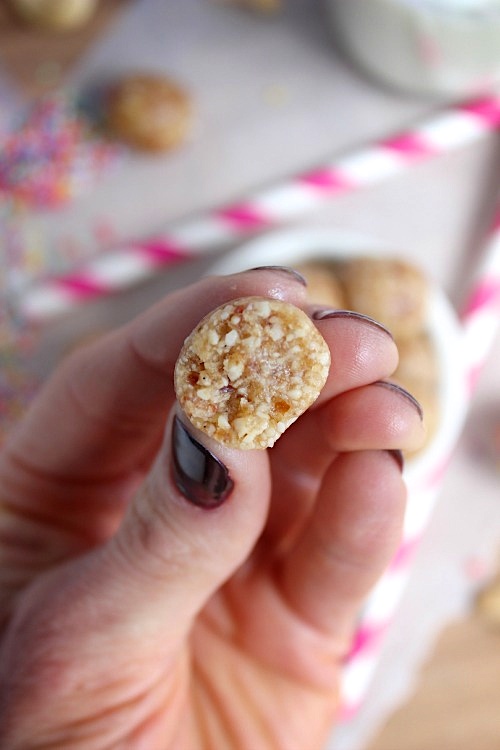 These babies are ready in less than 10 mins, start to finish and are perfect for satisfying those ever present cookie cravings.
Perfect crumbled over some greek yoghurt with some fresh strawberries and a drizzle of maple syrup for breakfast.
Perfect for with a cup of coffee or green tea as your mid morning snack.
Perfect for your pre/post workout fuelling.
Perfect for getting you through the nightmare and unavoidable post lunch/pre dinner 330itis
Perfect for a little late night, post dinner indulgence.
Who doesn't want a cookie that is all natural, only requires 3 ingredients, is guilt free, no bake, and ready in minutes?! If there is such a person I don't think I care to meet them.
Make them, eat them, love them.
You're welcome 🙂
Healthy, No-Bake "Sugar" Cookie Energy Bites




Makes approx 20 healthy, simple, buttery, sweet tasting bites of energy packed deliciousness

Ingredients –

1 cup cashews (I used raw, unsalted)

6 medjool dates, pits removed

1 teaspoon of vanilla extract

a pinch of salt flakes

Optional add ins;

1 teaspoon of maca – for hormone balance

1-2 scoops of Vital proteins unflavored collagen peptides – for an extra boost of protein and gut healing goodness

1 scp protein powder – for extra protein (vanilla or unflavored would work best in this recipe) – I use Proganics Vanilla whey – you can use EMS10 to get 10% off

Method –

1 – Place cashews in your food processor/blender and pulse until crumbly, you want there to still be a few bigger chunks to give the bites some nice texture.

2 – Add dates and pules until the mixture starts to come together into a sticky, loose "dough".

3 – Add vanilla extract and salt flakes and pulse again until combined.

4 – Using your hands, roll approx 1 heaping teaspoon of cookie dough into little bite size balls then transfer to your mouth an airtight container (or even just a ziplock bag) and store in the fridge required ← that's right, I said required. These bad boys are a need, not want people!
Enjoy xo
____________________________________________________________________________
Question of the day –
What tasty treat helps you get through that post lunch/pre dinner 330itis?