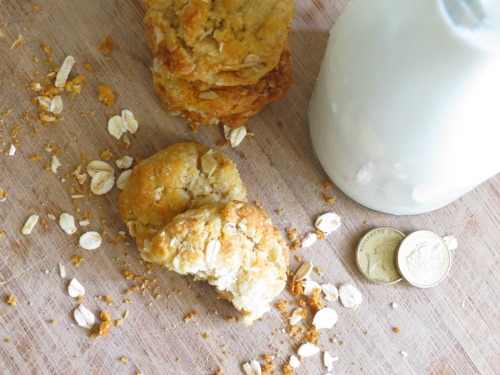 I am skipping my usual "test it out tuesday" posting this week.
This year is going to quickly, I just can't keep up. I was not at all prepared for ANZAC day this year. If I was, I would have posted about these cookies last thursday . . .
For those of you who don't know,  Anzac Day marks the anniversary of the first major military action fought by Australian and New Zealand forces during the First World War.
Historically, it is said that these biscuits were sent to soldiers abroad because the ingredients do not spoil very easily. Also they keep well during naval transportation.
These ANZAC biscuits are, in my humble opinion, the best I have ever tasted.
They are crunchy on the edges but so soft in the centre.
The combination of oats, golden syrup, coconut and of course the butter are simply a match made in heaven.
Bake these cookies, take them to your ANZAC day BBQ, if you have no plans  . . . make them anyway, take some time to remember the diggers who served, fought and were lost on this day all those years ago. Lest we forget
ANZAC Biscuits




Makes approx 60

Ingredients –

1 Cup Rolled Oats
¾ Cup Coconut
1 Cup Flour
1 Teaspoon Bicarbonate of Soda
1 Cup Sugar
½ Cup Butter
1 Tablespoon Golden Syrup
2 Tablespoon boiling water.

Method –

Preheat oven to 150'C (300'F)

In a medium bowl place oats,

coconut,

flour,

then sugar

stir to combine leaving a well in the centre. Set aside.

Place butter in a medium saucepan over low heat.

Pour in golden syrup and allow to melt.

Remove from heat and add baking soda,

then boiling water.

It will foam up a little, kinda like a weird science experiment. Don't panic, its supposed to 🙂

Stir to combine.

Pour foamy, buttery, golden syrup mix into oat mix

stir to combine.

Line a baking tray with baking/parchment paper and spoon batter (about a Tablespoon) just a few centimetres apart,

these biscuits wont spread much just a little FYI.

Bake for approx 15 mins, until deliciously golden.

Allow to cool on trays, enjoy with a nice cold glass of milk 🙂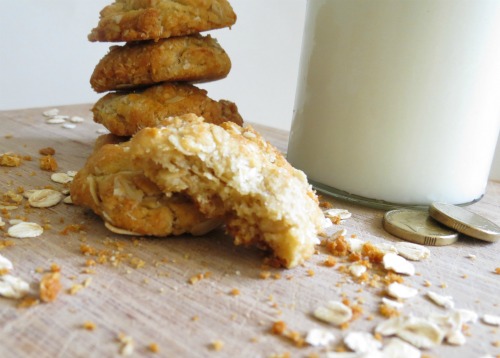 ____________________________________________________________________________________________
Printable Version –
ANZAC Biscuits




Makes approx 60

Ingredients –

1 Cup Rolled Oats
¾ Cup Coconut
1 Cup Flour
1 Teaspoon Bicarbonate of Soda
1 Cup Sugar
½ Cup Butter
1 Tablespoon Golden Syrup
2 Tablespoon boiling water.

Method –

Preheat oven to 150'C (300'F)

In a medium bowl place oats, coconut, flour then sugar and stir to combine leaving a well in the centre. Set aside.

Place butter in a medium saucepan over low heat. Pour in golden syrup and allow to melt.

Remove from heat and add baking soda, then boiling water. It will foam up a little, kinda like a weird science experiment. Don't panic, its supposed to 🙂

Stir to combine.

Pour foamy, buttery, golden syrup mix into oat mix and stir to combine.

Line a baking tray with baking/parchment paper and spoon batter (about a Tablespoon) just a few centimetres apart, these biscuits wont spread much just a little FYI.

Bake for approx 15 mins, until golden.

Allow to cool on trays, enjoy with a nice cold glass of milk 🙂
_________________________________________________________________________________
Nutritional Info (approx per biscuit) obtained using fatsecret.com –

Cal – 46
Fat – 2.1
Carbs – 6.6g
Protein – 0.5g
Fiber –  0.3