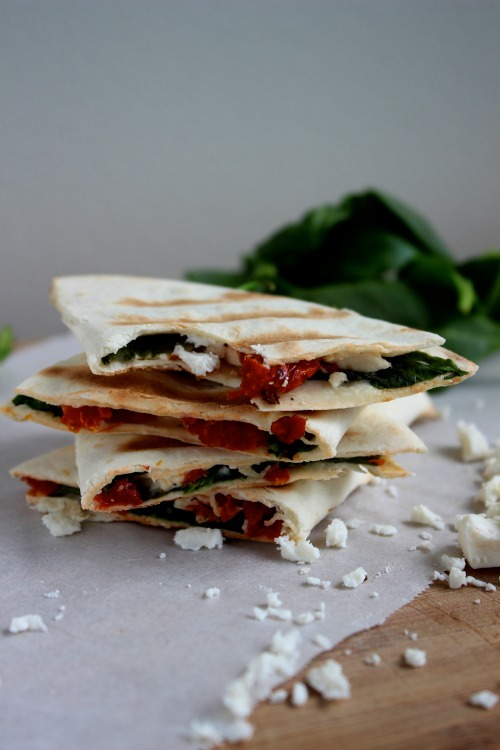 I gotta be honest here people . . . I usually eat the a same thing for lunch most days.
So boring I know right.
But seriously . . . by the time lunch time hits I'm hungry and busy (←who isn't right?!) and need something quick and easy but still filling, satisfying and all kinds of delicious.
If you follow along in instagram you will know that for a good few months now my lunchtime addiction has been a few slices of miche (wholewheat) sourdough toasted (← well done . . . I like my toast goooooood and toasted) with a good smashing of avocado and the occasional egg thrown on top for an extra hit of protein all finished off with a generous sprinkling of salt and pepper.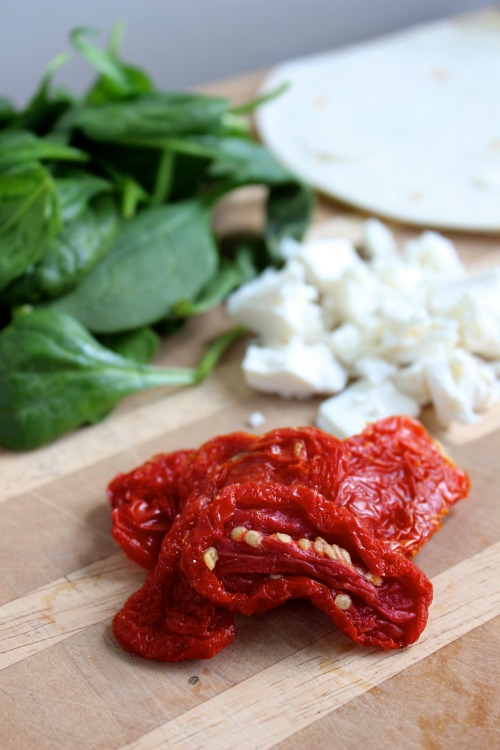 YUM!
So simple but so, unbelievably good!
But . . .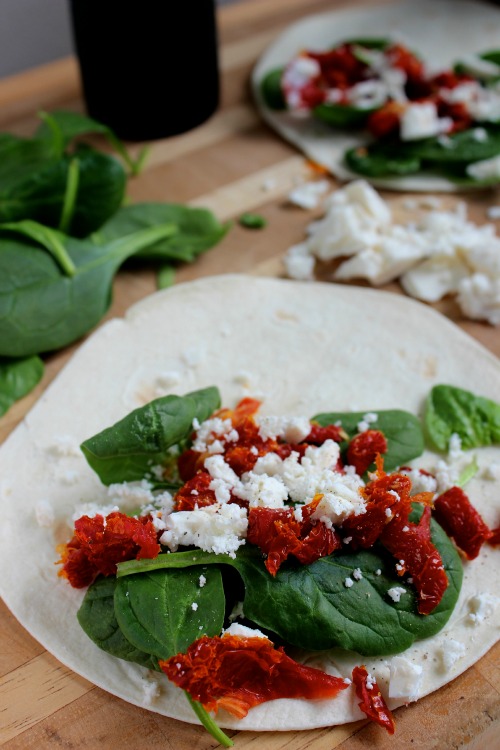 Over the last few weeks I have had this niggling, persistent little craving to change things up. I spied thiese ah-mazing looking sun-dried tomatoes while getting my grocery shop on and had one of those lightbulb moments. Sun-dried tomato, spinach and feta quesadilla, want!!!!!!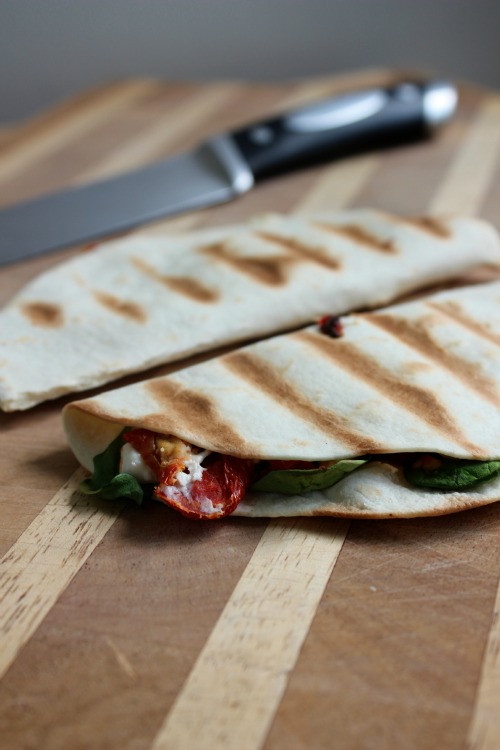 The sun-dried tomatoes I got weren't packed in oil like most I have seen. These were in a pack more like your dried apricots. They are plump, and so delicious. Cant. Stop. Eating. They are unbelievably addictive.  And they wont make your quesadilla soggy, I mean who wants a soggy quesadilla?! Not me!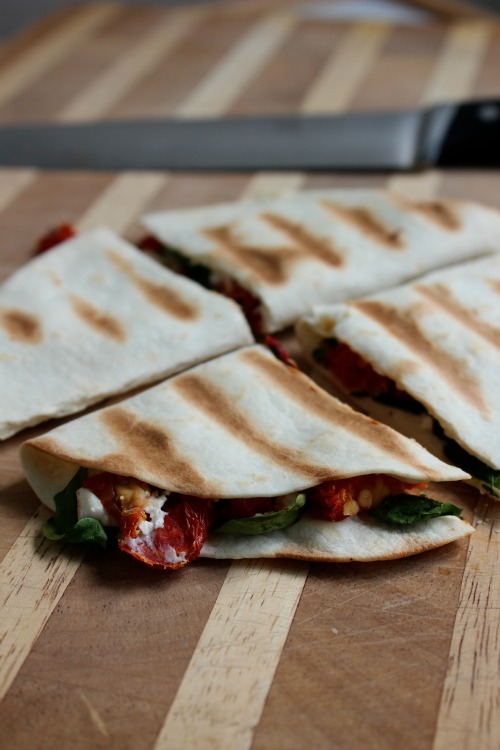 Plus you don't get that slap in face that happens so often when you add fresh tomato to your toasted sandwich. You know how sometimes when you take a bite and your teeth don't quite cut through it properly so as you pull away bringing the piping hot tomato slice tomato with you burning your pretty little chin to a red hot oblivion. Well you and your wounded chin can relax, not on my watch people.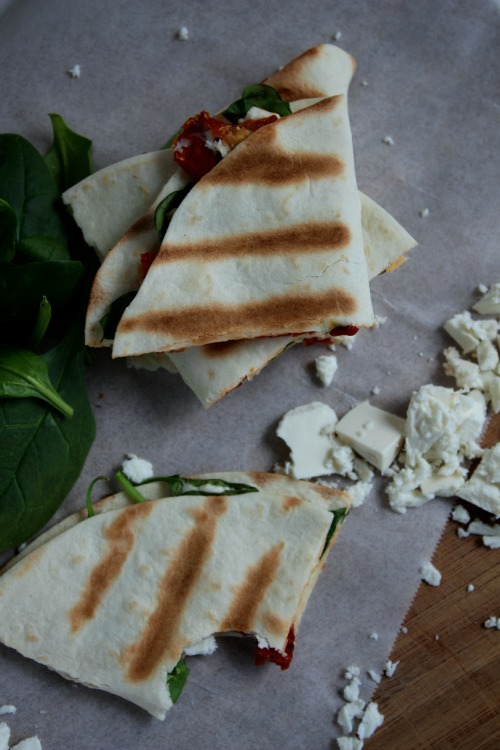 Plump, juicy, roughly chopped sun-dried tomato give this crispy, crunchy lunch time quesadilla an incredible, deep, rich tartness that goes so perfectly with the salty crumbles of warm and melted feta which is all balanced out with a fantastic freshness thanks to the baby spinach.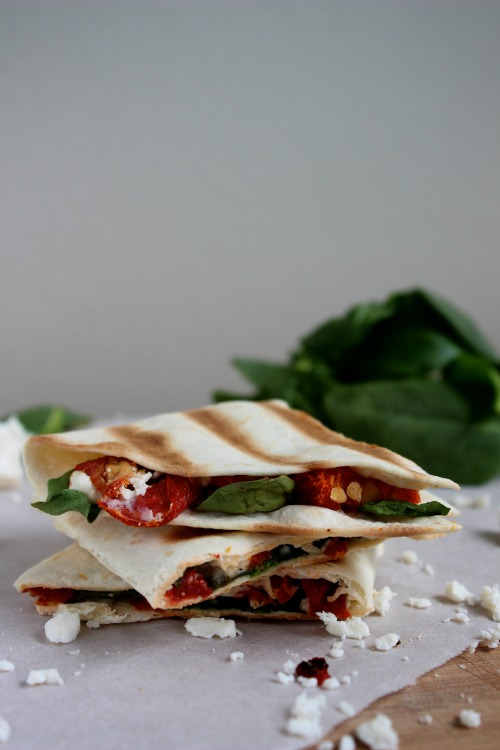 Quick and easy, crispy, crunchy, healthy and all kinds of delicious Sun-dried Tomato, Spinach and Feta Quesadilla = Lunch time winning!
I think this could very well be my new go-to lunch time addiction.
Lunch . . . let's have some.
Sun-dried Tomato, Spinach and Feta Quesadilla


Makes 2 sensational spinach, tomato and feta filled quesadillas
Serves 1-2

Ingredients –

2 of your fave tortillas

2 Tablespoons of Feta (currently addicted to Lemnos)

2 Tablespoons of sun-dried tomatoes, roughly chopped

1/2 cup baby spinach, washed and dried.

Salt and pepper to taste

Method –

1 – Pre-heat your panini/sandwich press (or griddle/fry pay if you prefer)

2 – On 1/2 of each tortilla lay 1/2 of the baby spinach leaves

3 – Top the spinach leaves with chopped sun-dried tomato then sprinkle with feta.

4 – Season with salt and pepper then carefully fold the "naked" half of the tortilla over the filling and place in your panini/sandwich press (or griddle/fry pay if using)

5 – Cook until tortilla is golden and crispy and fillings are warmed through.

6 – Remove quesadillas from the heat and slice each in half to form your good ol' quesadilla triangle wedges.

7 – Serve straight up as they are or along a simple salad (or some of your favourite chippies)
Enjoy xoxo
_____________________________________________________________________________
Question of the day –
What's your latest lunchtime addiction?