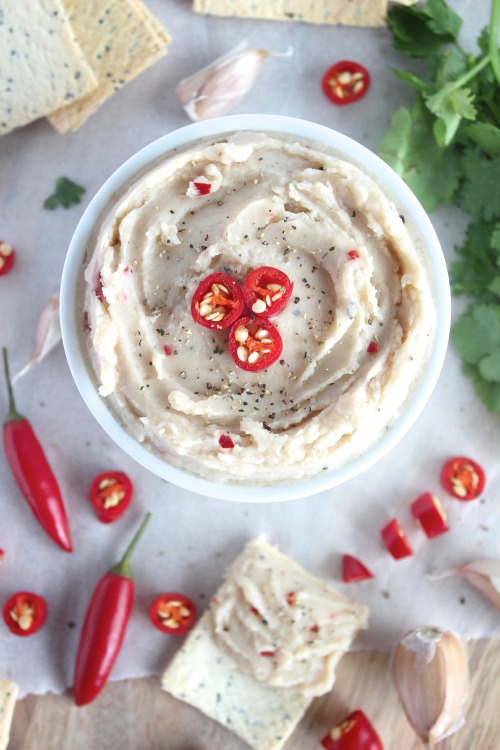 So tell me, how was your Christmas?
Was Santa good to you?
Oh I hope he was. And, I hope you had an amazing day with your friends, family and loved ones.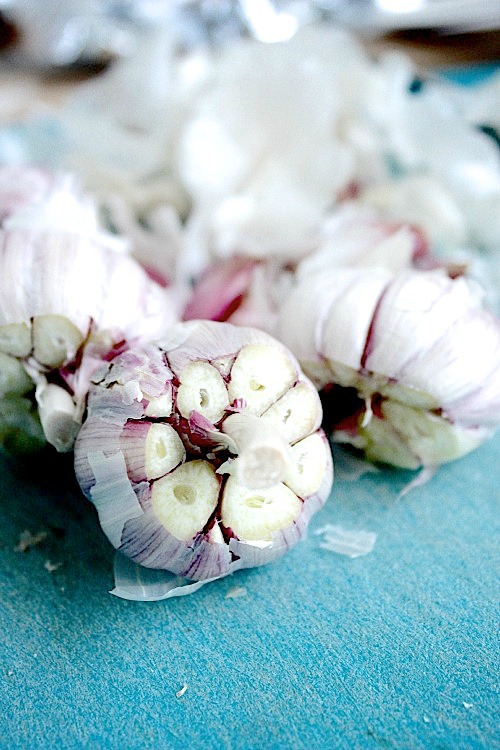 We had a wonderful Christmas (and yes, Santa was very good to me 🙂 ). We really had an awesome day. It was a pretty chilled out here, good food, good company, good times had by all.
And just like that it's all over. The tree has been packed away, and we are moving on to our next, and final celebration for 2014 . . . New Years Eve!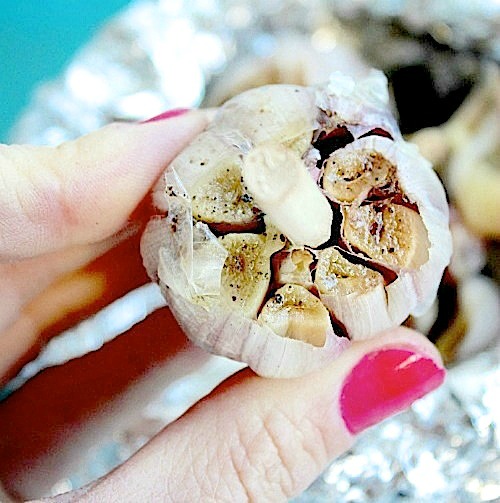 Can you believe we are here already?! I really can't! This year has just flown by don't you think?
Tell me, what are your plans for NYE? Staying in? Going out?
Me?!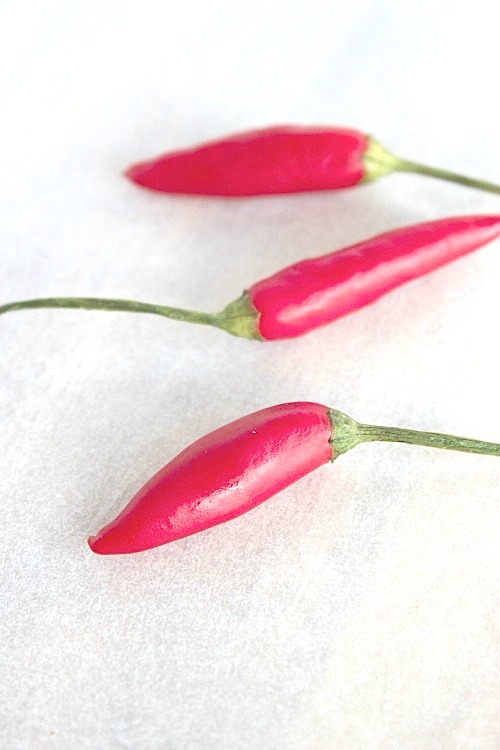 I am such a homebody, I will be here, in my pi's happily watching some cheesy TV/movies munchin' on some yummy snacks and just hangin' out.
I'll head out onto my balcony to watch the fire works and then I'll probably head off to bed. Do I know how to party or what?! 😉
Whatever it is that you are planning for New Years Eve I have your pre-party snack or party appetiser sorted.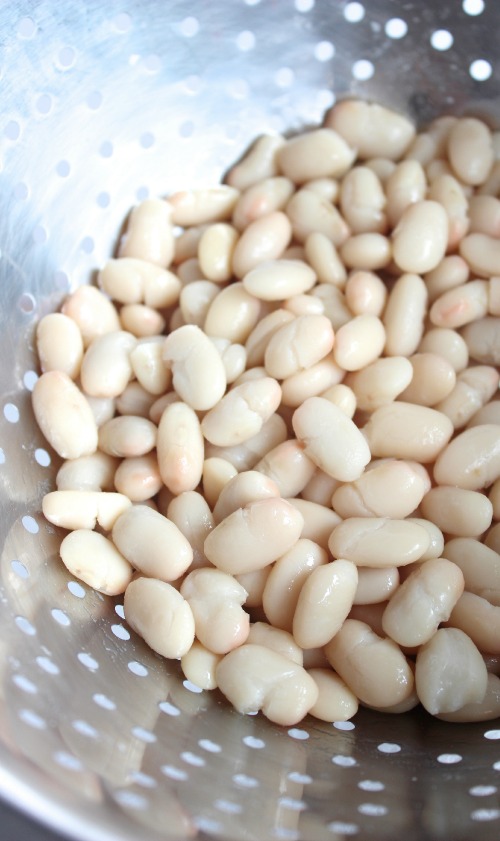 Spicy, roasted garlic white bean hummus.
I know hummus is traditionally made with chickpeas but after hearing Jessica from How Sweet it is talk about how silky smooth and super creamy her white bean dip is (in her book Seriously Delish) I knew I had to give it a try.
And um, wow!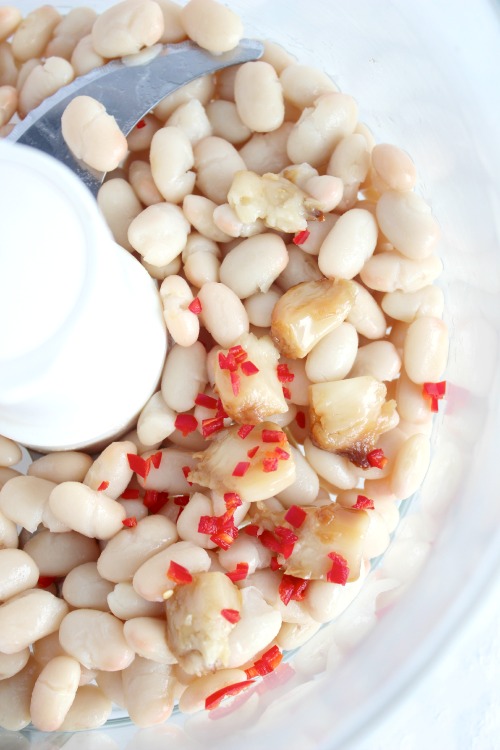 Girlfriend was 100% right! Not that I was at all surprised, but still, she was totally right! (And for future reference Jessica, now you have that in writing – you're welcome 😉 )
You guys, this spicy roasted garlic white bean hummus is insanely delicious!
It's light, creamy and silky smooth and packed with so much flavour!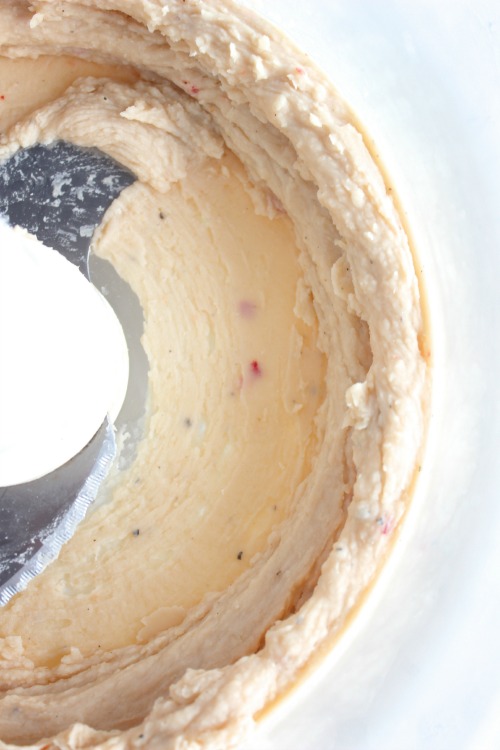 It's decadent and rich with a smoky depth of flavour thanks to our deliciously caramelised, oven roasted garlic and it also has a cheeky, spicy little kick of heat from our chilli.
Light, creamy, silky smooth, smoky and rich with hint of heat . . . and it's just so, so good!
And you know what makes it even better?! The fact it's all natural, made with just 4 simple, ingredients that I bet you have on hand already and it could not be easier to make.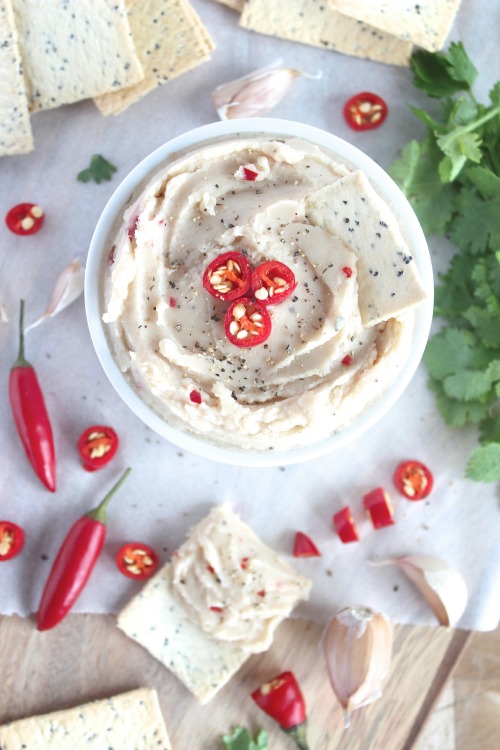 Simply throw your ingredients into your blender or food processor and you are done! Minimum work, maximum flavour, what's not to love?!
Using white beans guarantees a super smooth and creamy hummus without the tedious task of peeling those beans baby! Not like with the more traditional chickpeas. Don't get me wrong I love me some chickpeas and my traditional hummus but, peeling those badboys, although totally worth it in the end, is sooooo tedious.
Therefore white beans to make hummus = genius!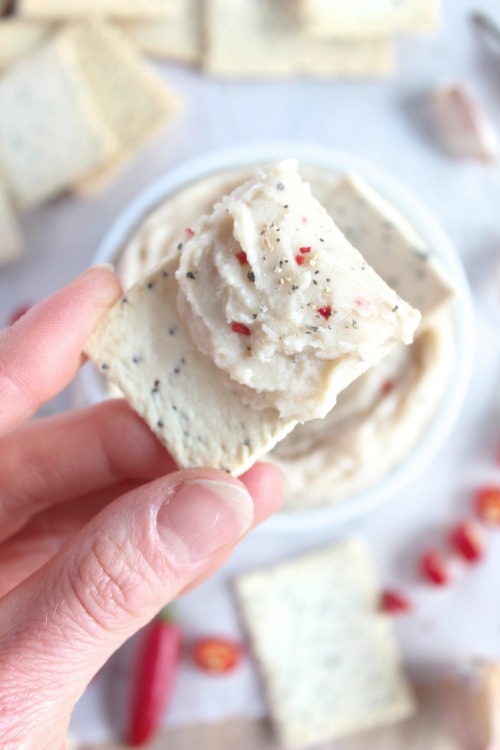 Less time spent prepping, more time eating or enjoying the party. Love, love, love it!
Now, I added just 1 little teaspoon of coconut oil to my hummus because I prefer it to be thick and creamy, feel free to add a little more (or even just a splash of water) if you prefer a thinner consistency. Oh and of course feel free to throw in as much chilli as your pretty little heart desires 😉
Do what you feel baby, make it your own just promise me you will make it ok!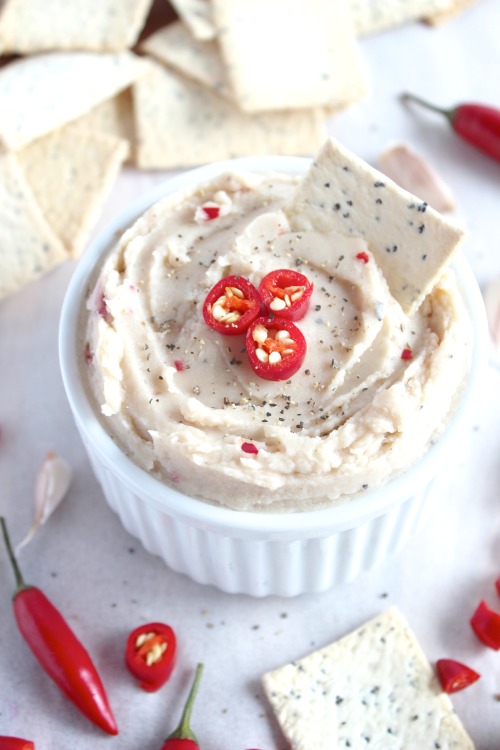 I know it may not look like much but trust me, it is absolutely divine!
Eat it straight up by the spoonful, spread it on your lunch, serve it with your dinner.
Or, keep it traditional/snack style and serve it with your fave veggie sticks or along side some fancy cheese and crackers at your New Years Eve celebration. Total snack time winning people.
Oh and FYI – it also happens to be low in fat, high in fibre as well as both vegan and dairy free!
All natural, super simple, seriously healthy, light and creamy spicy roasted garlic white bean hummus – eat it on all of the things!!!!!!!!
Make it. Eat it. Love, love, love it!
Spicy Roasted Garlic White Bean Hummus


Makes approx 1 cup of creamy, dreamy, smoky roasted garlic white bean dip with a cheeky little kick

Ingredients –

1 x 420g can of cannellini beans drained and rinsed (apprx 1 1/2 cups)

6 cloves of roasted garlic (If you've never roasted garlic before click here to see a step by step tutorial of exactly how I roast mine – which I do all of the time 😉 addicted much?! I think yes!)

1 small red chilli, finely chopped (with or without seeds/more or less depending on how fiery you like things)

1 teaspoon of coconut oil, melted and cooled

Salt and pepper to taste

Method –

1 – Place all ingredients into your food processor or blender and process until smooth, creamy and well combined.

2 – Have a little taste and adjust seasonings as desired. Also feel free to add a little extra coconut oil (or even just a splash of water) to reach your preferred consistency.

3 – Eat it on al of the things!!!!!
Enjoy xoxo
_________________________________________________
Question of the day –
How are you planning to ring in the New Year?
_________________________________________________