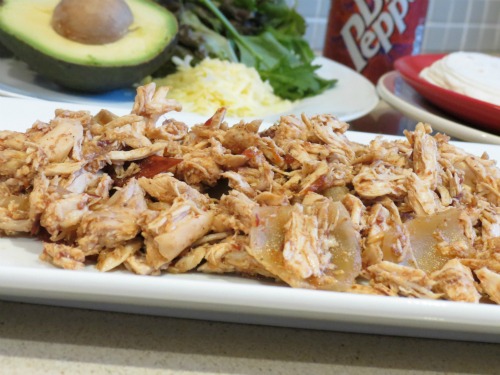 So this week for test it out tuesday I made another of Ree's little gems, yes another recipe from The Pioneer Woman Cooks – Food from my Frontier. Have you got yourself a copy yet? Oh I hope so. I am so loving mine. Everything I have tried so far is a keeper. I'm telling you this woman knows her stuff!
Oh so I have a little confession to make . . . I may have changed things up in this recipe . . . just a little.
The original recipe calls for pork which I substituted for chicken mainly because the cost of pork around here is insane!
Secondly, the original recipe instructions have you cook the pork in a low oven for 6 hours . . . I chose to use my slow cooker instead.
I have to say this was one insanely delicious dinner, even with my modifications!
PS – Extra bonus's of using the slow cooker –
1 -The ah-mazing smell that fills your house through the cooking process. You walk in the door after a busy day running errands blah blah boring . . . walk in the door BAM – punched in the face but the most delicious aroma.
2 – When you sit down to eat it doesnt feel like you have been slaving away all day in front of the oven. Its almost like the meal has prepared itself, or a little house elf has done it for you . . . Harry Potter Style 🙂
Oh.
My.
Word.
Totally worth making just for those moments!
The Dr Pepper gives a slightly sweet flavour to a this deliciously spicy dish. Its sweet, spicy, smoky and succulent all at the same time.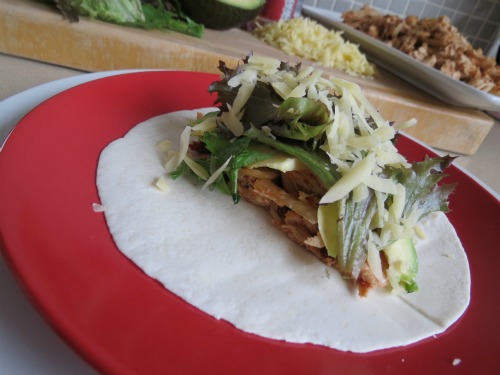 We chose to have ours in tortillas, burrito style with avocado, lettuce, and a little cheese 🙂
We also had them as nachos, not so pretty but so yummy!
seriously so, so good!
You could serve it with a salad, mashed potatoes, green beans, rice . . . anything would work.
Seriously delicious, seriously simple and seriously versatile.
win, win 🙂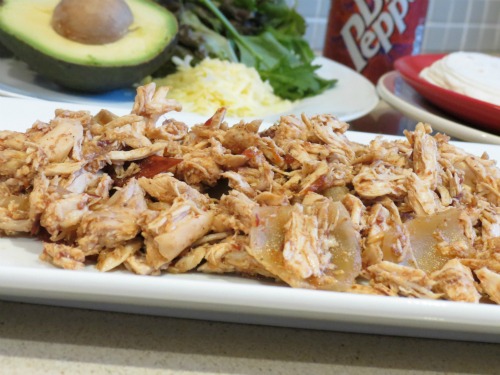 Ingredients –

2 onions, peeled and quartered.
1 whole Pork butt (pork shoulder roast) – I used skinless chicken breast (about 7lbs/3kg)
Salt and Pepper to taste
One 11 ounce can of Chipotle Chiles in adobo sauce
2 x cans of Dr Pepper
4 x Tbsp brown sugar, optional (I left this out)

Method –

1 – Preheat oven to 300'F/150'C (or get out your slow cooker)

2 – Start by placing the onion quarters in the bottom of a oven proof dish (or your slow cooker dish).

3 – Place pork (or chicken) on top of the onions and add salt and pepper to taste.

4 – Pour the chipotle chiles over the top.

5 – Crack open your cans of Dr Pepper

6 – Pour the soda over the chiles (add brown sugar if using) and stir slightly to combine.

7 – Cover the pot and cook for at least 6 hours, turning the meat 2 -3 times during cooking.

8 – When its done it will be dark and wonderful. It will also fall apart when your stir it with your fork. MmmMMM deliciously tender.

9 – Remove the meat from the pot and place on a board (or plate) to shred it completely.

10 – Return the meat to the pot and keep it in the divine, sweet, spicy, smoky and succulent sauce until your ready to enjoy it.
Ree suggests enjoying it in any one of the following ways –
– Piled on a fresh bakery roll
– Piled on Nachos
– Use it to fill Tacos or quesadillas
– Use it as a pizza topping
– Serve as is with mashed potatoes, egg noodles or pan fried kale.
How will you have yours?
____________________________________________________________________________________________
Nutritional Info (approx per serve using chicken) obtained using fatsecret.com –
Cal – 90
Fat – 3
Carbs – 4.8
Protein – 10.6
Fiber – 0.3