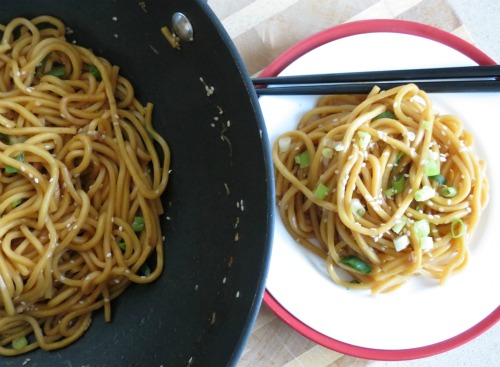 This dinner . . . oh my word this dinner.
Saved.
My.
Life!
After a sudden revelation that my baby was turning 3 much sooner than I had realised and girlfriend had  announced requested  a "rainbow birthday cake with flowers aaaannnndddd ahhhhhhh . . . a cookie birthday cake, please?", I may or may not have set about testing rainbow cake recipes and "tasted" a few to many of these babies . . .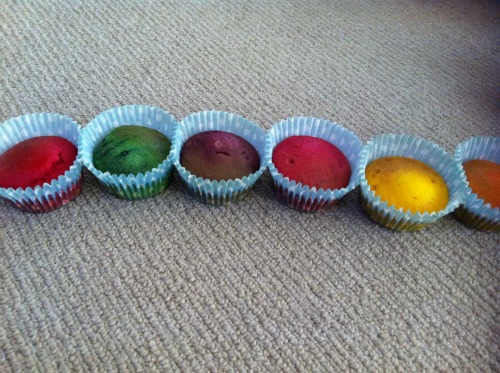 Can you taste the rainbow??
I was in the midst of a major sugar crash and in serious need of a quick and preferably healthy dinner.
Enter Ree – The pioneer woman to the rescue!
This ah-mazing lady needs a sparkly super hero cape all her own!
These noodles come together in like 5 mins and taste way better (not to mention they would be at least a million times better for you) than any take away, which is a big call considering the killer selection of authentic asian inspired restuarants withing 2 seconds from my door.
Try these simple, scrumptious, sesame noodles.
They are so delicious, my little lady asks for them for her lunch and dinner just about every day now!
The soy/sesame "dressing" is the perfect combination of salty and sweet. If you like a bit of heat in your noodles then go ahead and add some extra chilli. This recipe is so versatile you can really play with it and make it all your own. We use it as our "go-to" stir fry base recipe now.
Serve it just as it is or add a bunch of vegies, maybe some chicken, steak, fish . . . you name it. I honestly don't think you could go wrong. Unless you chose not to make it at all . . . that would be very wrong 😉
What can I say, I love them.
No but seriously . . .
Make them, your taste buds and your tummy will be so happy you did. Oh and your family will be pretty pleased too 🙂

Ingredients –

12 ounces thin noodles (I used Fantastic Hokkien Noodles)
1/4 cup soy sauce
2 Tbsp sugar
4 garlic cloves, minced
2 Tbsp rice vinegar
3 Tbsp sesame oil (I used sesame seeds instead)
1/2 tsp hot chili oil (I used chili flakes instead)
4 green onions, thinly sliced

Method –

1 – Cook the noodled according to package instructions and set aside.

2 – While noodles are cooking combine soy sauce and sugar,

3 – add garlic,

4 – then rice vinegar

5 – sesame oil (or seeds) and chili oil (or chili flakes)

6 – add 1/4 cup of water and stir to combine.

7 – Pour over warm noodles

8 – Toss to coat all of the noodles then add in green onions.

9 – Serve immediately as a super quick and super satisfying meal. Or refrigerate and enjoy as a cold noodle salad a little later on.
Ree's Variations –
– Use a little of the dressing to marinate some grilled steak to accompany your noodles.
– We use this as our standard go to stir fry base, add anything and everything  . . . so, so good!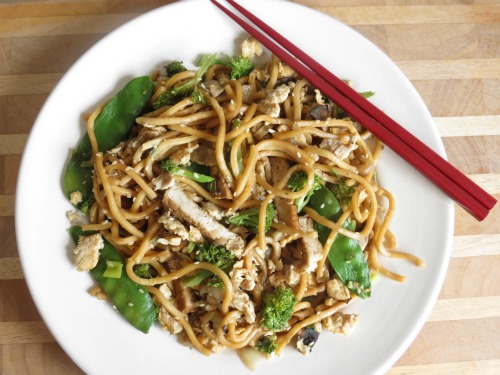 Nutritional Info approx per serve (dressing only) using substitutions stated above, obtained using fatsecret.com –
Cal – 21
Fat – 0.2
Carbs – 9.4
Protein – 0.5
Fiber – 0.1
Nutritional Info approx per serve (with fantastic Hokkein noodles) using substitutions stated above, obtained using fatsecret.com –
Cal – 169
Fat – 2
Carbs – 36
Protein – 5
Fiber – 0.1