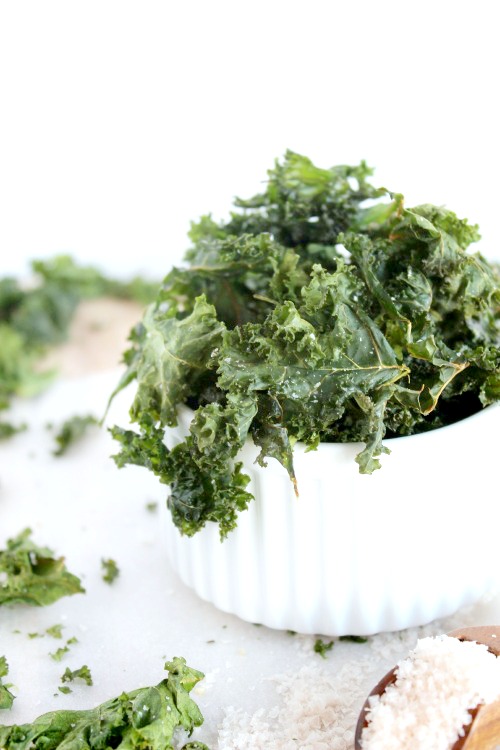 Let me introduce you to my new favourite snack.
Light and crispy, oven baked, perfectly seasoned kale chips!
You guys have you had kale chips before?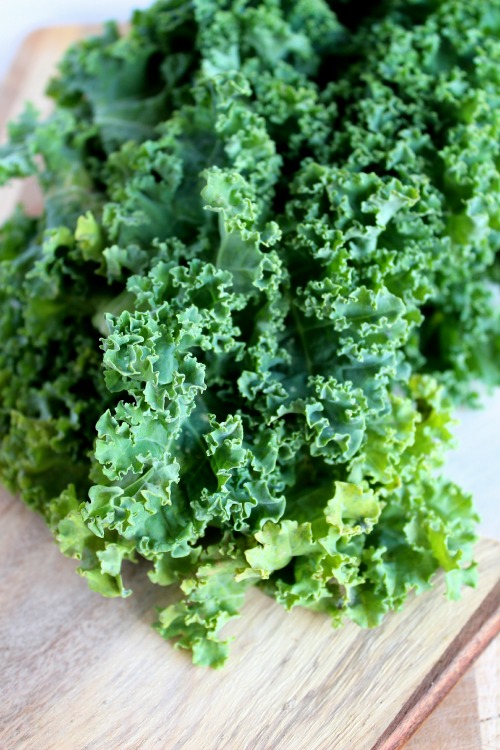 I am sad to say that until this past weekend I had not!
Sad because of all those years that I could have, should have been inhaling devouring enjoying those light, crispy, perfectly seasoned delicious little kale chips . . . lost.
It's just so very sad!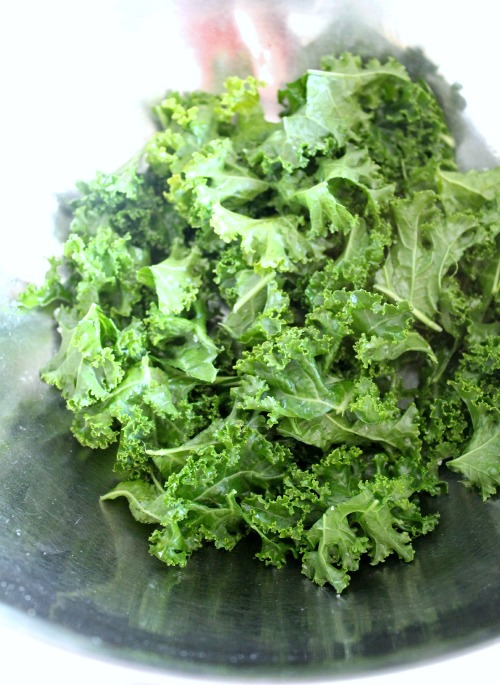 But don't you worry, I'm totally making up for lost time.
You guys these chips are insanely delicious! Like, "where are you been all my life?" delicious!
And so outrageously simple to make. Just 3 ingredients, 15 mins in the oven and boomshakalocka, you are on your way to snack town my friend!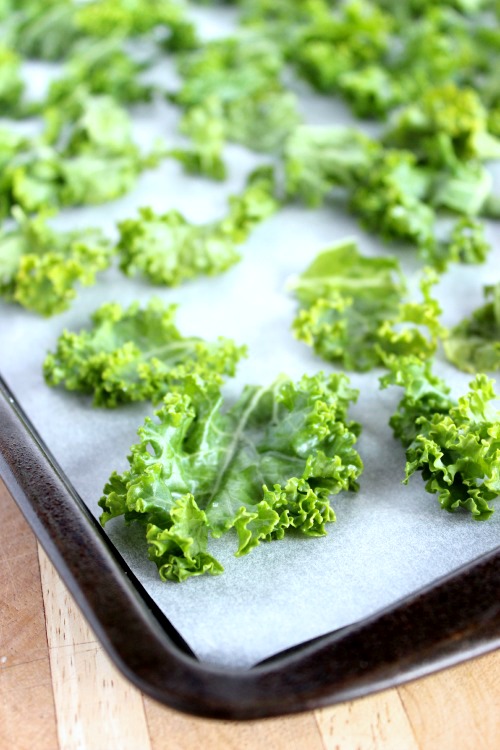 If you have had kale chips before you will be well aware of how incredibly light they are. They are wafer thin and crispy as all get out! You pop a handful one in your mouth and you get this delicious little crunch and then, like magic they just melt away.
I can't even really explain it so you'll just have to trust me on this one. Or go make some and experience the magical deliciousness for yourself. Actually you better make a double batch because the first batch, like magic has a tendency to just disappear?! No idea how that keeps happening 😉
And you know what else? These all natural, oven baked, crispy, crunchy kale chips also happen to be totally healthy. Like seriously healthy.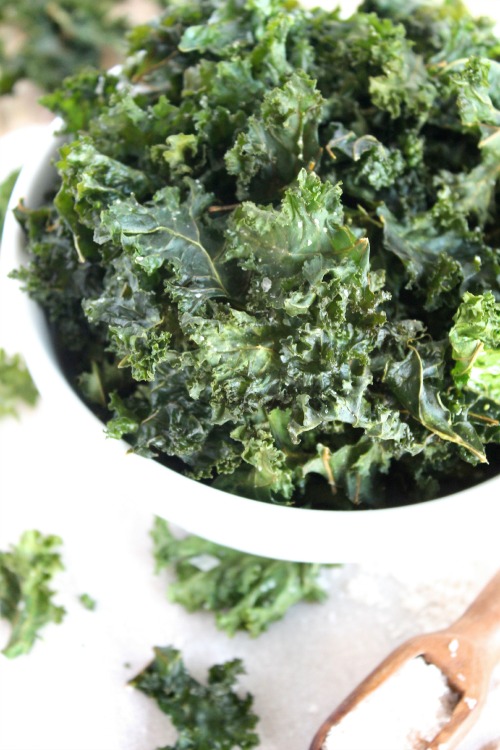 Did you know –
– Kale is a known anti-inflammatory, which helps to fight against arthritis, asthma and autoimmune disorders.
– Kale is also high in vitamin A which is great for your eyes and skin, it's also super high in fibre, folate and magnesium!
– Kale is high in iron, and vitamin C which in itself is a powerful combination. Did you know that your body absorbs iron more easily when paired with vitamin C? Well now you do 😉
– Kale is also rich in antioxidants such as carotenoids and flavonoids which are proven to help protect us against various cancers.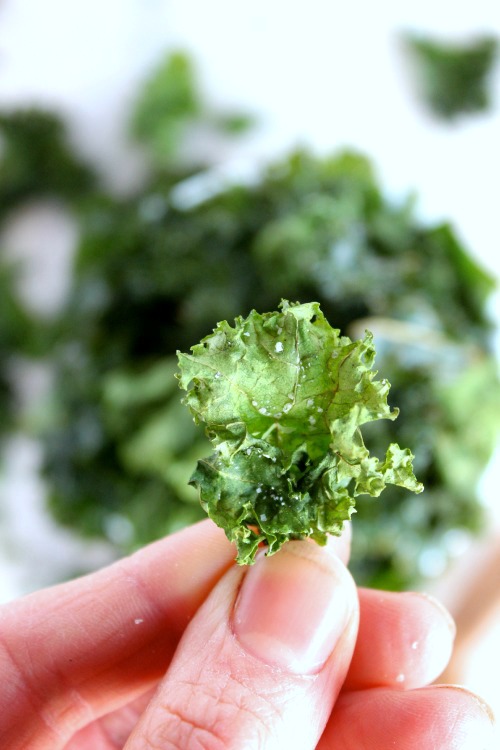 Superfood say wwhhaaaattt?!
Super easy to make, super, insanely delicious, super (dangerously) easy to eat and, super, super good for you.  
Light, crispy, all natural, oven baked, seasoned to perfection, 3 ingredient, oven baked kale chips . . .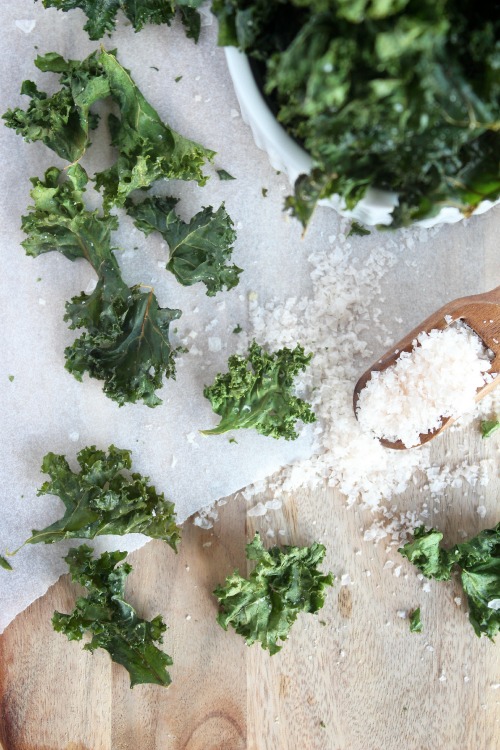 Ugh so good I can't even stand it!
I gotta say a huge thank you the one and only Pete Evans for opening my eyes to the simple glory that is the oven baked kale chip and giving me the confidence to finally test it out for myself.
Make them, eat them, love them
Oven Baked Kale


Scaled down, and re-written in my own words as appears in 

Pete Evans

 – Healthy Every Day


Makes approx 2 heaping cups of crispy, crunchy, slightly salted, seriously healthy, dangerously addicting kale chips

Ingredients –

2 cups (firmly packed) of  kale, washed and dried

1 teaspoon of coconut oil, melted and cooled

salt flakes to taste

Method –

1 – Preheat oven to 120'C (250'F). Line a large baking tray (or 2) with baking/parchment paper and set aside.

2 – Remove the middle stalk from the kale leaves and cut into smaller pieces (the size you want your chips) and place into a large bowl.

3 – Add coconut oil and a sprinkle of salt and toss to coat.

4 – Place kale leaves in a single layer on your prepared baking tray. Take care not to overcrowd/overlap them.

5 – Bake for 10-15 mins or until slightly browned and nice and crispy.

6 – Devour Serve immediately or, store in an airtight container (or ziploack bag) for up to 2 weeks (as if they will last that long;))
Enjoy xoxo
________________________________________________________________________
Question of the day –
Sweet or savoury whats your current favourite snack?
Feel free to leave recipes and links to recipes in the comments below, sharing is caring 🙂