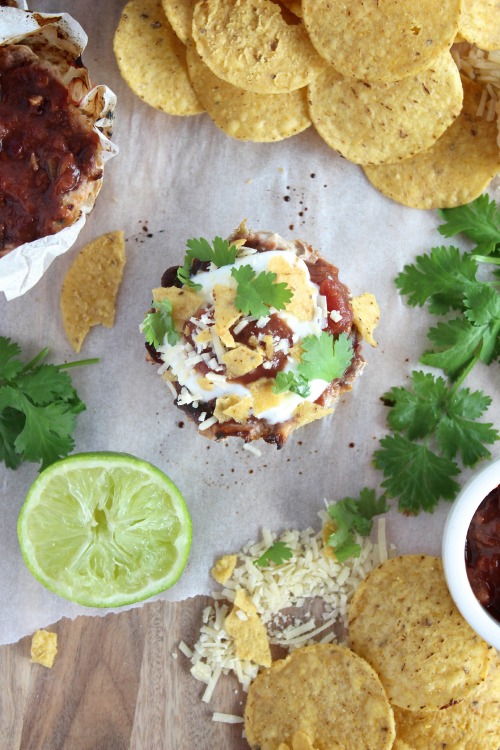 So I have been holding onto this recipe few months now  . . .
Tossing up whether or not I should share it with my sweet invisible internet friends because let's be honest . . . meatloaf . . . it's kinda (majorly) unattractive.
I mean it doesn't even sound very appetising does it, say it with me – "Meatloaf"
Yeah it really doesn't.  Poor old meatloaf.
But these Mexican Meatloaf Muffins are so outrageously delicious it's not even funny!
It's like a little mexican fiesta in every single bite!
Quick and easy to prepare, not to mention super cheap, seriously healthy and for some reason kids (young and old) seem to go crazy for meatloaf?! What's the deal with that?
Anyways, these Mexican Meatloaf Muffins pack a serious flavour punch. They are healthy, hearty and bursting with all those traditional mexican flavours we know and love.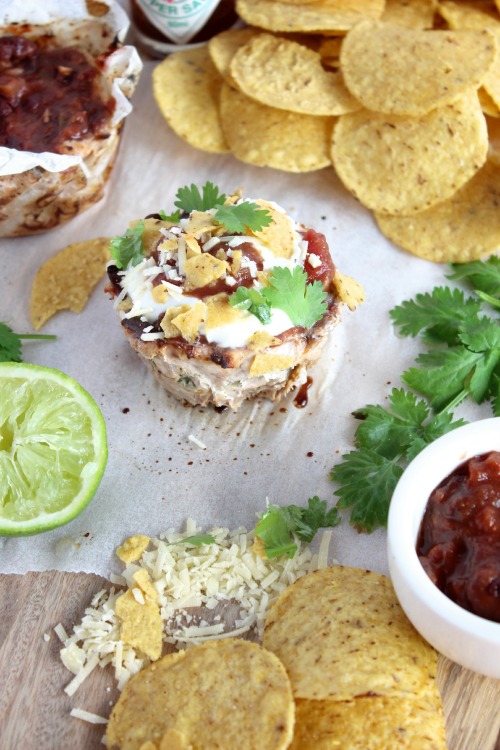 I like to add a dollop of plain greek yoghurt (in place of the more traditional sour cream), some freshly grated parmesan, a little coriander, a squeeze of lime and last but not least I crumble over a corn chip or two then finish with a few shakes of smoked chipotle tabasco sauce. Oh. My. Delicousness! Talk about flavour explosion!
Love it!
The added bonus of making this meatloaf into muffins is -
1 – I don't have to bother with slicing up that badboy. Meatloaf, although hearty and delicious can also be kind of delicate when it comes to slicing and has a tendency to crumble and fall apart . . . well not when you make it into muffins it doesn't. Boomshakloacka, winning!!!!!!!
2 – Hello perfectly portioned and seriously convenient! Ready to grab and go baby. Pack them into lunch boxes or have them pre-cooked, wrapped in some foil and frozen for those nights when you want some serious comfort food without having to actually cook anything. Just Grab them out of the freezer and throw them in the oven for 20 mins and dinner is done!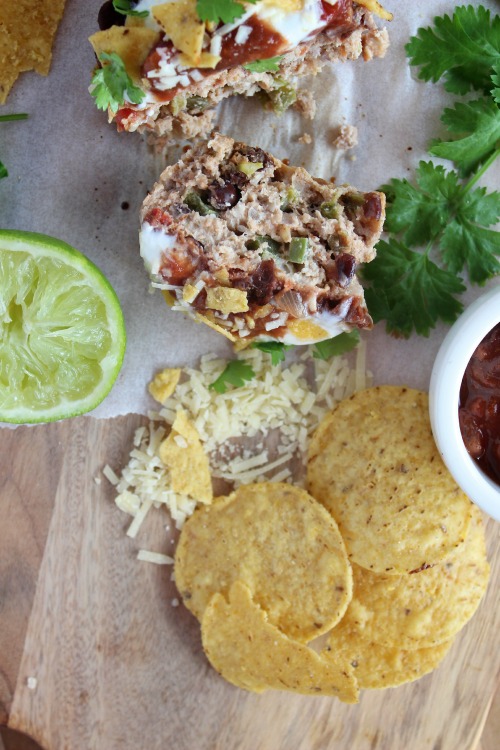 These Mexican Meatloaf Muffins are also awesome when you crumble them up and serve them in a tortilla, burrito style, or simply over a basic mixed leaf salad but, my fave way to eat these Mexican Meatloaf Muffins is with a dollop of plain greek yoghurt, a sprinkling of freshly grated parmesan, fresh coriander , a corn chip or ten two and  a few shakes of smoked chipotle tabasco sauce along side a big ol' mountain of  that creamy dreamy delicious roasted garlic whipped cauliflower that we made a few weeks ago.
Especially now the nights are getting cooler. Ugh so, so good!
Simple, healthy, homemade deliciousness right there. It may not be pretty but it sure tastes good!
Make them, eat them, love them!
Mexican Meatloaf Muffins


Makes 6 tiny but mighty, mexican spiced meatloaf muffins

Ingredients -

250g chicken breast mince – aka ground chicken (could sub beef/pork/lamb/turkey)

1 small green capsicum, finely chopped

1/2 small red onion, finely chopped

1 egg white

1/4 cup wholewheat bread crumbs

1/4 cup + 2 Tablespoons of salsa

1/2 teaspoon of garlic powder

salt and pepper to taste

Method -

1 – Preheat oven to 175′C (350′F) and line a 6 cup muffin tray with paper cases or baking/parchment paper and set aside.

2 – Combine chicken, capsicum, onion, bread crumbs, 1/4 cup of salsa, egg white, garlic powder and salt and pepper and stir to combined.

3 – Divide mixture evenly between your muffin cups (I used approx 1 heaping 1/4 cup measure per muffin)

4 – Spread the top of each muffin with 1 teaspoon of your remaining salsa and bake for 25-30 mins until cooked through.

5 – Serve with a dollop of greek yoghurt, a squeeze of fresh lime, a dash of your fave hot sauce then crumble over a few of your fave corn chips and finish with an extra little sprinkling of cheese.

Serve alongside a simple salad and some of this roasted garlic whipped cauliflower and you have yourself one winner dinner (even if I do say so myself)
Enjoy xoxo
_____________________________________________________________________
Question of the day -
What is your fave comfort food? Savoury? Sweet? Traditional? Unattractive but insanely delicious? Tell me 
Related posts: