Hi there.
You look hungry . . . so I made you a snack.
But not just any snack.
One you will totally enjoy eating.
One that will leave you wanting more, and more, and more, and more, and more . . .
A snack you can feel good about eating.
A crispy, crunchy, sweet and salty snack you can eat totally guilt free.
This snack . . . it's practically a detox. Negative calories even. You know to balance out/get back on track following the Easter weekend chocolate/hot cross bun binge fest ← yeah . . . me too girlfriend, me too.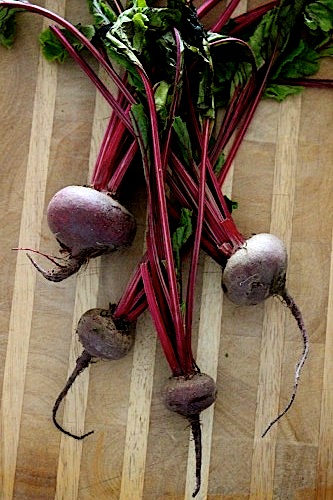 Until recently I had never had fresh beetroot. The beetroot you can buy in a can or jar . . . I am alll over that. I love those babies. But fresh beetrot that you actually might need to peel and prepare yourself. Not so much. Maybe I had it grated in a salad once or twice but I'm not sure that really counts. And I'm pretty sure said salad was bought from a fancy cafe' or something . . .
I think I was imitated by them because I only ever saw them being prepared on master chef, you know in some fancy salad or risotto with goats cheese and truffle oil? Love that show but dude  . . . "ain't nobody got time for that."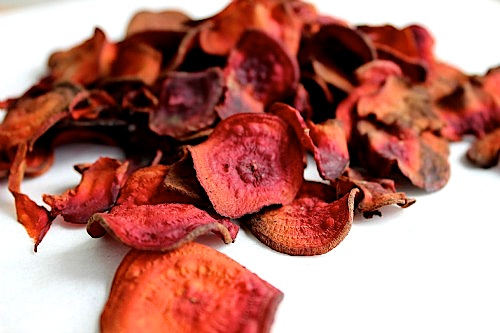 These chips however I have all the time in the world for. Simply slice, season, bake and devour.
Oh and this little snack of ours . . . super healthy, antioxidant and nutrient rich, packed with magnesium, potassium and vitamin C.
Your welcome.
Healthy Oven Baked Beet Chips


Makes about 2 cups

Ingredients –

4 whole beets, about 2 cups very thinly sliced.

1 tsp of coconut oil, melted and cooled

salt and pepper to taste

Method –

1 – Preheat oven to 175'C (350'F) and line a baking sheet with parchment/baking paper and set aside.

2 – In a medium bowl place sliced beets, drizzle with coconut oil and season with salt and pepper and gently toss to coat.

3 – Lay the beets evenly on your prepared baking sheet, its ok if they are close to each other but try not to over lap them. We need room for the air to circulate so those babies get nice and crispy.

4 – Bake for 20 -25 mins, turning the beet chips oven and rotating the tray half way through.

5 – Allow to cool completely on the baking sheet then devour by the fist full enjoy 🙂
Plus they're pink, naturally. That means they are extra awesome. You know it!
_________________________________________________________________________________________________
What's your snack time obsession?