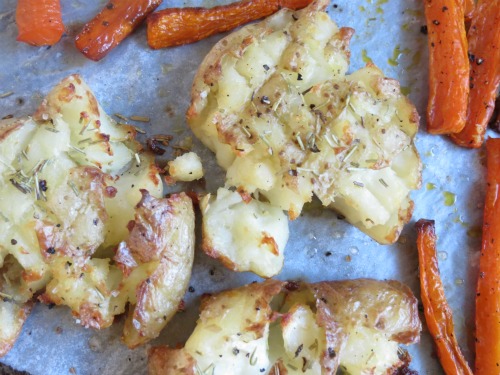 Roasting potatoes like this seems like a no brainer.
So why did I not think of doing it . . . ever?!
I mean I've roasted potatoes, mashed potatoes but never ever did it occur to me to make a hybrid version combining the two most used and dearly loved ways to enjoy potatoes?
Seriously?!
Perfectly seasoned, crispy on the outside and light and fluffy in the middle . . . so, so amazingly simple but seriously, intensely deeeeeelicious!
These potatoes compliment your weekly sunday roast dinner, they go with steak, chicken, sausage, fish, you name it these taters will work.
They are bigger than just your usual side dish.
They totally hold their own.
We have had them with a big bowl of roasted or even just steamed vegies and a little gravy . . . so perfect for these cold rainy nights we have been having.
So what are you waiting for . . . go make these already!
You.
Will.
Love.
I know it 🙂
Ingredients –

12 baby new potatoes
3 Tbsp Olive oil
Salt flakes to taste
Black pepper to taste
Rosemary (fresh or dried) to taste

Method –

1 – In a medium saucepan over medium heat, boil the potatoes in lightly salted water until fork-tender (about 20 mins).

2 – Preheat oven to 230'C (450'F)

3 – Place the boiled potatoes onto a baking sheet. Using a potato masher, gently press down onto the top of each one. Rotate the masher 90′ then (partially) mash again.

4 – Drizzle the tops of the potatoes with the olive oil.

5 – Sprinkle generously with salt, pepper and rosemary.

6 – Bake for 20-25 mins or until golden brown and crisp.
Ree's Variation –
– Top each smashed potato with some grated cheese before baking.
– Serve with Rib-Eye steak
____________________________________________________________________________________________
Nutritional Info approx per serve (2 potatoes) obtained using fatsecret.com –
Cal – 99
Fat – 6.8g
Carbs – 10g
Protein – 2g
Fiber – 0g