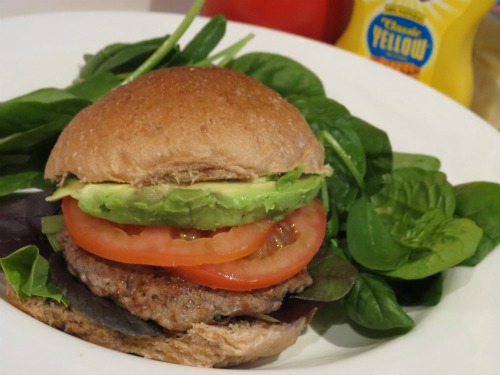 Test it out Tuesday – I almost feel like I should apologise for sharing yet another of The Pioneer Woman's most recent cook book – The Pioneer Woman Cooks – Food from my Frontier. But, I'm enjoying it so much that . . . well, I don't really want to. I hope your enjoying it as much as I am 🙂
Ok, so . . . confession time . . .
please don't think less of me but . . .
I'm not much of a burger fan.
Not usually anyway.
My husband on the other hand . . . loves to get his burger on.
Poor guy, because I'm not a huge fan I don't think to make them very often.
Until now!
These burgers . . .
AH-MAZING!
P-Dub, girlfriend you have done it again 🙂
I feel like I say that all the time.
But guys . . . these burgers!
So simple, so scrumptious, so  . . . to. Die. For.
They are slightly smoky, seriously juicy . . . the perfect base to build your burger dream!
Honestly, I didn't think a burger without any onion or garlic in the meat patty itself could possibly hold much flavour, boy was I wrong!
Seriously, so, so wrong.
Don't be like me . . .
These burgers are everything a good burger should be.
Packed with flavour, enough to hold their own. But subtle enough to go with all the delicious toppings you want . . . yes all of them 🙂
Top these babies with whatever your little heart desires . . .
This time I went with good ol' faithful – avocado, tomato, lettuce, ketchup and mustard.
MmmMMMMm sooooooo good!
Now its your turn,
It's time to get your burger on!
Best. Burger. Ever

Ingredients –

2 lbs (900g) Ground beef (I used extra lean beef mince)
1 tsp salt flakes
1/2 tsp black pepper
1/3 cup heavy cream (I used Chobani 0% plain greek yoghurt instead)
5 dashes Worcestershire sauce
Tabasco sauce to taste

To Serve –

8-10 Burger buns
Lettuce
Tomato
Avocado
Cheese
Bacon
Mushroom
Onion
Ketchup
Mustard
Chipotle Mayo
Pesto
Jalapeno

Method –

1 – In a medium bowl add meat, salt and pepper.

2 – Add cream (Chobani/yoghurt if your following me :)) Worcestershire sauce and tabasco. Mix until well combined.

3 – Form into 8-10 patties.

4 – Grill over medium-high heat until no  longer pink in the middle.

5 – Build burgers . . . .yes build! Its quite a delicious project 🙂
What's on your dream burger?
__________________________________________________________________________________________________________
Nutritional Info approx per serve (burger patty only) obtained using fatsecret.com –
Cal – 128
Fat – 4g
Carbs – 1g
Protein – 19g
Fiber – 0g