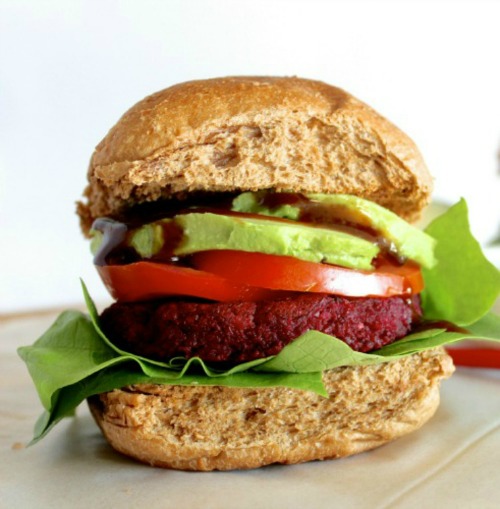 I hope you guys don't mind if we skip the small talk this week, I. Am. Exhausted.
Remember last week when I told you I was sick? Yep . . . still sick. I have some kind of nightmare chest/respiratory infection.
ANNOYING!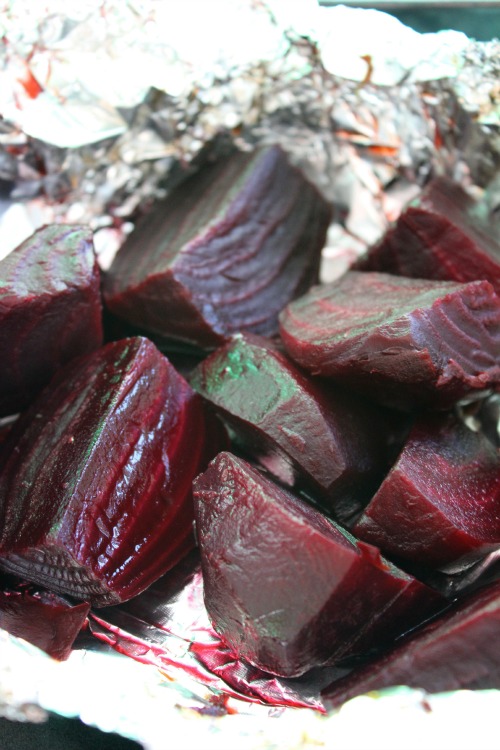 I actually don't feel to bad physically but talking is a major effort and just wears me out. So between games of candyland, dancing statues, reading stories, recipe testing/tasting/styling/photographing, photo editing, birthday planning for a our little birthday princess and just the general business that comes with well, life in general, I'm kinda feeling a little worn out.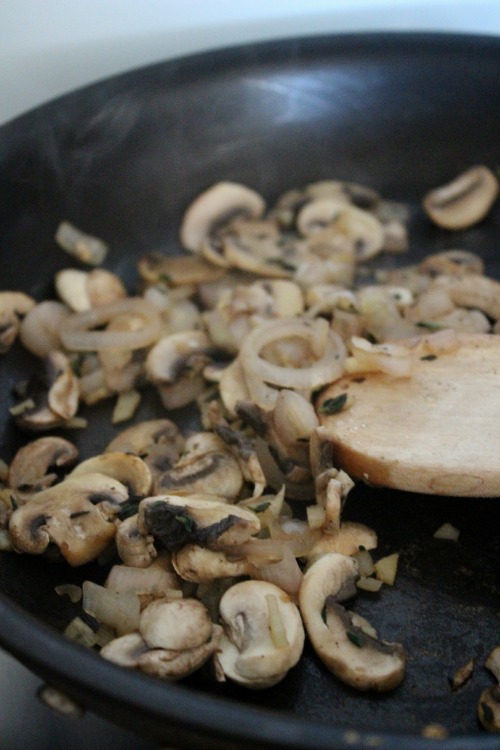 But I need to tell you about these burgers!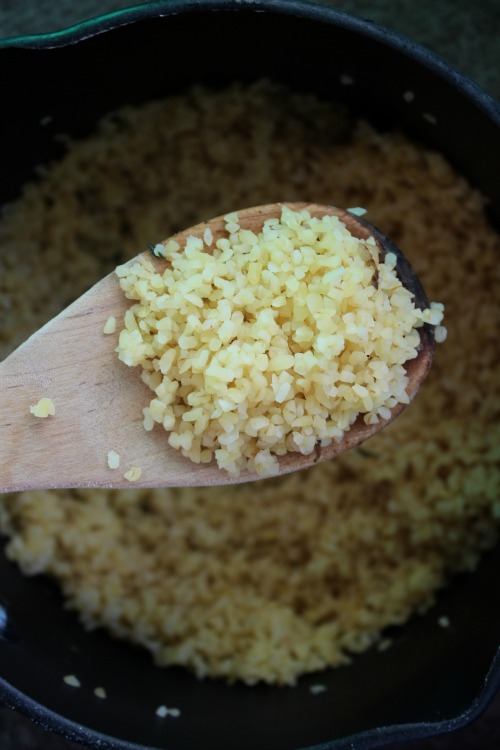 This week out test it out tuesday recipe is from the gorgeous Jenna who blogs at Eat, Live, Run (simply stunning newly wed who is also the author of the wonderful White jacket required). This recipe is one I have been wanting to make for over a year now. I can't believe I waited so long.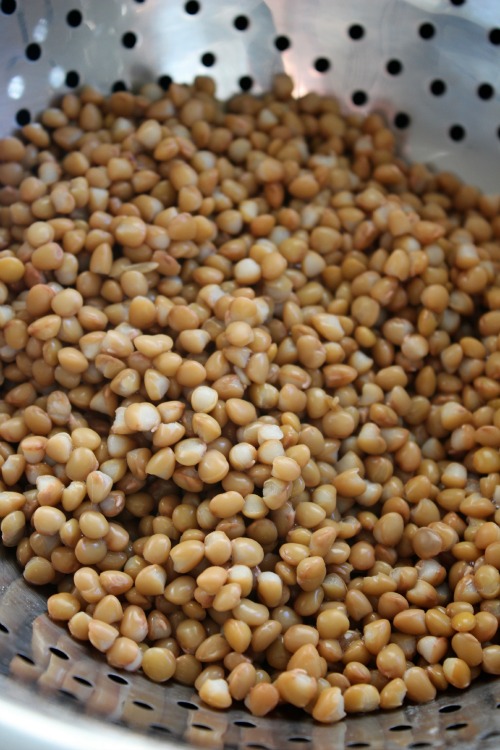 This was hands down, the best veggie burger I have every tasted.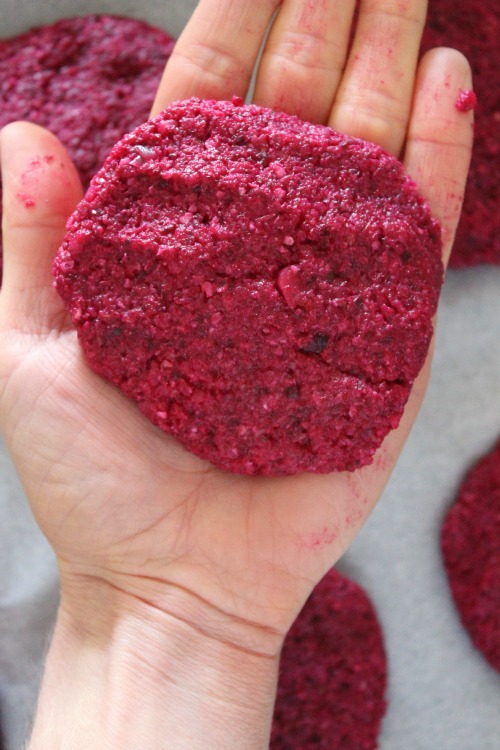 Ever.
They have so much flavour. So, so much. It's insanely delicious. I cant quite explain to you what they taste like though. I was trying to explain it to spunky husband "these burgers are so good, so much flavour, seriously the best burgers ever, but I cant quite put my finger on what they taste like or how to explain it, but seriously they are incredible, really, seriously delicious, I can't wait for you to try it . . . " blah, blah, crazy lady seriously overly excited about food once again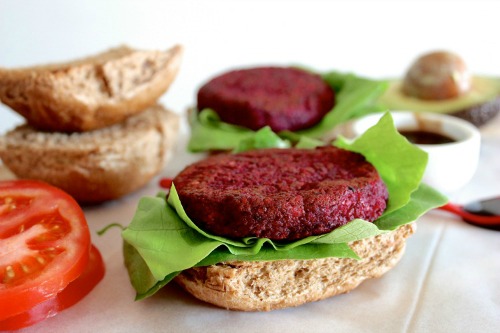 Then he got to taste one . . . and he wholeheartedly agreeed.
Best. Veggie Burger. Ever!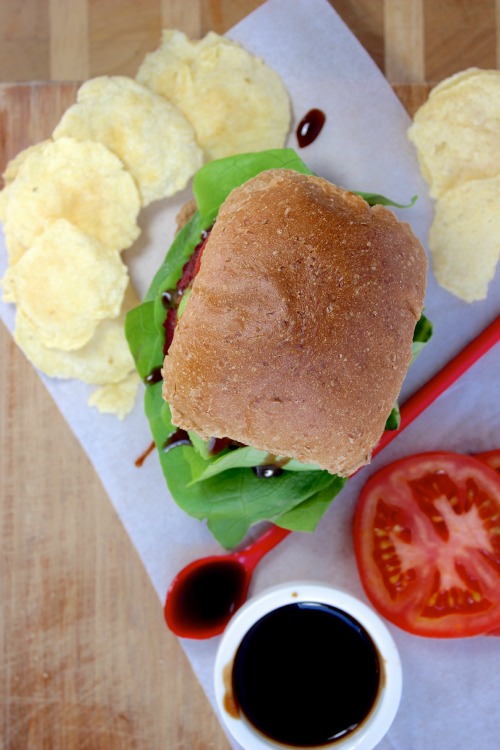 The texture is softer than your usual burger and you do have to handle with care while your cooking (flipping) them but they are totally worth the litte extra TLC.
Seriously delicious!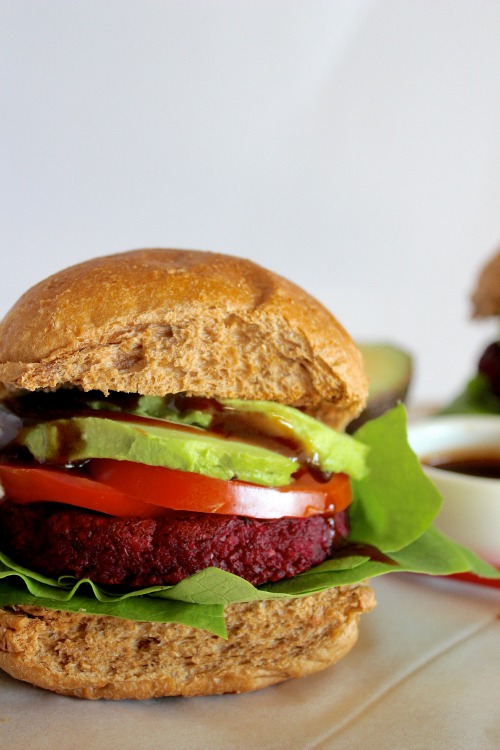 If you're not a fan of beet I strongly suggest you still give these burgers a try, they don't taste like beet at all. They do have a slightly nutty flavour thanks to the ground cashews. The sautéed mushrooms, onions are garlic help to give them a nice "meaty" texture, something you can really sink your teeth into.
And because these burgers have so much flavour I didn't want to add to many extrasbecause I honestly don't think they need it.  I had mine straight up simply with tomato, avocado, butter lettuce and BBQ sauce and I am seriously in love! Spunky husband had his with a slice of good ol' cheddar cheese and sweet Jenna has hers simply with some lettuce and sweet chilli sauce. Totally adaptable here people, so do what you feel. But please, please make these burgers .
Don't wait a year. Do it soon. Like today. Then bring me one because I'm poorly, hungry and tired out K, thanks
Beet Burgers


Very slightly adapted from this recipe by Jenna at Eat, Live, Run
Makes 8 beautiful beetalicious burgers

Ingredients –

3 small fresh beets, peeled and quartered (you need 220g once cooked)

3/4 cup canned lentils, drained and rinsed

1/2 cup bulgar wheat (could substitute wholewheat couscous I imagine although I haven't tried it personally)

1/3 cup raw cashews

1 cup mushrooms, finely sliced

1 small onion, finely chopped

1 clove of garlic, minced

2-3 sprigs of fresh thyme (or 1/2 teaspoon of dried)

1/2 cup vegetable stock (you could use chicken or beef if not vegetarian)

salt and pepper to taste

Optional but recommended for serving –

Burger buns

Butter lettuce

Tomato

Avocado

BBQ Sauce

Method –

1 – Preheat oven to 175'C (350'F)

2 – Place a large sheet of foil onto a baking sheet and place chopped beetroot into the centre then fold the foil edges up and and around the beets to they are tightly sealed in their little foil tent.

3 – Place your beets into the oven and roast for 20-30 mins until tender (this can be done ahead of time – aka the night before)

4 – Place your stock into a small pot and bring your stock to a boil. Once boiling add the bulgar wheat, stir to combine then cover with a lid and remove from the heat. Allow to sit covered for 5-10 mins, until the liquid is absorbed.

5 – Place your sliced mushrooms, onions, garlic and thyme into a medium size fry pan over medium heat and cook until deliciously golden brown and slightly softened. Set aside.

6 – Ok so once you have everything prepped and ready to go get out your blender or food processor . . .

7 – Place cashews into your food processor/blender and pulse until they turn into a fineish powder.

8 – Add beets, bulgar wheat, mushroom and onion mix and pulse to roughly combine.

9 – Add lentils and pulse/process again until everything coming together but you still want it to be a little chunky with some texture in it. Be careful not to over process the mixture.

10 – Shape mixture into 8 evenly sized patties and place on a sheet of baking paper. FYI – They are kind of delicate and I found it helpful to place them in the fridge for 30 mins or so to "set" which is something i prefer to do with my "regular" meaty burgers anyway.

11 – In a medium size fry pan over medium/high heat cook your burgers for 2-3 mins until golden then carefully flip and cook for 1-2 mins more.

12 – While your burger patties are cooking get your burger ready. Toast the buns if you like (←do it) then lay a few leaves of lettuce on the bottom bun. Top with your freshly cooked beet burger, add a slice of fresh tomato, a few slices of avocado, drizzle some of your fave BBQ sauce and you are good to go!

MmmmMMM burgerlicious!
Enjoy xoxo
___________________________________________________________________________
Question of the day –
Tell me about the all time, hands down, best burger you ever tasted?