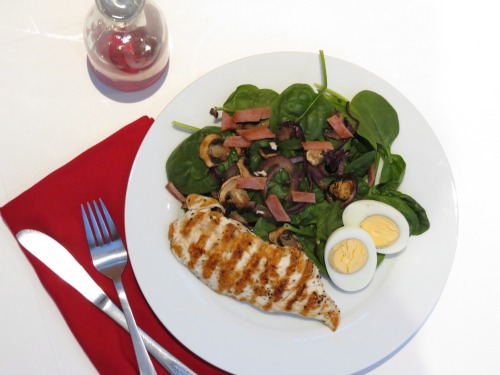 So, this week we are testing out another of the ah-mazing Ree's recipes. This week we will be cooking from her latest book – The Pioneer Woman Cooks: Food from my Frontier. If you don't own it, you should seriously consider it. Seriously . . . just sayin' people, just sayin'. Simple ∞ Scrumptious ∞ Step-by-Step.
It's no secrect for those who know me will know that I am a huge lover of salad.
HUGE!!!
Especially spinach salad.
Usually, I have it  as a side with some lean meat, or fish and top it with some oven roasted cauliflower and almonds. This is my "go to" salad, not complicated at all but you know what they say, sometimes "less is more".
I have to tell you when I decided to make this Perfect Spinach Salad I was a little sceptical about how much I would actually enjoy it.
The only reason I was a little unsure was because I have never been one for onion in salad . . . just doesn't really do anything for me. Cooking with onions, absolutely but raw,  in a salad . . . hmm pass. Nothing against onions, except they always make  me cry when  I cut them! Not cool, onions, not cool at all! Anyone have any tips to share on how to avoid tears at onion prep time??
But enough about my onion issues. Did I enjoy this salad?
I did. Very VERY much!
The combination of the delicious cooked mushrooms, caramelised spanish onion and crispy bacon . . . so, so good!
No joke people!
Then, there is the dressing . . .  so simple yet totally takes this salad over the top! The tart, tangy, sweetness of the red wine vinegar and dijon mustard poured over the salty bacon, sautéed mushroom and onion = a match made in heaven!!!!
This was my first time making my own salad dressing and I see it making frequent appearances at our table from now on.
Try it.
You'll love it.
Promise!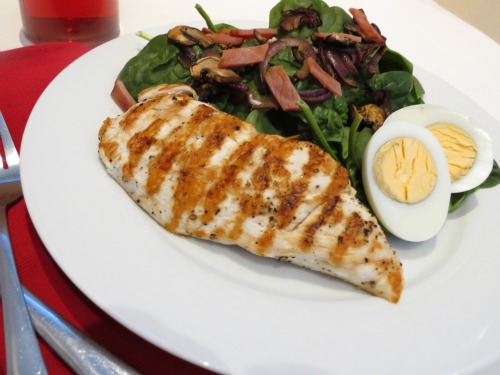 Perfect Spinach Salad

Ingredients –

8 slices thick-cut bacon (I used centre cut bacon, visible fat removed)
1 red onion, thinly sliced
8 ounces cremini or white button mushrooms, sliced
4 hard-boiled eggs
3 Tbsp red wine vinegar
2 tsp sugar
1/2 tsp Dijon mustard
Dash of salt
12 ounces baby spinach, washed and dried.

Method –

1 – Fry the bacon until slightly crisp. Try with all your might not to eat it all before serving the salad. Note: this will be difficult.
Chop the bacon and set it aside.

2 – At 1 Tbsp olive oil to a large fry pan over medium-low heat, then add the onion.

3 – Cook it slowly until it's nice and golden brown, about 10 mins. Remove from fry pan and set aside.

4 – Next, saute' the mushrooms in the same fry pan over medium-low heat until golden brown, about 10 mins. Set aside.

5 – Peel and slice the hard-boiled eggs.

6 – Now make the dressing: in a small bowl, add red wine vinegar, sugar, dijon and salt.

7 – Stir with a fork to combine. Give it a taste and adjust the seasonings to make it all yours.

8 – To assemble, throw the beautiful spinach into a big ol' bowl/

9 – Pile in the chopped bacon, caramelized red onion, sauteed mushrooms, and sliced eggs.

10 – Drizzle on half of the dressing, then toss the salad gently to mix all the ingredients together. Taste a spinach leaf and add more dressing as needed.

11 – arrange individual portions on plates and serve immediately.

Note – Ree suggests a few variations in her book, one of them is to serve will grilled chicken. Which clearly I chose to do. Deeeeelicious!!!!!! Although totally not necessary 🙂

Oh and you could throw in a few slices of avocado because well, like sprinkles, avocado makes every salad better!!
Have you tried any new recipes lately?
___________________________________________________________________________________________
Nutritional Info (approx per Serve) obtained using fatsecret.com –
Cal – 170
Fat – 6.4
Carbs – 12.1
Protein – 18.1
Fiber – 3.8
Salad with 100g grilled chicken –
Cal – 243
Fat – 8.1
Carbs – 12.1
Protein – 34.8
Fiber – 3.8
Salad alone –
Cal – 152
Fat – 6
Carbs – 11.9
Protein – 18.1
Fiber – 3.8
Salad Dressing –
Cal – 18
Fat – 0.2
Carbs – 4
Protein – 0
Fiber – 0