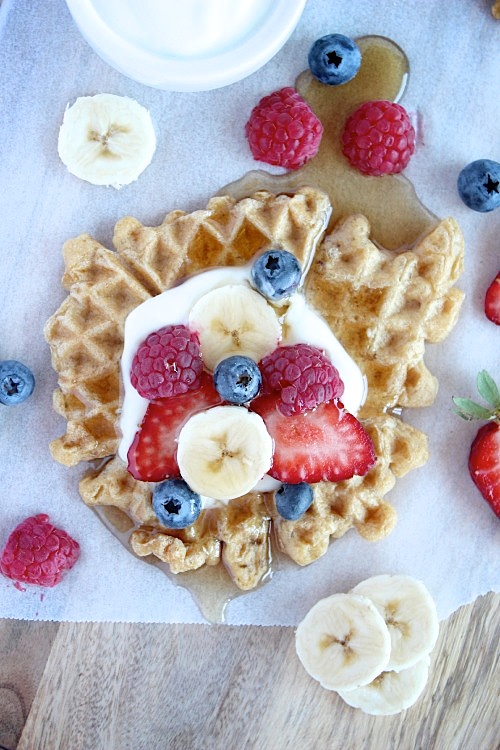 Breakfast . . . let's talk about it . . .
Tell me sweet invisible internet friend of mine, what's on your breakfast plate?
Are you a creature of habit who has the same thing most days or do you like to change things up?
Do you like a hot/cooked breakfast like say bacon and eggs or do you prefer something cold like fruit, yoghurt and a little granola?
Do you prefer sweet or savoury?
Cereal or toast?
Pancakes or waffles?!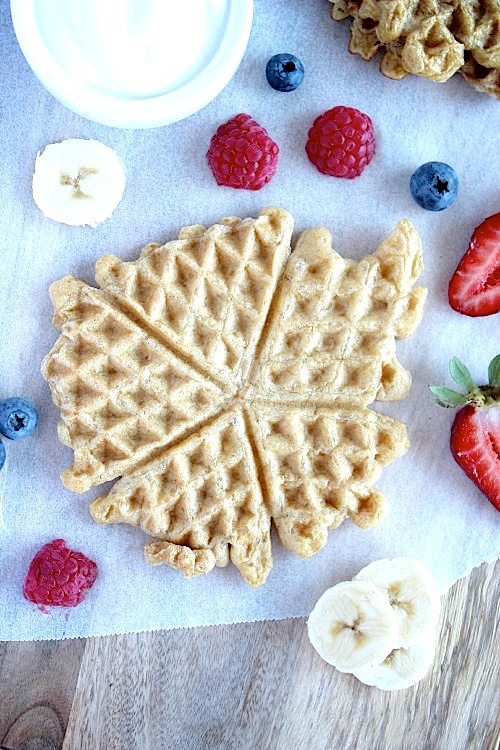 Me . . . Im totally a creature of habit and I have the same thing most days.
Always cold
Always sweet
Always waffles
I do love me some pancakes but there is something about waffles I can not get enough of.
I think it has something to do with the fact that I can just pour the batter in and let the machine do all the work for me, no standing, waiting, flipping required.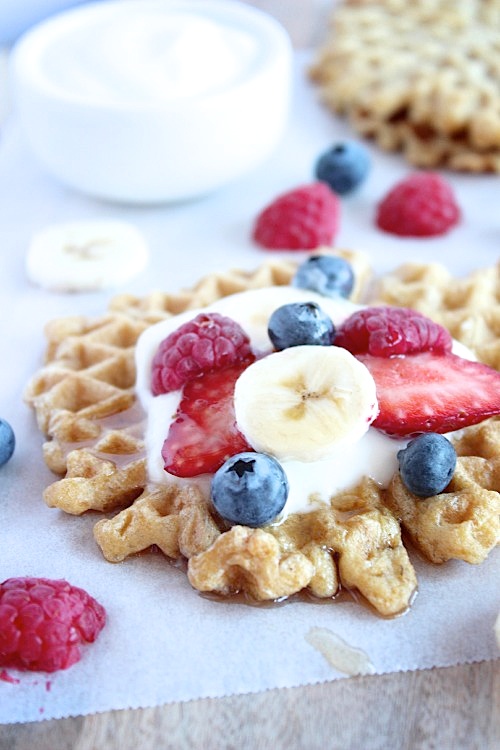 And then there are those gnarly edges that are just so perfect for storing and soaking up delicious little pools of maple syrup.
Yum!
Today (at last) I am sharing with you my all time fave breakfast recipe. Today, sweet invisible internet friend of mine, we are making ourselves some all natural, vanilla spiked protein waffles.
Seriously this recipe is looooonnnnngggg over due. If you have been following along with me on instagram you will have seen these waffles making a regular appearance in my feed.
I figured enough with the pic teasing already, time to snap a few pics and get this recipe up so you can join me in my breakfast addiction.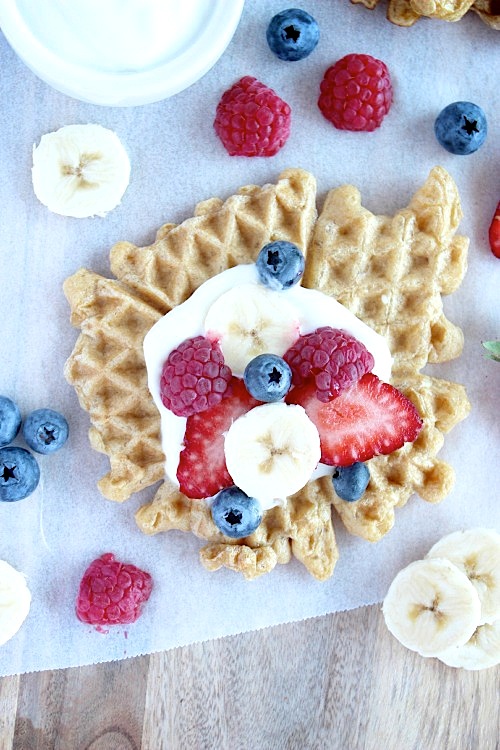 I have been eating these waffles almost daily for months now. I just can't stop.
I want to, want to eat different things for breakfast but then I really don't because I am just so in love with these waffles.
Light, fluffy, subtly sweet and packed with protein – breakfast of champions people!
Usually I make a big batch once every few weeks and just wrap them in individual servings ready to grab and go in the morning. Breakfast winning!
Our vanilla spiked protein waffles are all natural made with just a handful of real food ingredients, they come together in a matter of minutes and let me just tell you that are all kinds of delicious and clearly, I can not get enough.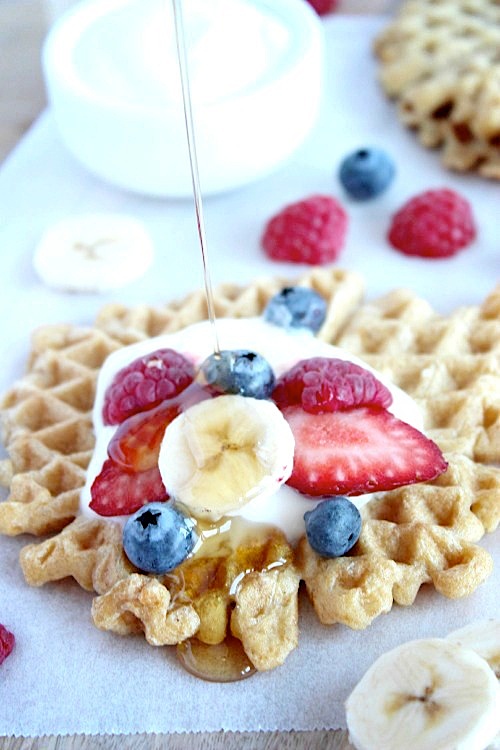 Quick and easy to prepare, packed with protein and high in fibre which means that not only are they all kinds of healthy and insanely delicious but, they also happen to keep you fuller for longer. Which is what you want in a breakfast food right?!
Our protein rich batter is made simply with a couple of eggs and some cottage cheese, although please don't let the fact that they have cottage cheese in them put you off, you can not taste it at all. Promise.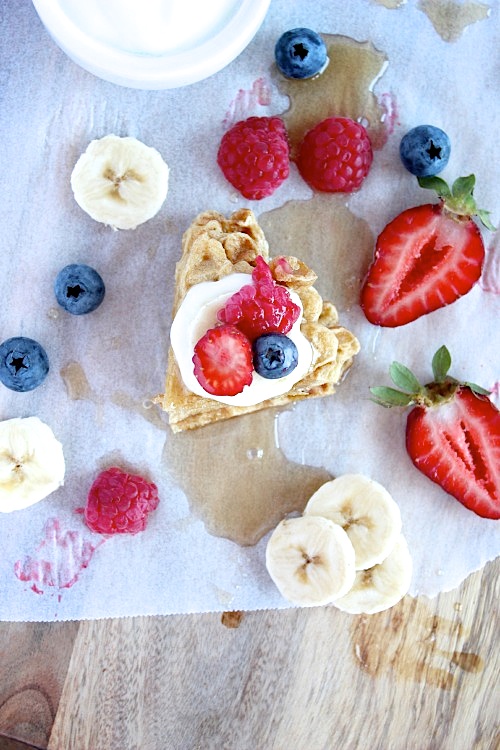 The subtle sweetness comes from a generous splash of vanilla and drizzle of coconut oil. That's it. Simple right?
Just throw the ingredients into your blender and process until well combined. While your batter is blending plug in your trusty ol' waffle maker so it's nice and hot, then all you have to do is pour the batter into you're done baby.
The hardest part of this recipe is choosing what toppings you will have.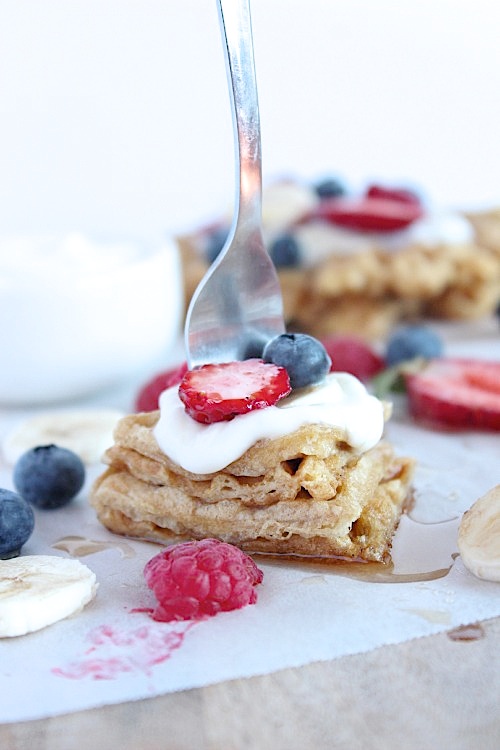 My fave way to serve these delicious little vanilla spiked protein waffles is with a dollop of greek yoghurt, some sliced banana, strawberries, blueberries and of course bathing them in a drizzle of maple syrup.
Can't stop, won't stop and I'm not even sorry about it.
If you like hot/savoury breakfast you could totally serve them with a poached egg and a side of bacon, feel free to customise as you see fit just please, please make these waffles already!
Let me just tell you these waffles are not just a breakfast food, they are perfect for anytime of day.
The perfect pre/post workout snack.
Perfect for morning tea or even a fun little lunchbox treat.
Binner = winner
and waffles for dessert . . . just yes!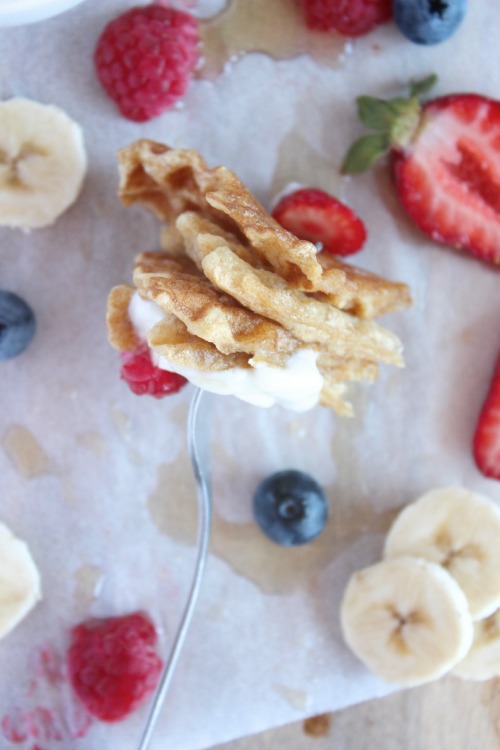 If you don't happen to have a waffle maker of your own, beg borrow or steal baby! Or you could just make them into pancakes instead. Problem solved 😉
Do what you gotta do to get these delicious little vanilla spiked, protein packed bites of deliciousness into your life, they are totally worth it.
Light, fluffy, subtly sweet, all natural, protein rich, vanilla spiked protein waffles.
You know you want in on this –
Make them. Eat them. Love, love, love them.
Vanilla Spiked Protein Waffles


Makes approx 10-12 seriously healthy, subtly sweet, light and fluffy, vanilla spiked protein packed waffles

Ingredients –

3 eggs

1/2 cup cottage cheese

1 teaspoon of coconut oil, melted and cooled

2 teaspoon of vanilla extract

1/4 cup wholewheat pastry flour (regular plain or oat flour will also work)

1 teaspoon of baking powder

1/2 teaspoon of baking soda

a pinch of salt

Optional but recommended for serving –

Strawberries

Blueberries

Raspberries

Bananas

Maple syrup

Or toppings of choice.

Method –

1 – Place all waffle ingredients into a blender and process until well combined. FYI – The batter is very thin (aka – runny)

2 – Cook in your waffle maker according to manufactures instructions.

3 – To serve, top with a dollop of greek yoghurt, sliced bananas, fresh berries  drizzle of maple syrup. Or whatever toppings that tickle your fancy.
Enjoy xoxo
____________________________________________________________________
Question of the day –
What's in your breakfast bowl? Or plate?