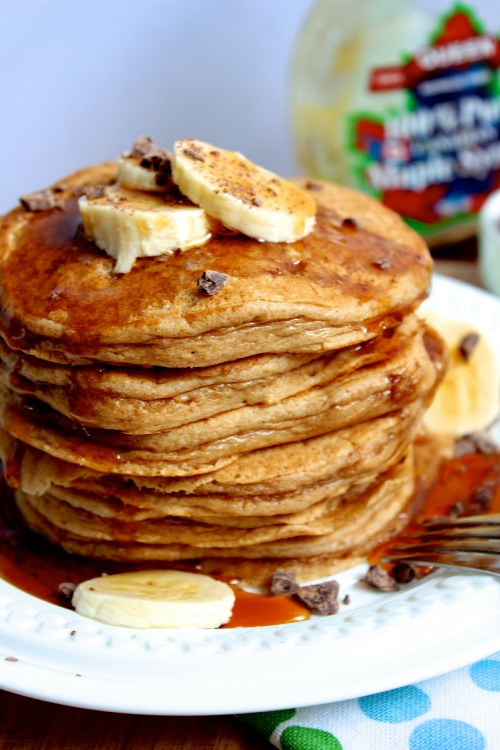 Um you guys  . . . I have totally been holding out on you.
Like really, really holding out on you.
For months
If you follow along on Instagram you may remember me going through a massive pancake phase a few months back.
When I say a few months back I'm talking like . . . waaaayyyyy back in march.
Which was like a lifetime ago. Sorry
But you guys these pancakes will totally make up for it.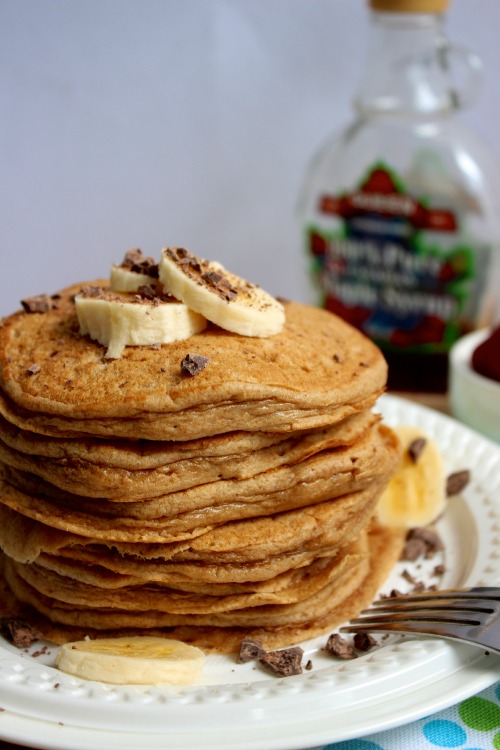 After all they aren't just any pancakes, they are my all time favourite pancakes (←well my favourite since march anyway and that my friend has gotta be some kinda record!)
Healthy Wholewheat Peanut Butter Pancakes.
Light and fluffy pancakes that are just subtly sweet with the perfect peanut butter punch!
I can't even stand it.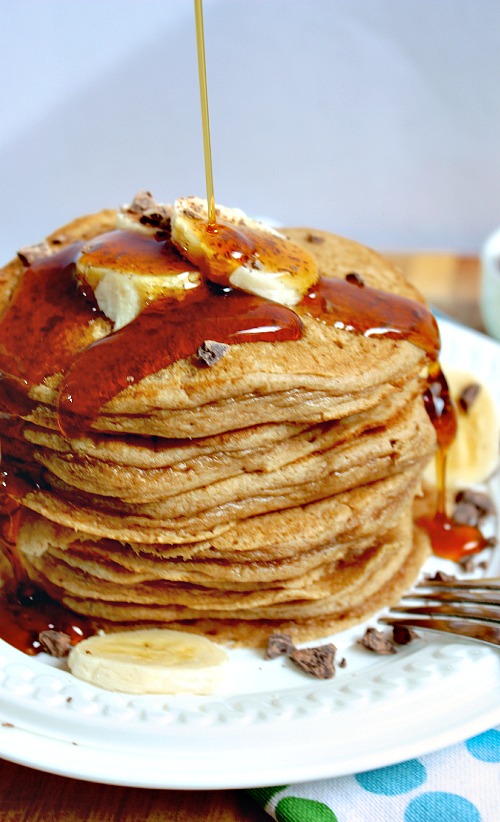 These pancakes are perfect for a leisurely breakfast on the weekend or do what I do and cook up a big ol' batch and store them in your freezer, then when you can fight the craving no longer just grab one out and pop them on the toaster and boomshakalocka, you're  done.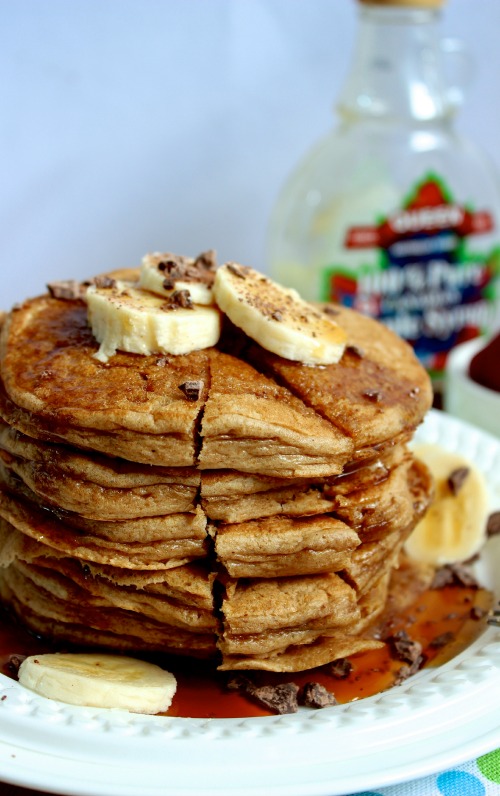 I love the texture of light fluffy, slightly nutty flour combined with the creaminess of yogurt is what gives these pancakes the most incredible texture. Oh and the yogurt adds an extra sneaky serving of protein which of course I just love. Please, please, please, promise me that you will make these pancakes.
ASAP!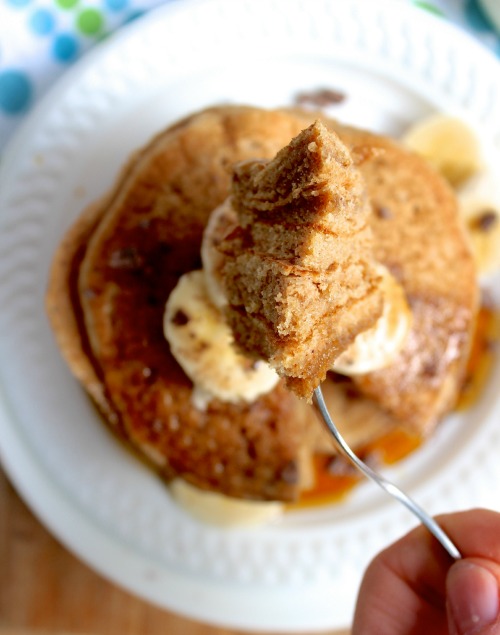 So light.
So fluffy.
So, so good.
If you're feeling fancy serve with some freshly sliced banana, a sprinkling of chocolate chips and some maple syrup. But if your on the go or in a pinch just serve with some strawberry jam (or jelly for my sweet American friends).
I warn you each and every time I make these pancakes . . . after the very first bite I can't help but close my eyes, sigh incredibly deeply and declare (out loud for all to hear how very much in love with these pancakes I am (←yes really)
Now go make these pancakes already, after all breakfast is the most important meal of the day
Healthy Fluffy Peanut Butter Pancakes




Makes 8 perfect peanut butter pancakes

Ingredients –

1 egg

1/4 cup vanilla almond milk (or milk of choice)

1/4 cup coconut or Greek style yogurt

2 Tablespoons of peanut butter – or nut butter of choice

1 teaspoon of vanilla (or 4-6 drops of vanilla cream stevia – I like to use Sweet Leaf Stevia )

1/2 cup flour of choice – I am loving Bob's red mills paleo baking blend at the moment and also otto's cassava flour too (you can sub for regular plain flour if you prefer GF peeps use your fave your fave baking blend)

1 teaspoon of baking powder

1/2 teaspoon of baking soda

pinch of salt

1 scoop of Vital proteins unflavored collagen peptides – optional for an extra boost of protein and gut heading goodness

Optional but recommended for serving –

1 banana, sliced

Chocolate chips

Maple syrup

Method –

1 – In a medium size bowl or jug whisk egg, milk, yogurt, vanilla and nut butter butter until smooth.

2 – Sift flour, stevia, baking powder, baking soda and salt into egg/milk mixture and stir until just combined.

3 – Cook in a medium-large fry pan over medium heat until bubbles form on the top and the edges look dry, flip and cook for 30sec- 1 min longer.

4 – Serve with freshly sliced banana, a generous sprinkling of chocolate chips and a delicious drowning drizzle of maple syrup – the real stuff please.
Enjoy xoxo
_________________________________________________________________
Question of the day –
What is your all time fave pancake flavour?