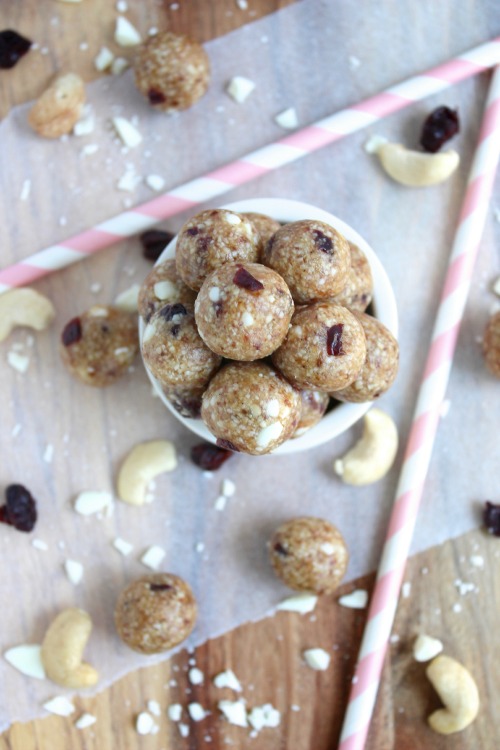 So it looks like our little family is on the move (again)?!
We got a call from our real estate agent last week to tell us that the owner of our beautiful little rental apartment wants to move back in.
Boooooooooo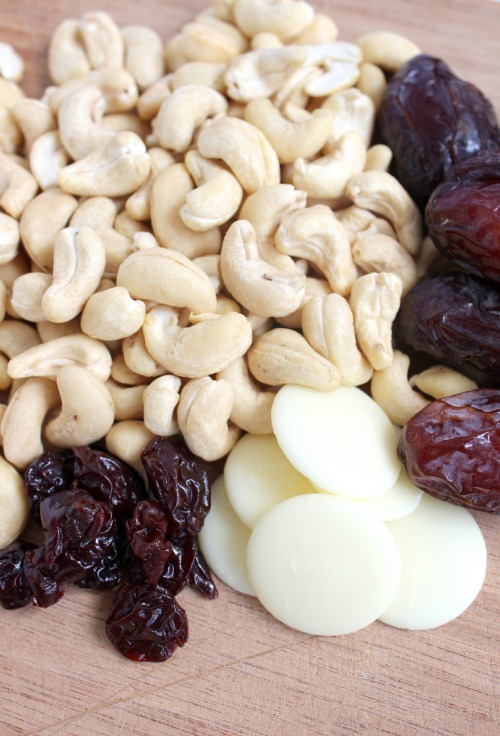 My first thought, waahhh I do not want to move (again)! I hate it! All the packing and unpacking. Ugh do not want!
My second thought . . . better make some tasty little energy bites to help get me though it because once I start there ain't no stopping me!
Get in and get. It. Done!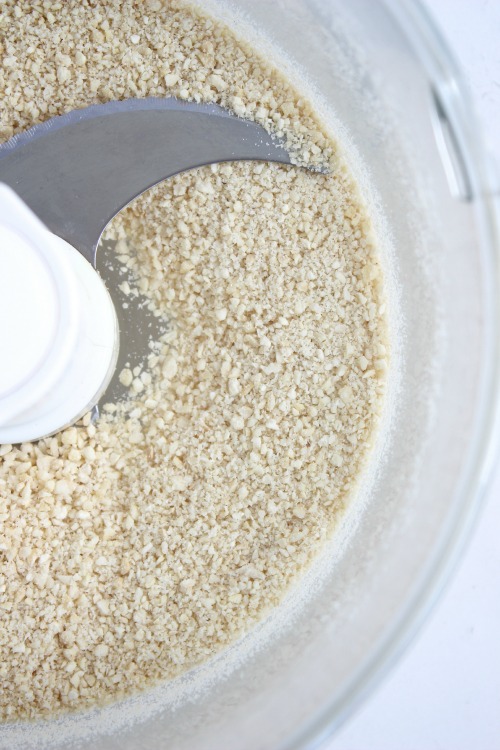 Thats how I roll yo!
Speaking of rolling . . .
You guys, these Healthy, No-Bake Cherry White Chocolate Chunk Cashew Cookie Energy Bites really are something else. An insanely delicious little mouthful.
Healthy, all natural delicious little energy bites made with just a handful of ingredients that you probably have on had already with no baking required!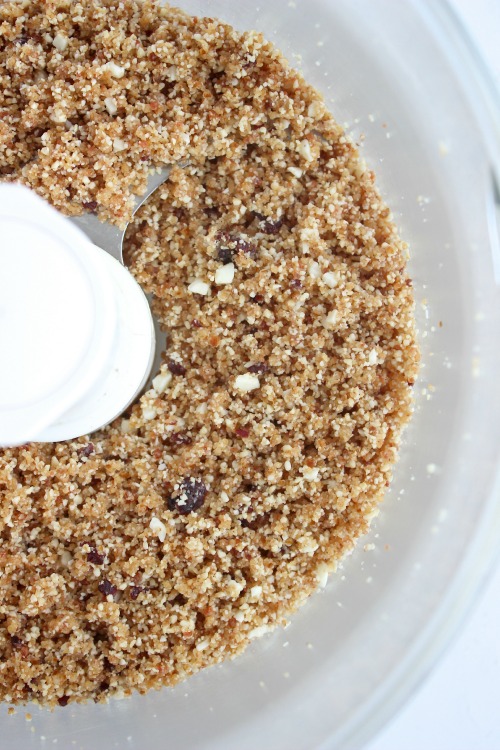 Biting into these bad boys what you get is a hint of the natural buttery flavour from those delicious creamy cashews combined with the slight caramel sweetness of those magically delicious little medjool dates. Add to that a splash of vanilla, then throw in some roughly chopped plump, juicy, tart, sweet little dried cherries and some chunks of chopped white chocolate . . .  heaven in your mouth I tell you!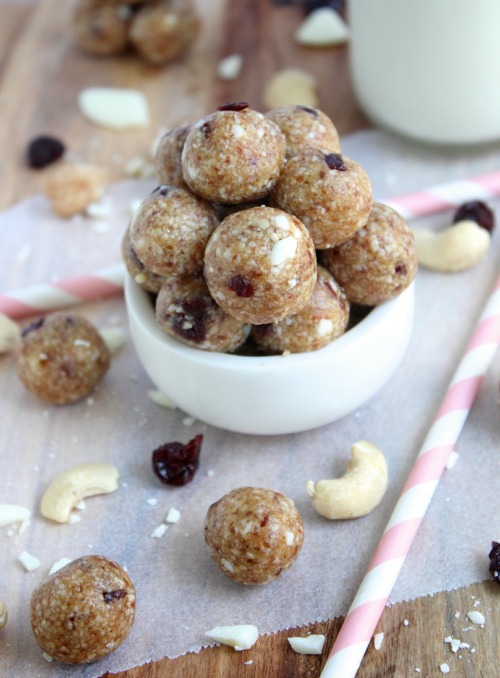 These delicious little energy bites come together in less than 10 mins! Holla. Love that!
Simply throw your ingredients into a food processor or blender, give it a quick whiz to chop/combine, then simply roll, eat, repeat.  Done!
Perfect with a cup of coffee or green tea as your mid morning snack.
Perfect for your pre/post workout power up.
Perfect for getting you through the post lunch/pre dinner 330itis without the guilt or post sugar crash.
Perfect for a little late night, after dinner sweet treat.
Or the perfect way to fuel an unexpected packing/moving frenzy!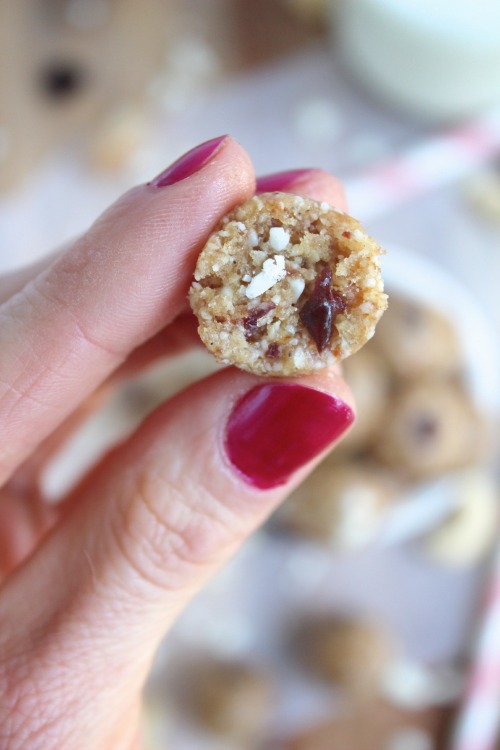 All natural,  Healthy, No-Bake Cherry White Chocolate Chunk Cashew Cookie Energy Bites – totally healthy, guilt free, no baking required, and ready in minutes! Totally saving my life right now!
Make them, eat them, love them. Roll with it baby 😉
Now, whose gonna come help me finish packing?
Healthy, No-Bake Cherry White Chocolate Chunk Cashew Cookie Energy Bites




Makes approx 40 healthy, simple, buttery, sweet tasting bites of  white chocolate and cherry studded energy packed deliciousness

Ingredients –

1 cup raw cashews

6 medjool dates, pits removed

1 Tablespoon of dried cherries, finely chopped

1 Tablespoon of white chocolate chips, roughly chopped

1 teaspoon of vanilla extract

a pinch of salt flakes

Method –

1 – Place cashews in your food processor/blender and pulse until crumbly, you want there to still be a few bigger chunks to give the bites some nice texture.

2 – Add dates and pules until the mixture starts to come together into a sticky, loose "dough".

3 – Add vanilla extract and salt flakes and pulse again until combined.

4 – Lastly add your chopped dried cherries and white chocolate chips and pulse until just combined. You want there to be some chunks of chocolate cherry goodness so don;t go crazy ok?!

5 – Using your hands, roll approx 1 heaping teaspoon of cookie dough into little bite size balls then transfer to an airtight container (or even just a ziplock bag) and store in the fridge required ← that's right, I said required. These bad boys are a need, not want people!
Enjoy xo
____________________________________________________________________________
Question of the day –
What's your fave portable snack? Store bought or homemade, feel free to share recipes and links in the comments below.