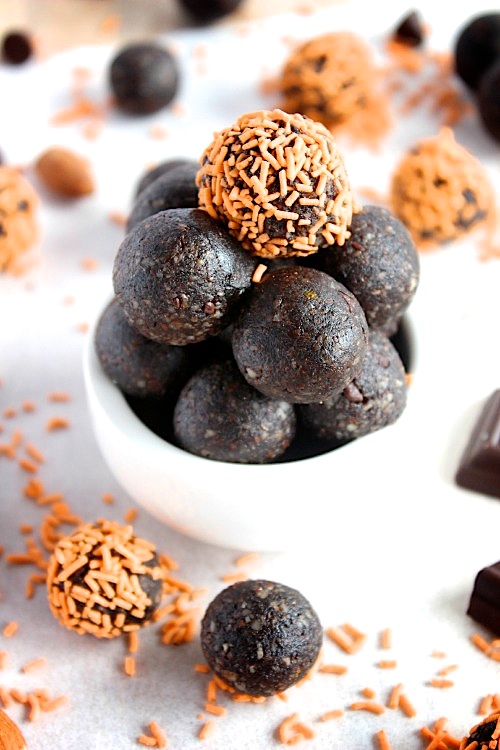 And our no bake energy/bliss bite obsession continues . . .
Are you ready for this?!
Today, sweet invisible internet friend of mine, we are making ourselves some – all natural, secretly healthy, decadent and rich dark chocolate orange bliss bites.
All natural, made with just a handful of real food ingredients that I bet you have on hand already. Quick, easy and all kinds of delicious. Snack time winning up in here people, that's what I'm talking' bout!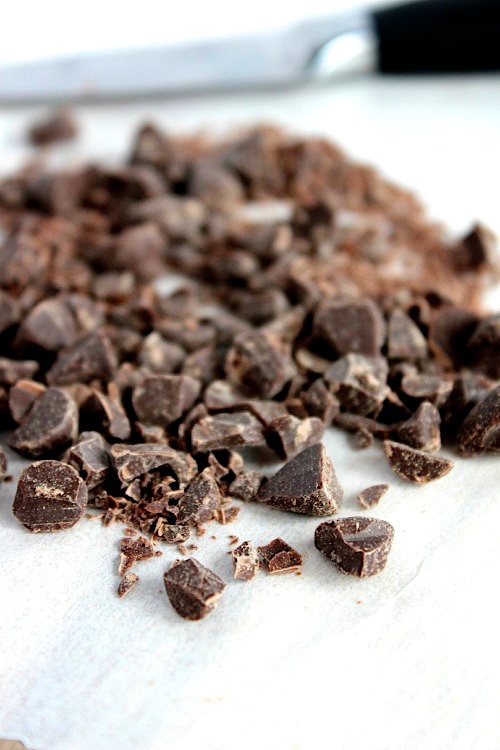 As always our bliss bites come together in a matter of minutes, they also happen to be secretly healthy, paleo friendly and depending on what kind of chocolate chips you use these babies could also be both vegan and dairy free so once again, everybody wins!!!!
Dark, delicious, decadent, rich, fudgey little bites of chocolately goodness that are infused with a divine hint of orange.
Yes, yes, just yes!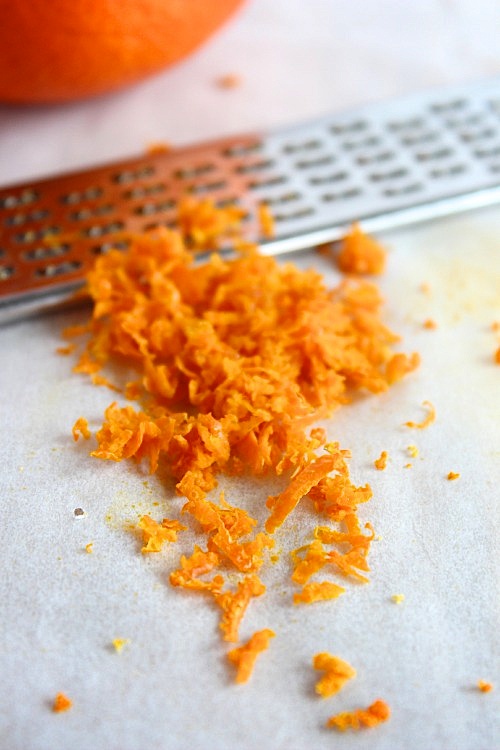 This time I decided to go with raw almonds to build our bliss bite base because I wanted a more neutral flavour, something subtle and not over powering because I really wanted the chocolate and orange flavours to shine through.
And shine they do!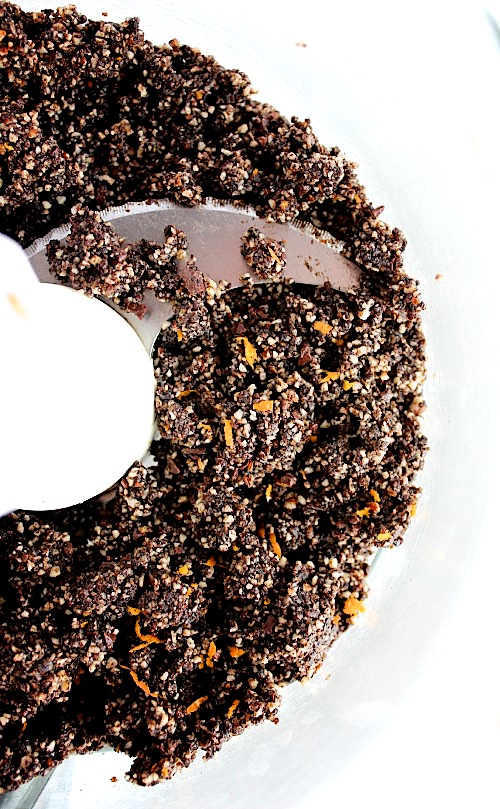 Our dark chocolate orange bliss bites are fudgey and rich, studded with dark chocolate chips and they have this perfect, yet subtle, sweet, citrusy hit of orange that is nothing short of divine I tell you.
When you bite into these decadent little, orange infused, chocolately bites of deliciousness first up, you get this really cool contrast in texture. They have this incredible, chewy-crunch factor to them thanks to our almond/date base and, if you add those vibrant and super awesome fun looking sprinkles you'll get yourself an extra awesome, crazy cool, totally retro outer crunch!!!!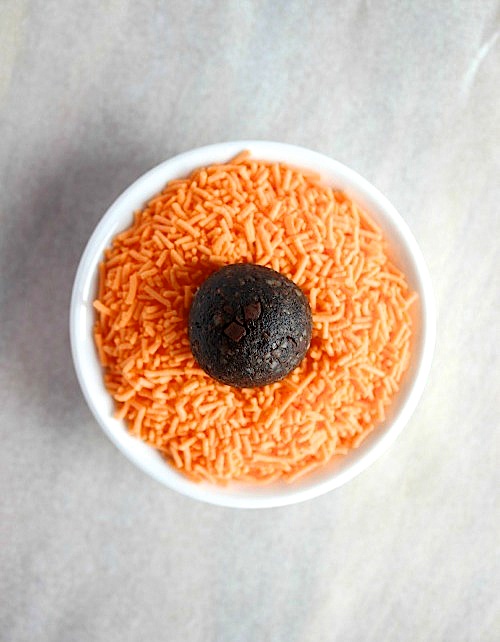 Yes, I know sprinkles are totally optional and really unnecessary but, come on now . . . those vibrant little sprinkles not only add an element of fun, but in all honesty they really do add an extra awesome layer of crunch to these decadent little bliss bites, I highly recommend you include them, at least on a couple ok?
Sprinkles are like brightly coloured pieces of edible sunshine and happiness. Couldn't we all do with a little extra sunshine and happiness in our lives?! 😉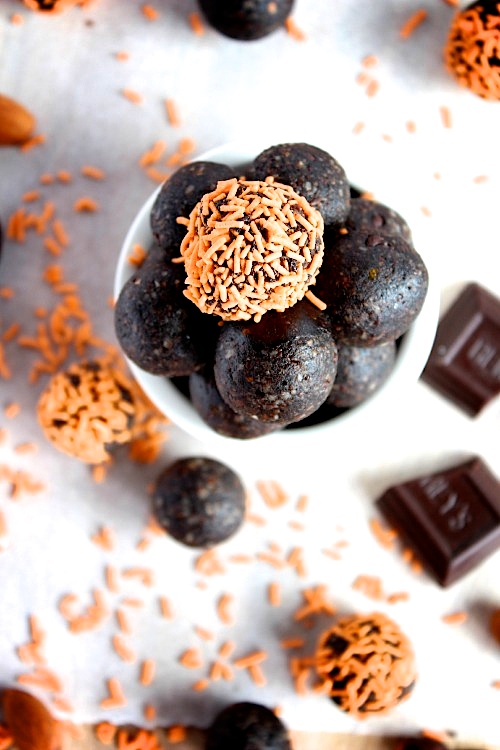 Ok I think you get the point I ♥ sprinkles!
#sprinklesforlife
And moving on . . .
Back to our bliss bites . . . They are fudgey and soft, studded with delicious chunks of dark chocolate chips. The subtle hit of that zesty, fresh, sweet citrusy, orange infusion really helps to balance out the decadent richness from our dark chocolate base.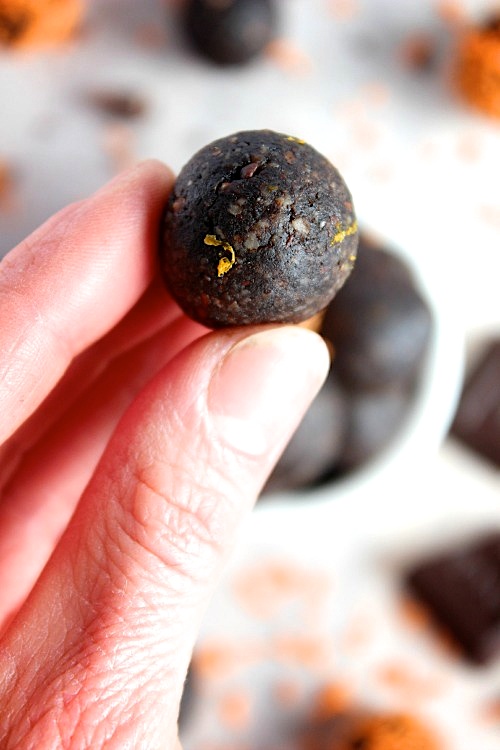 They are subtly sweet, light, fresh and all kinds of delicious.
And you know what makes them even better? The fact that they come together in less than 10 mins!
You simply throw your ingredients into your trusty old bender or food processor and you are ready to rock and roll my friend.
The perfect little treat for anytime of day.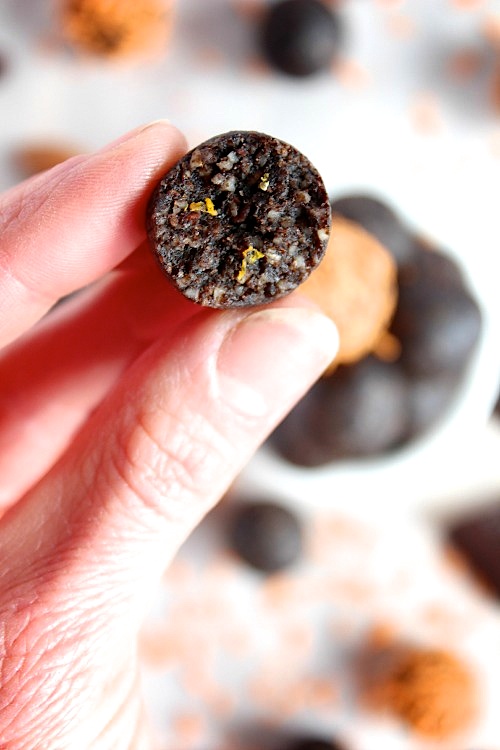 Perfect with a cup of green tea or coffee as a mid morning treat.
Perfect as part of your pre/post workout power up.
The perfect way to push through that pesky old, post lunch, pre-dinner slump or,
The prefect little secretly healthy, subtly sweet, decadent, rich, double chocolate, citrus infused way to end your day.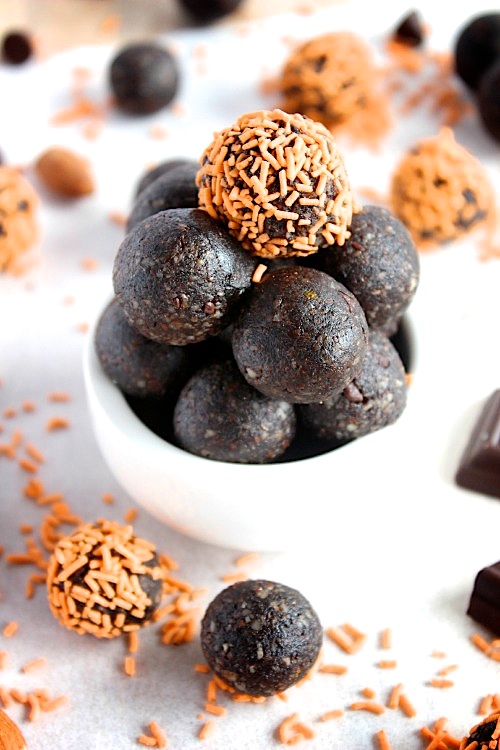 All natural, secretly healthy, subtly sweet, decadent, rich, double chocolate blissful bites of deliciousness with a divine hint of zesty orange.
Want. Need. Must have! You know you want in on this!
Make them. Eat them. Love, love, love them
Dark Chocolate Orange Bliss Bites
Makes approx 35 bites of all natural, dark chocolate, orange infused blissful bites of deliciousness

Ingredients –

1 cup raw almonds

3/4 cup pitted dates, about 6 – I used medjool

1 Tablespoons of cocoa powder – I use Hershey's Special Dark

1 teaspoons of vanilla extract

1/2 teaspoon of orange extract

1 teaspoon of freshly grated orange zest

a pinch of salt

1-2 Tablespoons of dark chocolate chips, roughly chopped (use dairy free/vegan if you prefer 🙂 )

Orange sprinkles – optional

Method –

1 – Place almonds in your food processor/blender and process until nice and fine. Remember as always you want there to still be a few little "chunks" to give the bites a little texture.

2 – Add dates and process until the mixture starts to come together to form a nice sticky "dough".

3 – Add cocoa powder, salt along with your vanilla and orange extract then process again until combined.

4 – Last but not least, throw in your chocolate chips and freshly grated orange zest and pule a couple of times until just combined.

5 – Using your hands, roll approx 1 heaping teaspoon of the mixture into deliciously blissful bite size pieces then set aside.

6 – Optional – Place orange sprinkles into a small bowl and gentle place your bliss bites in, pressing firmly but gentle rotating as you go to ensure sprinkles are coating each surface evenly.

7 – Transfer directly to your mouth to an airtight container (or even just a ziplock bag) and store in the fridge until you're ready to enjoy.
Enjoy xoxo
______________________________________________________
Question of the day –
What are you snacking' on? Sweet or savoury, what's your poison?
______________________________________________________