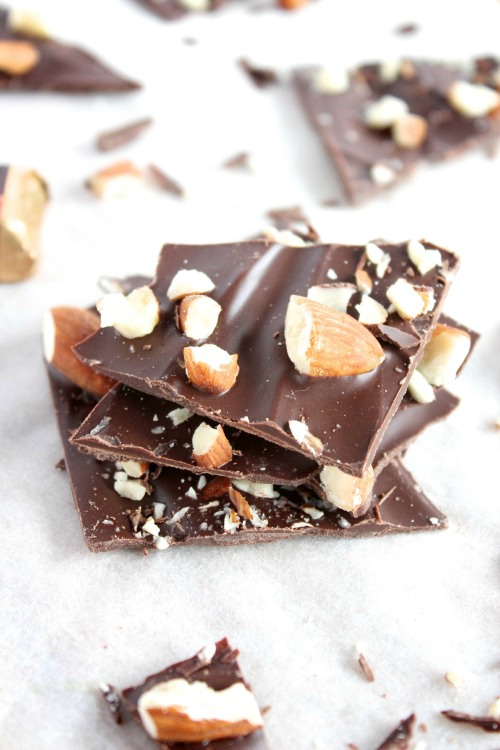 So I got my hair cut today.
Nothing major just a trim and tidy up but it was long overdue and totally necessary so I was pretty excited to get in and get it done.
But you know what I was really looking forward to?!
That amazing head massage! You know the one you get while you have your hair washed?!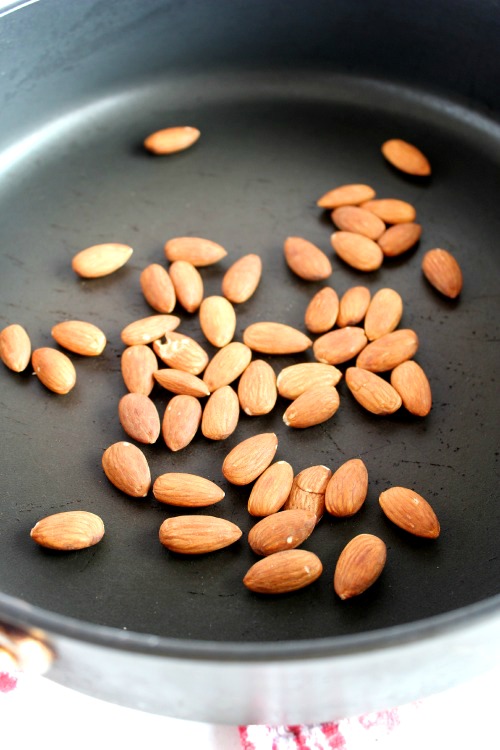 Seriously, how incredible is that little head massage?
5 mins of pure bliss.
Well not today my friend. Today I was well and truly ripped off!
And I was totally taken by surprise too!
I mean, girlfriend had such potential.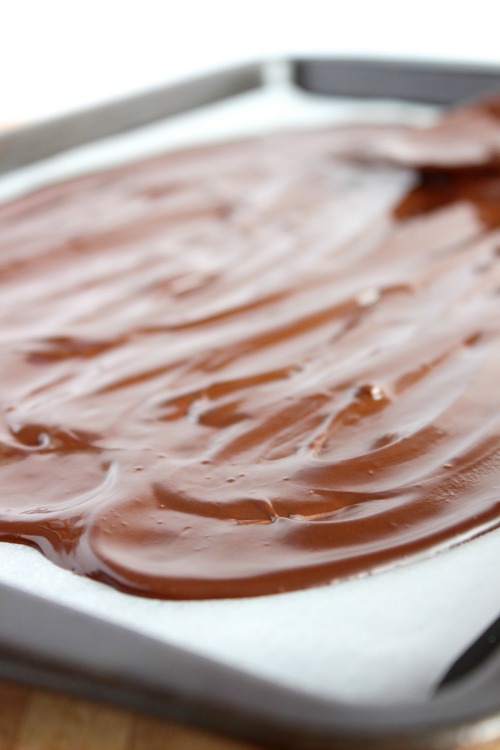 She had the most amazing pressure while washing my hair but then when it came to massage time . . . yeah it totally didn't happen.
I kind of want to cry.
I was so looking forward to that delicious little massage.
Waaahhhhhh
Lucky I had myself a tasty little treat to come home and cry into . . .
I'd like to introduce you to my homemade dark chocolate and toasted almond bark.
Today sweet invisible internet friend of mine, we are making ourselves one seriously simple but seriously delicious little treat.
Decadent, rich and indulgently smooth dark chocolate is melted down, combined with just a touch of coconut oil then spread wafer thin and sprinkled with a handful of golden, crispy toasted almonds before being cut (or broken) into deliciously glossy little shards.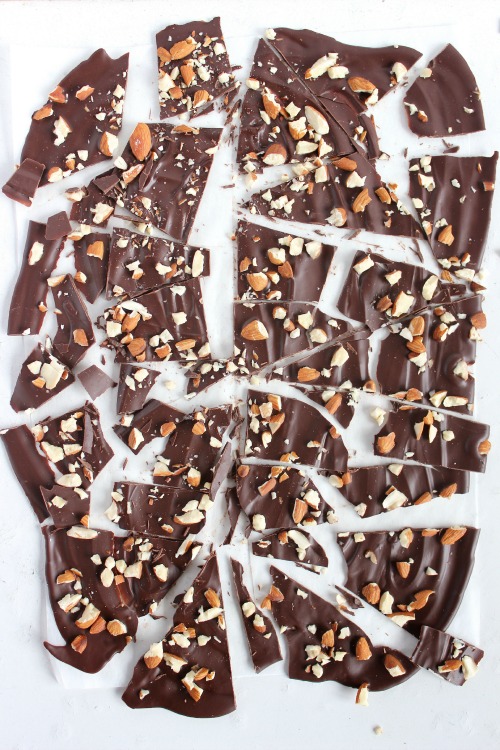 The coconut oil is totally optional but I love the hint of subtle sweet coconutty goodness that it brings. The coconut oil also helps to make the chocolate nice and glossy, and helps to give this amazing clean, crisp, crack when you bite into it.
So simple but so insanely delicious!
Because sometimes less really is more . . . unless we are talking about a head massage  . . . but let's not go there again.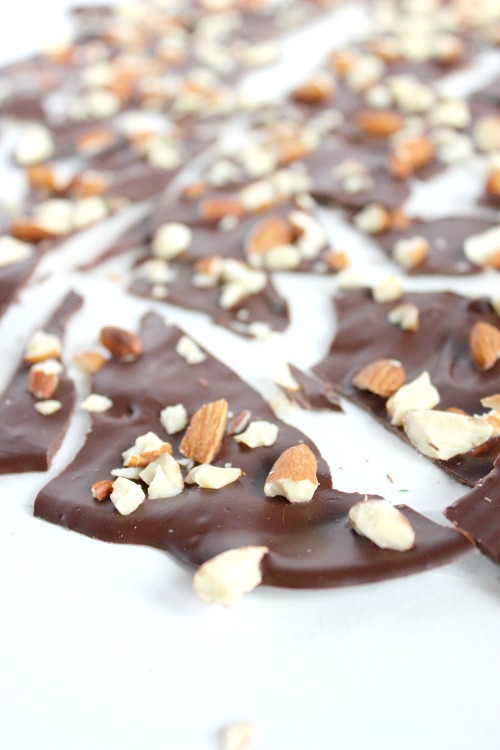 I actually made these dreamy little bites of dark chocolate and toasted almond bark as a treat to share to share with my dear old Dad for father's day this weekend.
Growing up I remember him devouring enjoying a block piece or two of good old roasted almond chocolate on a daily weekly regular basis so I thought it would be fun to make him a homemade version as an extra special treat.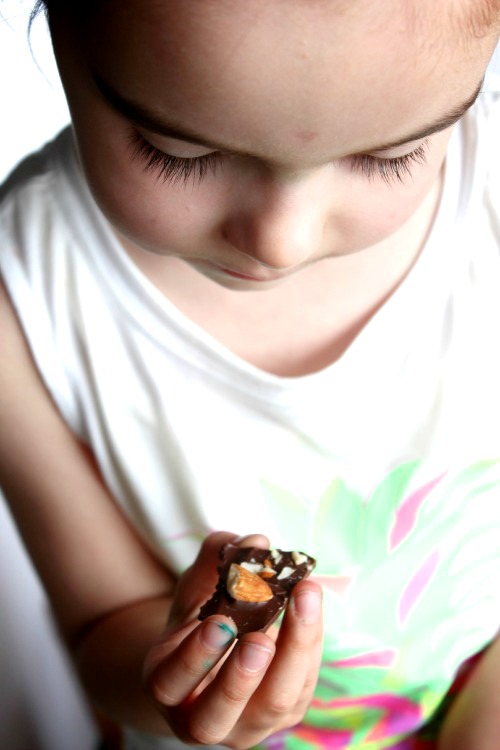 . . . looks like I'm going to have to make another batch before the weekend hits . . .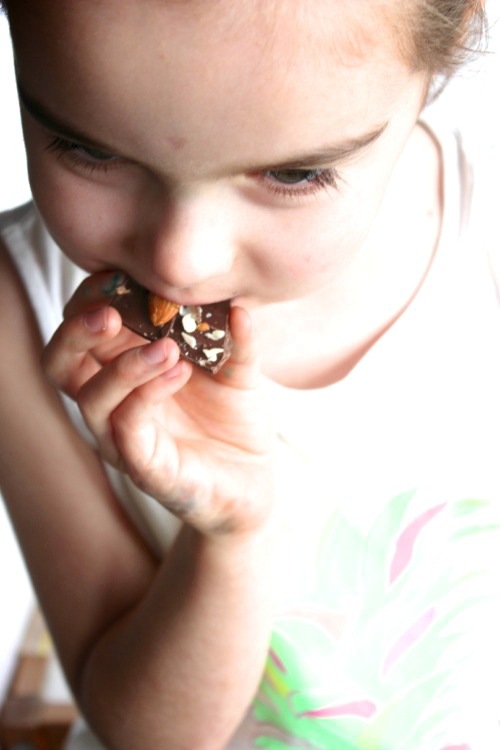 Lucky it comes together in less then 10 mins . . .
and you know what makes it even better?
The fact that it also happens to be all natural, made with just 3 simple ingredients that you probably have on hand, you can totally customise to add as many (or few) almonds as you like.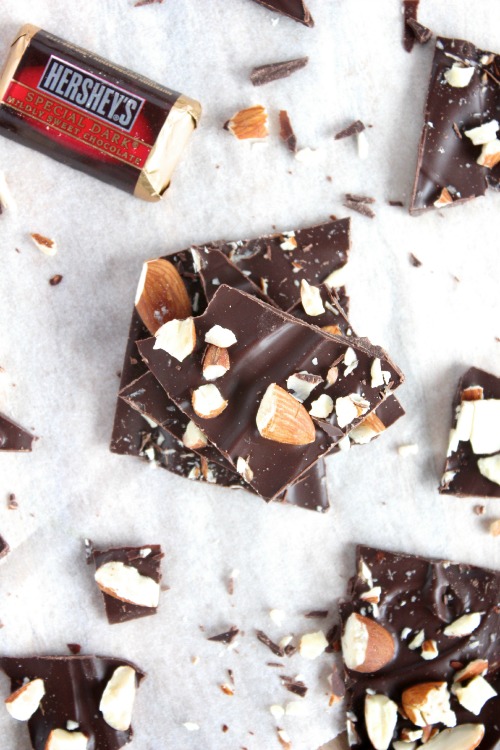 You can also make it vegan or dairy free depending on the type of chocolate chips you use and of course it also happens to be paleo friendly.
But really at the end of the day, all that matters is that it's all kinds of delicious.
And it really, truly is.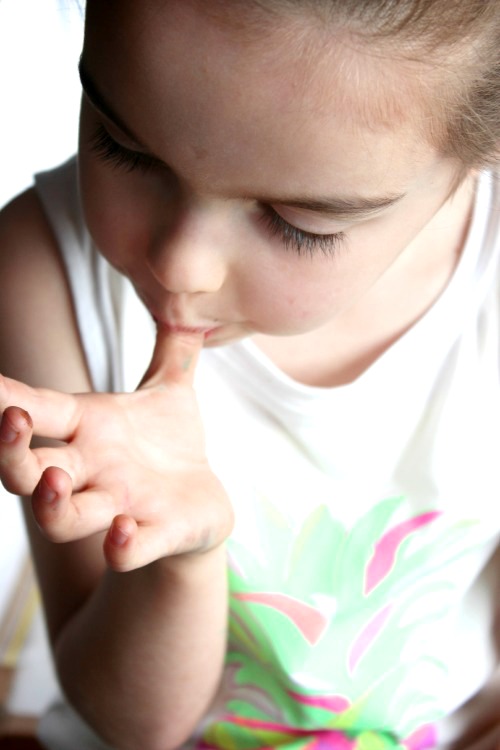 Finger lickin' good
So here's to the weekend baby!
Happy fathers day Dad.
We love, love, love you xoxo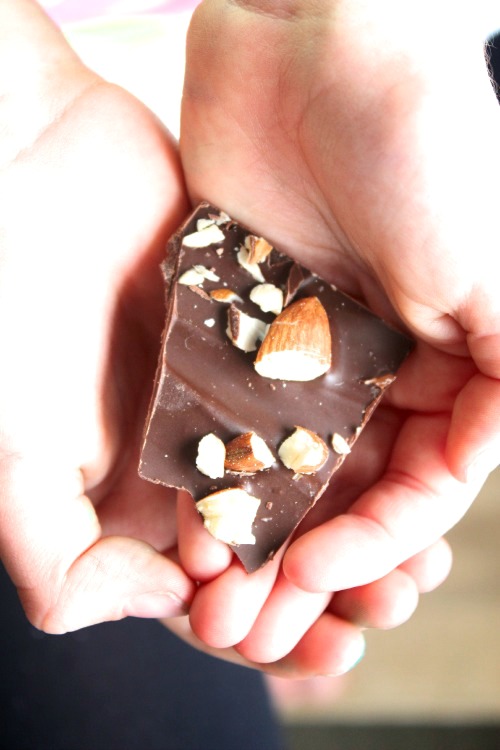 And you sweet invisible internet friend of mine, I totally love you too ♥♥♥
All natural, clean eating dark chocolate and toasted almond bark that comes together in a matter of minutes, made with just 3 simple ingredients and it not only paleo friendly but can also be vegan, dairy free! 
Everybody wins!!!!
What are you waiting for?!
Go –
Make it, Eat it, Love it
Dark Chocolate and Toasted Almond Bark

Ingredients –

1 cup of dark chocolate

1/3 cup almonds (I use raw, unsalted)

1 Tablespoon of coconut oil, melted and cooled

Method –

1 – Line a rimmed baking sheet with baking/parchment paper (or a silpat mat if you have one) and set aside

2 – Place your almonds into a fry pan over medium heat, tossing occasionally until lightly toasted. Keep an eye on them, they can burn in the blink of an eye . . . not that I would know anything about that  . . . 😉

3 – Remove from the heat and set aside to cool.

4 – Once your almonds have cooled, place in a ziplock bag and give them a good bashing with a weapon of your choosing. I use my trusty old rolling pin but anything would work. You could also use a knife and cutting board but I find there is something kind of therapeutic about giving them a good bashing. Anyways, once your almonds have broken into pieces, set aside.

5 – Melt your chocolate bu your referred method. I like to place my chocolate onto a small plate or bowl and sit it over a pot of gently simmering water, stirring occasionally until nice and melted.

6 – Carefully stir through your coconut oil and pour your chocolate onto your prepared baking sheet. Use the back of a spoon or spatula to smooth out the chocolate into one deliciously thin layer.

7 – Sprinkle over your almond chunks and pop the tray into the fridge (or freezer) to set.

8 – Once set, using a sharp knife cut your dark and dreamy almond bark into delicious little shards. Store in the fridge in an airtight container, or even joust a ziplock bag.
Enjoy xoxo
_____________________________________________________________________
Question of the day –
Totally not food related but I'm curious, how do you like your massage? Deep tissue or relaxation?
Me?! I'm a deep tissue kinda gal