This morning I woke up with the strongest craving for a cake that in our house we fondly refer to as the "crunchy top chocolate cake." It's so moist and delicious inside, but has this wonderful well….crunchy top.
I don't know about you, but when I get a craving for something, my taste buds will not be fully satisfied by any other food. So this morning after I had completed my workout, showered, fed my spunky husband and our little cupcake (and myself of course) I decide it was time to bake.
I came across the original version of this recipe from smittenkitchen.com (one of my favourite food blogs. If you haven't seen it yet check it out. Your taste buds will thank you. I guarantee it). I have modified the original recipe a little here and there to get it just the way I like it; so that is the version I will share with you today. If you would like to check out the original click here.
Ok enough talk, here you go –
Crunchy top chocolate cake
Ingredients –

1/4 cup butter
1 cup firmly packed brown sugar
1/2 cup white sugar
1 large egg, at room temperature
1 cup buttermilk*
1.5 teaspoon vanilla extract
1 1/2 cups plain flour
3/4 cup cocoa
1 teaspoon baking soda
1 teaspoon baking powder
1/4 teaspoon salt flakes

Method –
Preheat the oven to 165'C. Line a standard size loaf pan with baking paper (I have tried to butter and flour etc but no matter what I do something always sticks so I find baking paper the safest option but feel free to use whichever you prefer).
In a large bowl whip the butter until smooth.
Add both brown and white sugars and beat until smooth and well combined (about 3 minutes).
Add the egg, then the buttermilk and vanilla (at this point the batter will look quite runny).
Sift the flour, cocoa, baking soda, baking powder into batter, then add the salt.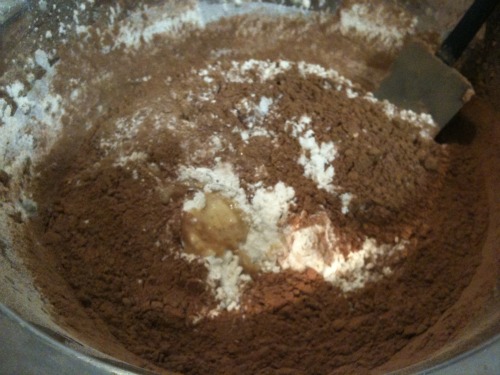 Stir well combined (no floury lumps) but do not over mix.
As mentioned above, I use baking paper and a little tip from me to you is to secure the baking paper with pegs before you pour in the batter. I can't count how many times I have had near disasters with the batter flooding over the sides of the baking paper once I start pouring!
Pour the batter into the prepared loaf pan.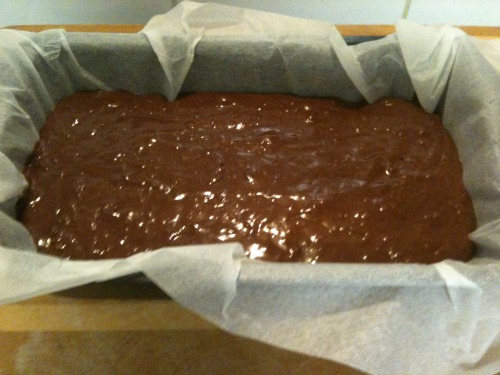 Bake for approx 60 to 70 minutes, or until a cake tester (or wooden skewer) inserted into the centre of the cake comes out clean. Cool in pan for about 10 to 15 minutes, then remove from pan. I usually leave mine in its baking paper and put it on a shelf in the fridge to cool further. Its faster that way 🙂
Then I dust with icing sugar, I just think it looks so pretty (and it doesn't taste half bad either ;)).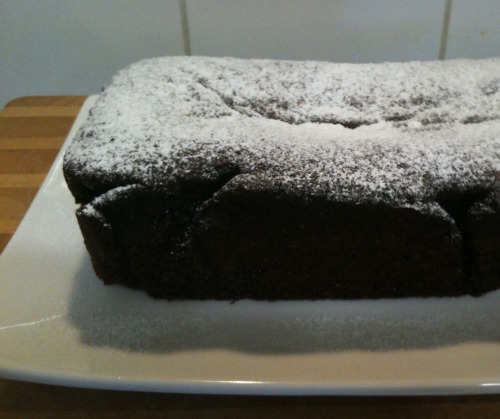 Now this cake is good just on its own but I prefer to have it with a dollop of dream whip** and a spoonful of berries as pictured in the initial photo (if you think of it a few hours before eating in a bowl combine a cup of fresh of frozen mixed berries with a sprinkling of sugar and little squeeze of lemon juice, stir occasionally…you wont be sorry). By the way one cake will get about 12 serves (depending on how thick you slice, obviously).
*You can make your own version of buttermilk often referred to as "sour milk" by adding 1 Tablespoon of white vinegar to 1 cup of milk (I use skim) and allowing to sit for at least 5 mins before using.
**Dream whip is kind of like cream but totally different (not to be confusing at all). Dream whip is a non dairy powder that you whip with 1/2 cup of milk and 1/2 teaspoon of vanilla. Its very light and sweet and in my opinion just delicious sadly it is not available in Australia at this time so my sweet sister who lives in the USA keeps me in good supply.
Nutritional Info (approx.) per serve-
obtained using fatsecret.com
Calories -187

Fat 1.44g
Carbs – 43g
Protein – 3.9g